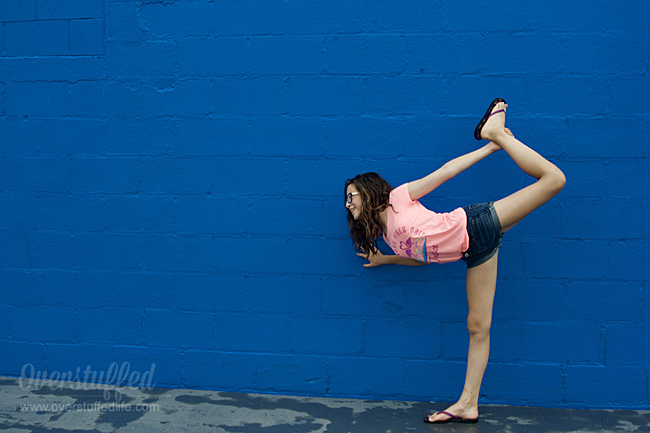 Find the best back to school trends at Justice this summer with their cool backpacks for girls, fun graphic tees, and other girls clothing that your tween will love!
This post is sponsored by Babbleboxx on behalf of Justice
My youngest daughter, Sophia, just finished her first year of middle school. For all of my girls that first year of middle school has been an interesting time where they are suddenly a lot more interested in fashion and trends. And every single one of them has loved shopping at Justice during middle school because they are so tuned in to exactly what tween girls like. Plus they have something for every tween personality. I would say that over half of Sophia's wardrobe has come from Justice this year, and it would be more if we actually lived closer to a physical store!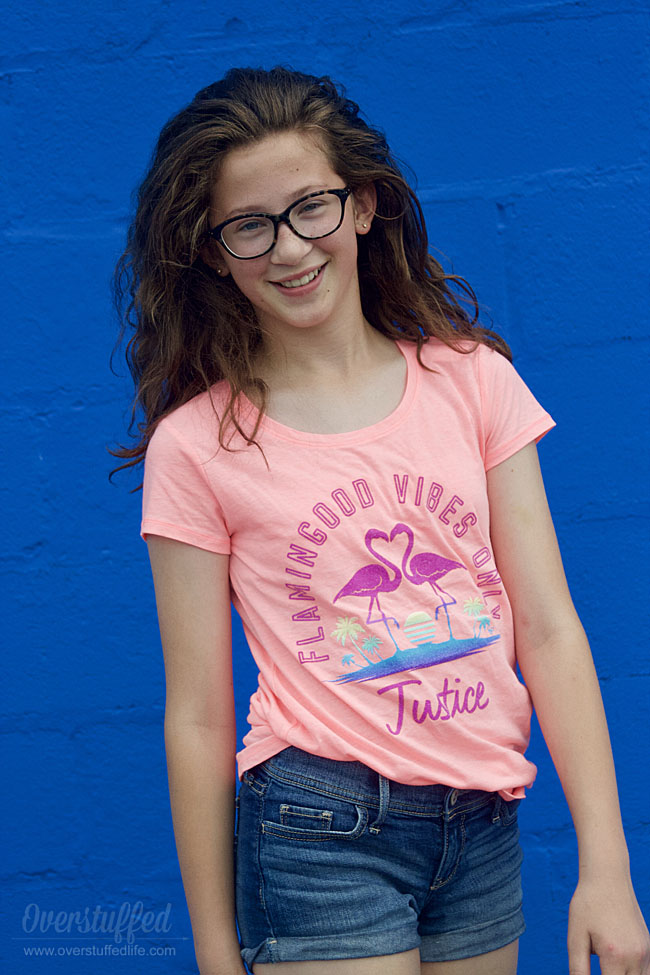 Graphic tees are hot this summer and Justice has a huge variety of them—your tween daughter is sure to find a few that will fit her personality perfectly. I love them because they are affordable, Sophia loves them because they are a fun way for her to express her individuality while looking cute and trendy at the same time.
And since it's never too early to think about back-to-school needs, Justice always has super fun backpacks for girls. They sent Sophia a backpack with matching lunchbox, wristlet, and pencil case from the Pink Perfection collection.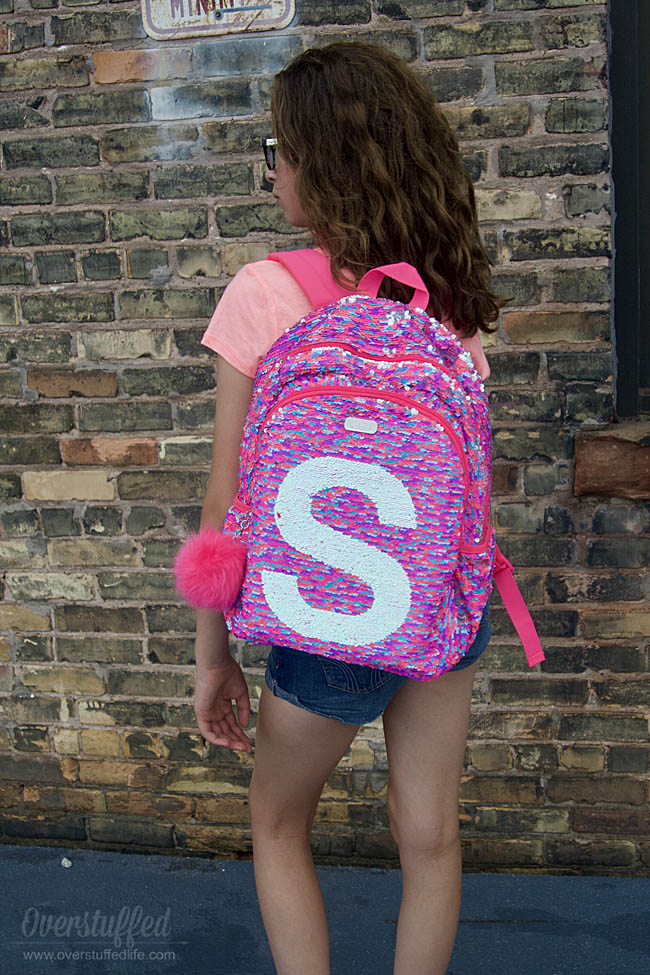 The backpack, lunchbox, and wristlet all feature her initial (and can, of course, be purchased with any initial from A-Z). The backpack has padded straps to make carrying all those heavy middle school textbooks more comfortably, side pockets for a matching water bottle, front pockets for school supplies, and a trendy fuzzy pompom keychain just for fun!
One of the most fun things about this backpack style is the flip sequin style. These have been all the rage with the tween set lately.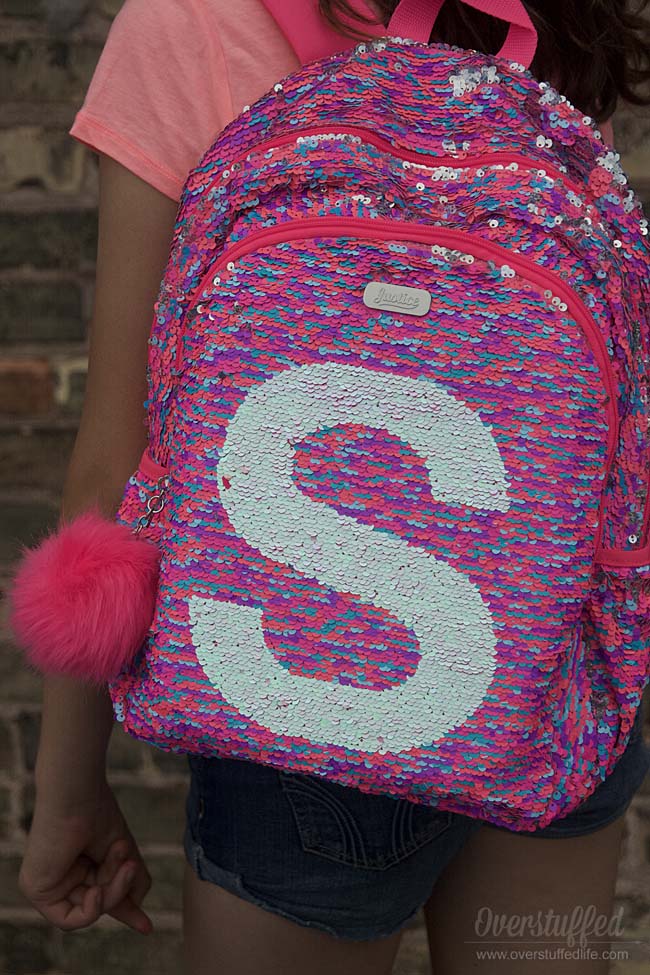 Pretty fun, huh?
The lunchbox and wristlet also have the flip sequin designs.
I love how cute everything is at Justice, and Sophia and I have had so much fun finding the perfect things for the new school year since she was in about 4th grade and discovered how much she loves shopping there. I know that now she is going into 7th grade she will probably begin to age out of it soon, but for now she is still Justice's biggest fan.
The other accessories that they sent her are actually the two things she is most excited about. She loves the FEARLESS pencil case (I think few words describe Sophia more perfectly than "fearless") and she really likes the wristlet to use for money and gum and other things like that.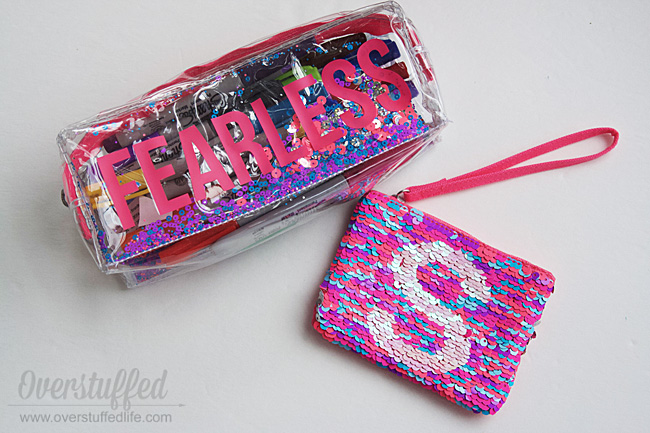 Connect with Justice:
SHOP | FACEBOOK | PINTEREST | INSTAGRAM |YOUTUBE
#LiveJustice
Samples were received for promotional purpose. All opinions are that of Overstuffed. Please see Privacy Policy for full disclosure and more information.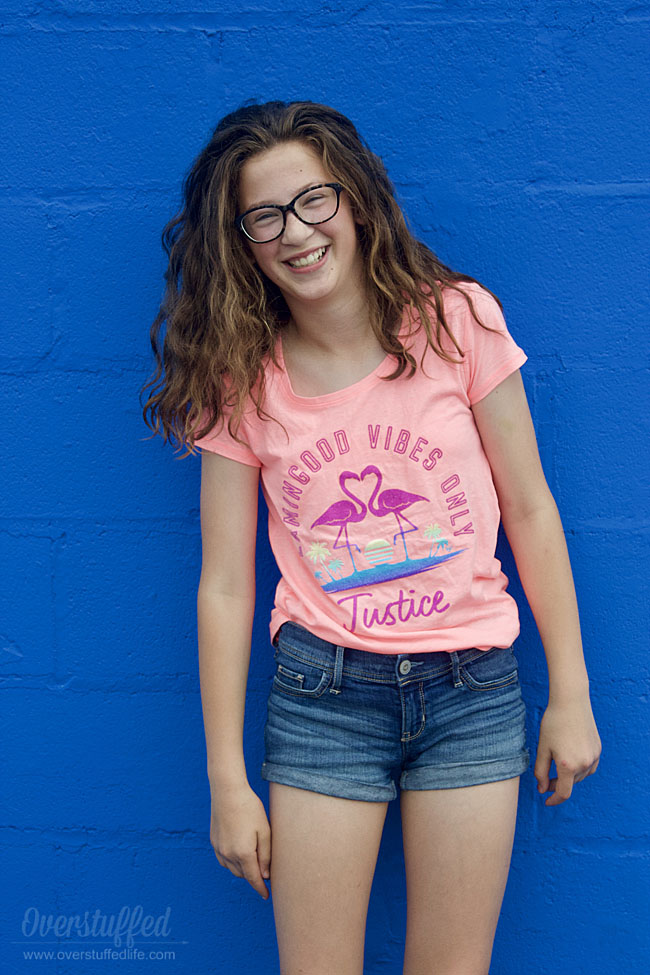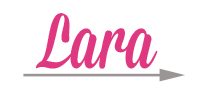 This post may contain affiliate links, for more information, please see my disclosure.