Everything You Need in Your Cold and Flu Survival Kit
Are you ready for cold and flu season? Make sure to have these 8 items on hand in a cold and flu survival kit to be ready when someone gets sick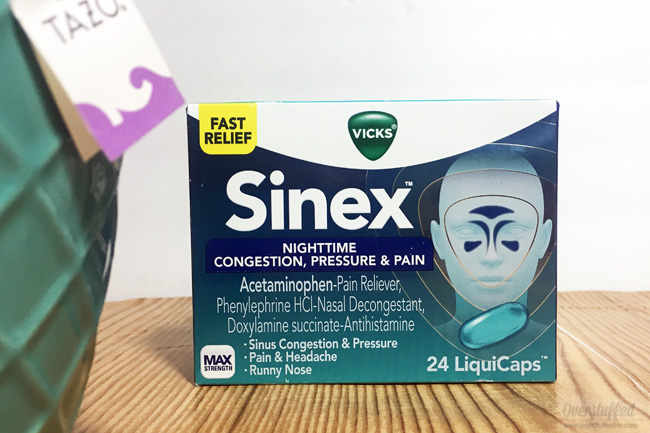 This conversation is sponsored by Sinex available at Walmart. All opinions are my own.
It's that time of year.
The weather has cooled off and there have even been a few snow storms up North where I live. It's just a matter of time before one of my kids gets sick enough to have to stay home from school. Or before I get sick enough to wish I could stay in bed all day!
The last thing any mom wants to do when she or her kids are sick is to run out to the store to buy necessary supplies. That's why having a cold and flu survival kit on hand is so important. Gather your supplies now so you're ready when sickness inevitably hits this winter.
Here's what you'll need:
Decongestant
When you're sick with a cold or the flu, congestion is part of the deal. Make sure you have a good one on hand—like Sinex from Walmart. Sinex products provide long lasting relief from congestion and stuffiness and their daytime products help control symptoms without drowsiness.
I have both the nighttime and daytime Sinex LiquiCaps in our survival kit, as well as the Sinex mist to help relieve severe nasal congestion.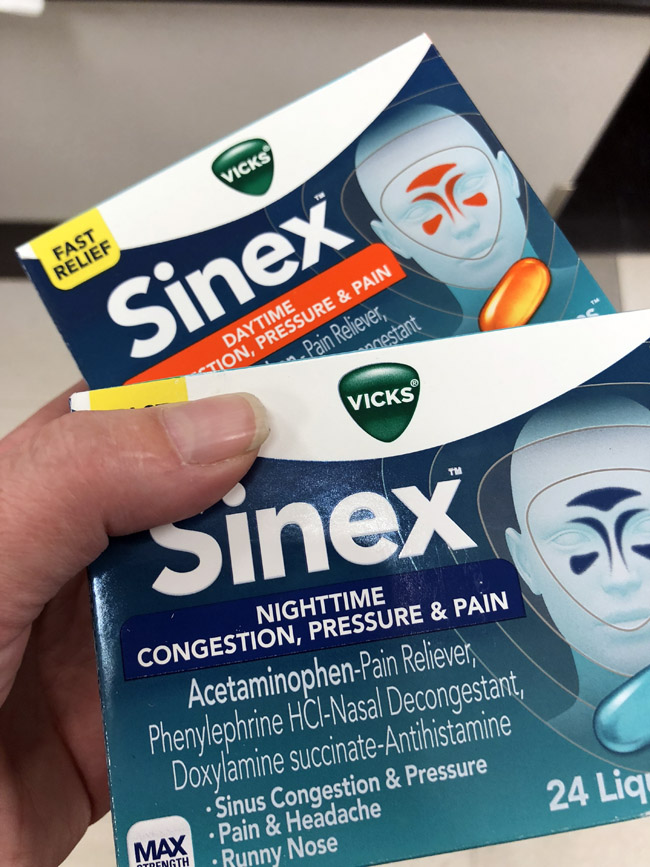 Right now you can get extra savings on Sinex products:
$1 off any Sinex brand product at Walmart (BrandSAVER coupon from 10/28 newspaper)
$3 Ibotta rebates on Sinex LiquiCaps, Sinex Mist, and Sinex VapoCOOL at Walmart (Ibotta offer began 11//7)
$4 off Sinex products at Walmart when you combine offers through 11/10
Be sure to head to Walmart today to grab some Sinex decongestant for your cold and flu survival kit. And while you're there, make sure to put the rest of the items you'll need in your cart, too.
Hand Sanitizer
Washing your hands is the best way to keep cold and flu germs from spreading. While soap and water is probably the best way to do it, hand sanitizer is convenient to have next to your bed or the couch while you're home sick.
Tissue
When my kids are sick they go through tissue like nobody's business. Keep enough in stock so that you won't run out, even if everyone is blowing their nose at an alarmingly high rate! It's nice to have the super soft kind of tissue if you can, because those little noses can sure get raw.
Cough Drops
If the virus you get includes a cough or sore throat, having cough drops on hand is essential. I really like the menthol ones—they make me feel like I can breathe better and soothe my throat all at once. The Vicks VapoCOOL Winterfrost are my favorite.
Humidifier
Not only does a humidifier help you breathe easier and feel better when you're sick, a humidifier may actually stop the spread of germs! According to this study, a humid room can slow the transmission of flu germs by up to 43%!
Cozy Blankets
Nothing feels better when you're sick than cuddling up with a soft, cozy blanket. Have several clean ones on hand ready to go when illness strikes.
Tea
Staying hydrated is essential to getting better, and something warm in the winter is perfect. Tea is the perfect beverage for nursing your sickies back to health. At my house we love peppermint tea, but any flavor will do.
A Favorite Book or Movie
Make sure you've got some good books and DVDs on hand—or there's always Netflix. Perhaps the only good thing about being sick is getting to binge watch your favorite show without guilt.
While getting sick with a cold or the flu is really no fun, you can at least be ready to ease symptoms and nurse your kids (or yourself) back to health when you've put together your cold and flu survival kit!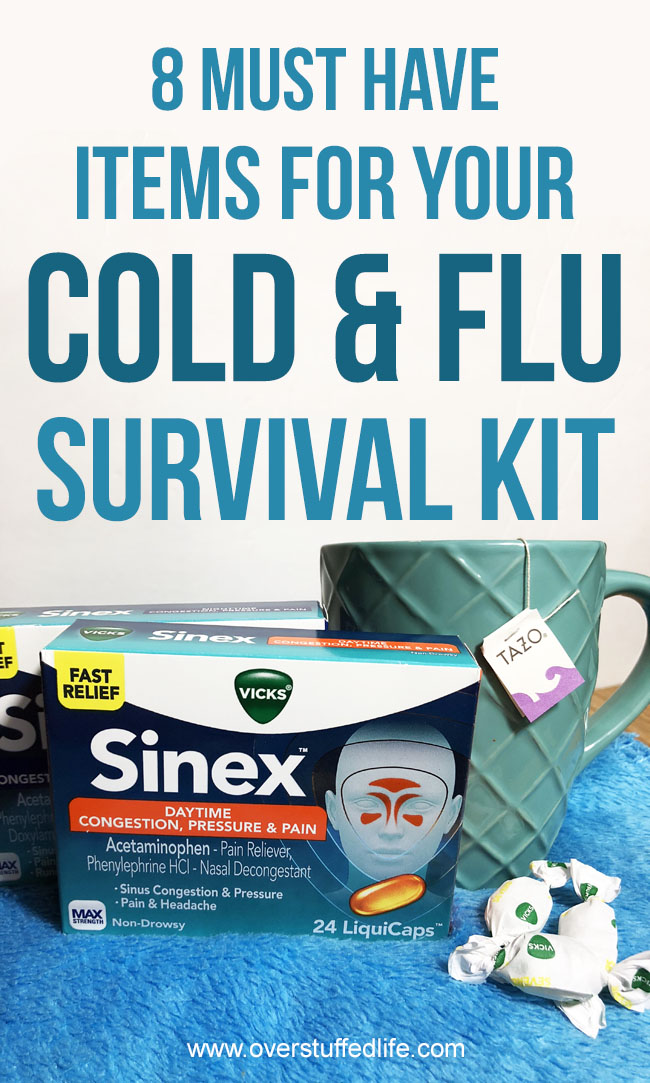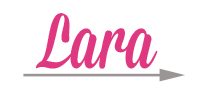 This post may contain affiliate links, for more information, please see my disclosure.