How to Create a Clutter-free Entryway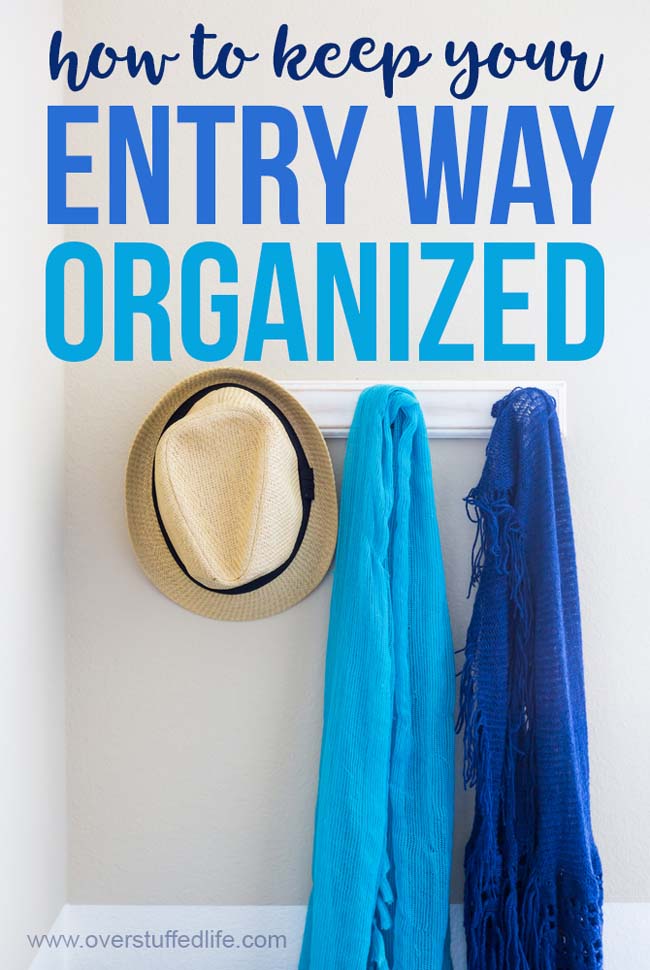 The entryway of your house is both the first thing people see and the worst clutter catcher. Here are some ideas to fix it.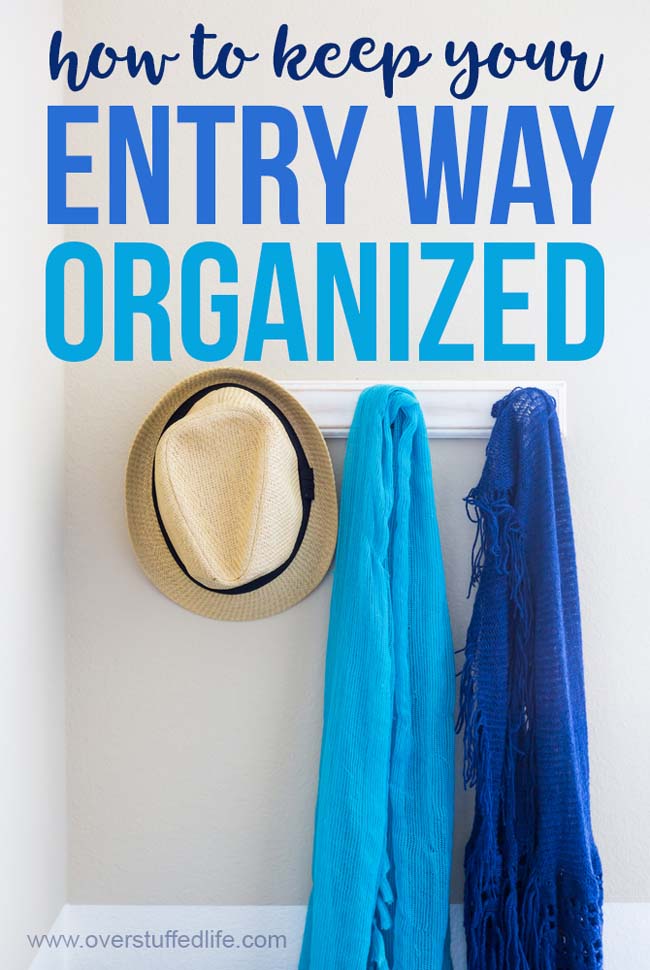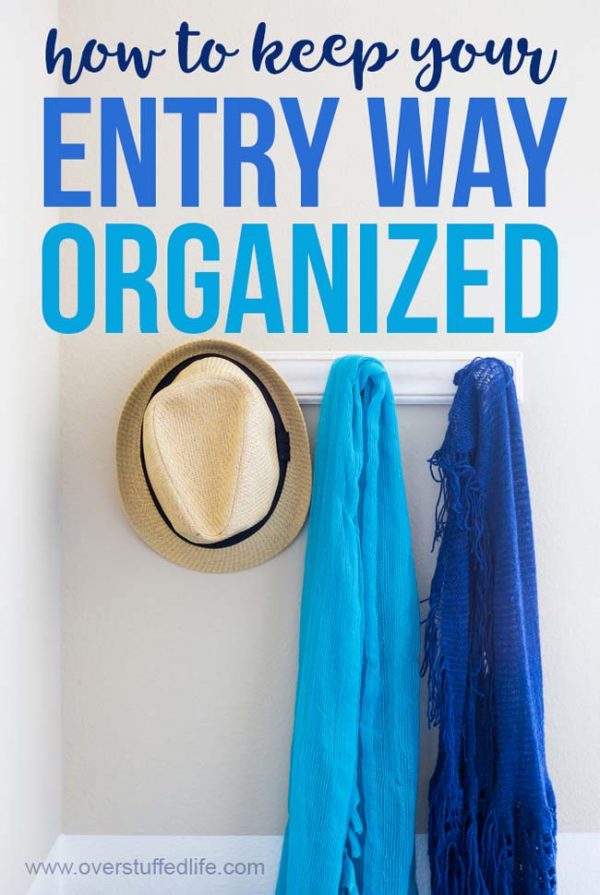 Today is Day 17 of the 30 Day Decluttering Challenge! We are over half way through now! I hope that you are starting to see a difference in your home and in your life as you let go of the clutter.
In my home, the entryway is one of the WORST clutter catchers in the entire house.
The kids walk in the front door and fling bags and shoes and jackets and lunchboxes and who knows what else all over the place. While I usually try to get it all cleaned and straightened before we go to bed, I am often embarrassed when someone comes to the door because it is just such a crazy mess and it's the first thing people see!
I'm guessing many entryways have this problem, am I right?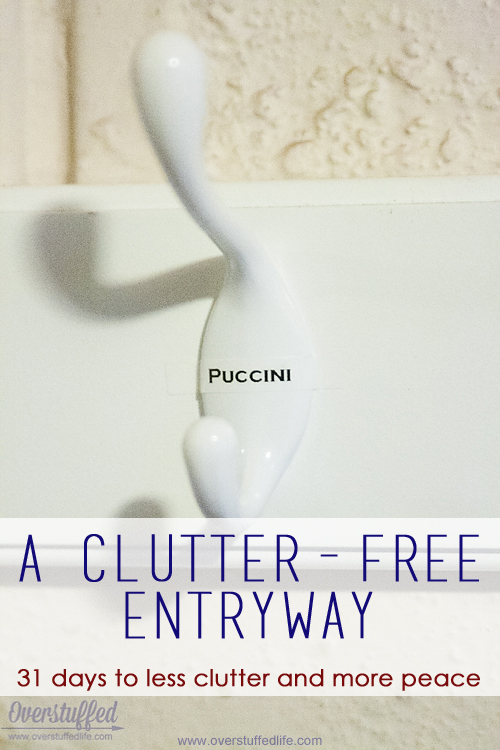 My entryway is a covered front porch/sunroom type of deal. The front door opens into it, but then there is another "front door" to the actual house. It's nice to hang out in during the summer, but since it is not heated, we don't spend any time there in the winter.
Not hanging out in there actually contributes to the mess because the kids want to spend as little time as possible hanging up their winter gear (and with our Yooper Michigan winters, it's a lot of gear!). Instead, they throw it in a pile and get into the much warmer house quickly.
I don't blame them, but I do hate the after-school explosions.
Here is a picture of my eldest on the first day of school, eating her tuna-carrot bites in the front porch after cross country practice.
The worst part of this picture is that dang mess in the background! I hate it. And it's not even that bad as entryway explosions go at my house.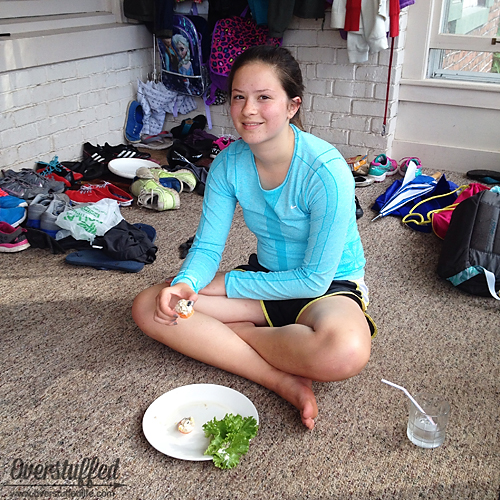 And here's a photo of what the after-school explosion was like yesterday: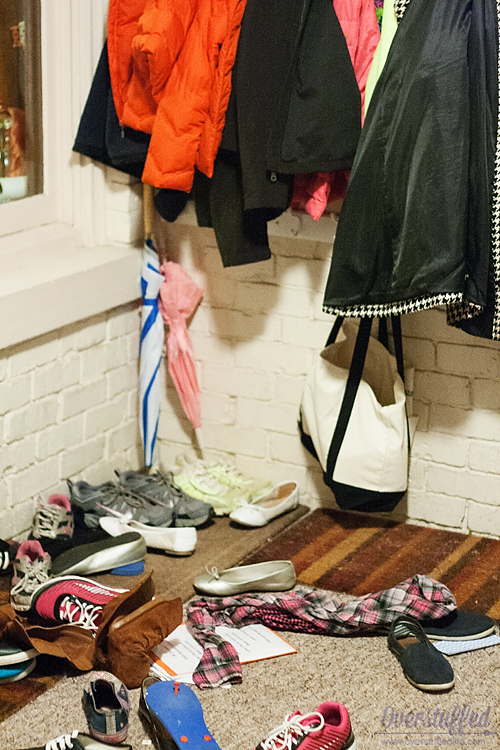 Again, it could be worse. But you're also not seeing the entire room.
I put some thought into how to fix the problem, and decided on a few rules (some have been in place forever, just not always followed or enforced):
---
Entry Way Rules
---
Only tennis shoes, cleats, or boots allowed on the mats.
All other shoes must be placed in the shoe bin, or put away in closets.
Each person is allotted two of the hooks for coats.
Any coats or jackets that do not fit on your two hooks must be hung in your closet.
Backpacks are to be hung on the bottom row of hooks.
Lunchboxes are to be taken immediately to the kitchen after school.
Gloves and hats are to go into their designated drawers.
The trick to these rules will most definitely be a nagging momma until they are habits.
But I did decide to label the hooks (because I do love labeling things!). Each of us have two hooks, which leaves two extra.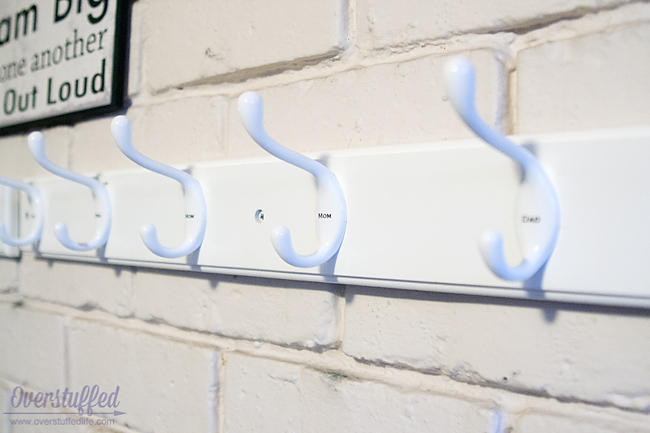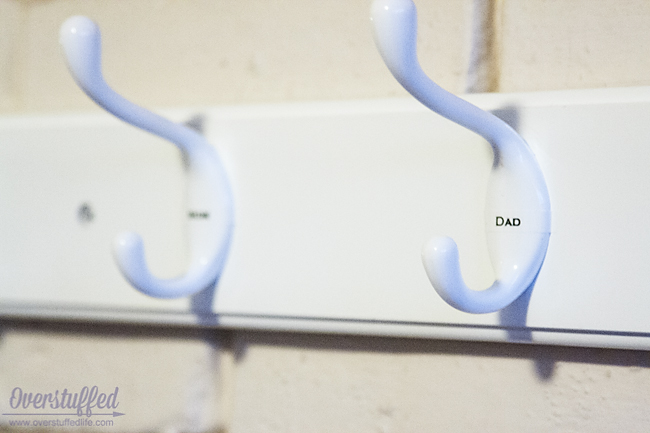 One of the extras was given to the dog for her harness and leash.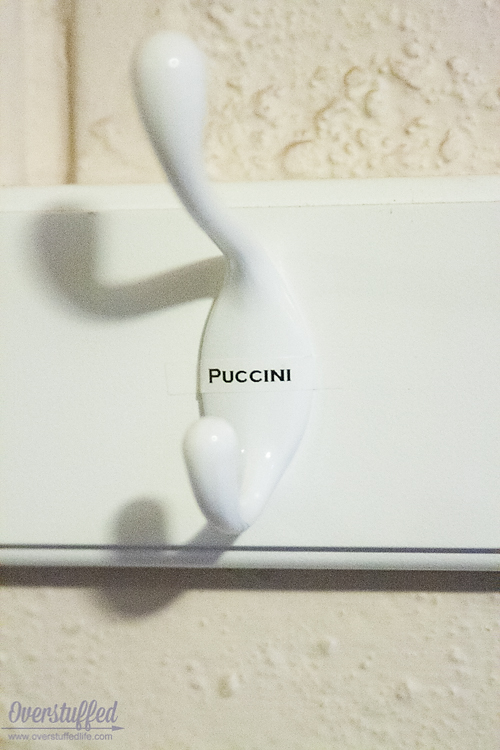 The other one is just empty. We can use it for guests, or maybe extra winter gear. For now, it's just empty, which is fine by me.
Before I labeled the hooks yesterday, they looked like this: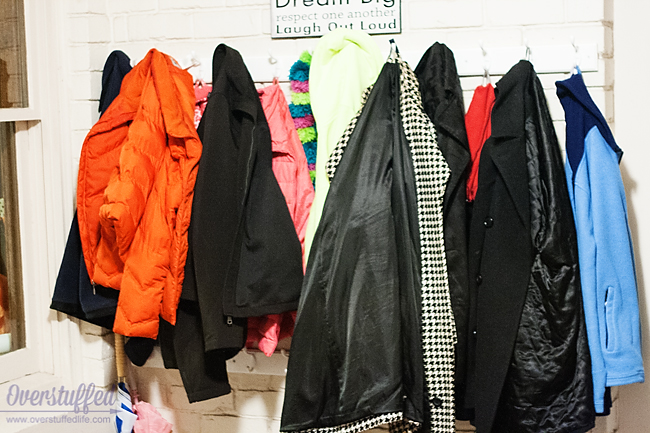 It's not terrible. Not nearly as terrible as it can get during the winter, especially, but it was a jumble of coats and jackets and bags and things.
This is what it looks like now that I labeled hooks, hung only what could fit on the two hooks for each person, and put the rest away in closets.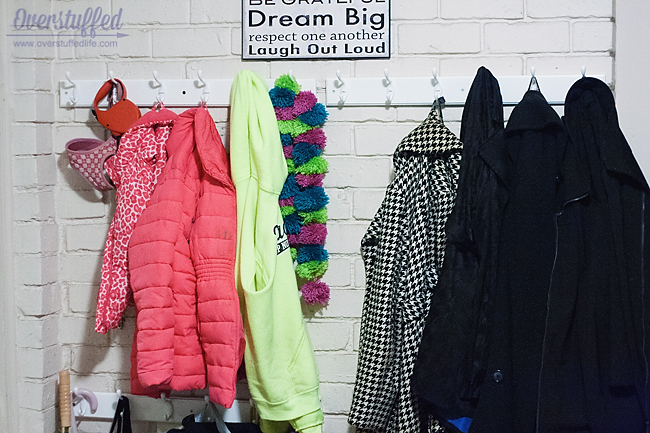 Interestingly, my eldest, Queen of Hoodies, had nothing hanging there. She usually does, but she must have taken everything up to her room recently. Which is fine by me!
I made sure all of the bags and umbrellas were on the lower hook (I also threw away a few umbrellas that were broken beyond help—we'll have to replace them later).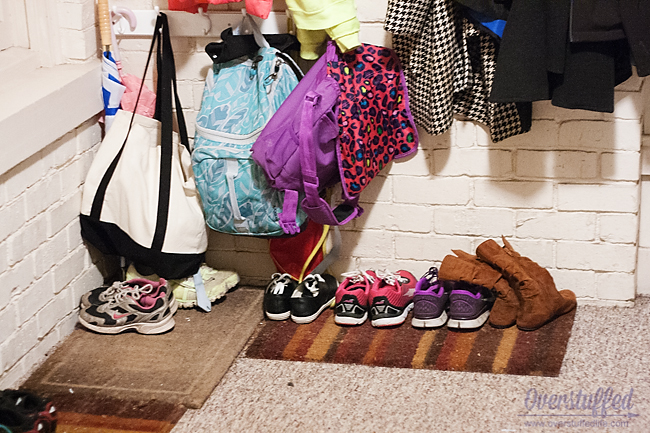 I downsized the shoes, following my rule about only tennies, boots, and cleats being allowed on the mats.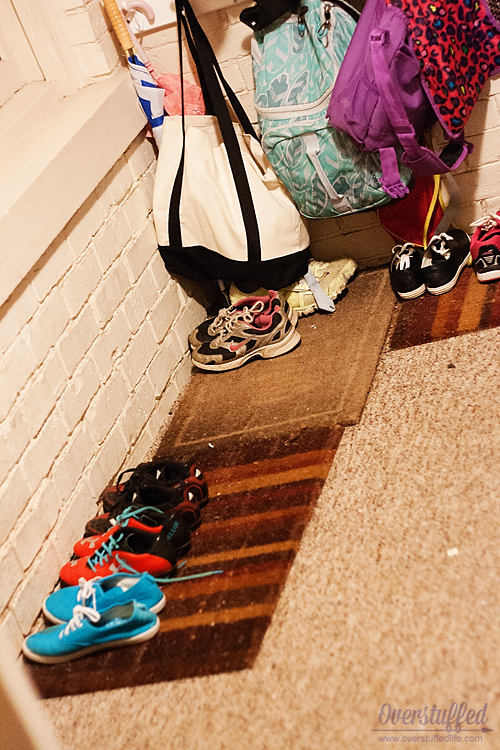 Soccer is officially over anyway, so I will be putting the cleats away in the basement soon. The kids still play soccer in the backyard sometimes, so I will leave them out until the weather doesn't allow for it. By then, snow boots will have to take their place anyway.
I threw away one pair of grey tennis shoes. They were mine, but I had worn them out and bought a new pair. For some reason I never got rid of them, and they just took up space in the corner of the entryway. They are out of my life, now.
The rest of the shoes (mostly Sunday shoes and flip-flops) went back into closets or into this ottoman I use to hold them until we have a chance to put the shoes away.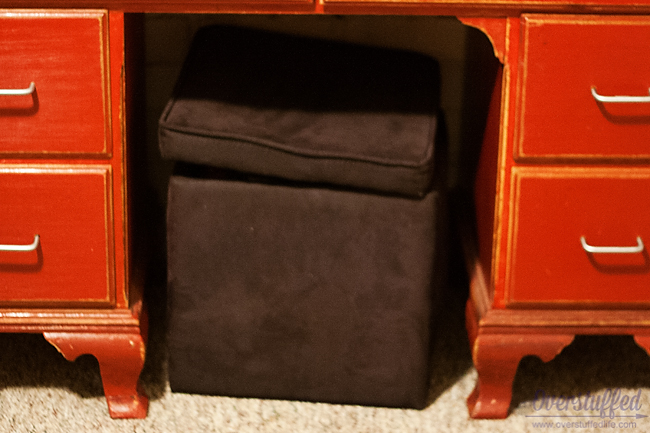 It's under a desk that lives on the opposite wall from the coat hooks.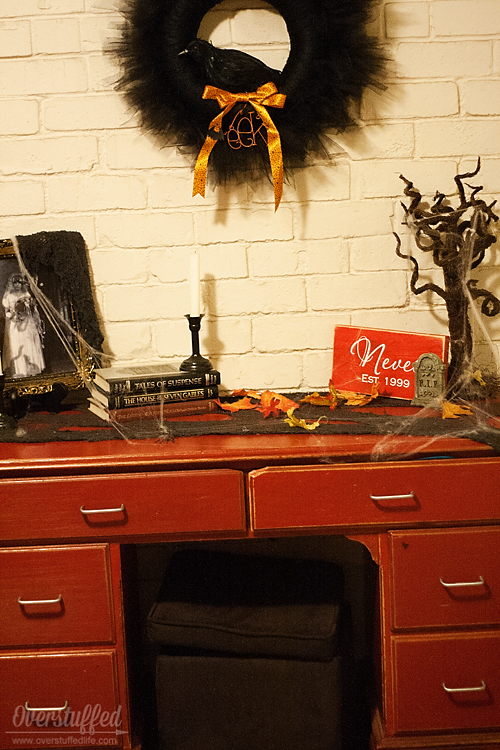 It's all decorated for Halloween right now, see? (If you want to know how to make that fun wreath, click here: Tulle Halloween Wreath.)
My thought is always to use the drawers in that desk for things like gloves and hats. And those things are in the drawers. But so are lots of other things that shouldn't be there…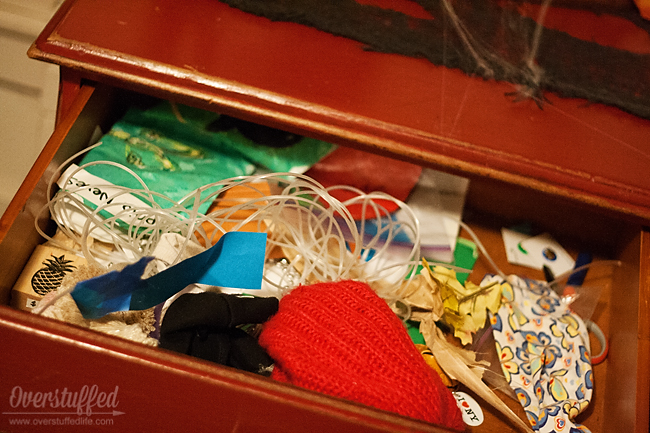 I spy some gloves and a hat. I also spy scissors, a few hair accessories, the line for the weed eater, some dead leaves, some of the girls' school work, some girl scout patches, our letterboxing supplies, and a bunch of random garbage.
I think all drawers aspire to become junk drawers. Actually, just drawers that aren't given a more specific job become junk drawers. Day 20 is devoted to junk drawers, because they are such a huge contributor to clutter.
I cleaned out those drawers, and as soon as I have washed and readied the winter gear, I will organize the hats and gloves and whatnot into this red desk in my entryway. I think I may even buy some fancy label holders for the drawers so there is no question what they are for.
And then I will enforce the rules! No, not then. I will enforce the rules starting right now! Just call me Clean and Organized Entryway Nagging Mom.
Today's assignment:
Assess your own entryway.
What is working well?
What is not working well?
What rules can you make to help tame the entryway?
Do you have a specific place for all jackets, shoes, and other gear in your entryway?
If not, what can you use to make a place for them?
Label things!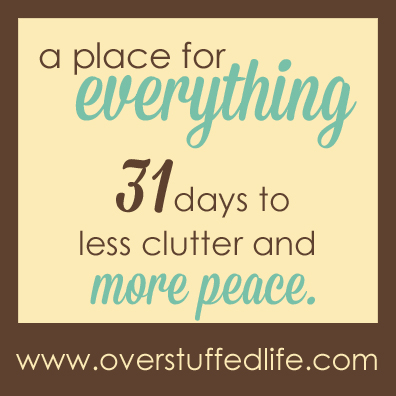 Find all of the posts in this 31 Day Challenge here: A Place for Everything: 31 Days to Less Clutter and More Peace.
Want to start the 30-day declutter challenge?
Fill out the form at the very end of this post and you will receive an email each day with a new decluttering assignment.
This post may contain affiliate links, for more information, please see my disclosure.
Are you ready to declutter your life?
Join the 31 day challenge to get rid of clutter and make room for peace.