4 Ways to Stop Bringing in Clutter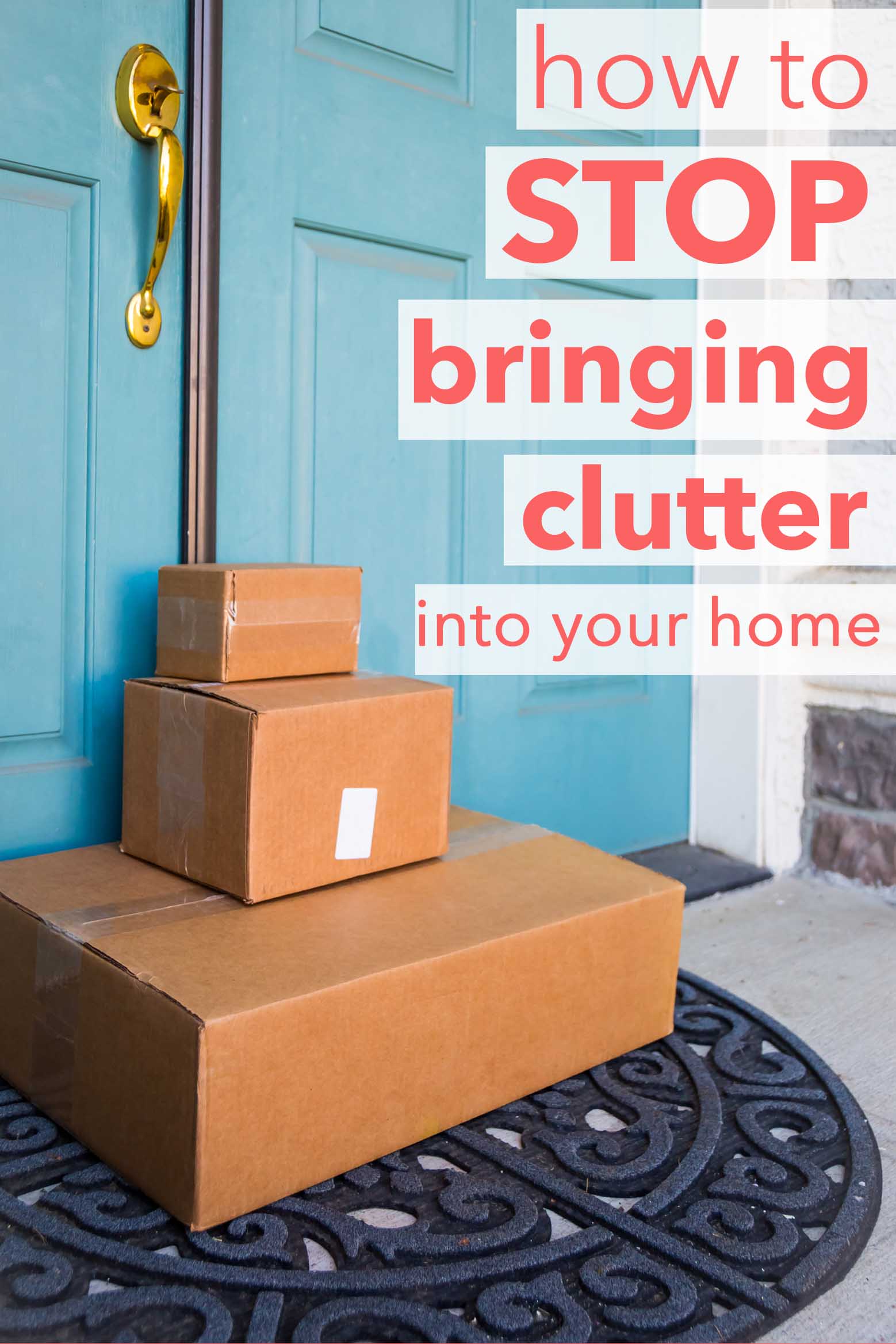 Congratulations! You've cleared the clutter and simplified your life—keep your life simple and clutter free by learning how to stop more clutter from coming in.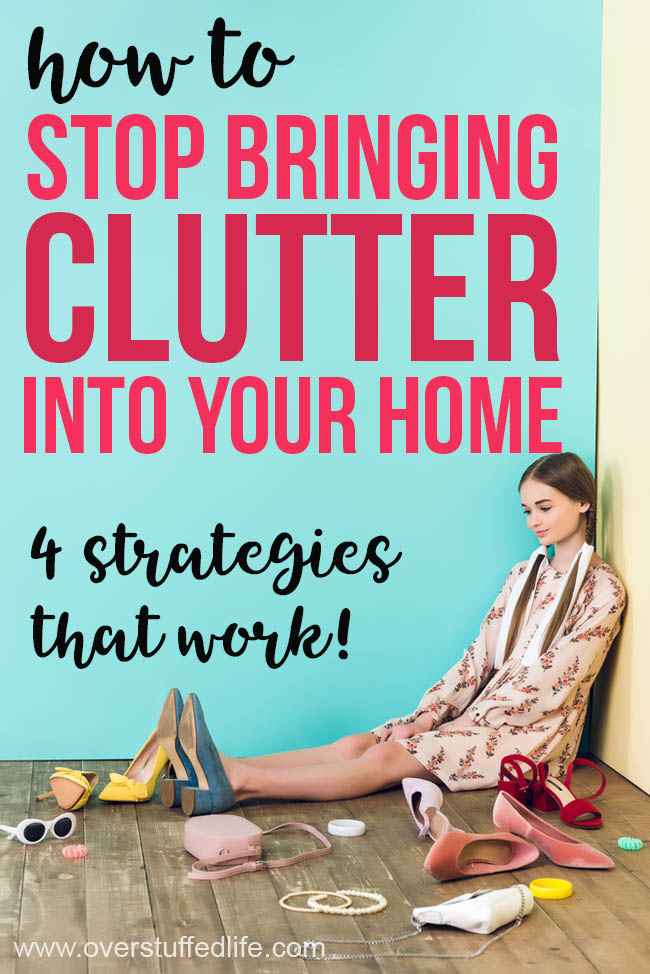 Today is the penultimate day to this crazy 30 Day decluttering challenge! Wowza! I can't believe I got through it alive.
Now that the clutter is gone (or at least going), what are we going to do to make sure it does not come back in? That is the big question.
It's all great and good to get rid of stuff, but if you turn around and go shopping for more stuff, you're just going to find yourself drowning in clutter again.
Don't let that happen!
Let's embrace our new, simpler life and all of the peace that comes along with it.
This post contains affiliate links.
Are you ready to declutter your life?
Join the 31 day challenge to get rid of clutter and make room for peace.
4 Ways to Stop Bringing in Clutter
1. Don't buy anything unless you know where you will put it
Also, don't buy anything you don't either absolutely love or absolutely need.
I am trying hard to ask myself exactly what I will do with an item once I get it home.
I tend to buy things I really love, but don't have a good plan for them. Those things inevitably get lost in the shuffle and contribute to the clutter problem, plus I never actually get to enjoy them.
I'm trying to remember that I don't need every cute thing I see, and I am probably happier without it.
2. Try to follow the "one in, one out" rule
This is hard for me, and I rebel against it all the time, but it is solid advice.
I personally don't think it has to be like item for like item. So you could buy a pair of shoes and still be allowed to keep the rest of your shoes. Instead, you could get rid of that vase in the kitchen cupboard that you have never used.
This way, if you absolutely must buy something new, you can rest assured that the clutter problem will not grow because of it.
3. Downsize your gift giving
Birthdays and Christmas are big, fat, clutter-making holidays. As much fun as opening all the gifts is, I watch way too many of those gifts gather dust as the girls forget about them entirely in favor of the gifts they liked best.
In the past few years, I have downsized the gifts I give at Christmas considerably. Now, each of my children only gets four gifts. (You can read more about that here: Christmas List Printable.)
Giving less not only saves clutter, it also saves money and time shopping. Plus, I find that it has helped my children to be more grateful for the gifts they do receive.
4. Consider gifting experiences, instead of things
A couple of Christmases ago, I gave my husband a spring break trip to Chicago instead of another shirt or gadget he didn't really want or need. I surprised him with tickets to The Chicago Symphony and a hotel stay, and we had a blast together when that trip rolled around. We looked forward to it for three months and it felt like Christmas lasted a little longer.
I remember that trip with great fondness, but I have absolutely no idea what he gave me for Christmas that year.
Memories last longer than stuff.
It doesn't have to be vacations, either.
You can gift art classes, zoo passes, museum memberships, or a day at the beach. I even gave coupons to my girls in their stockings last year with things like "a day of no chores" or "a date with Mom and Dad" on them and they were a huge hit. And most of them have been used up this year, too!
This year, we're taking the whole family to Hawaii the week after Christmas. That is our gift. The girls have already been warned that there won't be much under the tree at all, and they are totally fine with that.
Disney is always a great experience gift for families, too. We have used Get Away Today for our Disney trips and they really do offer the best package deals for Disneyland/Southern California trips.
If you choose to book with them, be sure to enter the code STUFFED10 at checkout for an extra $10 off your Southern California package. If you book over the phone, simply mention the code to get the deal. Book now: Get Away Today
Related post: Stop Giving Your Kids More Stuff!
I feel like I've come a long way when it comes to not bringing more clutter in. But, I could still be better! Certain things still get me, and I have to really be strong to say no to the purchase!
Here are a couple books that can help you further on your path to a clutter-free life:
How have you stopped bringing clutter into your home?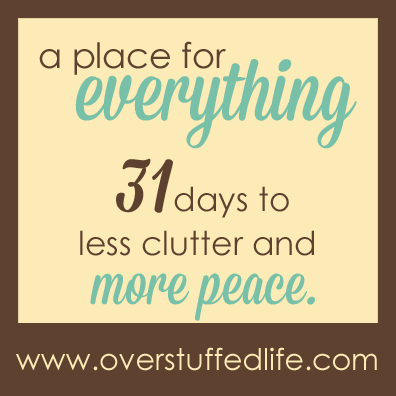 Find all of the posts in this 31 Day Challenge here: A Place for Everything: 31 Days to Less Clutter and More Peace.
Want to start the 30-day declutter challenge?
Fill out the form at the very end of this post and you will receive an email each day with a new decluttering assignment.
This post may contain affiliate links, for more information, please see my disclosure.
Are you ready to declutter your life?
Join the 31 day challenge to get rid of clutter and make room for peace.