Online Guitar Lessons—Affordable & Convenient Lessons with Fender Play
Thank you Fender for sponsoring this post. Learn guitar at home with Fender Play.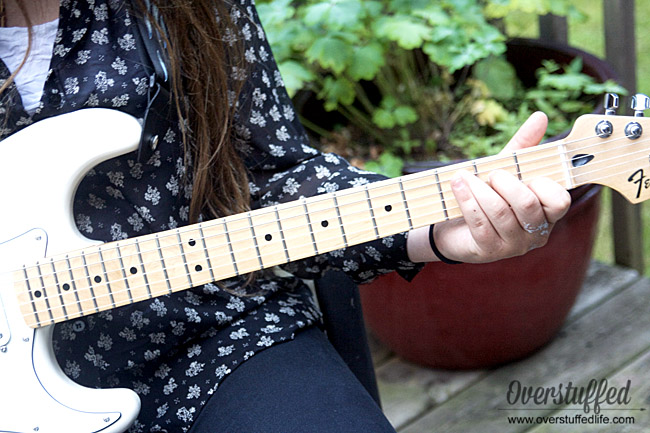 A couple years ago, my teenage daughter decided that she wanted to learn the guitar. She saved up her money and purchased a shiny black Fender acoustic guitar and was SO excited to get started with learning to play it. (Just look how thrilled she was the day it arrived at our house!)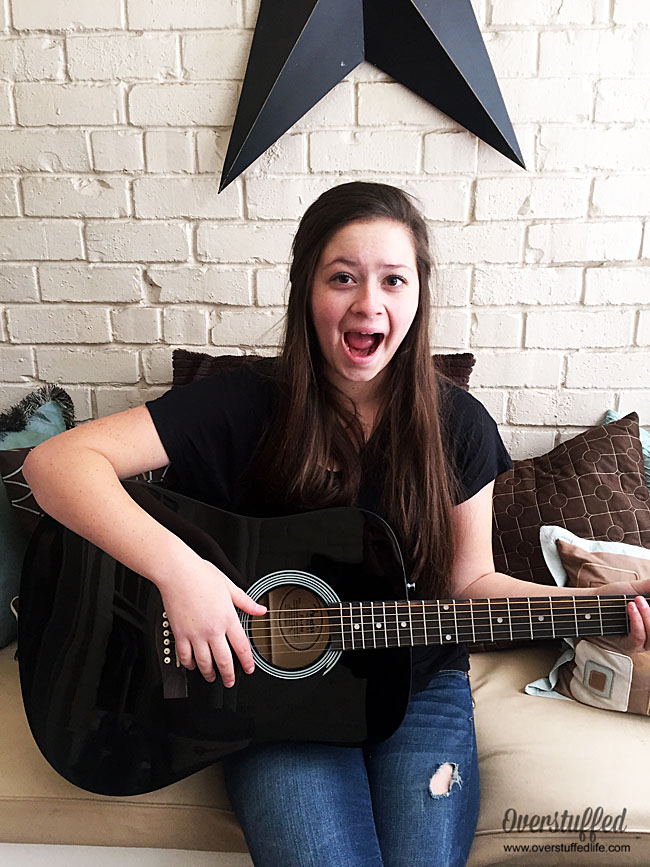 But we had a slight problem—we didn't have either the time or the money to put her in guitar lessons. She is a violinist and we already pay a significant amount for her private violin lessons. She is already practicing violin daily, plus doing all of the things that a normal teenager does. Homework, school, friends, running cross-country—all of it takes time, and while I was totally on board with her learning how to play the guitar, I didn't know how we would fit in formal lessons.
She turned to YouTube and was able to pick up quite a bit that way. But learning via YouTube was still sometimes a frustrating process for her, even though she is an accomplished musician. Lessons aren't really organized and she soon stopped. She would play her guitar often enough, but she went more than a year without really learning anything new.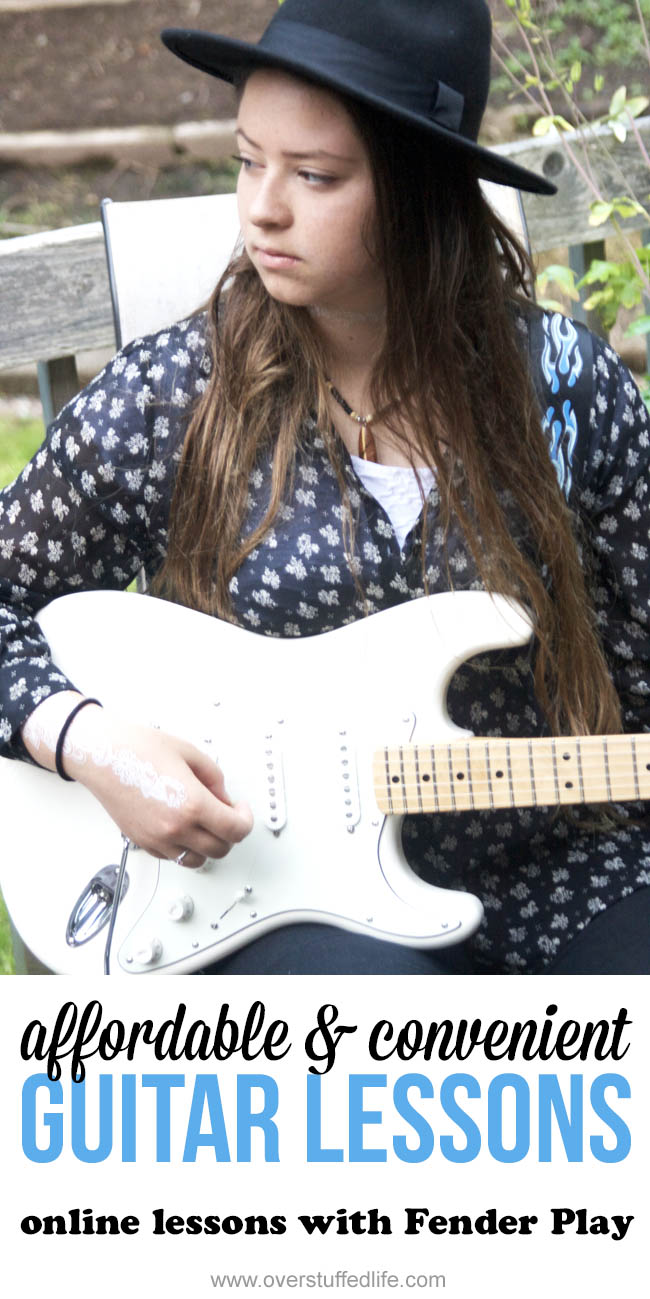 Enter Fender Play, a subscription service for online guitar lessons. My daughter was recently given the opportunity to try this new service out and she was over the moon happy about it. She was especially glad to finally have a structured lesson program that teaches you in a step-by-step manner. It keeps track of your progress and allows you to learn at your own pace, and it has a library of tons of familiar songs to learn, no matter what your level of playing is.
What my teenage daughter loves about Fender Play:
She can use Fender Play when she has time and go at her own pace.
As a busy teenager who loves music and really wants to be more proficient at the guitar, sometimes your chemistry class has to take priority. It's nice to know that Fender Play will be waiting for you to pick up right where you left off after exam week or summer camp.
She also really likes that it is completely self-paced. You can skip things you already know, go over more difficult techniques as many times as you need to, and learn things as slowly or quickly as you are able to.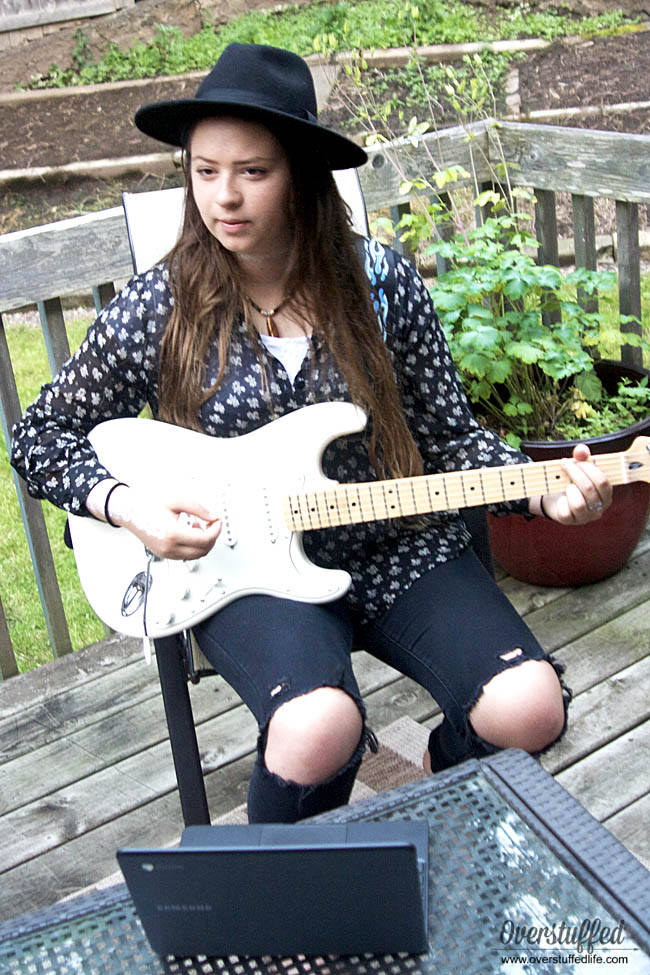 The extensive song library on Fender Play.
There are hundreds of her favorite rock songs on Fender Play. You can search for any song you'd like to learn and the videos will break the riffs down to the most basic parts so you can learn them. You do have to learn a few basic techniques before you will be able to learn any songs, but she likes that, too! It ensures that you are learning things correctly.
She loves that there are many different genres to choose from (rock, blues, country, folk, and pop) and that you can also choose an acoustic or electric path. Since she already had an acoustic guitar, Fender sent her a beautiful Stratocaster electric guitar, so she has been learning on the electric guitar path for now.
The split-screen videos on Fender Play.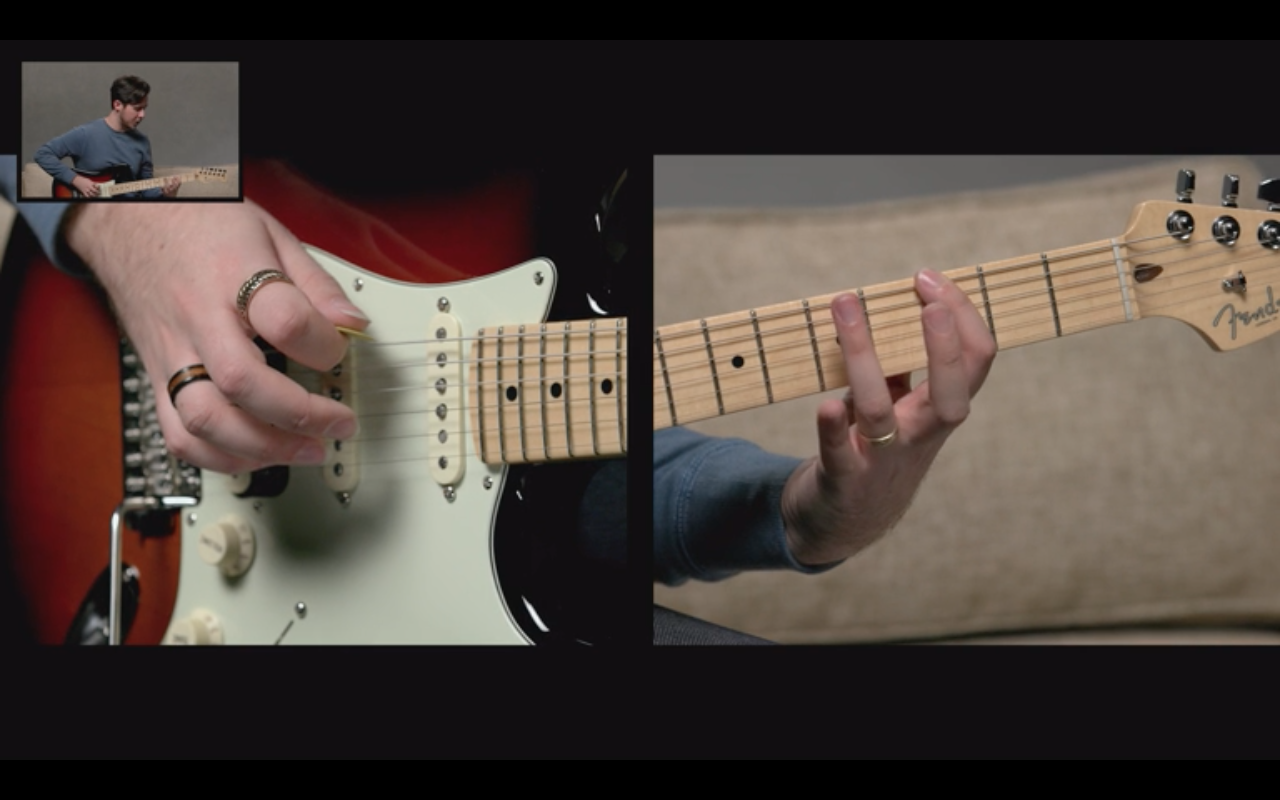 When you're learning guitar, there are a lot of things to be thinking about. My daughter really appreciated the split-screens so she could see the fingerings up close as well as the strumming patterns. Many of the videos also feature an over-the-shoulder angle which makes it even easier to understand the fingerings for the chords.
You can access Fender Play on your phone or your computer.
While it's certainly a bit easier to do on her laptop, it's nice that there is also an app that can be used on your phone if for some reason you don't have access to a larger screen. The greatest thing is that you can really learn the guitar anywhere—wherever is convenient for you. The Fender Play interface is extremely easy to navigate which makes my daughter much more likely to want to sit down and use it.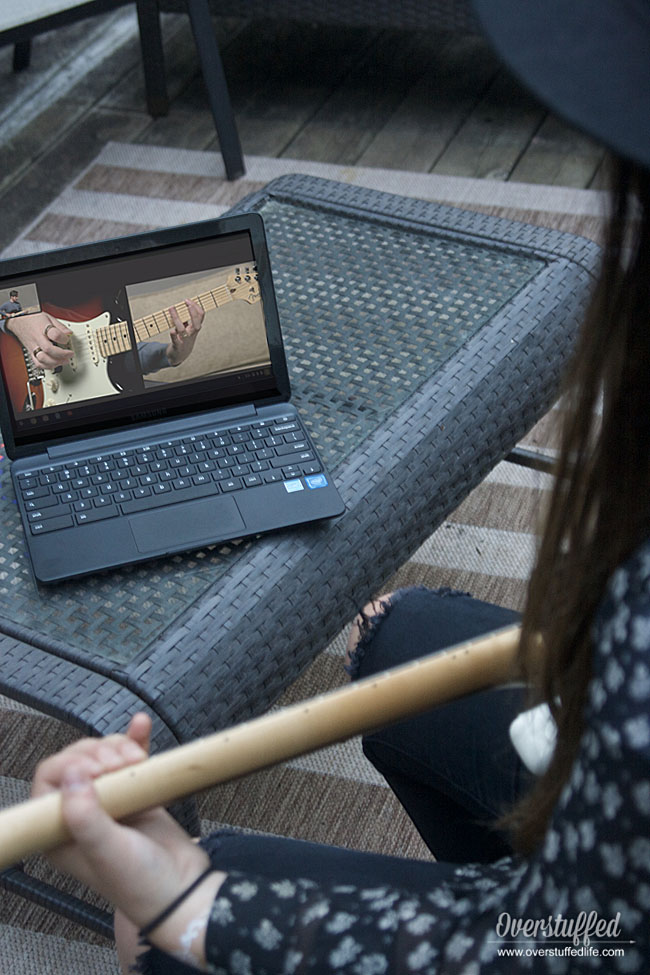 What I love about Fender Play as a parent:
Fender Play is an affordable alternative to in person guitar lessons
The Fender Play subscription is only $20.00 a month. I pay ten times that amount monthly for her violin lessons, so to me that seems like a pretty incredible deal! With all that it includes, it really is a great bang for your buck, if online guitar lessons are the best option for you.
You can do a 30-day free trial to see if you love it just as much as my daughter does. Go to Fender Play and click on the free trial link at the top of your screen.
I think you'll be pleasantly surprised.
I was selected for this opportunity as a member of CLEVER and the content and opinions expressed here are all my own.
This post may contain affiliate links, for more information, please see my disclosure.