The Battle Hymn of the Tiger Mother
I'm guessing I don't have to do much to introduce this book to you, as it has already received quite a bit of attention in the news, on Facebook, on blogs and message boards and everywhere else. I must say that last week I spent more time than I should have defending this book to those who had only read the one article in the Wall Street Journal and I've read so many incendiary comments addressing it that I finally had to walk away from the computer.
In case you've missed all of the hoopla surrounding Amy Chua and her new book The Battle Hymn of the Tiger Mother, please read on…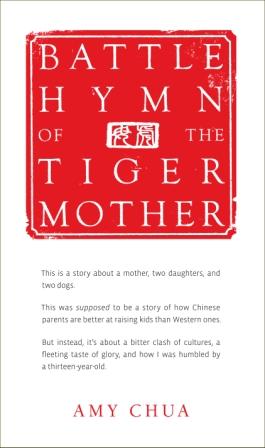 Like Chua, I was born in the year of the Tiger as per the Chinese Zodiac and I consider myself to be a fairly strict mother. By American standards, that is. (Perhaps there really is something to that Zodiac…) I have been told more than once that I am "weird" to not allow television, computer/video games or playdates on weekdays. I am not a fan of sleepovers, and I mostly don't let my children participate. The only exceptions are when we are out of town and friends are watching our children or vice-versa. Like Chua's children, mine are required to play a musical instrument, and they must practice that instrument daily.
Tiger signs and strictness aside, I loved this book. Loved it. I read it all in one great gulp a few days after Christmas. After I closed it, I sat and I thought about what I had just read. I learned a lot about myself as a parent and about my children while reading it.
I was absolutely fascinated with the story of this Chinese-American mother—herself a law professor at Yale University which is certainly a highly demanding job—and how she sat with her two daughters for their daily practice and homework sessions.
She practiced with them for up to six hours a day on the violin and piano. She drilled them with math problems so that they knew the material backwards and forwards. She was one hundred percent devoted to the success of her children and going much more than just an extra mile to help them.
Being a Suzuki mom myself, I was a little shocked and more than a little impressed when I read about Chua's daughter Lulu, and how she was already playing Dvorak's Humoresque after only six months on the instrument. Um. My daughter just learned that song last year, and she's been playing for six YEARS.
Did I agree with everything Chua had to say? Absolutely not. But one thing in particular resounded with me in a very big way. It is my job as a parent to help my children be successful. Children are much too young to always make good choices, and while offering them choices in some things is good, it isn't okay to just let a four-year old choose everything about her life. Or a seven-year old. Or even a ten-year old. And especially not a teenager, although I wouldn't know anything about that.
If I left it up to my children, they would rarely do their homework (especially not math), they wouldn't practice their instruments, they would watch a lot of TV, they would eat candy for breakfast, cookies for lunch and who knows what for dinner, they would never brush their teeth or shower and they would be generally miserable. And they would have no idea why.
It is my job to see to it that they not only complete their homework, but that they do it well. It is my job to make sure they not only pick up that violin/sit at the piano and practice, but that they actually do their scales and pay attention to proper technique. It is my job to make sure that they are filling their time with wholesome activities and not just watching whatever happens to be on the television, which, as we all know, is often nothing good. It is my job to make sure that they have healthy meals and to limit their sugar intake. My job to make sure their teeth are brushed twice daily and that they sometimes floss. My job to make sure they bathe.
My. Job.
Having high expectations for a child is not a bad thing. It does not ruin their self-esteem. It can only help them learn responsibility, the value of hard work and oh, raise their self-esteem. Do I think this can be accomplished without yelling or calling names? Yes. There is a balance.
Have I found that balance? No way. My children have experienced something of an inconsistent childhood, having a mother who one day makes them practice and practice until it is perfect, and the next makes them do it themselves or forgets altogether. I fully admit to forgetting to make them brush their teeth at night or letting them have a cookie just because I don't want to deal with the temper tantrum that is sure to follow. I am by no means a perfect mother.
And neither is Amy Chua, and she certainly doesn't purport to be. Her book is not a story of why her parenting methods are "superior" as the Wall Street Journal's headline reads. Her book is not even a "how to be a better parent" kind of book. Her book is a memoir. A memoir of a mother who begins her journey as we all do—no instruction manual in hand and only the experience of being raised by her own Chinese Immigrant parents to guide her. She learns along the way what works and what doesn't. And then, there's always the fun trial of having a second (and then a third, in my case) daughter who is nothing like the first one, and you're at square one again.
At the end of the memoir, Chua learns some valuable lessons about balance. About letting go a little bit and letting her children carve their own lives. She also makes fun of herself throughout the entire book, and I am fairly sure that she doesn't mean for us to take everything she says quite so seriously. I'm even going to go out on a limb and say she'd be totally okay with her daughter earning the silver medal in something!
What about Chua's (American) husband? Well, I happened to catch an interview with the both of them on NPR the other day (I highly recommend listening), and I found it very interesting what he had to say about his wife's parenting methods:
"You know, to me, maybe I'm wrong, but I always thought the way we were raising our kids was more of a traditional American way. You know, the values of hard work and perseverance and being taught that you can overcome obstacles and respect.

And, you know, it's an interesting thing. When did Western parenting become associated with the more permissive style? I think it's pretty recent. I mean, I think maybe the 1960s. So I didn't really think of it as Western versus Chinese. I guess I thought of it as maybe a kind of old-fashioned parenting style. "
And that about sums it up for me. I wouldn't say I'm Chinese, but I suppose I am old-fashioned.
(And I loved this book.)
*****************
I received a copy of this book from TLC Book Tours in return for this review. I was not required to write a positive review, all thoughts are my own.