Carry On Warrior: Thoughts on Life Unarmed
If you are a mom and you participate in Social Media, you have heard of Glennon Doyle Melton. Unless you were living under a rock (or unless you are one of those people who never click on the posts you see 100 times in your news feed), you most likely read her blog post "Don't Carpe Diem" when it went viral last year. And you probably loved it.
I sure did.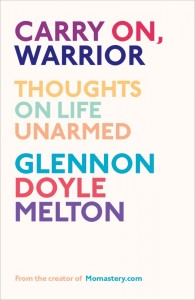 It was one of the most validating things I'd ever read on the internet as a mother who is just trying to do her best, but doesn't always enjoy every. single. moment. of parenthood. Who probably doesn't even enjoy most of them. I absolutely loved loved LOVED Glennon's thoughts on this. I love my children. I adore my children to pieces. I would do anything for my children. But. I don't enjoy many of the things motherhood entails.
Anyway, because I loved that essay so much, I agreed to be on the tour for Glennon's new book: Carry On Warrior: Thoughts on Life Unarmed. Even though I am trying to wean myself off of book reviews and have done a huge amount of them lately.
And it was so worth it.
I cried a lot during the first part of this book simply because I related so well to her experience. No, I don't relate to the fact that she is a recovering alcoholic and bulimic. I relate to her movement through life: A person who has weaknesses, who is a mother that wants what is best for her children, who is a follower of Christ. She really thinks a lot about what it means to be a Christian, what it means to be a mother, and what it means to have weaknesses and to lift and help each other.
Which is what the book did for me. It made me want to be better. A better Christian. A better mother. A better daughter. A better friend. A better person—one who lifts and helps instead of judges and shuns. Someone who makes the world a better place.
If you haven't read her Don't Carpe Diem essay, go read it now. And then order yourself a book.
*************
I was provided a copy of the book by the publisher via TLC Booktours.
This post contains affiliate links.