The Case for the Only Child
If you read my blog at all, you know that I have not one, but THREE children, and you may think that this is an odd book title for me to be reviewing. And you'd be right. Lisa at TLC Booktours asked me to review this book on the premise that some of my readers might be contemplating having only one child, and that I might have a unique perspective on the book's message, given my "overstuffed" household.
As all of the other reviews for TLC seem to have been written by those who do have onlies, I suppose mine will indeed be a unique perspective.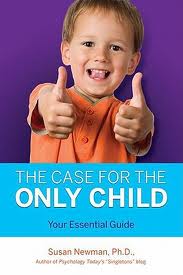 "You must have your hands full" or "You do know how you got all those kids, don't you?" is a fairly common observation when I go out with all of my kids. And that is surprising to me for two reasons. First of all, I'm not sure why people feel the need to say such things to perfect strangers (is my reproductive life really any of your business?), and second of all, I really don't think three children are all that many. Most of my friends have at least three, and I have several friends who have more than that. Heck, one of my best friends is having her seventh in a few months.
Again, if you read my blog at all, you will also know that I am LDS. Having lots of children—certainly more than one—is indeed a part of our religious culture, and while I won't go into our specific beliefs about that, I will say that I realize that my religion has influenced the decision my husband and I made to have more than one child, or indeed, any children at all. However, society as a whole is largely moving towards smaller families and, in many cases, only children.
So, before I have said a single word about The Case for the Only Child by Susan Newman, Ph.D., you are already completely aware of my biases. And the title of the book should clue you in to what the biases of the author are, as well.
One thing that this book does well is to go over every argument you could possibly think of against having an only child and present counter-arguments and research which discredits the case against onlies. On the other hand, most of her arguments really serve to discredit those of us who have made a different choice—it didn't feel objective. I feel her arguments would have been much stronger if she had extended her research to include those who do have more than one child and how they have dealt with such things as career and finances when the decision to have more children was made.
Putting my husband through his doctoral degree with two children wasn't easy, but we made it work. Yes, if I had no children or even just one during that time we would probably be in a better place financially, but that wasn't the choice that we made. And we, I believe, are better people for it, despite what conclusions an outsider may draw about our financial situation.
The one argument I can wholeheartedly agree with is that of time.Yes. I am often stretched way too thin between my three daughters, a house to take care of and keep clean, music lessons, soccer, homework, practicing and my own part-time job, church service, hobbies and other interests. It's a lot to handle and I am often overwhelmed. I have indeed noticed those acquaintances who only have one child giving that child much more time than I could ever give to any one of my three. I wish I could be three people sometimes. Sometimes having three children begging for my attention in three separate directions all at the same time is enough to make my head explode.
But, being overwhelmed does not mean that I am not happy.
Consider this quote from the book:
"Christine Carter, a sociologist at University of California Berkeley's Greater Good Science Center, proposed a "happiness challenge" during which she asked mothers to follow paths that would make them happier: to be less busy, to relax and have more fun. Can you really do this with a couple of children to drive to activities, homework to supervise, meals to prepare, teachers' conferences to attend, sporting events to watch—in short, a killer schedule on top of full-time or part -time work?
"By only having one child, mothers have discovered a way to be happy. They report having the time to kick back and rest. Most of them say they are calm, less stressed and less busy, than their friends with more than one child. They told me that they are busy, but they have only one child's schedule to fit in. The 'rest, relaxation and flow' that Carter says has been 'squeezed out of their [mother's] lives' is not missing for those who have one child."
Because I have three children, I am not happy? And since when does "having fun" determine a person's happiness level? Wrong.I am very happy. The difference is that I have learned that serving my children, working hard, teaching them to be functional adults, watching them learn to navigate this world, seeing their successes and being there for them in their failures brings me thousands of times more happiness than my job as a voice teacher and a performer (which I do love and enjoy) does. It brings me much more happiness than kicking back and resting does. And it certainly brings me more happiness than having fun at an amusement park or going to a movie does. All of the sacrifices which I have had to make in order to be the mother of more than one child are completely and totally worth having these three wonderful beings in my life. I am better for it.
Still, I do think this is a good book for those who are trying to decide whether or not to have more than one child. It certainly presents the many factors in our lives and marriages that are affected by having children, and that is a good thing. I know that as we have discussed nearly incessantly for the past several years whether or not we would add a fourth child into our brood, most of these factors have come up and we have had to be honest with ourselves and take a good, hard look into why we wanted another child. Whether to have just one or more, or even no children is a very personal decision and I certainly do not judge those who have made a different choice than I have.
*************
I received a copy of this book from the publisher via TLC Booktours.
This post contains affiliate links