Christmas Home Tour: Living Room
I had signed up to do a blogger Christmas home tour, but ended up having to back out due to my shoulder. I still had most of the photos taken, though, and since I've slowly been working through them, I think I'll try to post at least a few of the decorated rooms in my home before Christmas.
Before I start in with the photos, I should tell you a little bit about my house. It was built in 1908 or thereabouts by a copper miner. It has all of the original wood flooring, woodwork, and a wonderful old red brick fireplace. Sometimes I love my vintage home, and sometimes it drives me absolutely nuts. But, even though the living room layout is a little strange–there are four windows, five doorways, and an archway in the living room–I love it at Christmas time.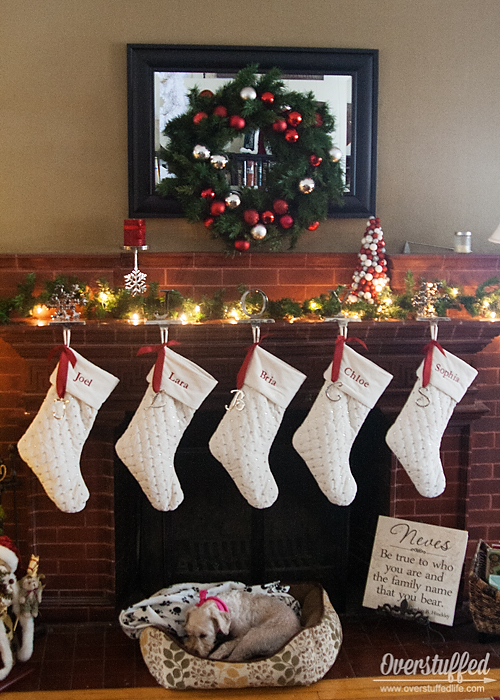 I have usually put the tree in a different corner of the living room, but that would have required moving both the couch and the new electronics charging station we put in a few months ago. So I decided to just move the easy chair and put the tree right next to the fireplace this year.
I love it there. Incidentally, everyone loves the fact that we moved the chair up into the family room, so maybe I'll have to keep the tree up all year. Or buy a new chair for the living room.
If you've been reading my blog long enough, you've seen my Christmas more than once, and you know I am all about keeping things traditional. Which means I don't change up my Christmas decorations very much.
My tree is pretty much the same every year, with the occasional addition of new ornaments and retirements of those that are just too old to use anymore. If you want to see my entire tree decorating process, click here: How to Decorate Your Christmas Tree.
Like my tree, the mantel doesn't change much, either. I bought the stockings our first Christmas in this home. It was a big splurge on Pottery Barn, but totally worth it.
I love them.
I've had the JOY stocking holders since my oldest was a baby. I added the snowflakes at either end when I bought the new stockings. Before that, my husband and I just didn't have stockings (we didn't really have room for five stockings at our last house, anyway).
The initials on each stocking are one of my favorite touches. They are Harvey Lewis Monogram Ornaments (he puts a different design out every year, so I am linking to a 2014 example). My "L" is actually from 2010, while everyone else's are from 2009. I couldn't find an "L" in 2009, so I used something else. I was pleased to see that the font wasn't so drastically different the next year, and it fits in pretty well with the other initials.
I just strung red grosgrain ribbon through each ornament and tied it to the stocking.
One of the things I worried about this year with putting the tree right next to the fireplace was the fact that the mantel has always been silver and red, while the tree is gold and red.
But I think it turned out lovely.
Last year I made the little tree on the mantel by gluing decorative sparkly balls onto a tree form.
I had intended to make another, smaller tree to complement it, but never got around to it. I think I also ran out of the sparkly balls. It doesn't look like it's going to happen this year, either, since there is less than a week until Christmas! Oh well.
I like my little Santa bear under the tree. My aunt sent it to me when we first moved into this house, and he has been an important part of our decor since. He fits in perfectly.
Every year, I empty out my magazine basket and fill it up with lots of Christmas books. The idea is to read one every night in December, though that isn't always easy. I think this week we might have to read three a night in order to get through all of them. The kids are just too darn busy now that they are older. Not to mention the fact that my husband and I are also busier than I'd like. Also, do not ask what I did with all the magazines. And don't go into my office, either.
But if you'd like to know which books are in the pile, click here: 24 Christmas Books to Read with Your Family.
Finally, I made the wreath that is hanging on the mirror myself. I just bought a plain old fake pine wreath and wired some cheap dollar store ornaments on. I was copying a wreath out of the Pottery Barn catalog that cost about 80 dollars. Making it myself cost about 15-20 dollars. It's been a while, so I'm not entirely sure.
And that's it for my cozy and Christmas-filled living room. I have a few random things on the bookshelves, but nothing worth posting here.
Also, my dog is cute and those pictures would have been even better if I had had an actual fire going. But, fire or not, I love sitting on the couch and just looking at the tree and the mantel. It really puts me in the mood for Christmas and helps me focus on the Savior during this season.
Look for the dining room next!
This post may contain affiliate links, for more information, please see my disclosure.