How to Get Your Home Company Clean in One Hour
It's 4:00 pm, you just got home from work and the kids are getting off the bus any minute. You're hosting book club in three hours and the house is a wreck. Plus, you still have to run your kids to their after school lessons and make cookies! How will you possibly be able to get your house clean enough for company that quickly?
I don't know about you, but I have found myself in this situation too many times to count! I obviously haven't quite learned the lesson about keeping my house clean consistently, or I wouldn't have this predicament every time I have people over. But because of my shortcomings, I have now developed the ability to get my house company clean quickly. And when I say quickly, I mean in under one hour.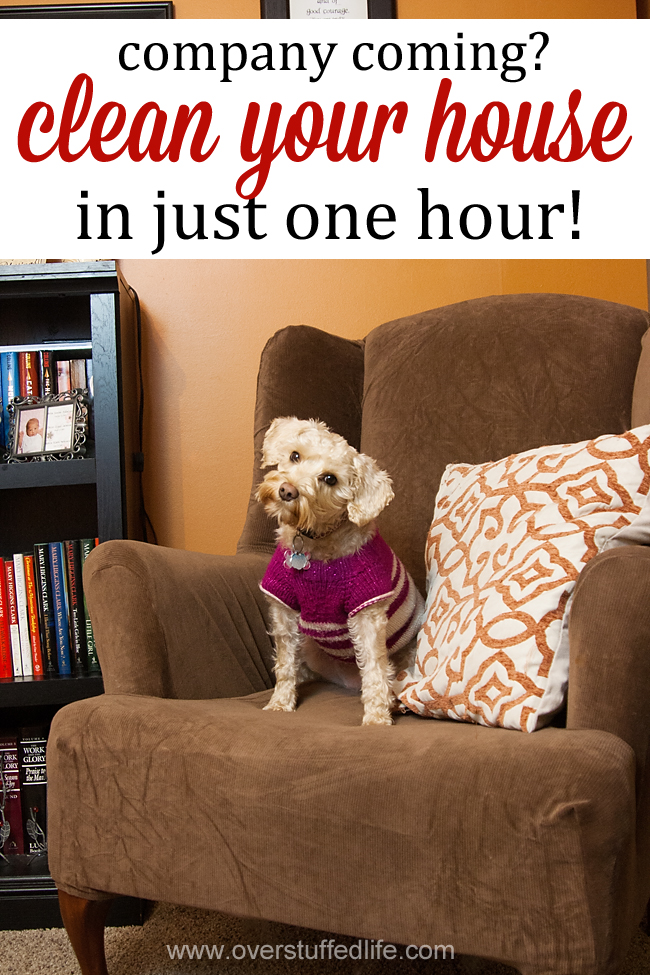 (Note: This kind of company clean is for when you are just entertaining for a dinner party or a game night, not if you have overnight guests. That might actually take two or three hours.)
Get Your Home Ready for Company Fast!
Supplies needed:
Timer (your phone will do just fine)
Laundry basket
Toilet cleaner/brush
All-purpose cleaner
2 Cleaning rags or sponges
Paper towels
Vacuum
Speed Declutter & Straighten—10 minutes
First, set your timer for 10 minutes. Having the timer going makes me work even faster than usual because I know I have to beat the clock.
Grab your laundry basket and start at your front door. The entry way is the first thing your guests will see, so throw anything that is out of place into your basket and quickly tidy everything else. (If this is my entryway, there will always be an awful lot of shoes going into that basket!)
Continue walking through your home, gathering up clutter as you go. Make sure to walk through all of the areas guests are likely to go: living areas, bathrooms, kitchen, etc. Before you leave each room, do a quick straighten, but most likely just getting rid of the clutter is enough.
If you have time you can put things from the basket into their proper places, but only once every room has been quickly decluttered and tidied. Otherwise, you must resist the urge to put things away! Putting rogue items into their proper places is the biggest eater of your cleaning time.
So what are you supposed to do with your basket that is no doubt overflowing with misplaced stuff? You are going to stash it in your bedroom closet or your laundry room. Yes, I'm being completely serious! Somewhere the guests will not go. Just promise that you will deal with it when your party is over, okay?
Speed Clean the Bathroom—15 minutes
Again, set your timer!
Put toilet cleaner into the toilet bowl and let it sit while you do the rest of the bathroom. Using all-purpose cleaning spray, quickly spray and wipe down all surface areas (sink, counters, bathtub, etc.). Hopefully during the first step you successfully cleared out the clutter, so that won't be in your way at all. Wipe all of the surfaces down with your rag. Spray your mirror with all-purpose cleaner and wipe it down with paper towels.
Once all of that is done, quickly clean your toilet with the toilet brush.
Finally, vacuum the floor. Yes. You read that right! Vacuum it! Today's vacuums work great on hardwood, tile, and linoleum. I have the Hoover Air™ Cordless Lift Upright Vacuum which has the option to turn the brush roller on or off, so using it for hard floors is a cinch. I turn the brush roller off and then do a quick once over in the bathroom. If necessary, I grab the hose and quickly swipe the baseboards and the corners. Easy, peasy.
Using a vacuum cuts so much time off of your cleaning, and for a quick job like this it is perfect! We'll save the mopping for next Saturday morning's chore list, okay?
Speed Clean the Kitchen—15 minutes
Is your timer on?
The kitchen can be problematic depending on how many dirty dishes you have in the sink (or on the tables and counters for that matter!) So, we are actually going to mostly ignore the dishes for the first little bit.
If there are dirty dishes in places other than the sink, quickly move them to the sink and wipe down all the surfaces. Then—just like in the bathroom—vacuum the floor! Be sure to get the vacuum head under the counters where all the crumbs love to lurk.
Once your counters and floors are clean, you can move to the dishes. Load your dishwasher (or, if you're like me and don't have one—start handwashing!) as quickly as you can, and only work on dishes for the remainder of your timer. We aren't going to worry too much about dishes if you still have some leftover. Just leave them in the sink for now, and if you have time before the company comes you can deal with them.
However, I think you'll be pleasantly surprised at just how much you can accomplish in the kitchen during a 15 minute speed cleaning session.
Speed Vacuum & Dust—20 minutes
Turn on that timer!
Grab your vacuum and, starting at the entryway again, go through all the areas where your guests will likely be.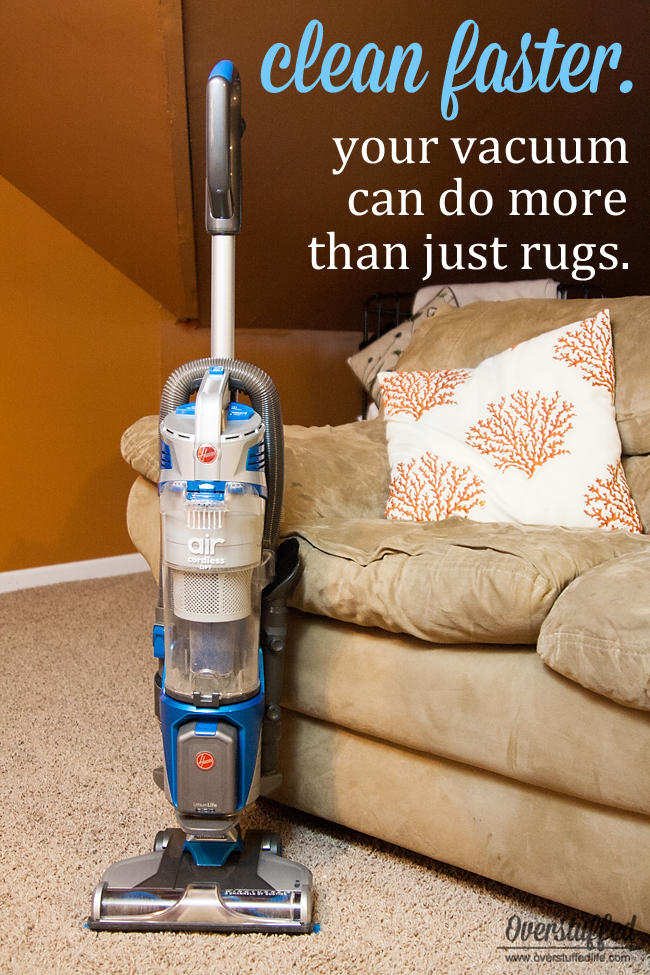 In each room, be sure to vacuum not only your rugs, but your hard floors, your baseboards, and every single surface. Yes, instead of dusting our bookshelves, we are vacuuming them. My Hoover Air™ Cordless Lift Upright Vacuum comes with two different sized dusting attachments, perfect for dusting shelves, coffee tables, pianos, and anything else that has gathered a layer of dust in your house.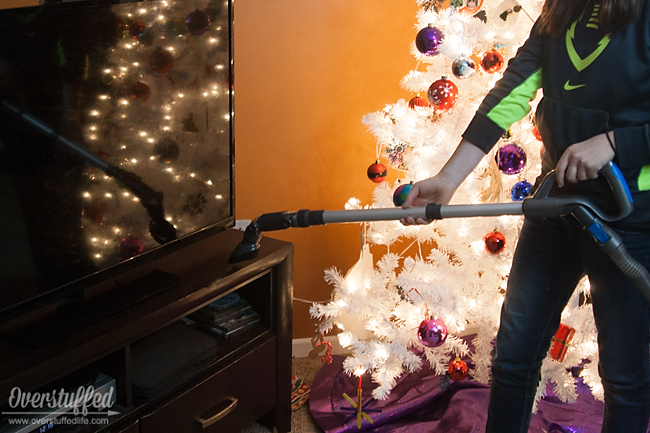 The larger dusting tool is even flexible so you can dust hard to reach places without dragging a step stool around. You can even do your ceiling fans in about 10 seconds with this tool. But since most company is probably not going to be looking at your dusty ceiling fans, you can put this one on the list for your Saturday chores, too, okay?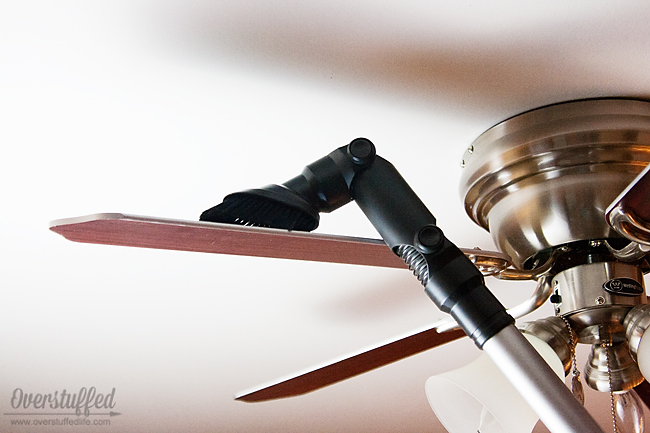 Vacuum your way through the house (I highly recommend blasting your favorite dance music as you go), stopping for nothing but the timer. I seriously am in love with my Hoover Air™ Cordless Lift Upright Vacuum because it is cordless! This means I really don't have to stop for anything but my timer. I can go from room to room without worrying about whether the cord will reach or having to plug and unplug the cord fifteen times. And when company is on their way, the time saved by not dealing with a cord is very helpful!
Once you are finished vacuuming, if you have any extra time you can go back and catch some of the things (like maybe dishes) that you left undone before. But overall, you should have a company ready home. I'm always amazed that I can do this in an hour, because I feel so overwhelmed at the start and I'm just sure that my friends are going to have to come sit in a messy living room to discuss our latest book club read.
But it doesn't happen that way—and I get my house clean(er).
What are your best tricks for cleaning your house quickly?
I was selected for this opportunity as a member of Clever Girls and the content and opinions expressed here are all my own.
This post may contain affiliate links, for more information, please see my disclosure.