Meet MaryFran — Overstuffed Disney Expert
I met MaryFran on my youngest daughter's first day of preschool just after we moved to Michigan. As it turned out, she and her family lived just down the street from us and she had three girls—all basically the same ages as my own three daughters. A friendship was born, and I soon found out that MaryFran was a Disney fan who made as many trips to Disney World with her family as she possibly could. I am so excited to have her and her Disney expertise here at Overstuffed!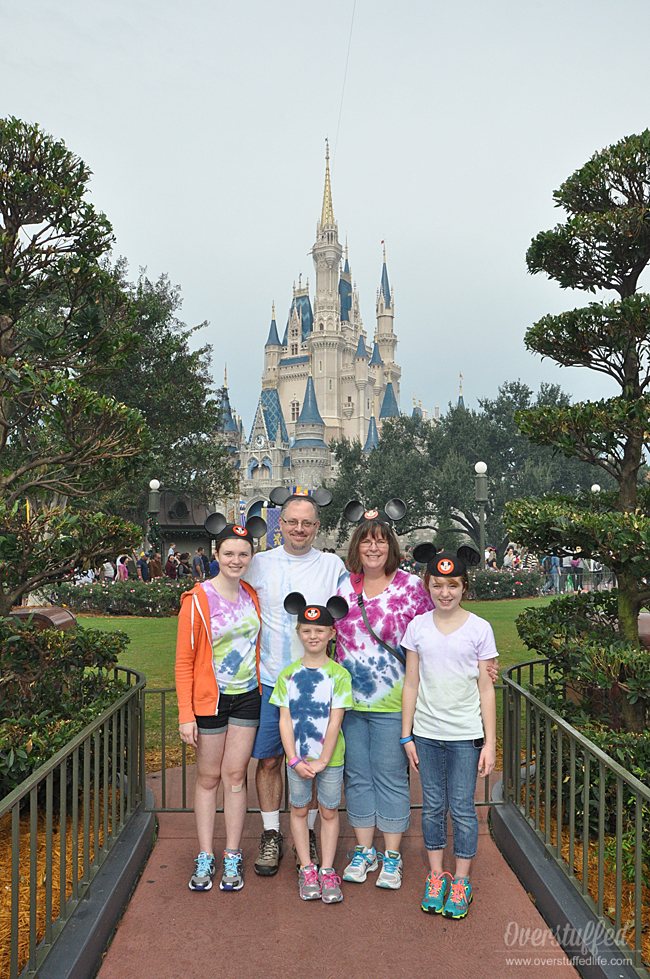 Booking a trip to Disney? Book through Get Away Today! Use code STUFFED10 to save an extra $10 on California packages.

Get Away Today currently has EXTRA DAY FREE AT DISNEY promotions going. Check out pricing here!
Why I love to share the magic….
In 1974, my family camped our way from Wisconsin to California and back in a red Ford Econoline van with a pop top. One of the highlights on that two week vacation was a stop at Disneyland. I remember two things: riding the Dumbo elephants with my Dad (ours had a pink hat) and crying because my mother would not let me go into the Haunted House with my older sisters (smart woman).
Flash forward to 1996. I presented a paper at a conference that happened to be at Walt Disney World. My husband and I thought we would really enjoy Epcot and that the Magic Kingdom and MGM Studios would just be okay. We were wrong—we loved every park!
My true love of the parks came about in 2004. My mother passed away from cancer (she was originally diagnosed in 1996, about two months before my sister passed away from cancer) and I was feeling emotionally, physically, and mentally drained. On the seven hour drive home from her funeral I turned, looked at my husband and said (after days of being uncharacteristically quiet), "I want to take the girls to Disney World."
When we arrived home, I walked into the house and made the reservation (very unlike me – I am a planner). For the next eight weeks, I researched and planned our trip. Planning the trip and having something to look forward to helped me to look forward to each new day during a difficult time in my life. We had an amazing time. When we finished our Disney vacation, I thought it would be years before we could go again.
To my delight, the very next year my husband had a conference in Orlando at the same time my friend's husband was attending a different conference (sqeeee)! The moms spent the days in the parks with the three kids (at that time, I was pregnant with our third) and the dads joined us when the could.
2008 and 2009 brought three more work trips (one was also a 40th birthday trip), in 2011 we went just for fun, and in 2013 we planned a trip with some close family friends (also our 20th wedding anniversary).
All told that makes 9 trips for me. Now that my oldest girls are in high school it makes planning a trip like this much harder (we live pretty far north of Orlando) but it is always on my mind.
I can be ready in 20 minutes – want to go?
If you are planning a Disney vacation be sure to read all of MaryFran's expertise here: Disney articles on Overstuffed.
If you are planning a vacation to Disney, I highly recommend you book through Get Away Today. They have awesome deals on packages and exceptional customer service—they want you to have the best Disney trip ever, too!
If you book a Southern California package with Get Away Today, be sure to enter the code STUFFED10 at checkout for an extra discount. You can also mention Overstuffed while booking over the phone to receive the same discount. CLICK HERE TO BOOK NOW!
This post contains affiliate links.