The Crazy Daze of Motherhood
I swear my phone came installed with some sort of magic kid alert, because it doesn't matter who I call or who calls me or how important the phone conversation is, the kids magically appear in front of me as soon as the phone is activated.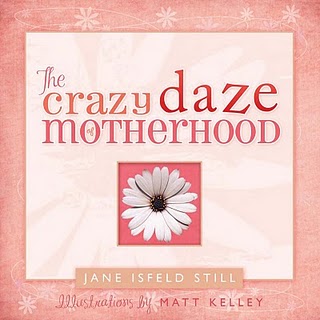 I do my best to ignore the tattling/running commentary/begging by walking away and shutting doors, but they always find me. Always.
It was very refreshing to learn that I am not alone in this. That is, not alone in the ignoring of my children while I am trying to have a phone conversation. I laughed so hard at Jane Isfeld Still's Bombeckian commentary about her own phone and her own children that I cried.
And that isn't the only story I laughed at. Jane's new book, The Crazy Daze of Motherhood is hilarious. It's one of those cute little books that packs a great big punch. Not only is it laugh-out-loud, tear-jerking funny, it helped me feel a little more normal in my own mothering adventures. I haven't had a good sense of humor about them recently, I must admit, but after reading this book I realized that it's always better to laugh.
Take yesterday. Let's just say that I had lots of plans for yesterday which included things like taking a shower and scouring my house. But I was foiled time and time again by things like a clogged toilet, a goose egg on the head (not mine) and a vomiting child. I just had to laugh, clean up the messes and forget about washing my hair or the dishes. So thanks to Jane for the much-needed dose of perspective.
This book would make a great Mother's Day gift for any of your friends who would enjoy a good laugh at the expense of motherhood. And who wouldn't enjoy it?
This post contains affiliate links.