Gluten-Free Eggnog Mini Muffins
This post is sponsored by International Delight, but all opinions are my own.
I love the holiday season! Beginning at Halloween and lasting all the way through the new year, this time of year is my very favorite. I love all of the family traditions we have established and always look forward to creating new ones. I love the time spent with family and friends. I love the extra dash of happiness and goodwill that seems be in the air wherever you go.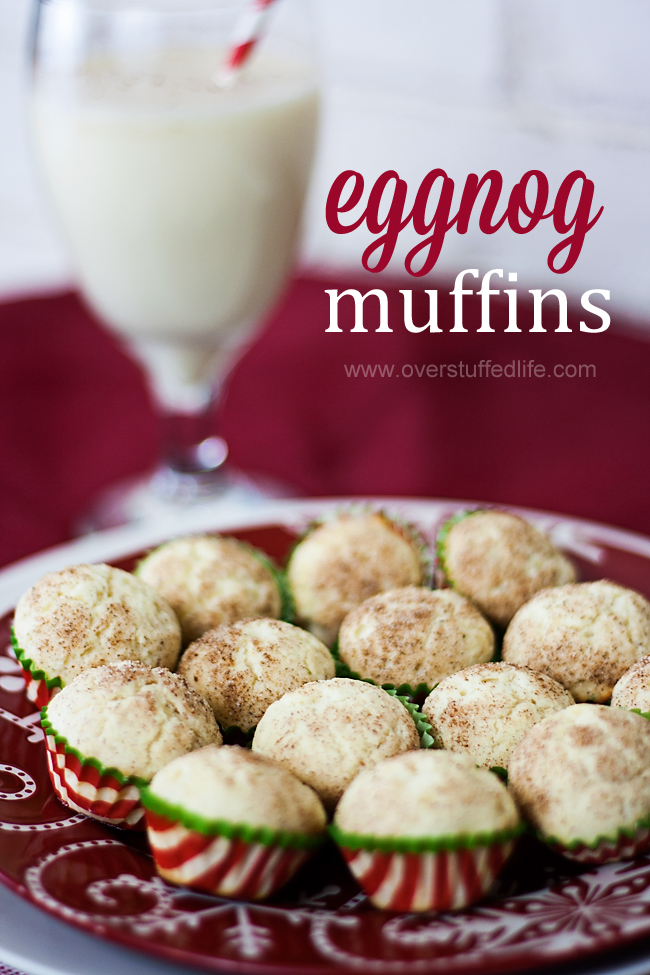 And I love the flavors.
That's right. The flavors—not necessarily the food. I look forward to a handful of flavors that seem to just inspire holiday cheer: peppermint, pumpkin, gingerbread, cranberry, and eggnog. Add spices like cinnamon and nutmeg to the mix, and I am one happy girl.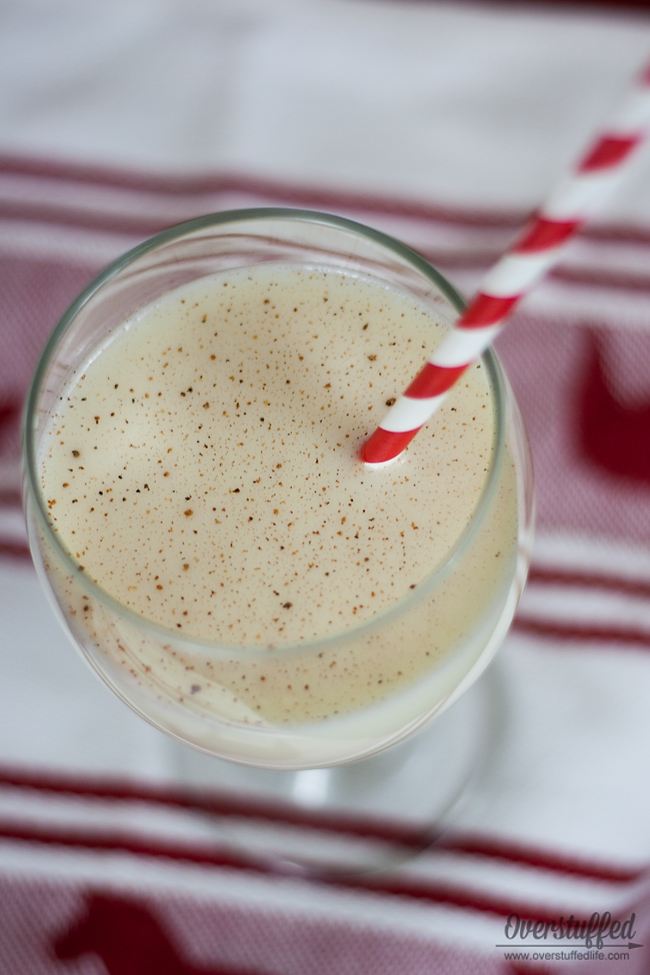 That's why I was so excited to try out International Delight's Holiday Nog. We always break out the eggnog right around Thanksgiving and especially love to drink it while we decorate the house for Christmas on the day after Thanksgiving. They offer both original nog and "very vanilla" nog—which is my favorite. Add a sprinkle of nutmeg on top and a little bit of Frank Sinatra's Christmas songs and you are instantly full of Christmas cheer.
Because eggnog is such a big part of our day after Thanksgiving traditions, I thought it would be fun to try a muffin recipe featuring the nog. The plan is to eat them for breakfast before we bring out the bins of holiday decorations. Instant Christmas cheer in (gluten-free) muffin form!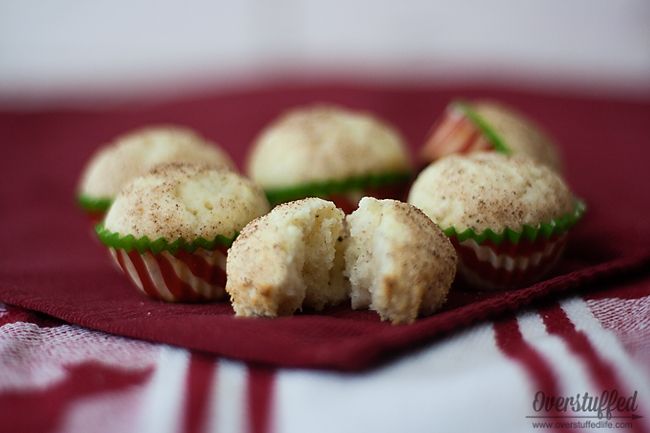 Gluten-free Eggnog Mini Muffins Recipe
Ingredients:
1/4 cup butter, softened
3/4 cup sugar
2 large eggs
2 1/2 cups gluten-free all purpose flour (if you are not gluten-free, regular all purpose flour will be fine)
2 tsp baking powder
1 tsp nutmeg
1/2 tsp salt
1 tsp rum extract
1 1/4 cups International Delight Very Vanilla Nog
sugar
cinnamon
nutmeg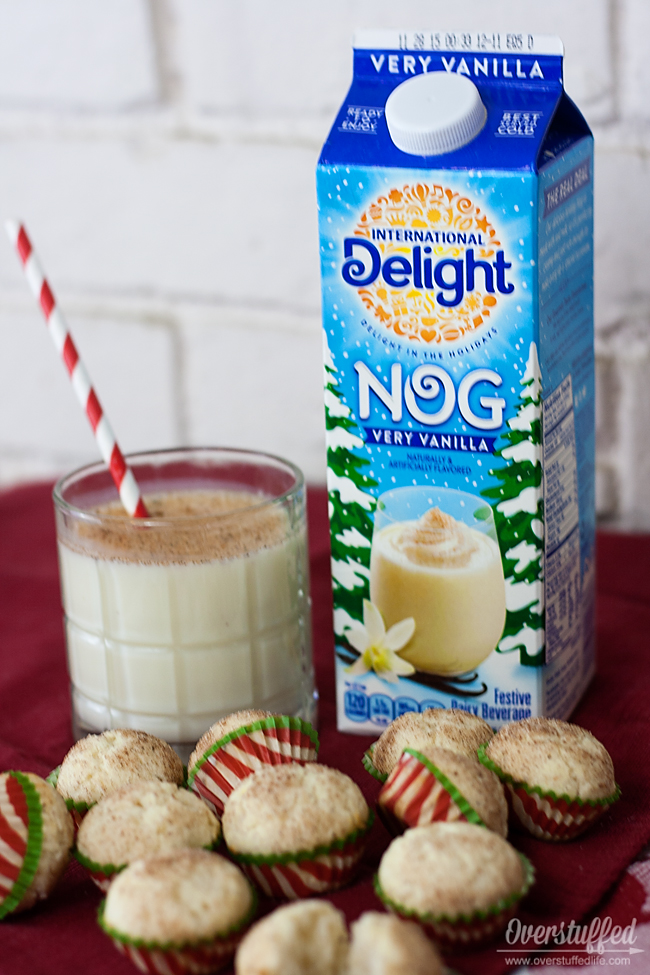 Directions:
1. Preheat oven to 425 degrees. Line mini muffin tins with mini muffin liners. Use a cooking spray to grease the liners. Or, simply grease the pan itself and do not use muffin liners.
2. Cream butter and sugar together. Beat eggs into the creamed butter and sugar.
3. Add baking powder, nutmeg, salt, and rum extract. Mix well.
4. Alternately stir flour and eggnog into the mixture. Begin and end with the flour, and make sure all ingredients are thoroughly combined.
5. Spoon batter into mini muffin cups.
6. Mix sugar, cinnamon, and nutmeg together and sprinkle a bit on the top of each muffin.
7. Bake for 9-11 minutes at 425 degrees. (If you are making regular sized muffins cook for approximately 18 minutes.)
8. Enjoy!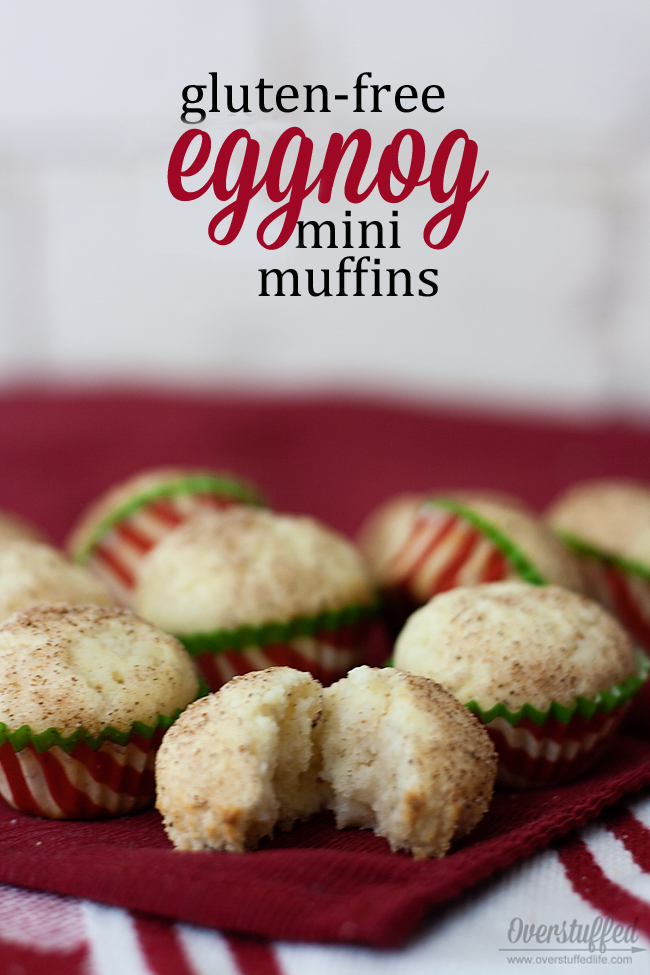 Visit International Delight's website and tell them how they help you capture the spirit of the holiday season for a chance to win a holiday brunch for your family and friends!
This is a sponsored conversation written by me on behalf of International Delight. The opinions and text are all mine.
This post may contain affiliate links, for more information, please see my disclosure.