How to Have the Best Beach Day Ever!
Wondering what to bring to the beach for a perfect beach day? These six tips will make sure you know exactly how to plan a beach day with your family and really enjoy your day at the beach!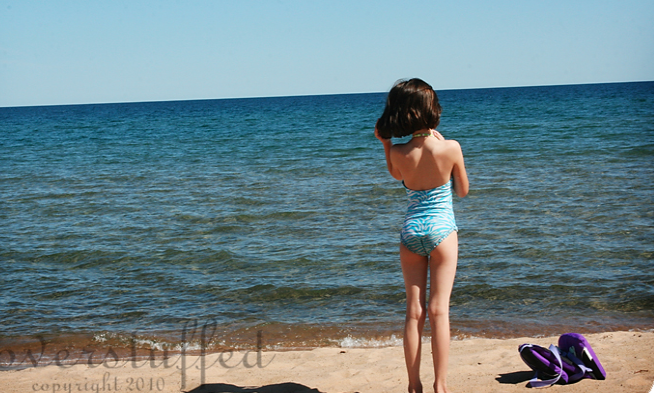 Can I tell you how excited I am for summer to finally arrive? The past two wintersprings (because that's what they've been) have really taken a toll on me. I'm crossing my fingers that Lake Superior will actually melt and that we will have many days that are warm enough for beaching it. Because I'm all set to beach bum it again this summer!
Since this will officially be our fifth summer here, I think we finally know how to do beaches. Living right on Lake Superior, we have plenty of gorgeous beaches to pick from. There are a couple within a few minutes of our house, but we usually go there when we only have a little time in the afternoon since they tend to be more crowded.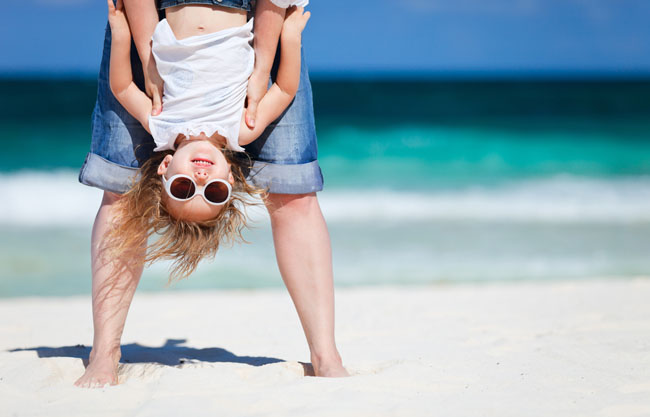 When we have an actual all day sort of beach day, though, we tend to make the 45-minute or so drive to one of the nicer beaches. They're really no different than a beach in Hawaii or California, so the following beach tips will apply pretty universally. Still, if you get a chance, you should totally come visit me and I'll take you to a beach on Lake Superior, because they are the best.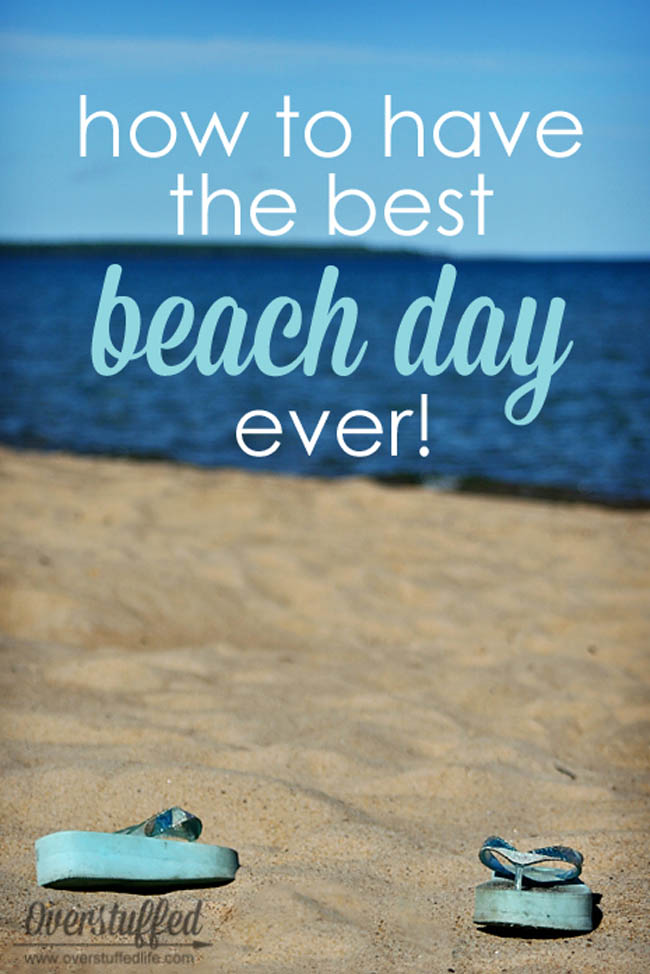 How to Have the Best Beach Day Ever!
Don't Forget the Essentials
I'm not going to insult your intelligence here. Everyone knows that spending all day in the sun and in the water is going to require certain things: sunscreen, beach towels, beach blankets, camping chairs, hats, sunglasses, bug spray… the basics.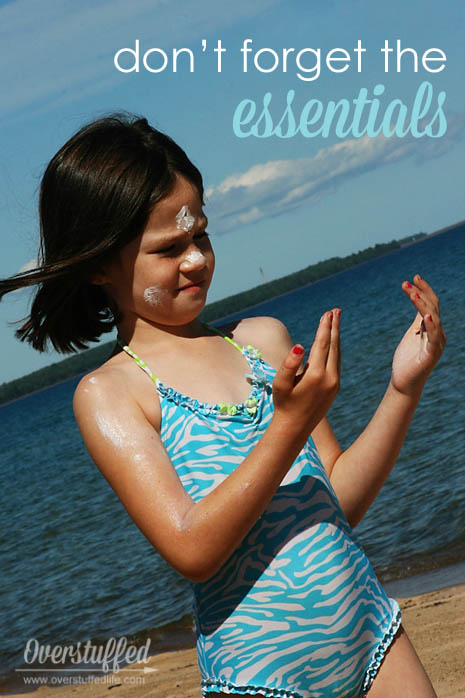 It's just that those basics tend to get strewn all over the house when we're not at the beach. We use the sunscreen for gardening, and the beach towels get washed, and I can never find anyone's sunglasses.
It's nice if you can have "beach only" versions of these items and a place where all the beach stuff is kept, but if you can't, make sure you do a thorough check of your bag before you go.
It's miserable when you forget an essential item. Not having sunscreen with you can ruin a beach day in five seconds flat. Especially if you just drove an hour to get there!
Bring Sports Equipment
My husband will tell you this is the most important thing to have at the beach. He usually comes with a really good Frisbee and a couple different balls, minimum. The girls love standing in the water and throwing a ball around with him—it's great fun because you never know when you're going to have to swim to get it or if Dad is going to come dunk you.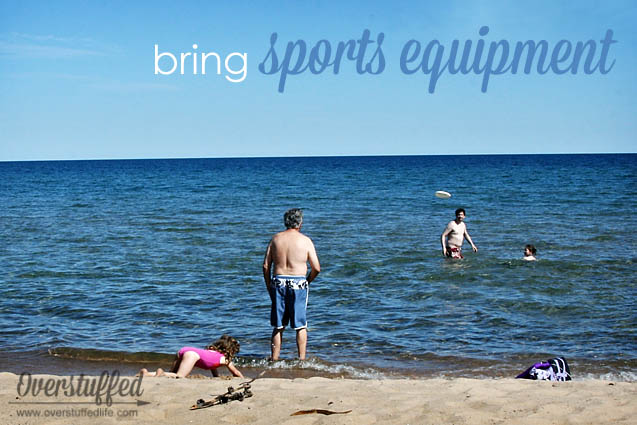 We also like to bring a badminton set, and I think this year I'm going to buy a beach volleyball net. My daughter was on the volleyball team this year and really loved it. Besides, beach volleyball is really fun—I would even get up off of my sunbathing butt to do that!
2023 update: Our favorite game at the beach now is Spike Ball. It's perfect for families and we have a lot of fun with it. The teenagers especially love it.
Bring Something to Read
My husband likes to throw things around at the beach, but my absolute favorite thing to do at the beach is lie under the umbrella and read my book. That is basically what heaven is like for me.
It's best to bring an actual book to the beach, and not something electronic. I brought my Kindle once and it got sand in it somehow, so it had issues turning on and off forever after (I've since gotten a new one).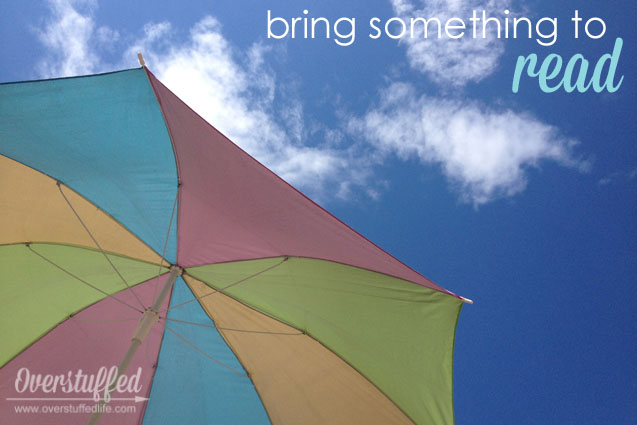 Catching up on magazine reading is another great idea for the beach. Sometimes that's easier, anyway, when you've got kids interrupting you every second! I don't read as much if we go to the beach with friends, because then I like to chit-chat. But I very rarely go into the water, and my friends usually do (Lake Superior is not warm enough for me!), so I still get plenty of reading done while I am being anti-swimming.
Sand-proof Your Food
Sand is lots of fun to play in, but it is no fun to eat! If you're going to be spending the whole day at the beach, you're obviously going to need to bring food along.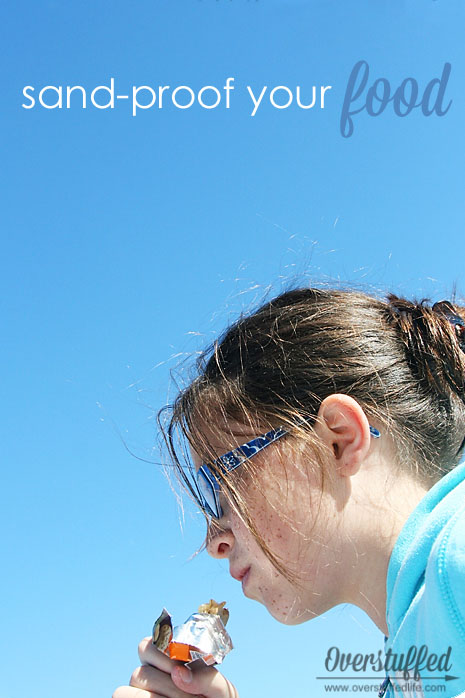 For snacks, individually wrapped items are best: granola bars, fruit snacks, bananas. That way they are protected from sand until they are actually being eaten. After that, there are no guarantees—how many times have my girls dropped their food in the sand? Too many to count.
Another way to make sure sand stays out of your food is to bring paper plates and pour things like chips onto them. Do not let people stick their sandy hands into the Doritos bag! As soon as one person does it, the rest of you will be eating gritty chips.
We also prefer to keep food inside plastic containers instead of using baggies. The containers keep the sand out more effectively.
Don't forget to sand-proof your water containers, too! Water bottles with the pop-up spouts tend to get sand in them easily. Instead, choose bottles with actual lids you have to unscrew. We also bring a big old water thermos and paper cups—sometimes this is just easier than dealing with water bottles.
Finally, try to convince the kids to eat on the blanket or a towel. It might help a little when they inevitably drop their apple, but it will still probably get some sand on it.
Bring Plenty of Beach Toys
My girls will play for hours and hours in the sand and the water. They love to swim, but when they aren't in the water they don't want to just lie around and sun bathe or read (seriously, what is wrong with them? RELAX PEOPLE!). So they build sand castles, bury each other in the sand, dig really deep holes… those kinds of things.
See some of their beach antics (and learn to take amazing beach photos!) here: How to Take the Best Beach Photos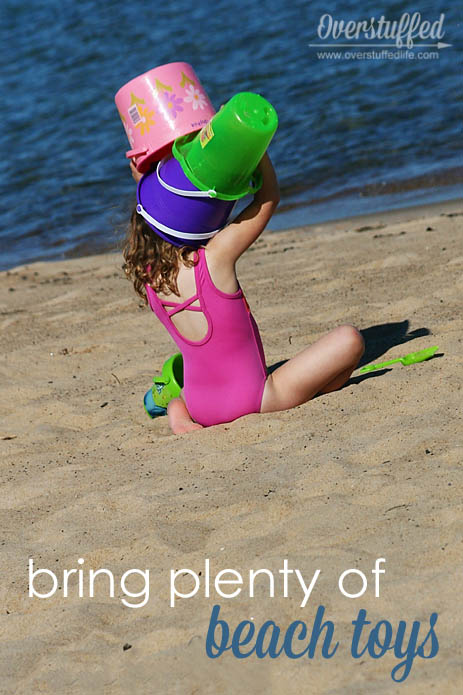 We have two big laundry baskets full of various beach toys that mostly just stay in the back of the minivan during the summer months. Every year we break a few of these toys and lose track of more than a few. The dollar store is always a great place to find new ones.
Last year, even my teenager and her best friend spent many hours working on sand castles. The sand castle building toys are a must for a fun beach day for the kids.
Toys you can play with in the water are awesome, too. We bring squirt guns, pool noodles, and boogie board/floaty rings.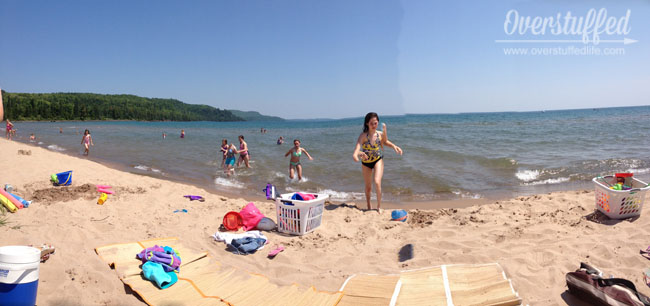 Here's a fun picture of what one of our beach days might look like—you can see our baskets of toys, blankets, water thermos, and the best part is all the children having a wonderful time! (I was playing with the panoramic option on my iPhone—we do not have any headless children in our circle of friends, nor is my daughter's arm detachable, I assure you!)
What you can't see is me lounging on my chair under the umbrella soaking up the goodness. Beach days are pretty much my favorite thing ever.
Take Care of Your Skin
Sunscreen is important for protecting your skin while you are at the beach, but how can you continue to protect it once you get home? My family is extremely prone to eczema and sometimes swimming or being out in the sun is just no fun when you know the misery you will face later.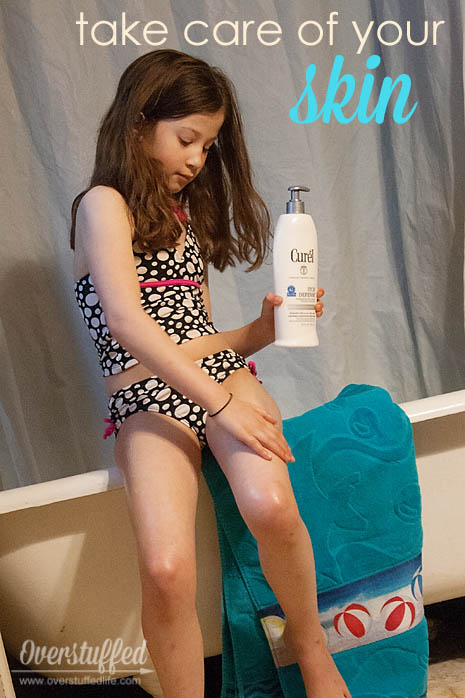 Curél® Itch Defense® Lotion is going to change that for us this summer.
This is a lotion that is specially formulated to soothe eczema prone skin. It instantly relieves dry and itchy skin and rebalances it to control future exzema flare-ups. It is fragrance-free—no harsh fragrance chemicals to further irritate your skin—and has received the National Eczema Association Seal of Acceptance.
We've been using it this spring (winterspring, that is) and I find it has done a great job of controlling my eczema spots, which often flare up during the cold weather as well. It's available at drugstores nationwide—I easily found some at my local WalMart.
It's been great for after beach days, too, and just as important as anything else!
I hope your beach days this summer are AMAZING!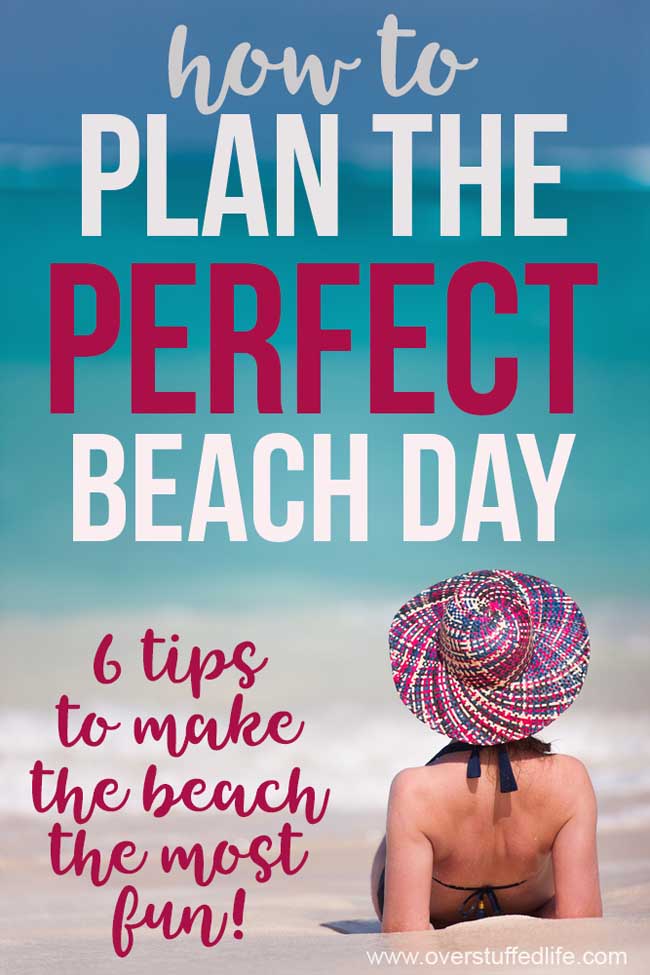 This post may contain affiliate links, for more information, please see my disclosure.