How to Make the Perfect Trifle (Without Making it From Scratch)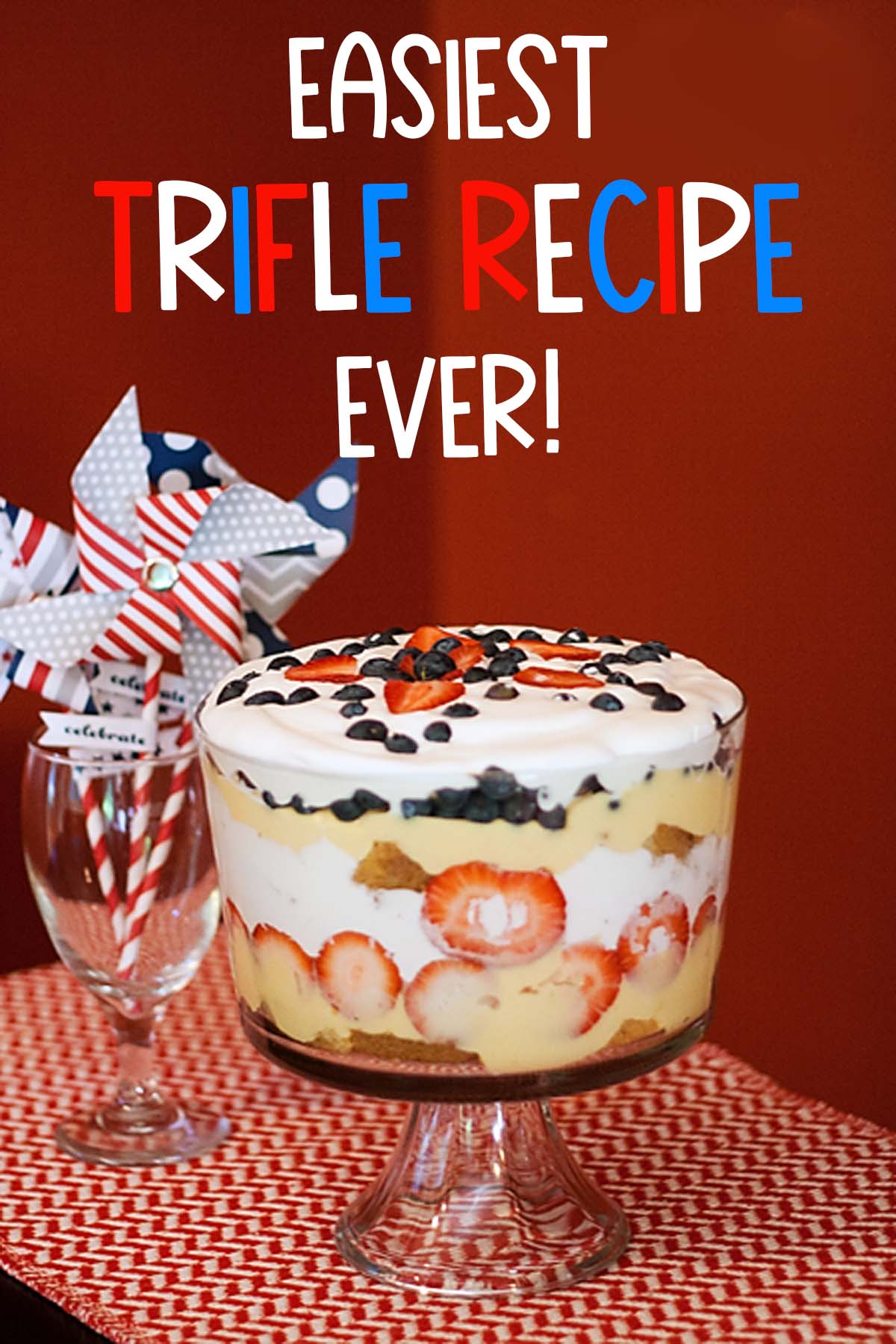 Make your English Trifle taste amazing while still using boxed ingredients.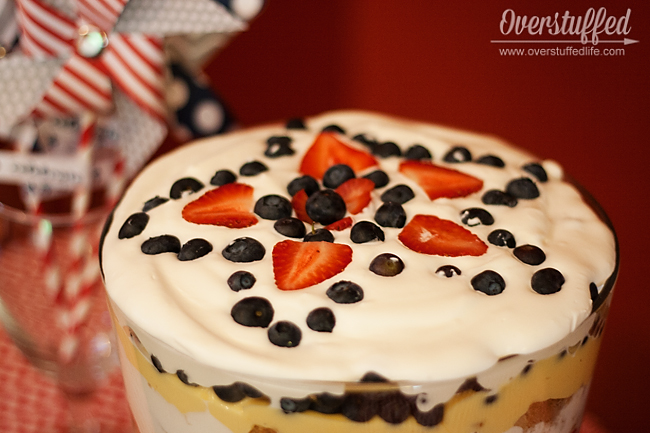 Happy 4th of July!
One of our family traditions on the 4th (and Memorial Day as well) is to have a patriotic trifle. And I know I'm not alone in that. Something about red strawberries, white whipped cream, and blue blueberries lends itself pretty perfectly to the patriotic holidays, don't you think? (We don't need to point out the fact that trifles are English, and that July 4th is the date on which we celebrate our Independence from England—I say that once we leave home we always keep the best things our mothers did, and that is what a trifle is.)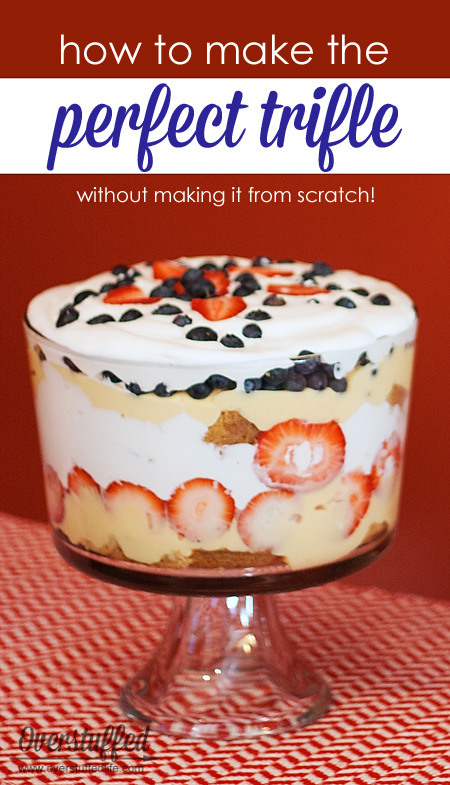 Anyway, there are a million recipes out there for trifles, and chances are you have your own anyway, so this isn't a recipe. But since I don't love spending a ton of time in the kitchen, I thought I'd share my secrets on making a trifle from instant pudding and cake mix, but having it taste like it was made from scratch.
How to Make the Perfect Trifle
1. Make your cake from a mix, but add a little bit of extra fat.
If your cake mix calls for 1/2 cup of oil, maybe add 2/3 cup instead. The gluten-free cake mixes I like to use typically call for butter, so I add a few extra tablespoons. It makes the cake more moist and so much better. (Incidentally, I always use this trick when making cake from a mix. Which is pretty much always since I have never had much success with from scratch cakes.)
2. Use instant pudding, but substitute evaporated milk for the milk.
Oh my gosh, the difference is amazing. I usually have tons of evaporated milk on hand (I use it in my mashed potatoes, too), but on Memorial Day I had somehow run out so I had to use regular milk in my trifle. It was fine, but the pudding was nowhere near as good as it usually is. The evaporated milk will make the pudding more smooth and custard like. So good.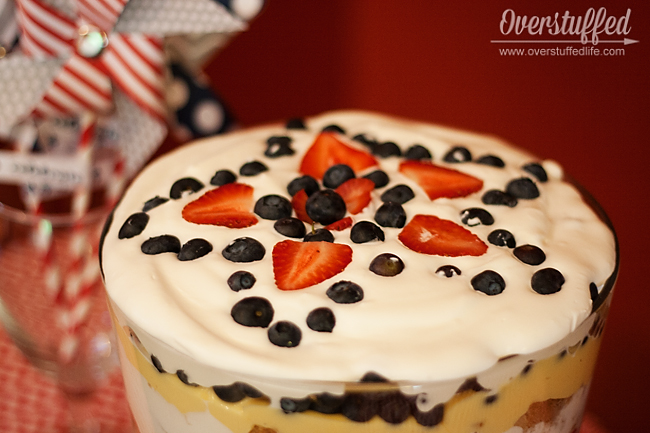 3. Use lots of berries.
While you can't tell from the pictures, the berry layers are super thick. The cream comes down over them on the outside so you can see the layers better, but inside there are more berries and slightly less cream.
4. Make it the day before and refrigerate it overnight.
The flavors and textures have time to really do their thing and it is so much better the second day. Trust me.
5. You can use Cool Whip if you like it.
I'm not a fan, so the one thing I do "from scratch"—which isn't actually very difficult—is to whip my own cream. It takes an extra 5 minutes than using a ready made whipped cream would, but the result is worth it.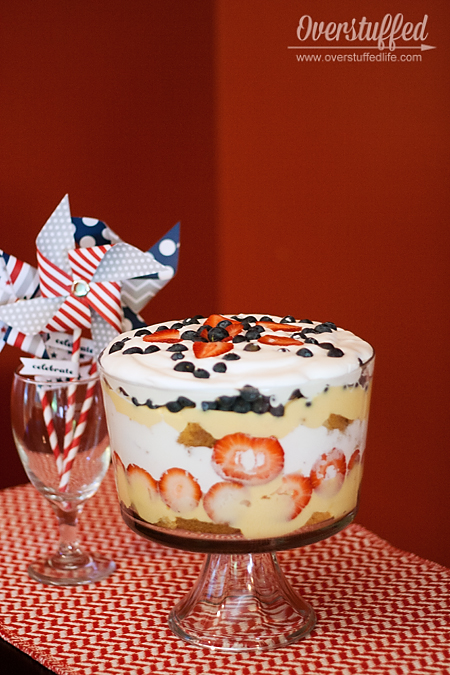 We ate half of our trifle yesterday, and I may have had a bit for breakfast this morning. Oops. We were out very late for fireworks last night, and today we are off to the beach. I love Independence Day!
Have a wonderful holiday!
This post may contain affiliate links, for more information, please see my disclosure.