I Got an "F" in Laundry Today, and I'm Totally Okay With That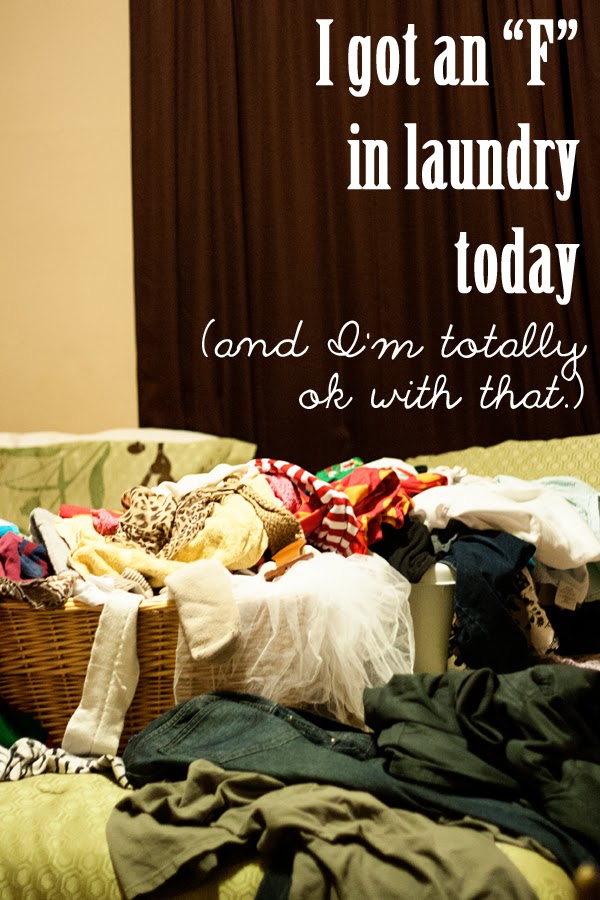 A couple weeks ago, Bria came home very happy about her Social Studies test.
"Mrs. T said that I had nice essays!" she told me.
Later, when I actually looked at the test, I saw she had received a C-, which normally would make my perfectionistic-since-birth daughter very upset.
I asked Bria if she was okay with the C- and she nodded with a big smile on her face. "Because I had nice essays," she said.
I have to admit, I was a little bit worried about letting the grade go and not worrying about it myself. But I absolutely did not want to rain on her parade when I saw that her confidence about school was at a much higher level than usual. So, I left it alone and never mentioned it again.
She had another Social Studies test today. Normally, when we study for this subject, she gets frustrated because she really sees no practical need to know how our government works, or what the capitals of the states are. Therefore, it is hard for her to even retain the information because she has no idea how to apply it to her own 5th grade life.
Anyway, when we studied for her test last night, she wasn't frustrated at all. In fact, she was actually excited about it. And then Joel quizzed her more this morning before school and she was amazing.
Now, I don't know for sure what the larger lesson to be learned here is, but I think it might go something like this: When we focus on the things that we do well, instead of the ones we don't, our confidence will go up. And once our confidence is up, we'll actually do better on the other things anyway.
This is not how I live my life, generally. I'm really, really good at looking at that C- and saying, "so what if I had nice essays? I didn't get an A! My life is over!!!" or, more commonly, "so what if I got most of my list done today? I failed to do laundry! I am the worst mother ever!!!!"
Maybe if I looked at my list and noticed all the great things I did accomplish, the undone things wouldn't matter. And maybe if I'm okay with not doing some things perfectly, or at all, it will be easier to do better the next time.
Huh.
What a revelation!
We'll see if I can actually apply it to my life.
(And I'm sorry if I'm beating the perfection horse to the ground. It's definitely on my mind, though, what can I say?)(Actually, I'm pretty sure I'll have more to say tomorrow.)(So stay tuned.)