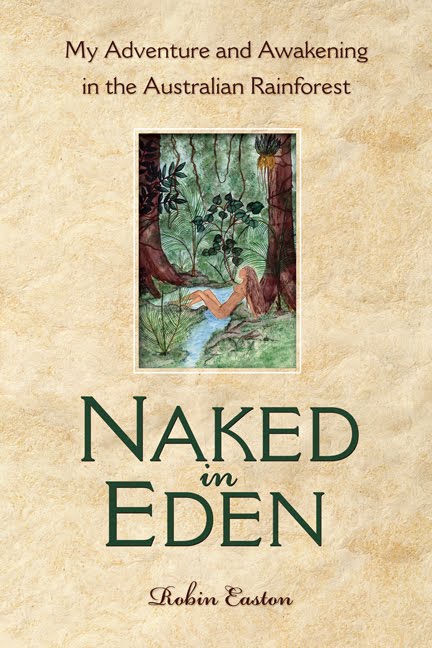 When TLC Book Tours first contacted me about this particular book, I wasn't really sure what I would think of it. It definitely sounded intriguing–a woman living in the Australian rain forest for over a year with her husband? I wanted to know just what on earth would possess someone to do something so crazy (and I had no idea how crazy it really was) since I pretty much throw a fit if I have to do anything remotely resembling camping. But this was no ordinary camping trip. Robin and her husband completely left civilization (including clothing eventually, as the title suggests) to live amongst nature.
And since I really had no idea, maybe you have no idea, either. The Australian rain forest is a very scary place chock full of deadly wildlife. Crocodiles, poisonous snakes and spiders, box jellyfish and leeches, and even terrible plants that could kill you, or at least inflict horrible pain. Naked in Eden's prologue begins with Robin Easton's first encounter with a poisonous snake. Face to face with the animal, and with certain death, she begins to learn how to coexist with the rain forest as she imagines what the snake is feeling. By the end of the book she is able to walk freely through her surroundings and not bat an eye when a snake drops from a tree and lands on her.
Ms. Easton's writing draws you in, and gradually gives you context into her life through flashbacks and memories as she navigates nature. And then her experiences begin to change her, as she reconnects with herself and with God. This is the true meat of the story. She was mildly autistic when she entered the rain forest, and her struggles and triumphs within it began to heal her from the disconnect she had always felt in her life.
Truly a fascinating read, full of adventure, suspense and inspiration.
But, I must admit, it also cemented my aversion to camping. I'll leave the camping up to Robin Easton, she does it best, I think.
*********
I have two copies of this book to give away to those who comment on this post. So tell me, what would YOU do if your spouse decided it would be a great idea to go live in the rain forest for a year? Winners announced Wednesday, September 29.
*********
Thank you to TLC Book Tours for the opportunity to review this book.