I really wanted to have a little herb garden in my backyard this summer. A couple of summers ago, I tried to plant an herb garden in the ancient garden bed in the corner of my backyard, but the very day I got my cute little herbs planted a gigantic maple tree fell on them. A few of the plants recovered, and have even come back every year since, but I realized I couldn't keep the less hardy plants there and expect them to live, tree or no tree!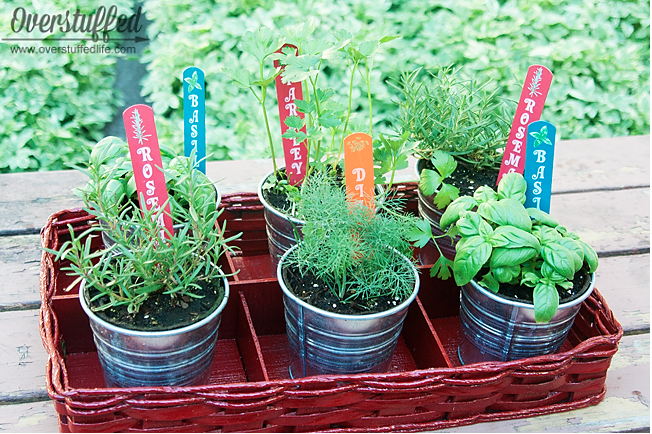 This year, I am bound and determined to do better. I don't know about the ancient garden bed (my house is 100+ years old, and I think the overgrown garden is, too), but I decided I needed to plant a little herb garden on the patio.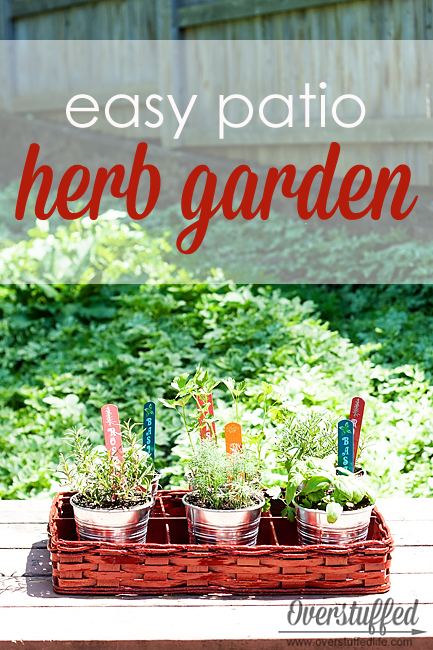 The first order of business was to find some sort of container. I already had a bunch of cool metal buckets I'd purchased at IKEA during a trip to Chicago last year, fully intending to plant last summer. But I obviously forgot just how much time the music festival takes. The buckets are called Socker and are $3.00 each online. They've been living in my office all year holding all manner of junk, so it was nice to dump them out and use them for their intended purpose. Finally.
But I didn't want to just line up buckets—cute as they are—on the deck and call it good. So I went to the thrift store and walked around a lot. I saw a few things here and there that could work, but then I saw this partitioned basket-type thing and new I had found exactly what I was looking for.

I was not a fan of the green color. Everything is so green here, it wouldn't pop enough for my taste. My patio furniture is red, so I decided to paint it a beautiful bright red to match. It took several coats of glossy spray paint to get the wickered sides totally covered, but I love the result.


While I was waiting for the basket to dry, I got to work planting my herbs. My husband and I had purchased them at the nursery and decided to only buy the herbs we use a lot in cooking. So we ended up with two rosemary plants, two basil plants, a dill plant, and a parsley plant.
The herbs we purchased came in the biodegradable planters, so they were a breeze to pot. I just threw a bit of dirt in the bottom, popped them in, and put a bit more soil on top and watered. It took me about ten minutes, so I used the rest of the afternoon to sit in the sun since I've missed it so much during the winter from hell.
Update: I neglected to add that my husband first made drainage holes in the pots with an awl and hammer.


I don't even care that my photos are all a little too sunny, I just wanted to lie there as long as possible. And don't worry, I did! I also let the basket bask in the sun for a day or so before I put the herbs into it. I wanted to be sure no paint fumes were left to harm the plants.
In the meanwhile, I was shopping at our local ShopKo, and found these cute herb markers in the garden center. I had to buy them, because…adorable! I thought they were the perfect finishing touch.
You can find similar herb markers here: Box Sign Herb Picks

My cute little herb garden is currently living on top of the picnic table on the patio. It makes a lovely centerpiece, and is easily moved for when we are using the table for eating.
We've already used some of the rosemary, parsley, and basil. There's nothing quite like fresh herbs, is there?
This post may contain affiliate links, for more information, please see my disclosure.