The Power of Starting Something Stupid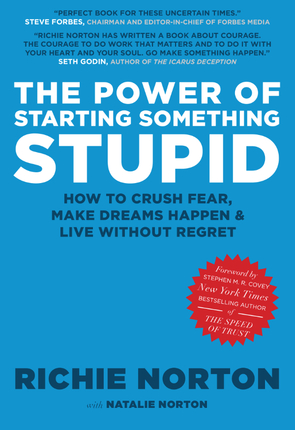 When I first agreed to review The Power of Starting Something Stupid by Richie Norton, I didn't really think it would apply to me. My limited understanding of the content was that it would be about taking risk and starting something, like a business. I, personally, do not dream of starting a business, nor do I have any great ideas for an invention. I am not an entrepreneur, nor do I have any aspirations to become one.
But, after having read this book, I can tell you that I WAS WRONG.
This book was very inspiring to me, and possibly just the thing I needed to read at this point in my life. While its principles can certainly be used by someone who has a great idea for a new product or business, it applies to anyone who has dreams. And I have plenty of those.
For instance, I have one particular thing (and I guess I think it's silly—or stupid—enough to feel like I don't want to tell you what it is) that I'd like to do that has been sort of hanging out in my mind for several years now. I don't have the first clue how I'd start to accomplish this thing, but I haven't stopped thinking about it, even though I have certainly tried! Richie Norton's thoughts on the matter have made me realize that maybe this is something I really need to do, and I should start looking at it more closely.
I was especially motivated by the chapter on procrastination. Perhaps if you are regular reader of my blog you know that I have procrastination issues. I am really good about doing everything BUT what I should be doing. I accomplish the most when I am avoiding some big task. In fact, I emailed Richie last night to tell him I'd be a little bit late with this review because I had to work more this week. Which is true, since I have a million lessons to make up from our blizzard days last week, but what it really comes down to is that I PROCRASTINATED. (Yes, even after reading this wonderful book I still procrastinated—if only we could change by simply reading something!)
The chapter on authenticity was equally inspiring.
I plan to read this book again, with more careful attention to the ways I will use these ideas in my own life. I also plan to hand it off to my husband, as this is just the type of book he loves, and I know he will gain a lot from reading it as well.
Do you have a stupid idea? A dream? Something you'd really like to do in your life, but aren't sure how? Then you should read this book.
The book is available for purchase at Amazon or Deseret Book. I would also highly recommend that you head over to Richie Norton's website and poke around. You'll be inspired by this man who obviously practices exactly what he preaches.
And as for my idea? Well, if it ever bears fruit you'll know about it. I promise.
************
I received a copy of this book from the publisher in exchange for my review. The opinions expressed are my own.