What Language Is (And What It Isn't and What It Could Be): A Book Review
Did you know that I minored in Linguistics in college? Not that a linguistic minor makes me any sort of expert on language or anything, but it does mean that I really love language and that all of its intricacies absolutely fascinate me. As a Vocal Performance major, I was required to study the diction of English, Latin, Italian, French and German, plus take the 101 level class in at least 3 of those languages (well, not English). So I took Latin 101, Italian 101, and German 101. You'll notice that French is the one I left out, and consequently, my French diction suffers for it.
I also served an LDS Mission to Romania and became fluent in that language. While I was learning Romanian, I found it really interesting that when I didn't know the word for something in Romanian, but I happened to know it in some other language besides English, I always used that word for it instead. A strange mixture of Romanian, Italian and German would often come flowing out of my mouth. My brain was totally in "anything but English" mode, I guess. Nowadays, we sometimes get phone calls from Spanish-speaking telemarketers. Our surname is of Portuguese descent, but it looks like it could be Spanish, and so we occasionally get these calls. Whenever I get a phone call like this, I always immediately say, "Nu vorbesc limba spaniolă" and it makes me laugh because my brain apparently feels like it has to go into foreign language mode whenever I hear a language I don't understand.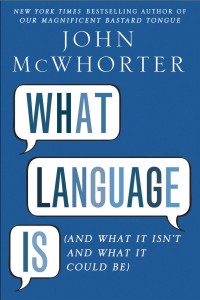 And now I'm rambling. But the point is, I really love learning about language, and so I really loved reviewing John McWhorter's latest book: What Language Is(And What It Isn't, and What It Could Be). I gulped this one down in less than a day, much of it during opera rehearsals, and I loved how many other singers came up to me and told me that they'd read either The Power of Babel or Our Magnificent Bastard Tongue and loved it. I wasn't surprised, because opera singers generally have a pretty vested interest in language (see first paragraph of post), and now those two books are on my definite to-read list, even though our little library has neither.
This book focuses on the fact that English is actually an abnormal language because it is simpler than most. The reason being is that so many adults who are not native English speakers have had to learn it, and that changed the language drastically. And I'm not talking about immigrants from the 20th century, or even the 18th and 19th centuries. More like the Vikings conquering England. Or the French. Many of the Indo-European languages are more simplified for this reason. He then goes on to explain how language evolves, and how it becomes complicated. He uses the word IDIOM to illustrate this: Language is Ingrown, Disheveled, Intricate, Oral and Mixed.
Some of my favorite points from the book focused on the evolution of language. Language is constantly evolving, much to the chagrin of some purists. Consider these two passages concerning such evolution and particularly the usage of the words lay and lie.
"We tell people they have 'made a mistake' in saying I was just laying there because one is to use lie in such a context, laying being something you exert. If it was good enough for Anglo-Saxon shepherds, then it should be good enough for us. And then meanwhile we hear younger people saying He's all… instead of He said… and wince at this intrusive 'slang,' which 'isn't right' because, well, it wasn't familiar to the people who used to keep lie and lay separate? That Shakespeare spoke a different English from Chaucer is considered luscious. That people fifty years from now might speak slightly differently from us is considered a herald to the demise of civilization as we know it."
and
"…keeping lie and lay separate does not aid clarity: never have I heard someone say I'm going to just lay here for a bit and wondered desperately 'But what is he going to lay:? What???' And I most certainly have never wondered 'Who is he going to…' Plus, let us pass silently by the notion that I would think to myself 'Whom?: Whom is he…,' and the absurdity of that speaks to the general silliness in resisting the language's moving on as all languages always have–in order to become what they are now as opposed to what they were in antique stages we would never seek to restore. No one in Milan walks around annoyed that people aren't speaking Latin."
Now, I know the correct usage of lay vs. lie, and I think I usually use it correctly. But the fact is, I sometimes don't and it's probably because most of the people I hear talking do not use it correctly. Same thing with lots of different little grammar things. Our language is evolving, and though it sometimes hurts those of us who like grammar, that's just what language does. And, according to McWhorter, the way it evolves usually happens due to "an ongoing procession of mistakes."
I'm not sure how evident it is from the quotes, but McWhorter has a dry sense of humor that shines through on every page. He clearly loves his work as a linguist and finds joy in teaching others about it. This made the book much more enjoyable for me, because even though I do love the topic, who wants to read a clinical textbook? This was much more fun.
The only little criticism I have is that there was no IPA (International Phonetic Alphabet) decoder. I know IPA fairly well (another thing I got to learn as a Vocal Performance Major), but I am not familiar with the symbols that occur outside of the standard opera languages. So when McWhorter cited these fabulously interesting and obscure languages, I didn't always know the IPA transcriptions used. Of course, it is easily found online, but I think it would have been nice to have it in the book, especially if we want people outside of linguist, speech therapist and singer circles to read it.
Loved this book. It gets high marks from me. And if you love learning about language, I have no doubt that you'll love it, too. Even if you are a lay/lie stickler.
I have one copy of this book to give away. Tell me what your grammar pet peeve is in the comment section. I'm hoping that the comments on this post will give us all insight into the way English is evolving…..
****************
I received a copy of this book from the publisher via TLC Book Tours.
This post contains affiliate links.