The 10 Best Places to Buy Matching Christmas Pajamas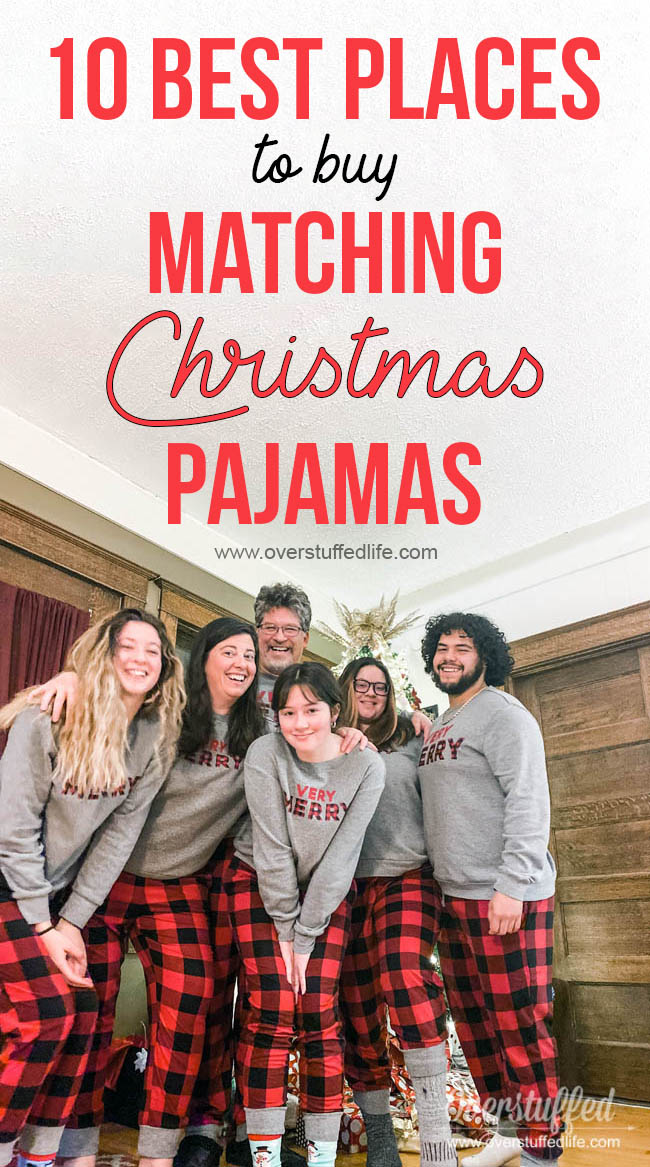 One of our favorite holiday traditions is to open matching pajamas on Christmas Eve. When we first started doing this over 20 years ago, it was difficult to find matching holiday pjs for the entire family, but now it's easier than ever! In fact, it's so easy that now I have a hard time deciding which pajamas I want to buy because there are almost too many choices.
If you're looking for matching Christmas pajamas for your family, here are the 10 best places to buy matching pjs for Christmas.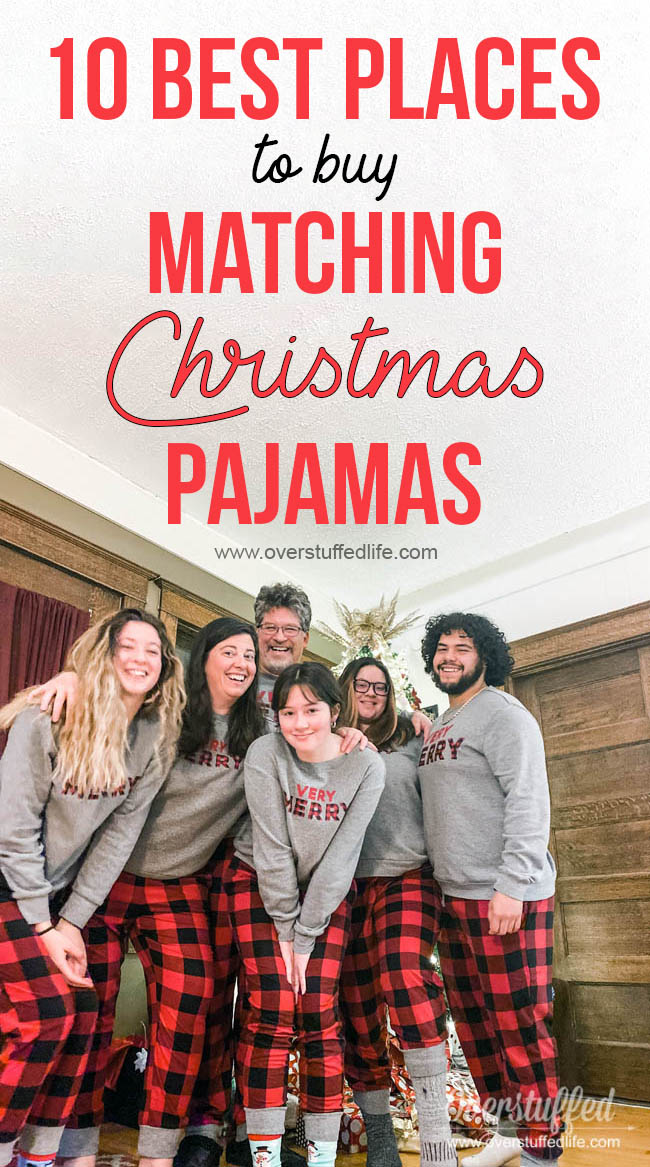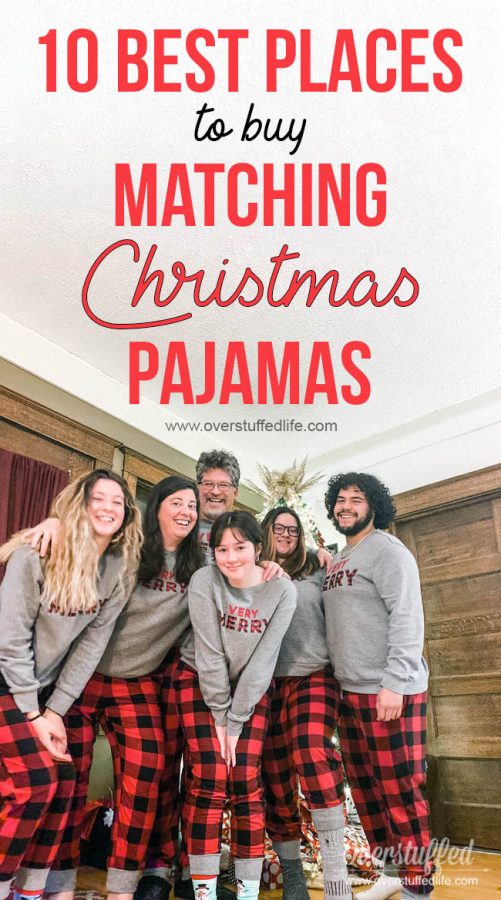 This post contains affiliate links.
10 Best Places to Buy Matching Christmas Pajamas
When my children were really young, I bought almost all of our matching pjs at The Children's Place. I liked that they have matching sets from baby all the way up to big kid, and most of their Holiday pajama designs also include adult options.
The picture below is my cute little family from about 13 Christmases ago in our matching polar bear fleece jammies from The Children's Place. Man I miss those little girls!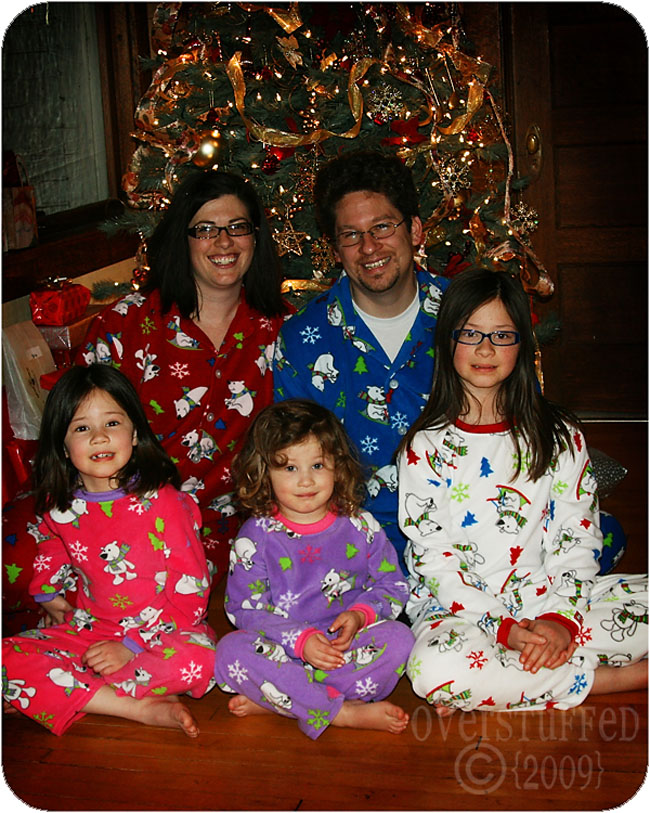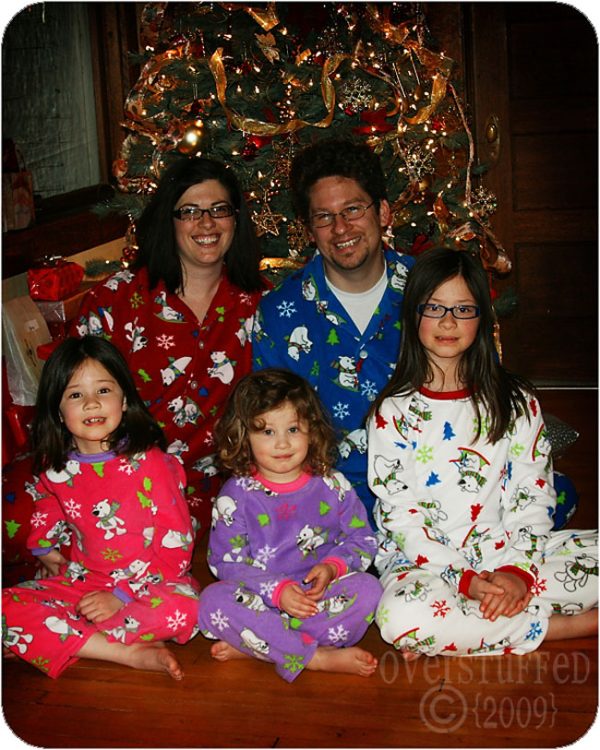 That isn't so unique anymore, but The Children's Place will always hold a special place in my heart when it comes to our family Christmas traditions!
Shop The Children's Place here: TCP family holiday pajama 2022 collection
In 2016, the big Christmas gift for our family was a trip to Disneyland, so naturally the girls' Christmas jammies that year were purchased at The Disney Store.
If you are headed to Disney this holiday season, or if you are just Disney lovers, there are a lot of great options at The Disney Store. I like that all of their holiday pajamas feature Disney elements, but they aren't always in-your-face Mickey Mouse. Some are very subtle, and others are more obvious.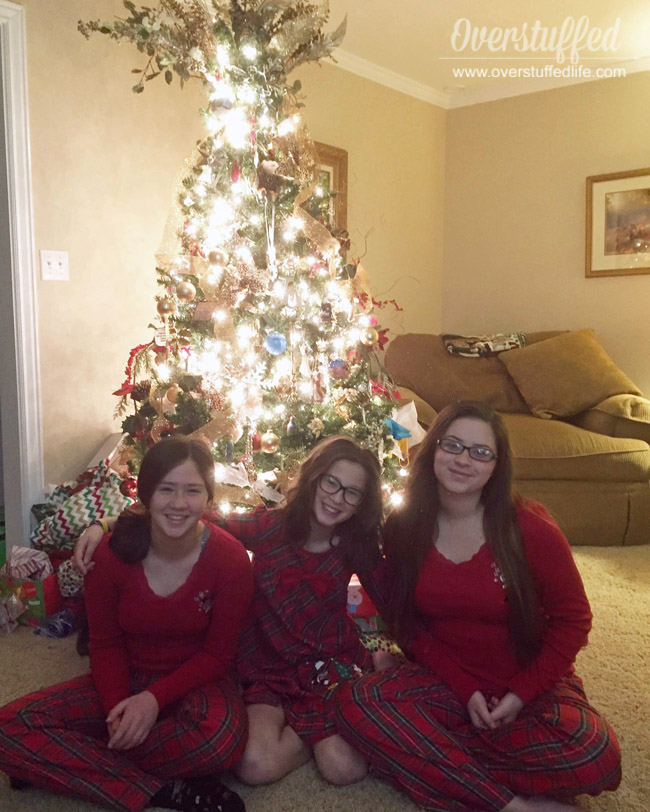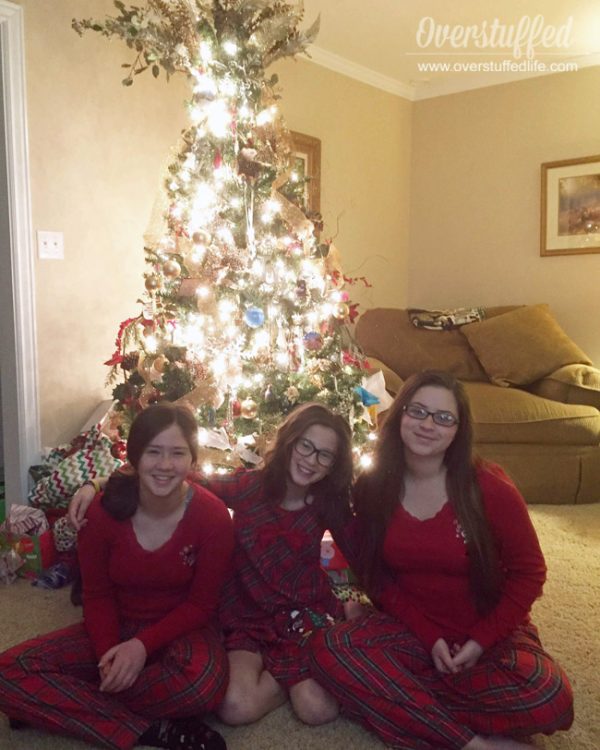 You can barely see the Mickey/Minnie embroidery on my girls' pajamas, but I promise it's there! (Also, I try to get a good photo of the pjs every year, but it never turns out so well, as you'll quickly see…)
Shop The Disney Store here: Disney's 2022 holiday pajama collection
Old Navy probably has the best website set up for their holiday pajama collection. It's well organized and you can quickly choose a pattern preference and go from there. Plus, there are lots of options!
We bought Christmas pajamas from Old Navy a few years ago, and I must not have taken a Christmas Eve photo of them! And even though I already bought this year's pjs elsewhere, I am wishing I had looked at Old Navy first because I really, really love what they've got going on! Maybe next year.
Shop Old Navy here: Old Navy's Jingle Jam Christmas PJ shop
Macy's is a solid favorite of mine for the holiday's. They have great sales and rewards, and I usually love their offerings. (Spoiler alert: That's where I bought this year's Christmas PJs!)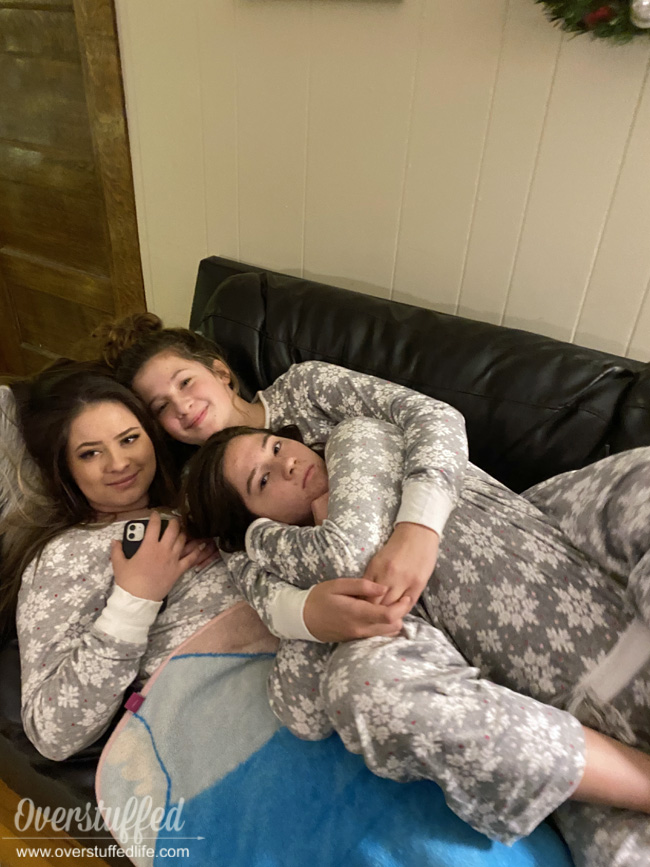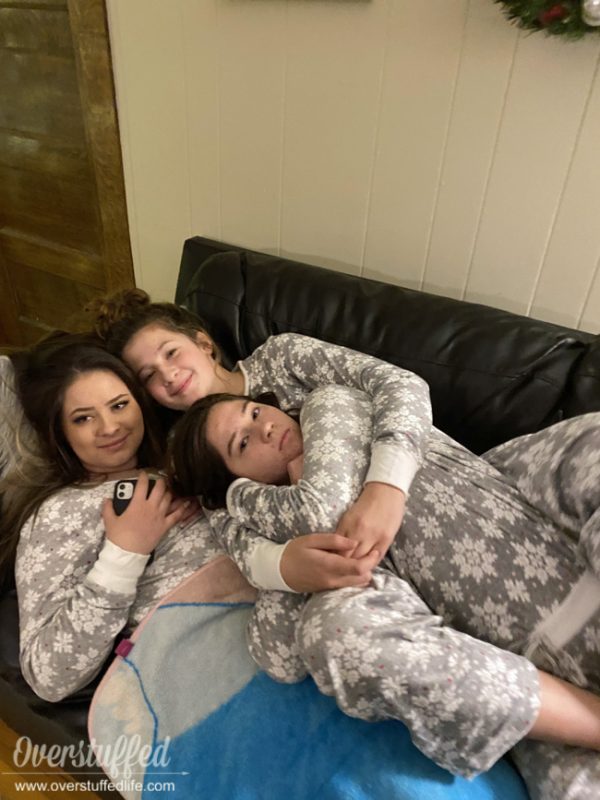 The last time I bought our holiday pajamas from Macy's, I went with a winter theme instead of a blatantly Christmas theme. They have remained some of my girls' favorite sleepwear to this day (I think this was 2019).
Shop Macy's here: Macy's 2022 holiday sleepwear collection
Last year I bought our Christmas jammies at JCPenney. For the first time in many years I actually bought some for me and my husband. I also bought a pair for my oldest daughter's boyfriend who came home with her for Christmas from college. It was really fun to share our Christmas Eve pajama tradition with him!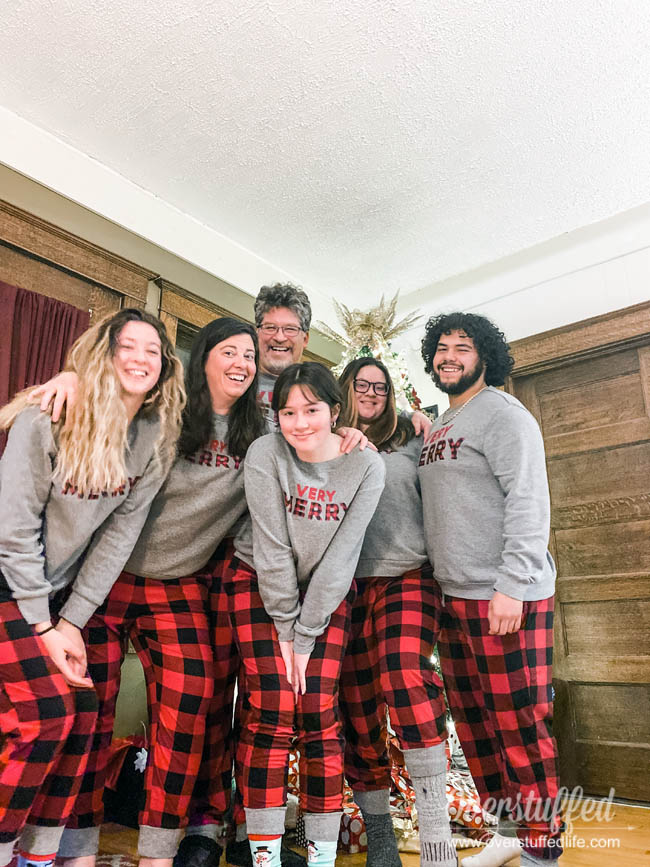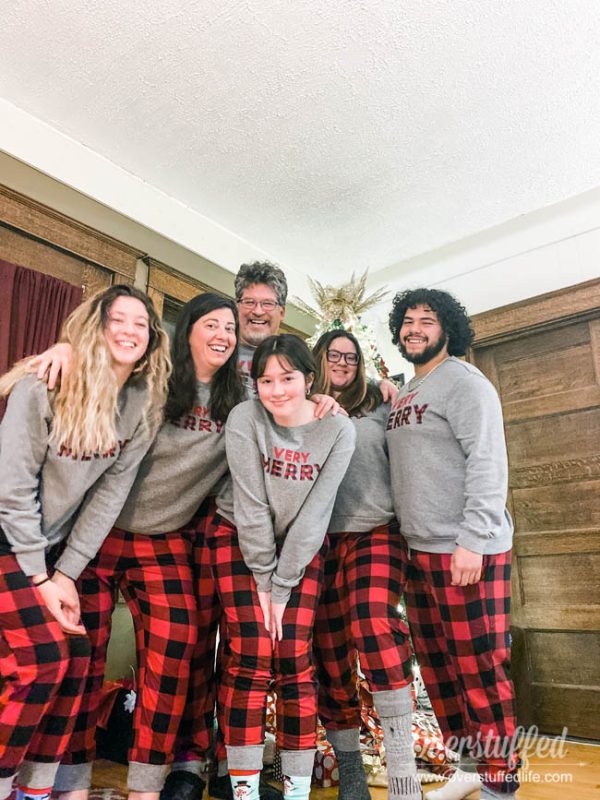 JCPenney even had a matching dog bandana for my dog, which I neglected to get a photo of…oops. Trust me, though, it was really cute!
Shop JCP here: JCPenney 2022 Christmas pajamas
I have never purchased our matching Christmas pajamas from Soma, but I always look at them. The Merry & Bright design this year is so cute and unique—I wish I'd seen it before I bought elsewhere. Who am I kidding, though? There are so many cute options these days that I wish I could buy six pairs per family member! Decisions have to be made, and maybe you'll choose the cute Merry & Bright pjs this year.
Shop Soma here: Soma 2022 Picture Perfect Family Jammies
If you have teenagers, looking at some of their favorite clothing companies is always a good idea for Christmas pajamas. These stores will usually have a few good holiday options, and will definitely have non-holiday pajamas if you choose to go that route.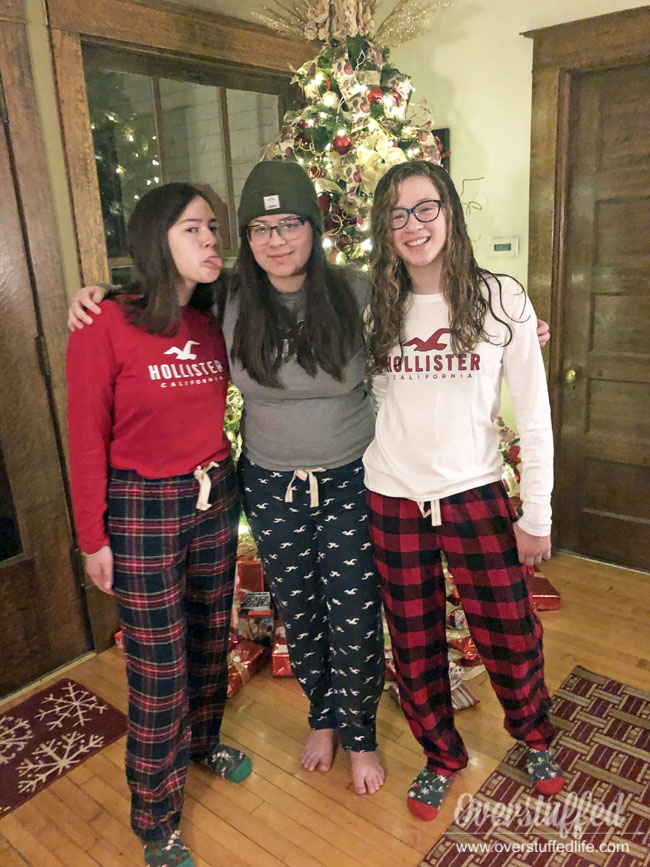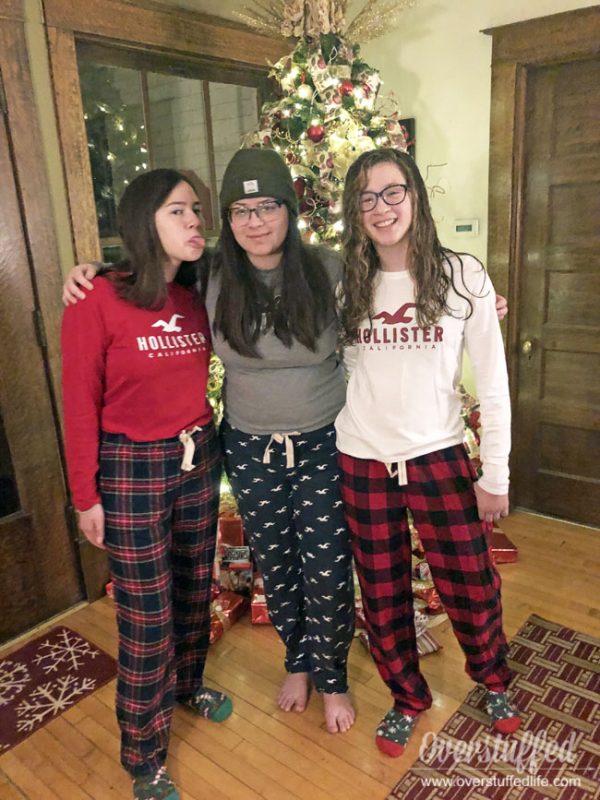 In 2018, I bought my girls their Christmas pajamas from Hollister. I didn't go the exact matching route, but they matched without matching. Also, all of these pajama pants are still in their rotations, though I'm not sure where the shirts went. That's the main reason I recommend looking at Hollister or other companies like it—your teenagers are much more likely to wear them again!
Shop Hollister here: Hollister 2022 pajamas
Amazon has a surprisingly large selection of holiday pajamas. I probably shouldn't be too surprised, it is Amazon, after all!
It's neatly organized into themes: Snowman, Reindeer, Christmas Tree. Easily find what you want for your family.
Shop Amazon here: Amazon Perfect Matching Christmas Pajamas
I am a huge fan of TJMaxx in general. One year I just decided I didn't want to do obviously festive pajamas for my girls, and I found some cute ones at TJMaxx and went with those. Also they were super soft and comfy.
(That was the same year I had to buy a new angel topper for my Christmas tree…and while it looked lovely with the lights off, once they were on it definitely didn't match.)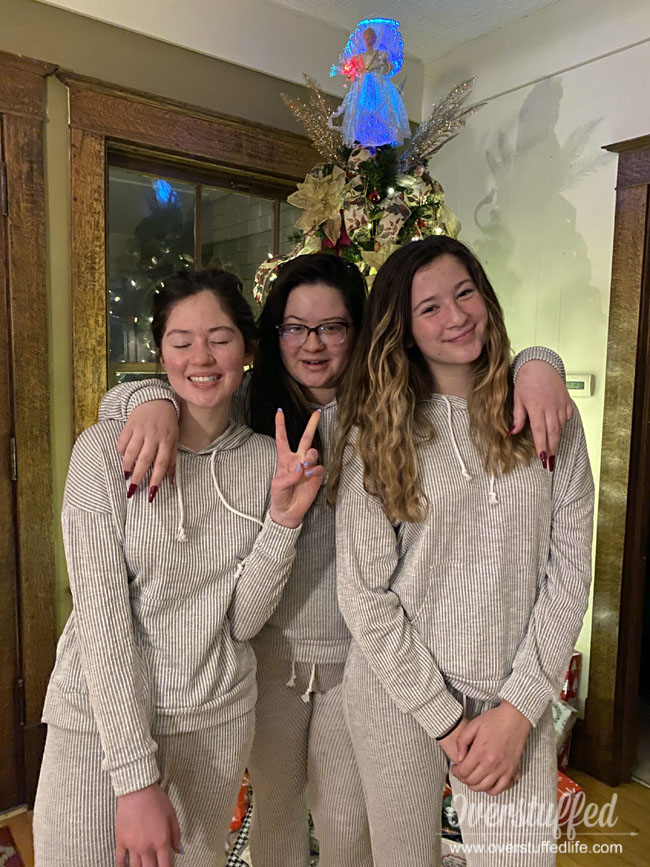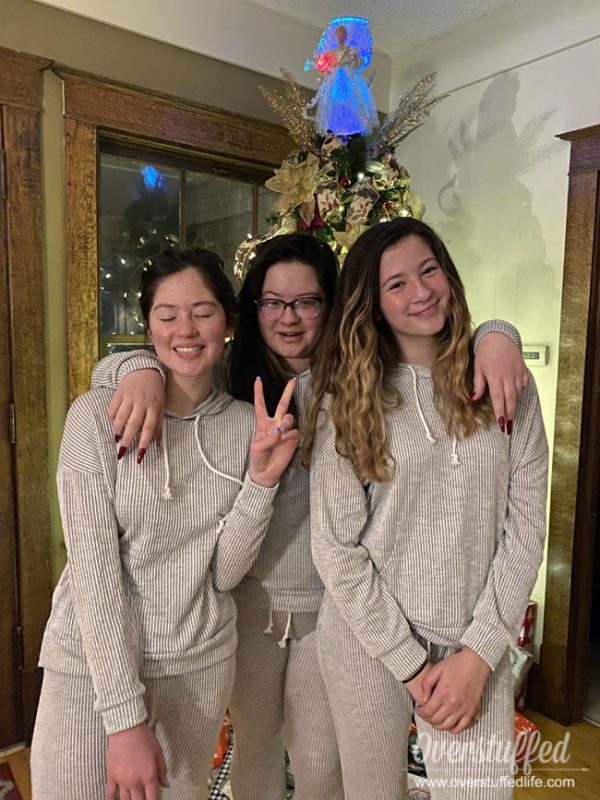 They do have Christmas/winter-themed pajamas, too. I especially love this penguin onesie.
Shop TJMaxx here: All 2022 pajamas at TJMaxx
The year I bought the girls their Christmas pajamas at The Gap, I only got bottoms and they were coordinated and not matching. They were cute, but I had to go elsewhere to find tops, and I remember being frustrated. But looking at the offerings they have this year, I think they have much better options.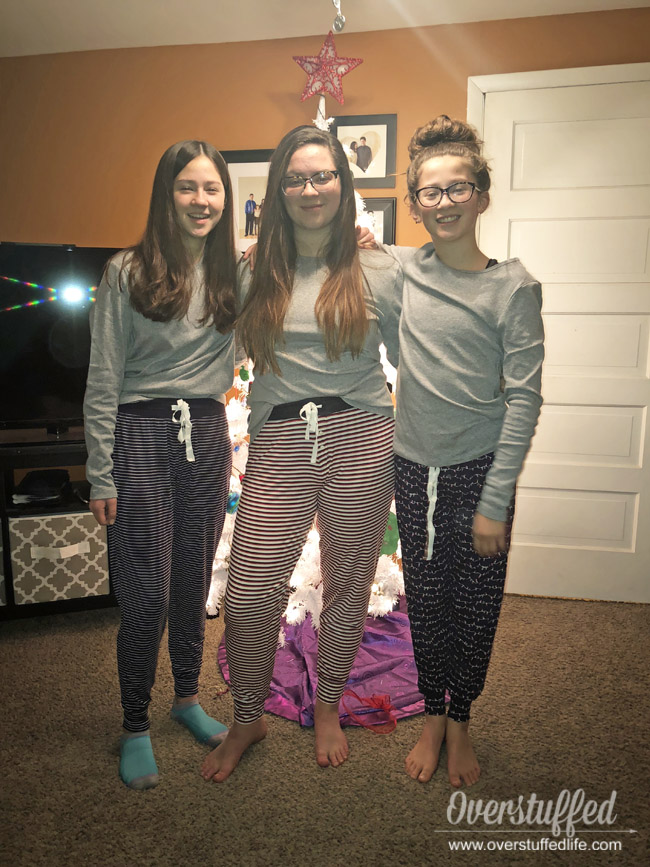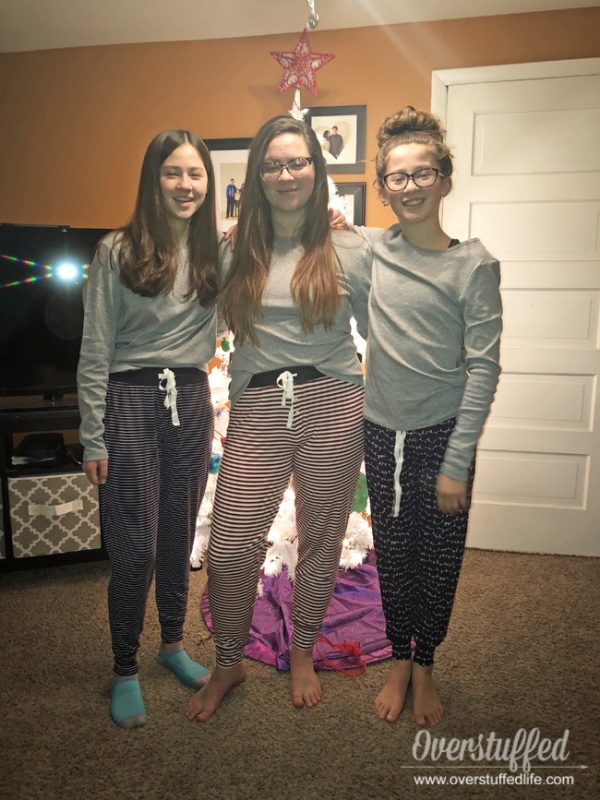 I love the "recycled happy" plaid. It's not the same old Christmas theme, and it's really true to the Gap's colorful brand. I also like that there are several styles for each print, so you can match without being super matchy. They also have dog pjs in every single print!
Shop The Gap here: Matching family pajamas at The Gap