Looking for summer activities for kids that will help them learn self-reliance?
Here are three ways we are taming the summer chaos by teaching kids to be more self-reliant this summer.
Today was the first official day of our summer. And of course, the first day of summer brings with it all of Mom's crazy ideas to keep it fun and productive.
Last year, I went easier than usual on the girls. No workbooks or music theory, and a fairly simple chore system. The biggest thing I tried to make them do was read 12 books each, which only Sophia (the one who couldn't even read at the time) actually accomplished.
Don't get me wrong, last year's system worked pretty well, and I was happy enough with the results. But it did have its flaws, and this year I'm hoping to fix them by teaching my kids to be more self-reliant. They are old enough now that I shouldn't have to hover over them all summer and I also think they will enjoy themselves more if they learn to be in charge of their own schedules while still doing things like chores, music practice, and reading.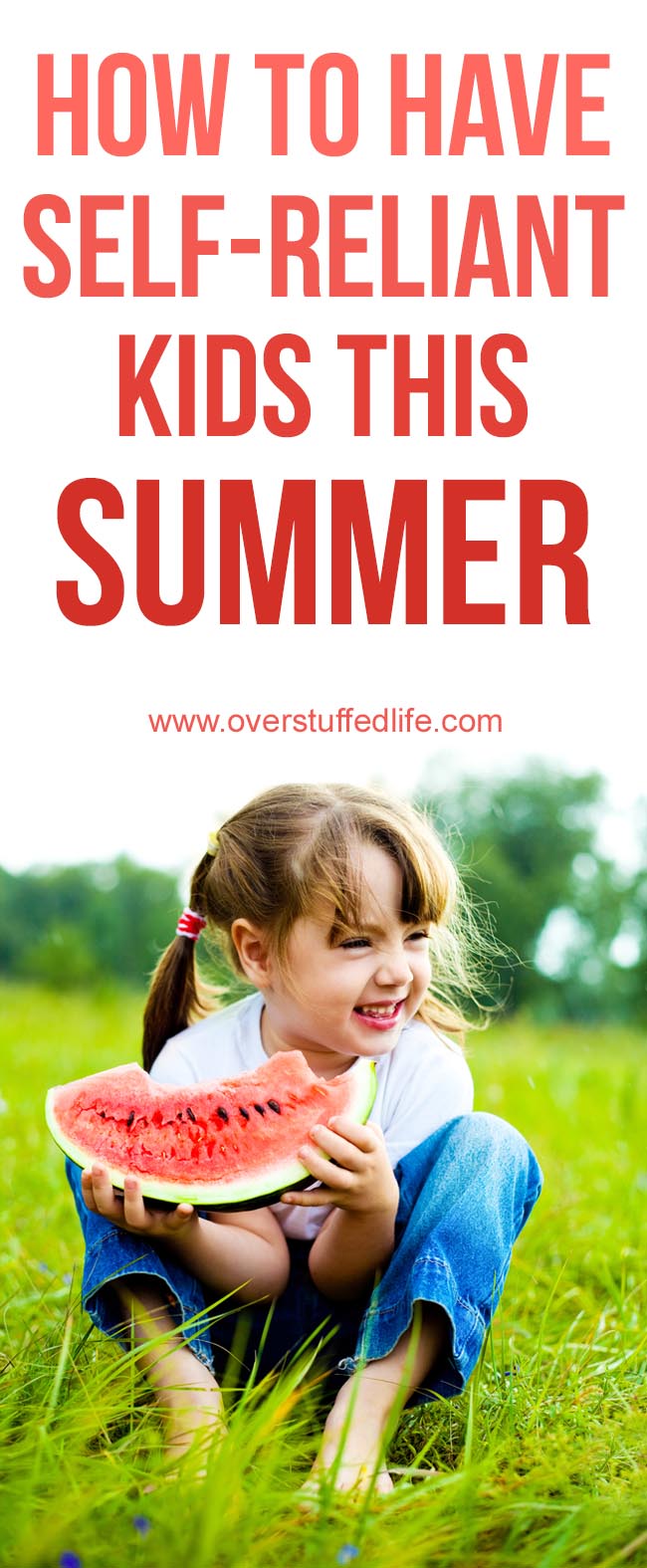 3 Ways to Tame the Summer Chaos and Have More Self-Reliant Kids
Chores:
Last year, the girls cleaned their rooms and the playroom and then drew two jobs out of the chore bucket. These were jobs that need to be done on a weekly-ish basis, like mopping floors and cleaning baseboards. What I noticed was that the house was still always a wreck, and despite the fact that the girls diligently did their jobs, I was the one doing the bulk of the cleaning.
So.
I decided to be a little meaner this year. (And when I say "mean" I just mean that I am going to require a little more from them this summer.)
We've been using these clipboards this school year for the girls to stick any important papers that come home in their backpacks for my review. This summer, they are the new-and-improved chore chart.
Every morning when the girls come downstairs, they will find their chores for the day on the clipboard—PLUS they still have to draw two sticks out of the chore bucket. Each girl will be in charge of cleaning one whole room in the house, and I have left detailed instructions for that room.
For instance, today Chloe was in charge of cleaning the dining room. Here is what her paper said:
1. Put away anything that is on the tables in its proper place

2. Clean underneath the big table. Put everything away where it goes

3. Clean off radiator. Put things away

4. Straighten side table, make sure all fruit is in basket.

5. Wipe down table, side table and radiator

6. Make sure the linens under the side table are folded nicely

7. Sweep the floor

8. Move chairs into living room and vacuum the carpet under the table

9. Put chairs back, nicely

10. Turn on Scentsy candle
I started doing these detailed lists for Saturday jobs a couple months ago and it was such a DUH moment for me. I couldn't believe how much better the girls did at cleaning by themselves, with little help from me. And I couldn't believe how I didn't have to nag them and tell them to do things over again at all. I also couldn't believe how excited they were to check off each item on the lists. So, we will do lists like these nearly every day in the summer. And it will be AWESOME.
They also have a little slip of paper with a few easy jobs. Obvious stuff like making their beds or little things around the house that need to be done but aren't in the chore bucket.
Get some printable chore lists for common rooms in the home here: Printable Cleaning Checklists
Reading:
Last year I assigned them each 12 books. I handed them their stacks of books, and I pretty much never saw those books again. I know some of them were read, because I saw them do it, but I know that not all of them were. I also know that Chloe started several of her books, but never finished them for various reasons. Usually because she couldn't find her books anymore.
So.
This year I decided to go a little easier on the reading load. I asked Bria and Chloe how many books they thought they could read this summer. Bria said 8 or 9 and Chloe said 6 or 7. So that is what I gave them. I figure that if they finish them, they can choose their own reading material for the rest of the summer. Actually, they can read whatever they want—the books that are in the bins are things I think they would like or new genres I'd like them to try, but they are not required to read them at all. I just want them reading, and they were so excited about the books in the bins that I think this will work wonderfully!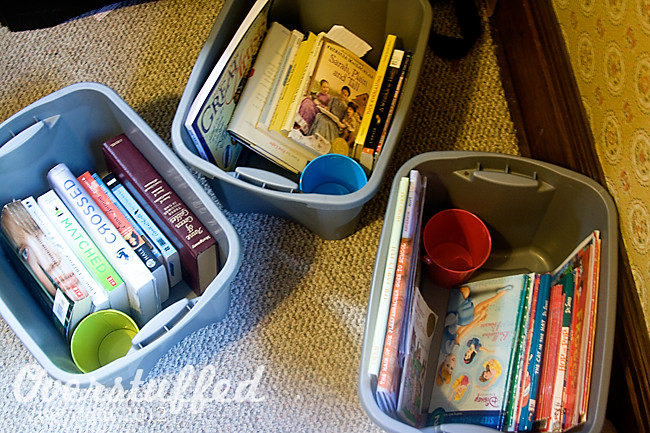 To ensure that we don't lose books in the middle of reading them (or that Chloe doesn't anyway), they each have a bin to store them in. Those bins live in my office and they can put the book away when they are finished reading for the day. If they want to read at night, that's totally fine with me, they will just have to find the book if it gets lost under their bed or behind their nightstand or whatever other weird place they decided to read it.
While we are looking at this picture, how's about I tell you what their books are for the year? I got ideas from a list I found online, but has since been taken down. I bought each girl two new books (Joel didn't win an Amazon GC this year, so I couldn't do more than that, darn it!) and used the list to see what I already have in my library, which was quite enough to round out their bins, I assure you!
Bria's summer reading (age 11 going into 7th grade):
Matched and Crossed by Ally Condie
Uglies by Scott Westerfeld
Anne of Green Gables by L.M. Montgomery
Enna Burning by Shannon Hale (She ADORED The Goose Girl last summer)
And Then There Were None by Agatha Christie
Animal Farm by George Orwell
A Dog's Purpose by W. Bruce Cannon
Chloe's summer reading (age 9 going into 4th grade):
Sarah, Plain and Tall by Patricia MacLachlan
Tuck Everlasting by Natlaie Babbitt
A Wrinkle in Time by Madeleine L'Engle
The Penderwicks by Jeanne Birdsall (Yes, this is carrying over from last year)
Because of Winn-Dixie by Kate diCamillo (Also carried over…)
From the Mixed-up Files of Mrs. Basil E. Frankweiler by E.L. Konigsburg
When You Reach Me by Rebecca Stead
Sophia's summer reading (age 5 going into 1st grade):
Hair of Zoe Fleefenbacher Goes to School by Laurie Halse Anderson
The Empty Pot by Demi
Chrysanthemum by Kevin Henkes
Sylvester and the Magic Pebble by William Steig
The Relatives Came by Cynthia Rylant
These were all books on the first grade list. I also put a whole bunch of easy readers and Dr. Seuss in her bin as she is doing well reading on her own at that level. In fact, she read 13 books by herself today, so I may be combing the shelves again by next week to find more. And, of course, we always have the library.
And, ohmigosh, this post is getting to be a lot long. But, bear with me, because I have more!
Find more summer reading lists here: Summer Reading Lists for Kids
Snacks:
Last summer, as well as every other summer in the history of our family, the girls eat us out of house and home just because they are home and not necessarily occupied every single second of the day like they are at school. When this happened again over spring break a couple months ago, I came up with an idea to (hopefully) solve the issue.
So.
Instead of just getting to have a gorilla bar (thanks to Sophia, this is what we call granola bars around here) or a Gogurt or a string cheese or some crackers or whatever whenever they asked, they each have a bin (I just love bins, don't you?) with their snacks for the week in it. These are, of course, things that don't need to be refrigerated. Any refrigerated items, like cheese and Gogurts, are in the fridge in a plastic bag with their names on it.
They can eat this food whenever they want. I don't care if it's all gone on Monday, but they can't ask for more. The one exception is that they can have fruit whenever they like, though that is also gone when it is gone. (Oh, and don't you love my stylish 70's carpet-covered shelves in my basement stairway? Neither do I.) Also, Joel bought a box of ice-cream bars, and there is a chart on the fridge for those. They just check off theirs as they eat them. Technically, they get one per day, but it is Monday and Sophia has already eaten all of hers. C'est la Vie!
See what we've done with snack bins in later years here: Summer Snack Bins
Today went like an absolute dream. All of these things were designed to help them be a bit more self-sufficient, and I think it worked wonderfully.
Bria came down and practiced (I guess I'll talk about practicing in another post as this one is already a novel and if you're still here I'm totally impressed) at 8:00 this morning, then got to work on her jobs. The other two ate breakfast and started on their jobs while Bria practiced, but right at 9:00 Chloe got her practice time and at 9:45, Sophia did. Everybody managed to complete their jobs in a completely satisfactory manner with very little help from yours truly. This is especially amazing because remember how I've been a bit of an invalid this last week? And when a mommy can't walk without screaming in pain, not much housework gets done. Add to that an insane last week of school kind of schedule and you really didn't want to see the state of my bathroom or kitchen.
We got the kitchen done last night, but I assigned the most awful rooms to the girls this morning (Bria made that bathroom sparkle!) and they did an amazing job. They then happily did their reading out on the back deck while I taught a lesson, and then they have had the rest of the day to do whatever they wanted, though electronics usage is on a tighter schedule than usual (more on that later, too).
My main goal has been self-reliance and independence this year, and I really tried to keep that in mind as I "designed" our summer this year.
Now, if every day this summer can be as good as today was, I will be one happy Mama!