Preventing Summer Reading Loss + Our Summer Reading Lists
Kids who read over the summer stay on top of their reading skills and don't fall behind. Use these ideas to get your kids excited about reading during summer vacation!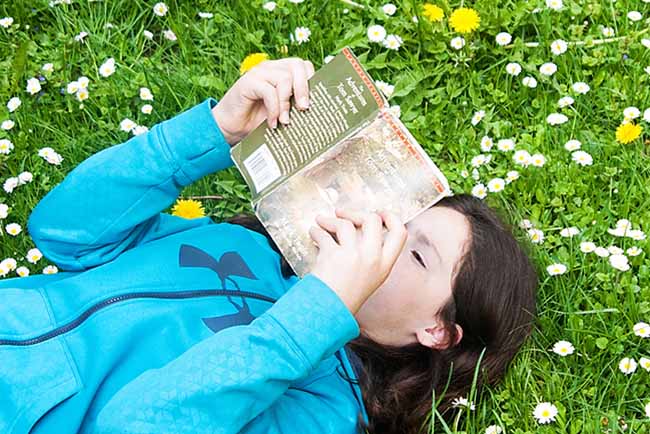 This post is part of an ongoing Summer Reading for Kids series. Click HERE to find ideas for reading activities, reading lists, and reading incentives…and keep checking back for more!
Did you know that kids who don't read over the summer lose up to two months' worth of reading instruction? And that by fifth grade, children who don't ever read over the summer will be two YEARS behind their peers who do read over the summer?
Many studies have shown that just reading 5-8 books over the summer is enough to stay on top of reading skills and not experience the summer learning slide. Reading even more will put your child ahead.
Summer reading is hugely important to me, so I make sure to find ways to get my children to read over the summer. Here are some of the things that we do to keep the kids reading every summer, plus the books (scroll down!) that I am giving them—grades 4, 7, and 10—for part of their summer reading this year.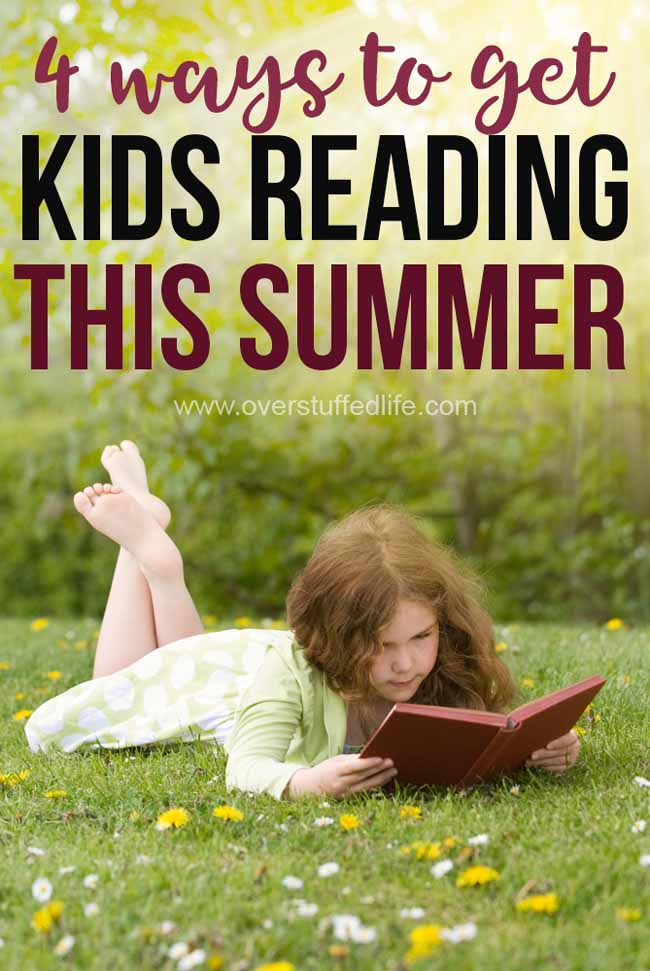 1. Have a Summer Kick-off Party
On the first day of summer (usually the day after the last day of school!), we make a big breakfast and present the kids with their summer reading bins. (See last year's party here: Summer Kick Off Party!)
I gift them with a combination of books that are already on our shelves and books I have purchased new for them. These are books that are appropriate for their age and that I think they will enjoy. (See how I decide which books here: How to Choose Summer Reading for Your Kids)
I try to give them books that they might not choose for themselves, along with some I know they would choose. I don't care if they read all of them or not, it's just a jumping off point for them, and a way for me to keep filling my home with good literature, which is important to me.
Making reading a celebration and a gift makes them so excited to get going on their reading. Those first few days after our party they read quite a bit! Partly because they are excited to dig in to their new books, and partly because other summer activities usually haven't started yet.
It's a great way to jump start summer reading and get them excited!
2. Join summer reading programs
Our local library has a great summer reading program with wonderful incentives. The girls love to go sign up and usually earn their first prize in the first few weeks of summer. My husband and I are also able to participate in the adult version of the summer reading program and earn prizes right alongside the girls, which is really great. Adults need reading motivation, too!
There are always lots of other reading programs around. Bookstores like Barnes & Noble have one, and so does Scholastic, for instance. Join them all!
3. Incentivize reading at home
I always have some sort of incentive in place. This year I'll be paying my kids per book, since they are getting too old for other gimmicks and money talks. I have some other ideas for reading incentives if you click here: Summer Reading Incentives.
4. Host book clubs for your kids and their friends
This has by far been one of the best things we have ever done. It's a great excuse to have a party, and it gets kids reading, too! We are already planning for our book clubs this summer and I can hardly wait for them. The kids are excited, too.
To find out how we host summer book clubs, click here: How to Host a Summer Book Club for Kids.
Finally, here are our book lists for this summer. I spend a few weeks making them and I always enjoy the process. I'm so excited to give the bins to the girls next week!
Our Summer 2015 Book Lists: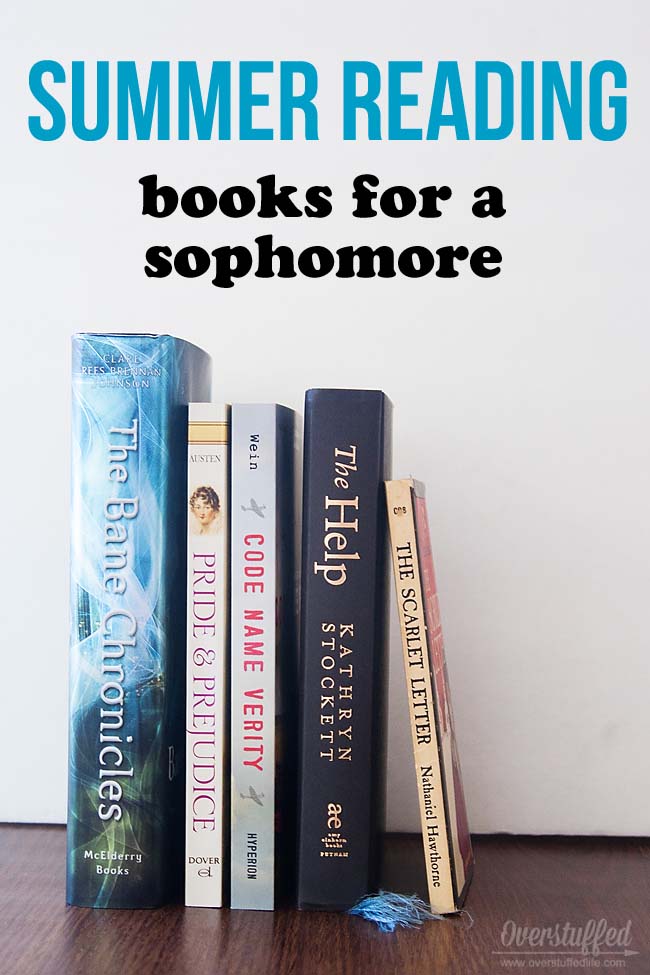 Child #1's books (age 14, going into 10th grade in the fall):
I did not give her 7 books this year like I usually do. She already has a huge pile of books next to her bed that she intends to read this summer, plus she is testing out of English 10 and has required reading for that. So, I'm not super worried about how much she'll read (I'm actually never worried about how much this child reads).
The Bane Chronicles is one that she has been wanting to read, so I purchased it for her. I'm fairly certain it will be the first one she reaches for since she absolutely loves The Mortal Instruments series and just finished the final book in that one a few weeks ago. The Bane Chronicles is a spin off series.
She read Night by Ellie Wiesel for her English class this year and became more interested in World War II, so I think she'll love Code Name Verity. I loved Code Name Verity! It is one of the best YA books I've ever read.
Pride and Prejudice and The Scarlet Letter are some classics I'd love for her to delve into. I try to pick shorter classics (in previous summers she's read The Great Gatsby and Animal Farm, for instance), simply because they look less intimidating and she is more likely to pick it up to read. I also threw The Help in there because I think she'll really enjoy it.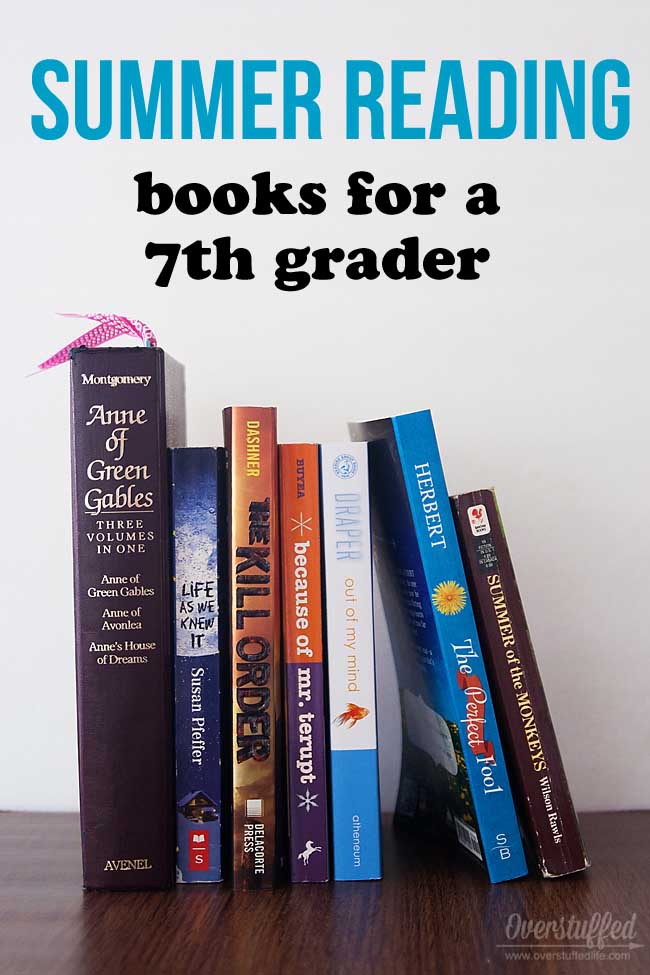 Child #2's books (age 12, going into 7th grade in the fall):
My middle daughter is much less picky about the genre of books she reads, while my oldest likes to stick with fantasy/dystopian type books. My middle just loves everything! However, she has gotten into the dystopian genre more this past year because she read both The Maze Runner and The Hunger Games series. The Maze Runner was in her older sister's summer book bin last year, and she stole it pretty quickly after my oldest read it. She then read the next two books within a matter of days and has been waiting to read the prequel: The Kill Order forever. Our library had a long waiting list to get it, and the bookstore was always out when she wanted to buy it with her own money, so I know she'll squeal with glee when she sees it in her bin this year. (If you know her, you know that she really does squeal with glee, and I'm not making that up at all!)
Speaking of how she squeals with glee, of all my children, this one reminds me most of Anne Shirley. I decided she absolutely MUST read Anne of Green Gables this year. I think she will adore it and find a lot in common with Anne.
Life as We Knew It is another apocalyptic sort of read that I know she will really enjoy. Out of My Mind and Because of Mr. Terupt were both on several lists as being some of the best middle grade books of 2014, so I purchased them for her this summer. They both look like they have a lot of great content and good discussion material, which I am excited about.
The Perfect Fool is a book I recently reviewed (to read the review, click here: The Perfect Fool Book Review), and it is just up her alley. It's fun, funny, sarcastic, witty, and also has a depth to it. She'll really enjoy it, I think.
Finally, The Summer of the Monkeys is one of my beloved favorites from when I was around her age, so I threw it in. It's by the same author that wrote Where the Red Fern Grows, but it's not quite such a tear jerker!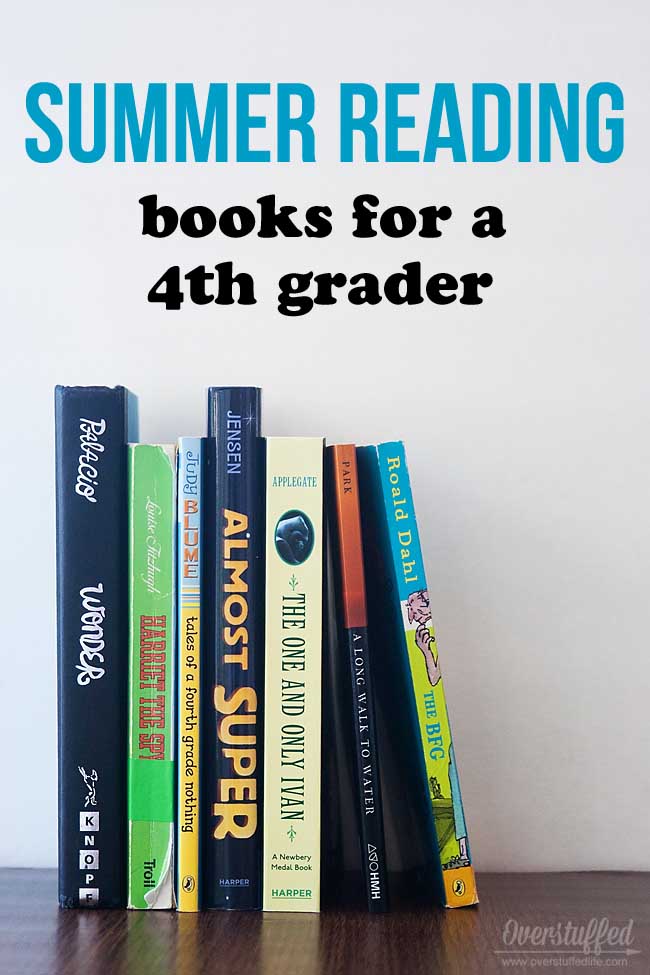 Child #3's books (turning 9 in July, will be in 4th grade in the fall):
Of all my children, my youngest is the one who has a harder time with reading. She's an excellent reader, but she doesn't have the patience to really sit still and read books. I'm planning on reading The One and Only Ivan (the story of a gorilla living in a shopping mall) out loud with her this summer, so she can do other things with her hands and body while I'm reading. Depending on when we finish that, I may read some of the others to her as well.
Wonder is an amazing book and I want all my kids to read it. My youngest is old enough for it this year, so it's in her bin. My middle daughter loved it so much, she did her summer book club about it a few years ago. (To read about that book club and all the activities we did, click here: Wonder Book Club).
Harriet the Spy, The BFG, and Tales of a Fourth Grade Nothing are all my own childhood favorites, and they were on our shelves. Since she's going to be a fourth grader, I thought she'd get a kick out of Tales of a Fourth Grade Nothing, and I think Harriet is a character she'll really relate to. And who doesn't love The BFG? Nobody, that's who.
Almost Super just won the Whitney Award for best middle grade book of 2014. When I saw it, I totally judged it by its cover and ordered it for my youngest. I've looked through it a bit and know she'll enjoy it, though!
Finally, A Long Walk to Water is a more serious read. I wanted her to have at least a couple like that in her bin. It's nice and short, though, and I hope she'll learn a lot about how children in other parts of the world (namely Africa) live, and how blessed she is to have such easy access to life necessities such as water.
To find out HOW I choose summer reading for the girls, click here: How to Choose Summer Reading for Your Children
To find our reading lists from past years, summer book club for kids, reading crafts and incentives, and more, click here: Summer Reading for Kids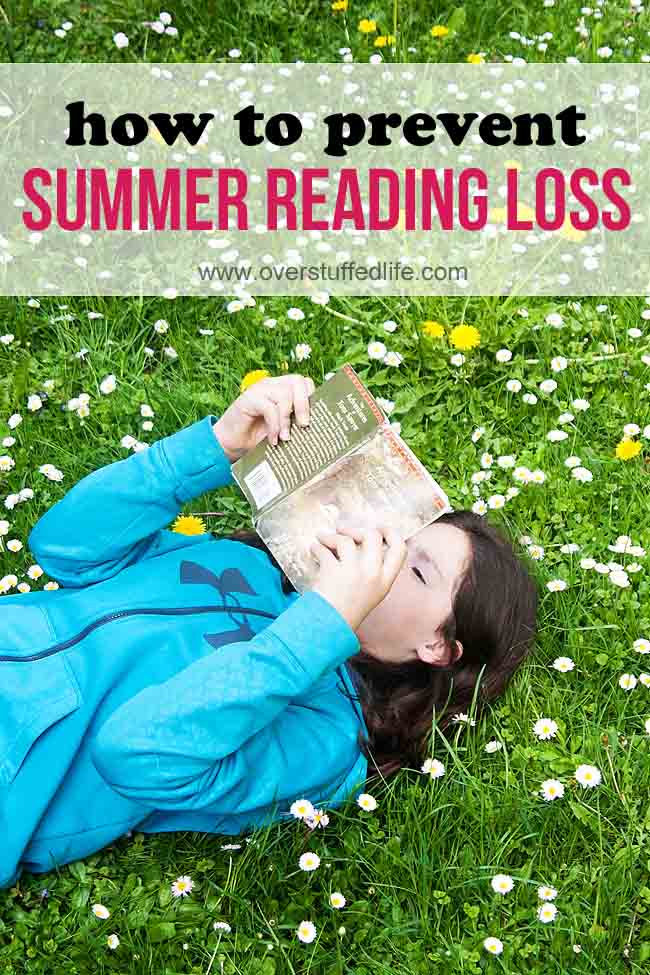 This post may contain affiliate links, for more information, please see my disclosure.