The benefits of summer reading for kids are too large to ignore. Encourage your kids to read over the summer by gifting them a pile of books as soon as school is out.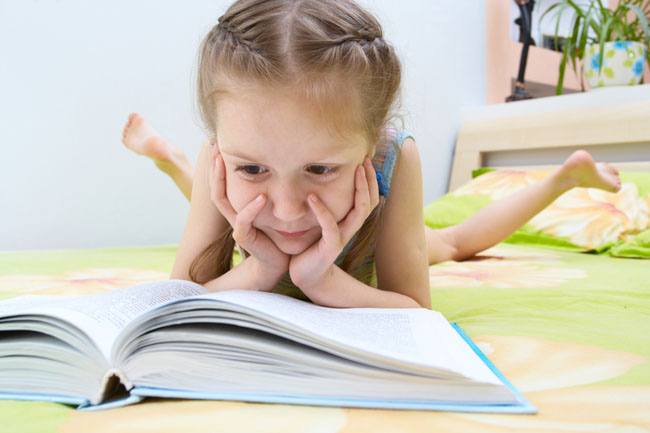 This post is part of an ongoing Summer Reading for Kids series. Click HERE to find ideas for reading activities, reading lists, and reading incentives…and keep checking back for more!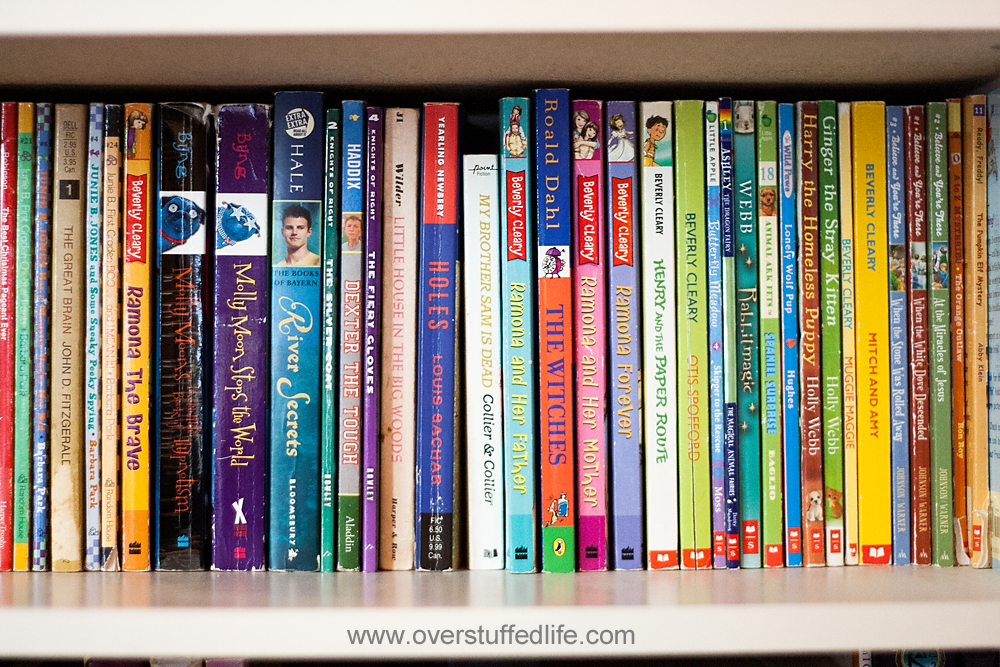 I first started choosing summer reading books for my children in 2011 when I read an article about summer learning loss. Of course, I have looked and looked and cannot find said article again, but it said that if kids read just one book a week during the summer, they have significantly less learning loss and they are much better prepared for the following school year.
That first year, I actually chose all twelve books for my kids. Bad idea! They still wanted to choose some of their own reading material. Duh.
In my excitement to start a summer reading tradition for them, I hadn't thought of that. No matter, they read part of what was in their reading bins, and they read many other books of their own choosing. Each of them read well over 12 books that summer, and I was thrilled.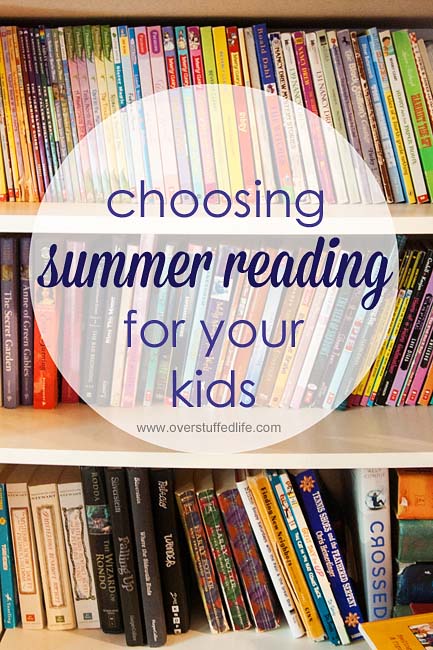 Now I choose 6 or 7 books to go in their reading bins. I don't care if they read all of them or not.
I have incentives in place for them to actually read 12 books over the summer, and they usually read more than that so I am happy.
The books I choose to put in their reading bins are books that they might not have heard of or probably wouldn't choose for themselves. I'd like them to expand their reading options, and so far it has been a great experience for all of us. They usually read and enjoy most of what I put in their bins.

How to choose summer reading for your kids:





1. Google the summer reading lists that many schools issue for each grade.




I find a wealth of information this way and get a really good idea of which books are right for their age group and reading level. I also find many newer books I haven't heard of, as well as the classics that I already know about. I also Google which books won awards this year and why.

Once I've googled the lists, I also try to google more information about the books I haven't heard of—just to make sure they are appropriate for my kids in topic and reading level.

2. See what's already on your shelves.




We have a lot of books at my house. So, I go through these lists and check off books we already own. I don't necessarily put them all in the pile, but it's good for me to realize what we already have.

3. Make a list of the books you think your kids will like most.




I first make a list of the more interesting books from the lists that I do not own. I try to keep in mind which genres each of my kids like the most, but I also try to pick things that are a little out of their comfort zones, too.
4. Try to choose a mix of different books.
I like to choose a nice mix of both classics and more modern books, and a mix of thick and thin books. I don't want to overwhelm them with a bin full of big, fat tomes, nor do I want to overwhelm them with all classics.
I also don't want to have the opposite problem occur. I take into account the genres they already love to read, and make sure a couple books I know they will like are included, but I also include other genres to help them branch out and perhaps find new favorites.
5. Finalize your lists and make their book bins!
I usually make up their bins of 3-4 books we already own, and 2-3 books that I purchase new for them. The Maestro often earns a nice Amazon gift card at the end of his school year, and I always use it for summer reading for the kids. This year I only spent 9 dollars out of pocket on 7 new books due to his gift card.
I also head to thrift stores and sometimes garage sales to keep an eye out for the books that are on my lists for the year. I try to make the lists early enough that I have time to find the books at the best prices possible and still have them ready for the first day of summer.
On the first day of summer (usually the day after the last day of school), we have a summer kickoff party where we discuss our plans and goals for the summer. This is when I gift them with their book bins.
I'm pretty sure it's one of their favorite things about that party—they carefully go through their new books and pick the one they want to start with and I can usually find them reading it for the rest of the day.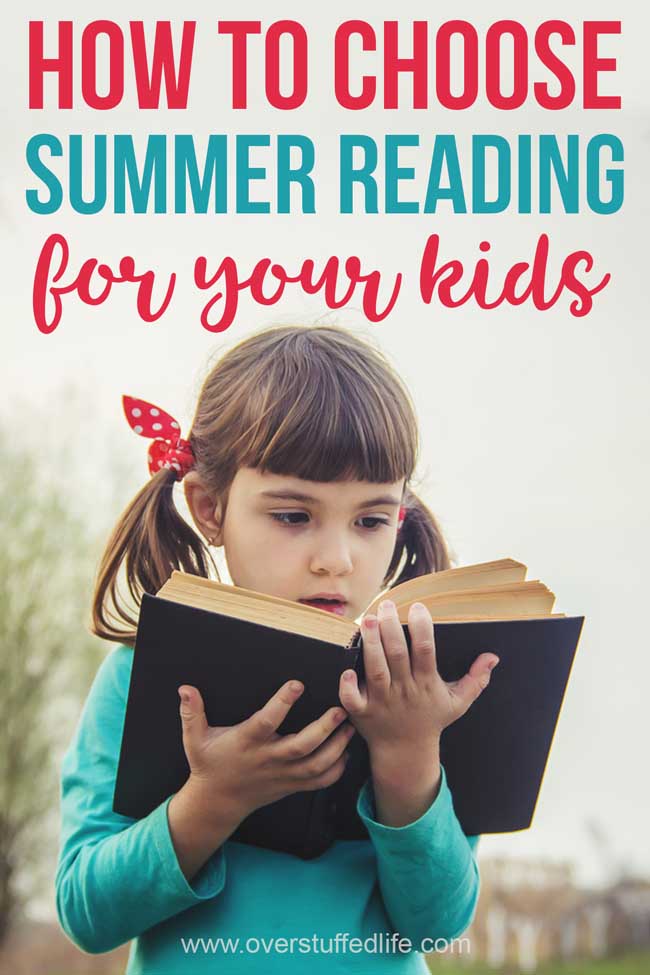 Bria was really excited when, in the first week of 7th grade English, she found out she would have to read Animal Farm by George Orwell. She came home and told me that because it was in her bin that summer, she read it and was already that much ahead! Plus, her teacher was pretty impressed that she'd read a book like that on her own already.
This is just one of the benefits of choosing some literature for your kids to read over the summer that they might not otherwise choose for themselves. There are so many good things about expanding their literature horizons!
I find my kids are much more willing to try books they aren't sure about now that we've been doing this summer reading program at home. They don't always love every book, but they like way more books than not.
And best of all, they are learning to love reading!







Our book lists for Summer 2014—9th grade, 6th grade, and 3rd grade: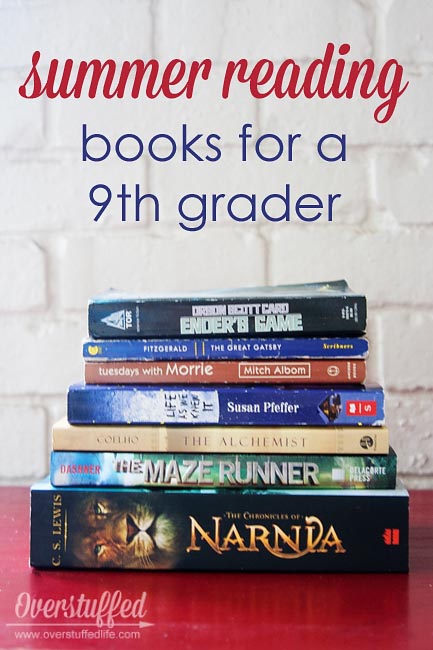 Bria's books
(age 13, will be a Freshman in the Fall)(no, I don't want to talk about it.):

Life as We Knew It by Susan Pfeffer

The Alchemist by Paulo Coelho

The Maze Runner by James Dashner

Tuesdays With Morrie by Mitch Albom

Ender's Game by Orson Scott Card

The Great Gatsby by F. Scott Fitzgerald

The Chronicles of Narnia by CS Lewis
Bria most enjoys dystopian literature and has pretty much read it all. She recently saw the movie Ender's Game and enjoyed it, so I thought she might like to read the book.


Life as We Knew It is also a good end of the world sort of read (I loved it), and The Maze Runner is one she's just never read for some reason.

The Alchemist is a book I found on many Freshman reading lists, and one that I personally really liked. I had a copy of it once, but lent it out to somebody and never got it back, so it gave me an excellent excuse to buy a new copy.

For more classic books, The Chronicles of Narnia (she has mentioned wanting to read them), The Great Gatsby, and Tuesdays With Morrie.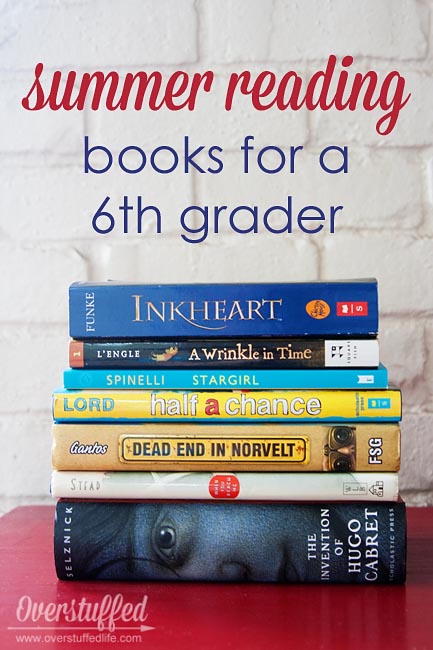 Chloe's books (age 11, will be a 6th grader in the Fall)(that's middle school, and no, still don't want to talk about it):
Dead End in Norvelt by Jack Gantos

When You Reach Me by Rebecca Stead

A Wrinkle in Time by Madeleine L'Engle

The Invention of Hugo Cabret by Brian Selznick

Star Girl by Jerry Spinelli

Half a Chance by Cynthia Lord

Inkheart by Cornelia Funke
Chloe hasn't really settled on a favorite genre and reads pretty much anything and everything. She also seems to LOVE everything she reads, but that's just how Chloe is.
I got her The Invention of Hugo Cabret because she loves art so much and this book is mostly (amazing) illustration. Dead End in Norvelt and When You Reach Me are both more recently published, both with much acclaim. I've read both of them myself and I know Chloe will really enjoy them.

Inkheart is one I'm not sure about for her, but it was on a list I saw and also on our shelves, so it went into the bin. Half a Chance and Stargirl both looked like easy, fun summer reads, and for a classic read, I chose A Wrinkle in Time. It figures heavily into When You Reach Me, so I thought it would be fun to read both books this summer.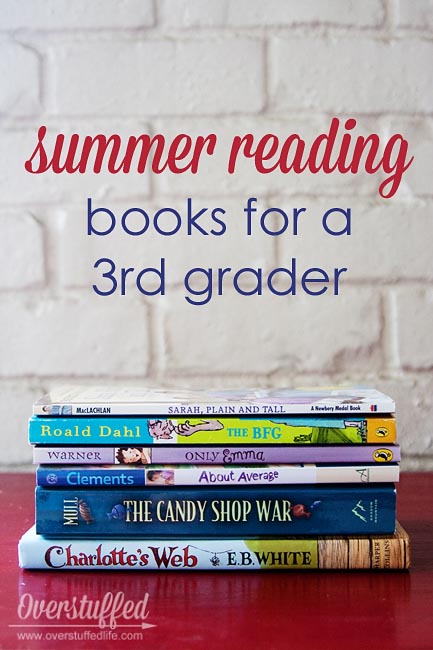 Sophia's books (turning 8 in July, will be a 3rd grader in the Fall)
About Average by Andrew Clements

Only Emma by Sally Warner

Charlotte's Web by EB White

Sarah, Plain and Tall by Patricia MacLachlan

The Candy Shop War by Brandon Mull

The BFG by Roald Dahl

Pippi Longstocking by Astrid Lindgren

Sophia has been much more into reading "big books" this year and has even recently tackled an abridged version of Little Women! She is going to do Charlotte's Web for her Book Club this summer, and a friend of hers is also going to do a book club and chose Pippi Longstocking (not pictured—still on its way from Amazon!).

The other classic read I chose for her is Sarah, Plain and Tall. Chloe loved it at Sophia's age, and since it's not long or daunting at all, I think Sophia will enjoy it.

The Candy Shop War may be the biggest book she will have read to date, but I think she will have fun with it!

The rest (The BFG, Only Emma, and About Average) are fun and easy. I hope to see her reading a lot this summer—she is my most reluctant reader simply because she has so much physical energy inside of her. I'm hoping these books keep her really interested.
What are your kids reading this summer?
More Summer Reading at Overstuffed:
Summer Reading Motivation
DIY Library Bag
Summer Book Club: Wonder by RJ Palacio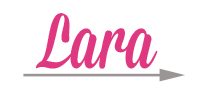 This post may contain affiliate links, for more information, please see my disclosure.