So we were shopping a couple weeks ago and Bria fell in love with a pair of denim shorts that had patriotic stars and stripes printed on them. We didn't get them for a couple of reasons: 1) They were waaaaaaaaaaaay too short, 2) They were ridiculously expensive for so little material (see number 1), and 3) I told her we could make some ourselves.
And that we did.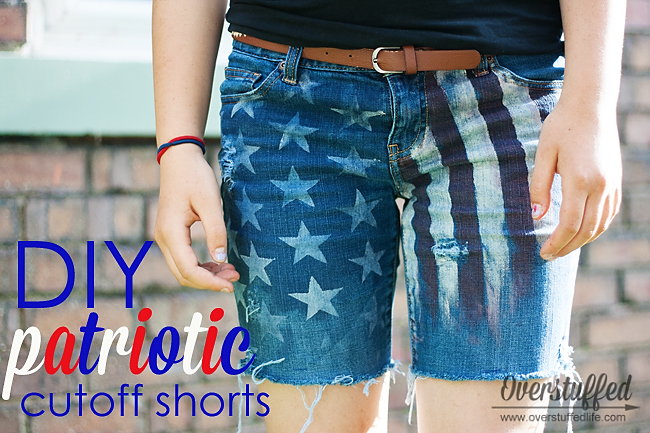 I'm thinking I should seriously start a "crafting with Bria" feature on this blog, because she was so excited to do this and for me to photograph every step of the way. Anytime your teenager wants to HELP you with your blog is a huge triumph, and she loves to do stuff like this.
Anyway, prepare yourself for many photos—Bria is nothing if not detailed! And at the end of the post you can not only see Bria's finished product, but her sisters' versions as well.
Easy DIY Patriotic Cutoff Shorts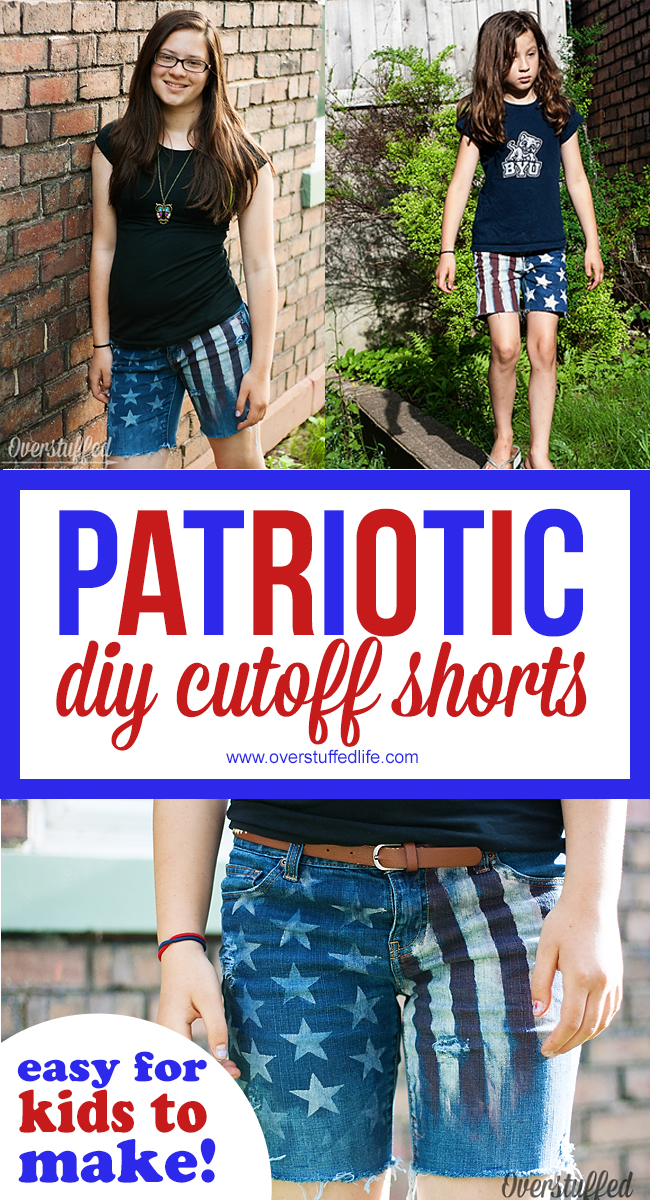 Supplies needed:
To start, we need just a few basic supplies, most of which you probably have on hand:
A pair of old jeans you are willing to cut off (Bria had to find some at the thrift store, the other two easily found a pair in their drawers with the knees worn out).
Acrylic craft paint in red, white, and blue. (Bria wanted a more vintage look, so we chose muted colors–more of a maroon, linen, and navy).
An exacto knife
Painter's masking tape
Foam paint brushes


Directions:




Step 1: Make a star stencil. This is the only thing I don't actually have a photo of, but it's pretty self-explanatory. You can either freehand a star or print a perfect one out from the computer, which is what Bria chose to do. Then (carefully!) use your exacto knife to cut out the star from the blank stencil sheets. We chose to then cut the stencil smaller so it was easier to work with. You will see photos of it shortly.
Step 2: Use the painter's tape to mark stripes on one leg of your cutoff jeans. Bria carefully put three stripes of tape next to each other and then removed the middle one so she had perfectly even stripes.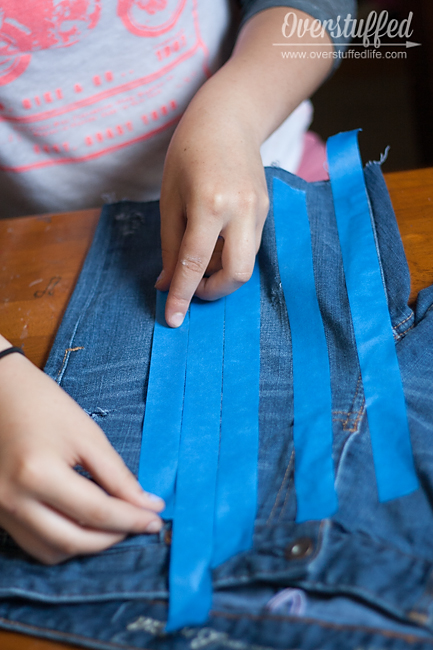 Step 3: Using the foam brush, paint red in between the tape. Bria used a cool fade-out technique on her shorts to make them look even more vintage-y.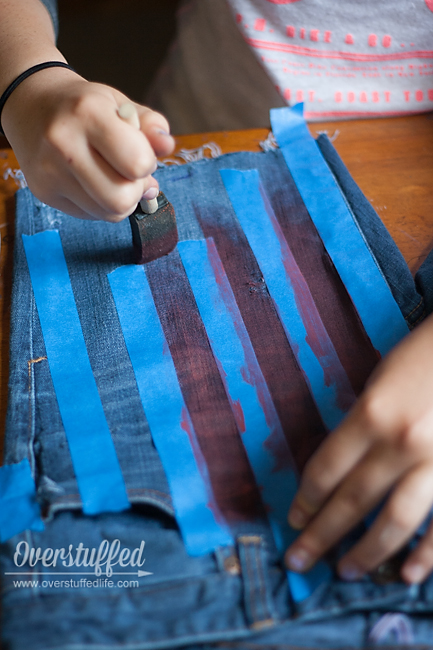 Step 4: Remove the tape and let the paint dry. While the red stripes are drying you can paint the other leg entirely blue with a different foam brush.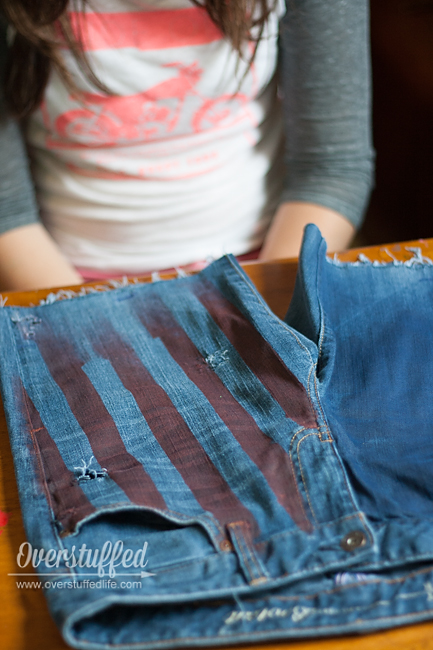 Step 5: Once the paint is dry, tape over the red stripes.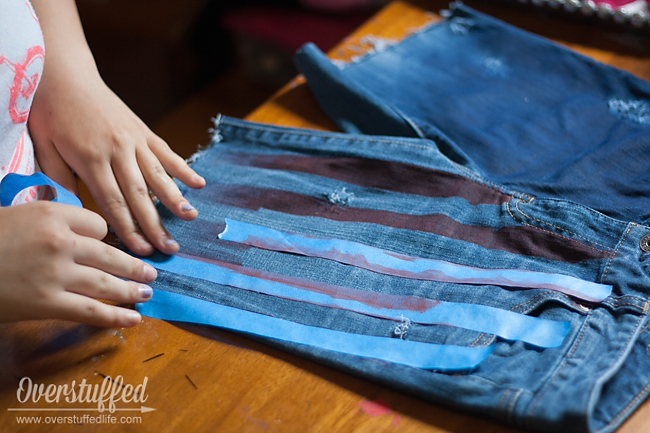 Step 6: Use your foam brush to paint the white stripes between the tape.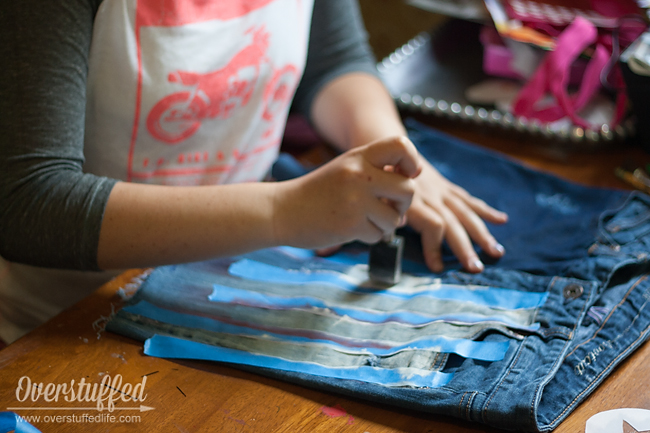 Step 7: If the blue paint is dry, you can start stenciling your stars. First decide a basic pattern for them and know what spacing you will need. Using a medium sized paintbrush and a stippling motion, stencil your stars in with the white paint. Be careful not to load too much paint on the brush for this step, as it will bleed through the stencil.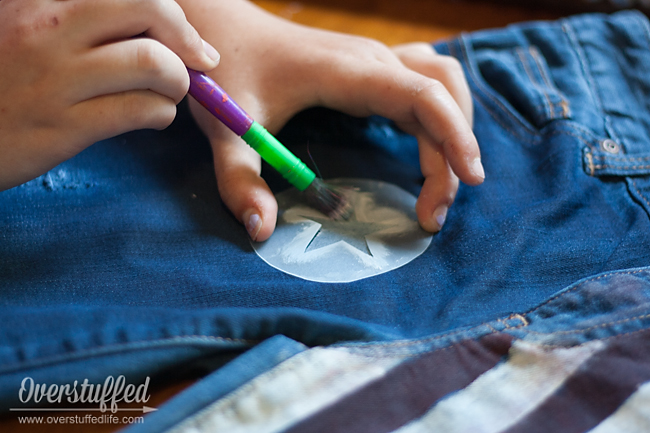 Step 8: Repeat Step 7 in your previously decided pattern. Like I said, Bria is super detailed, and really took her time to make sure each star was perfectly placed. Random is totally cool, too! You'll also notice she continued to use her neat fade-out technique with the stars.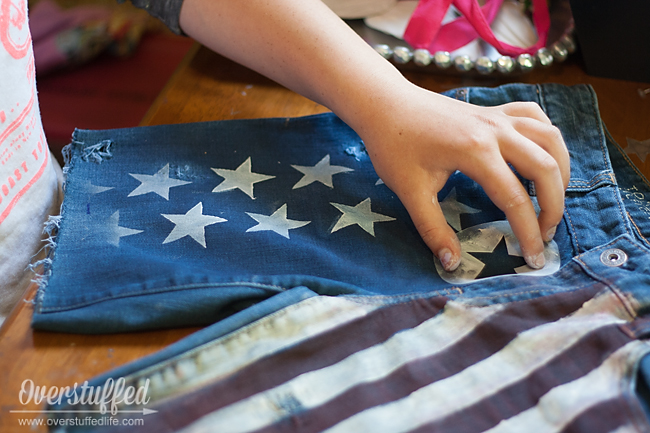 Step 9: Allow all the paint to thoroughly dry, and then using coarse grit sandpaper, rough it up a bit. Again, Bria was really going for the vintage look and she didn't want her paint to look too bright. Her sisters chose not to bother with the sandpaper, and their shorts look pretty awesome too.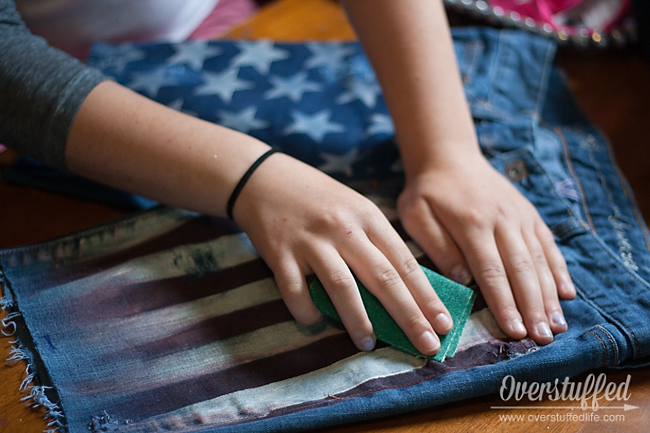 Step 10:
Sit back and admire your awesome handiwork!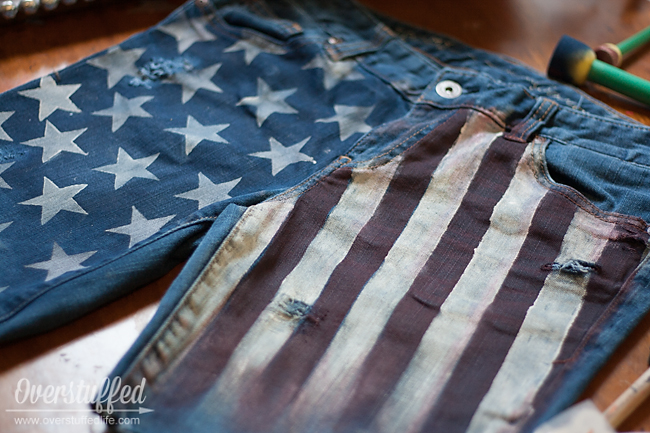 Step 11: Wear them (we washed them first, just because, but it is probably not super necessary)—just in time to celebrate fireworks on July 4th.
Aren't they all adorable? I thought it was fun to see the different takes they had on the same project. I love how Chloe has stars everywhere, and Sophia's are really dark and bold.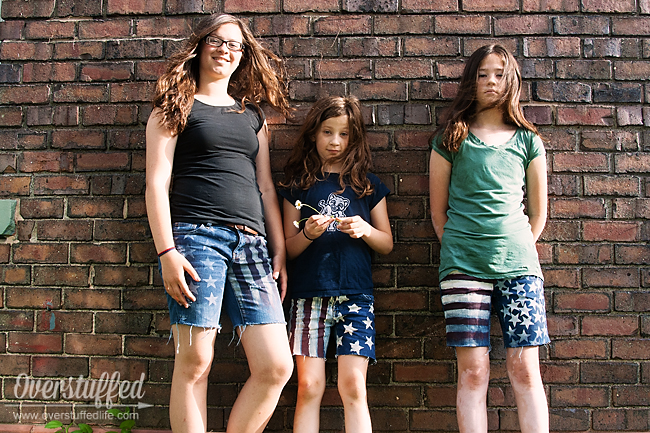 You might also like:
How to Make Faux Chalkboard Art
Follow my Crafts & Sewing Projects Board on Pinterest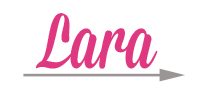 This post may contain affiliate links, for more information, please see my disclosure.