Make a Declutter Action Plan
Welcome to Day 2 of our 30 day decluttering challenge! Today we will make a declutter action plan and identify the spaces in your home that need the most decluttering work.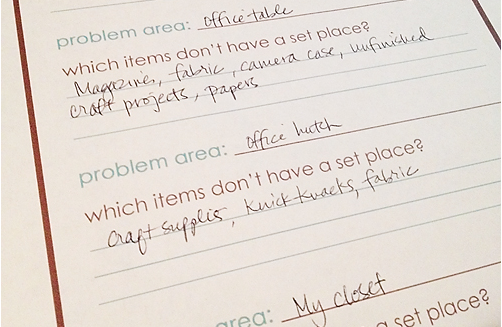 I am a minimalist at heart. I like every surface to be as empty as possible. I like drawers to be neat and organized instead of crammed with stuff. I just love the peace and serenity that the empty spaces and organization brings to me.
In my married life, I have never lived in a home more than three years…until now. We are on Year Six in this house, and the accumulation of stuff proves it. While I don't exactly love moving, I do enjoy the almost mandatory getting rid of things that comes along with it. It was nice to do a massive purge of the things we no longer used, loved, or needed to save space in the moving truck.
So, this month, I'm going to be that brutal with the physical clutter around here. "If I were moving, would I keep it?" will be the question I ask myself, along with several others.
But first! I need to know where on earth to start this massive purging of stuff that I am excited (and a little scared) to do this month. I know I want to get rid of it all, but I'm going to need an action plan. And if you are going to get rid of your own clutter, you're going to need one, too.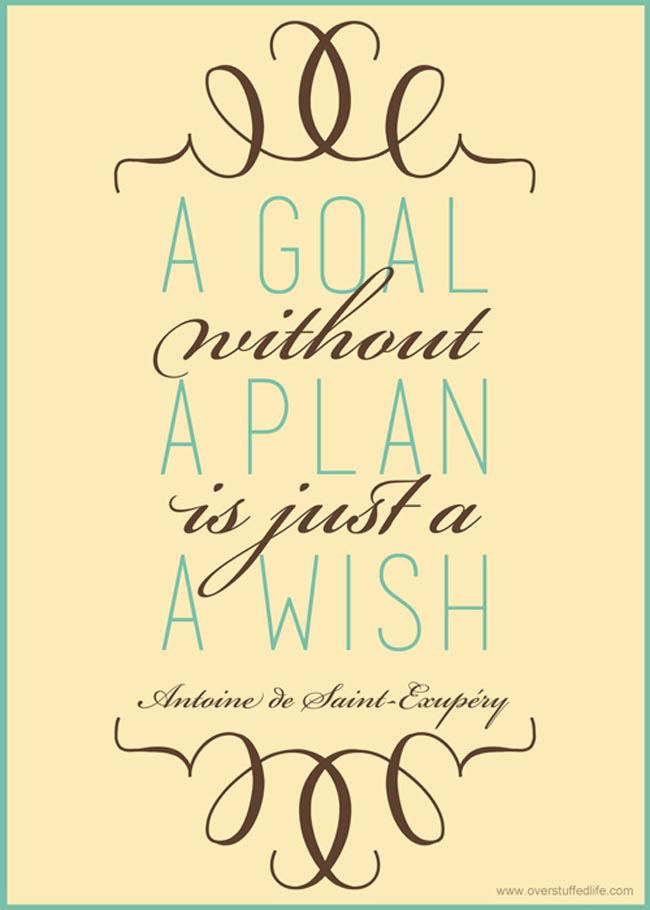 Part of my problem with clutter is the lack of a plan on how to address it. I can proclaim "I'm going to declutter!" every single new year as much as I want, but if I do not actually make a plan I will not succeed in actually doing it. Instead, I will quickly get frustrated and give up on my goal to declutter.
So what does an action plan for decluttering your life look like?
First, take a look around your house. Actually walk through each room, don't just rely on your memory of what needs work.
Now, ask yourself the following two questions:
What are the problem areas? Be specific. Don't just write down that the entire office is a problem area, even if that's true. What are the exact problem areas/surfaces in the office? Where does stuff pile up no matter how hard you try to keep that from happening?
Which items do not have a set place? Now look at the problem areas and write down which items are causing it to be a problem area. Chances are that those items have not been given a specific home, so they are instead cluttering up your desk or your nightstand.
If those items actually do have a set place, you'll need to address the reasons why they are not where they are supposed to be. We will do that on another day, so for now, only write down the items which do not have a home.
You can use the worksheet below for this process. It can be downloaded HERE.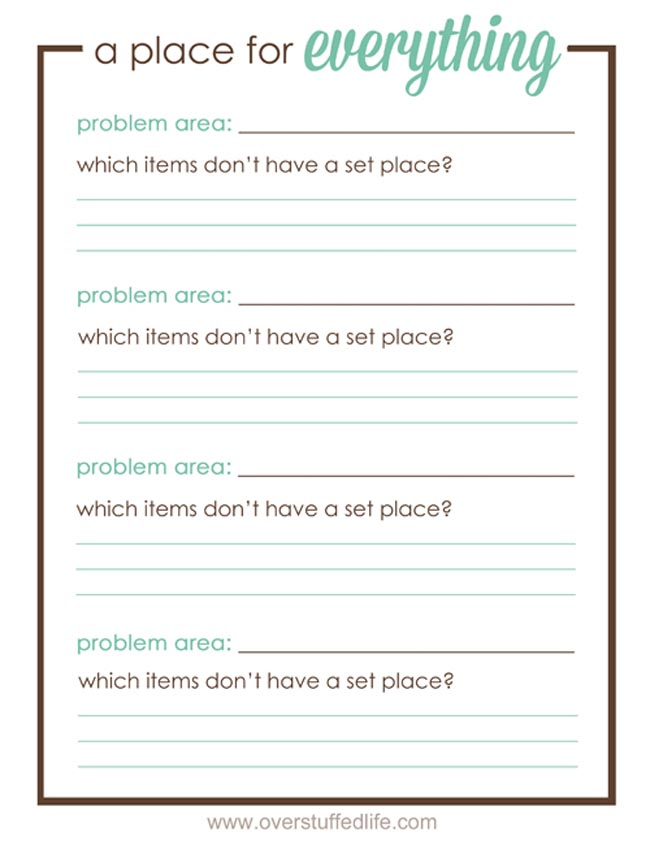 This process will give you an idea of where to start for your action plan. When I did this, I was completely overwhelmed looking at all of the problem areas in my home (but then, that's normal for me), but there is no need to be overwhelmed.
We are going to address these things on a daily basis, and even if you can't fix every problem area during the month of October, you will have made a great start!
Once you have identified all of your problem areas and homeless stuff, it is time to choose your priorities. Maybe your daughter's closet needs to be decluttered, but it doesn't bother you too much. However, your kitchen counter drives you insane.
Start in the areas that are most affecting your life negatively.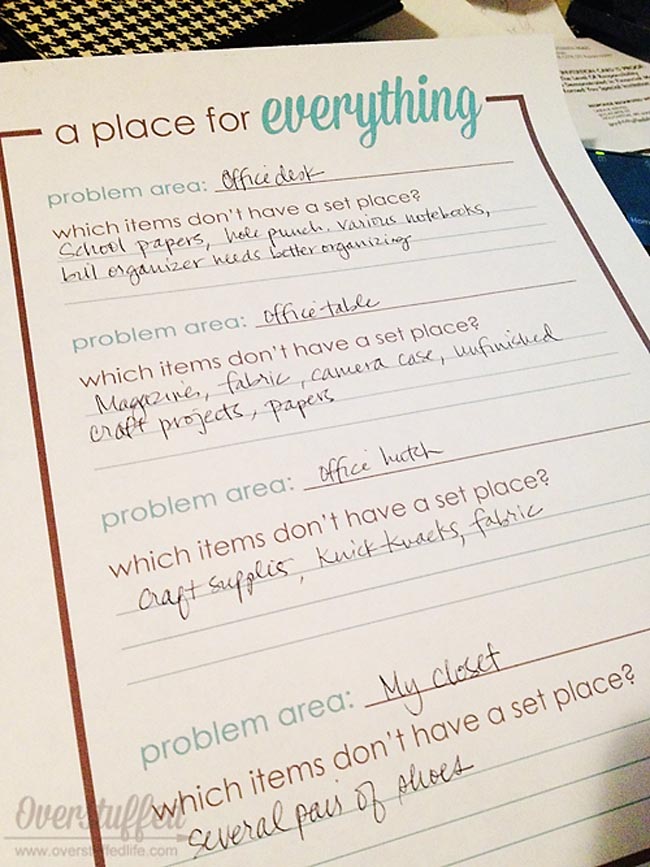 For me that is my office desk. And there is a long list of spaces after that–I have plenty to declutter this month, that's for sure!
Once you have put your cluttered spaces in priority order, decide how much time you will spend on this project each day. If you have a lot to do, you may want to choose an hour (that's what I'll be doing), but if you are already fairly organized and only have a few problem areas, maybe you're good with just fifteen minutes.
Set a time each day that you will devote to this project. If you can possibly make it the same time each day, that is best, but if you have a difficult schedule, just write it in where it fits.
And that's it! You have begun to take action against the clutter. You know which areas need to be addressed, and when/how long you will address them. Tomorrow we will discuss what exactly to do during your allotted daily decluttering time.
Today's assignment:
Identify problem areas and homeless items.
Set priorities.
Schedule daily time to work on decluttering.
Good luck!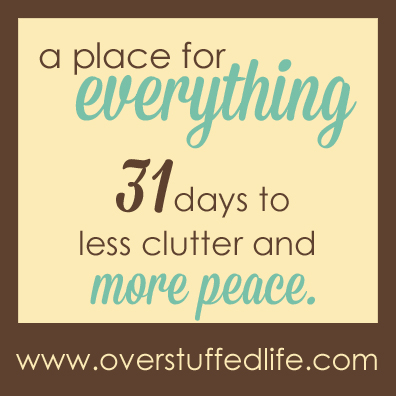 Find all of the posts in this 31 Day Challenge here: A Place for Everything: 31 Days to Less Clutter and More Peace.
This post may contain affiliate links, for more information, please see my disclosure.
Are you ready to declutter your life?
Join the 31 day challenge to get rid of clutter and make room for peace.