Six Reasons You Should Declutter Your Life
The benefits of clearing clutter are too big to ignore! These six reasons will make you want to start decluttering your home immediately.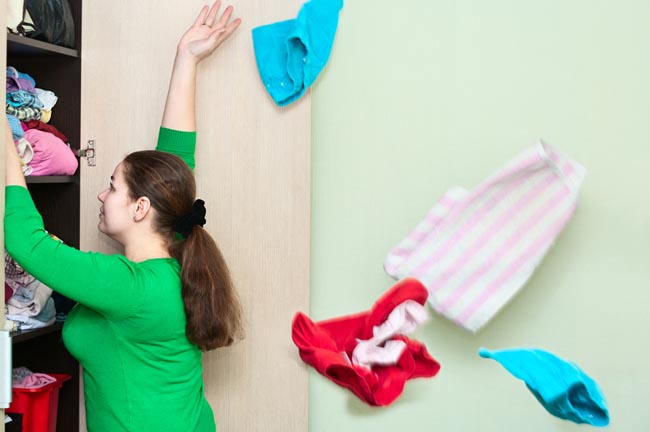 Welcome to day 27 of our 30 Day Decluttering Challenge!
I've learned a lot in the past 27 days. As we are nearing the end of the challenge, I want to share with you some of the things I have learned this month about why you should declutter.
Now, I already knew all of these things to be true on some level—and you probably did, too. But when you've let things get out of control with the clutter, it isn't always so easy to remember them.
As I've come closer and closer to my minimalistic ideal, I have relearned these principles as I've seen them put into action.
And all I did was simply get rid of stuff!
Are you ready to declutter your life?
Join the 31 day challenge to get rid of clutter and make room for peace.
6 Reasons to Declutter Right Now!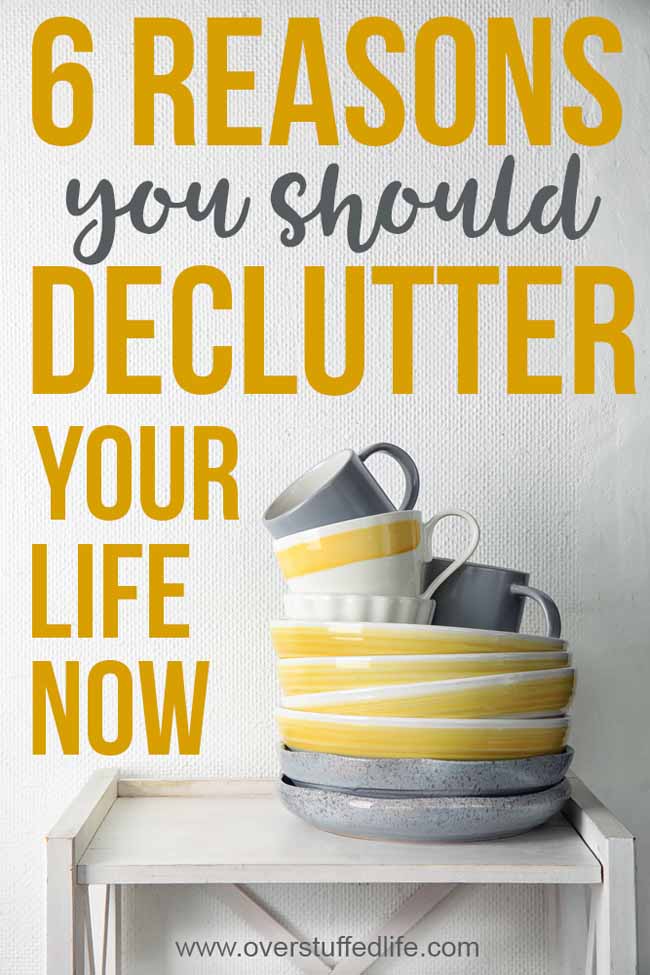 1. Decluttering means you'll do less housework
My main floor is where I've focused the majority of my decluttering efforts this month. I have noticed that is much easier to keep clean—even after throwing a big Halloween party on Friday night! What a concept, huh?
Having less stuff means you have less stuff to keep clean, organized, and put away.
I've actually managed to keep up on things like dishes (not so much laundry) this last couple weeks while still working and taking care of sick children because I am not spending the majority of my time managing the clutter. It's amazing!
2. You'll find stuff more easily when you declutter
Having less stuff and keeping the stuff you do have organized means you always know where to find things.
You will spend a lot less time looking all over the place for the things you need because you actually know where they are.
Not only that, but in the process of decluttering I promise you that you will find many items you thought you had lost.
Some of them aren't worth keeping because you forgot about them completely and have managed to live your life just fine without them, but some of them are certainly a relief to find.
3. If you declutter, you'll save money
Not only do you not have to run out and buy new things all the time, but you're going to be a lot more careful about the things you do bring into your home.
For goodness' sake, you've just spent a month getting rid of all the crap, surely you'll think twice about bringing more in, right?
I've also found that being organized in one area of my life usually begins to leak into the rest of my life.
Because my home isn't cluttering everything up, I'm able to find the time to save money in other ways: by keeping up with budgeting, clipping coupons for grocery shopping, planning way ahead for things like Christmas and birthdays, and simply paying bills and turning in library books on time so I avoid late fees.
4. Once you declutter, you'll start taking better care of the things you have
I asked my husband what he thought the most positive byproduct of all the decluttering we have done this month was, and he said he cares more.
When the house isn't always a cluttered up mess, he has more motivation to pick up something on the floor than he does when things are not so clean already.
I find this to be true as well. Not only do you care more about keeping the house cleaner and keeping items in their proper places, you care more about the items themselves.
If my kids only have a few toys, they are more likely to take care of those toys than they would be if they had so many they can't keep things straight (and we have been in that position before, believe me!).
5. Getting rid of clutter allows you to focus on what matters most
When you aren't busy managing stuff and cleaning up messes you are more free to do the things that are most important to you.
Whether that be spending more quality time with your family, working on a hobby that you love, or achieving other goals that are important to you, you will have more time to do those things with less clutter in your life.
6. You will feel more peace and less anxiety when the clutter is gone
That has been the entire point of this project for me. I'm sick of the anxiety.
Even though I have been a little anxiety-riddled this month because I am decluttering via my blog for everyone to read and see my messes and because I have self-imposed deadlines, I have still felt much more peace than I have in the recent past.
And that's totally worth showing everyone the insides of my junk drawers. Besides, you ain't seen nothing yet—just wait until you see my kids' rooms.
What benefits of decluttering have you found this month?
Find all of the posts in this 31 Day Challenge here: A Place for Everything: 31 Days to Less Clutter and More Peace.
Want to start the 30-day declutter challenge?
Fill out the form at the very end of this post and you will receive an email each day with a new decluttering assignment.
This post may contain affiliate links, for more information, please see my disclosure.
Are you ready to declutter your life?
Join the 31 day challenge to get rid of clutter and make room for peace.