How to Stop Saving Magazines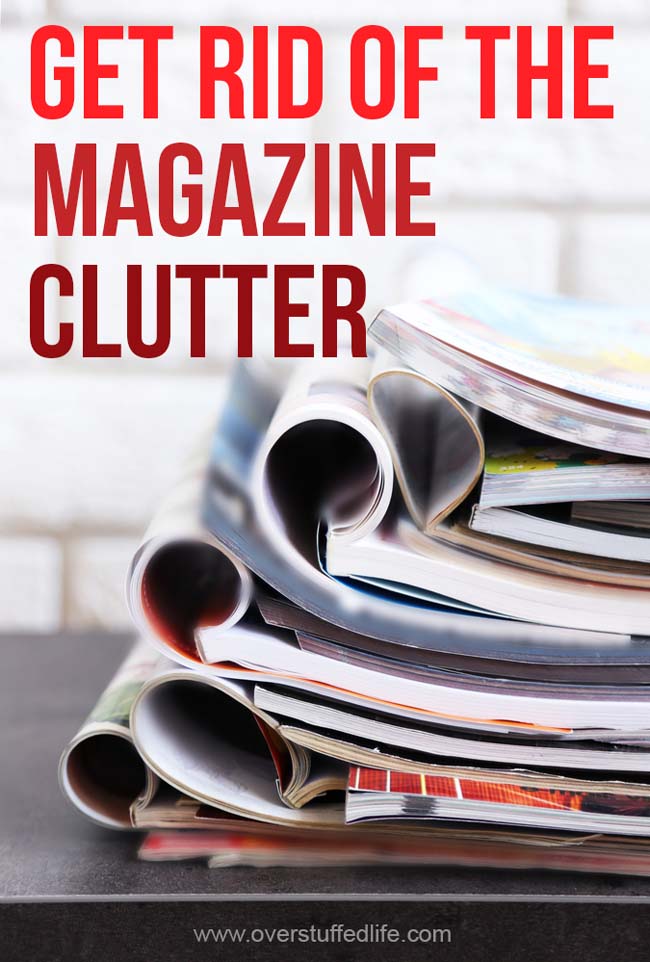 Magazine subscriptions are inspirational, but they can contribute to the clutter problem. Use this quick idea to stay inspired while also keeping clutter out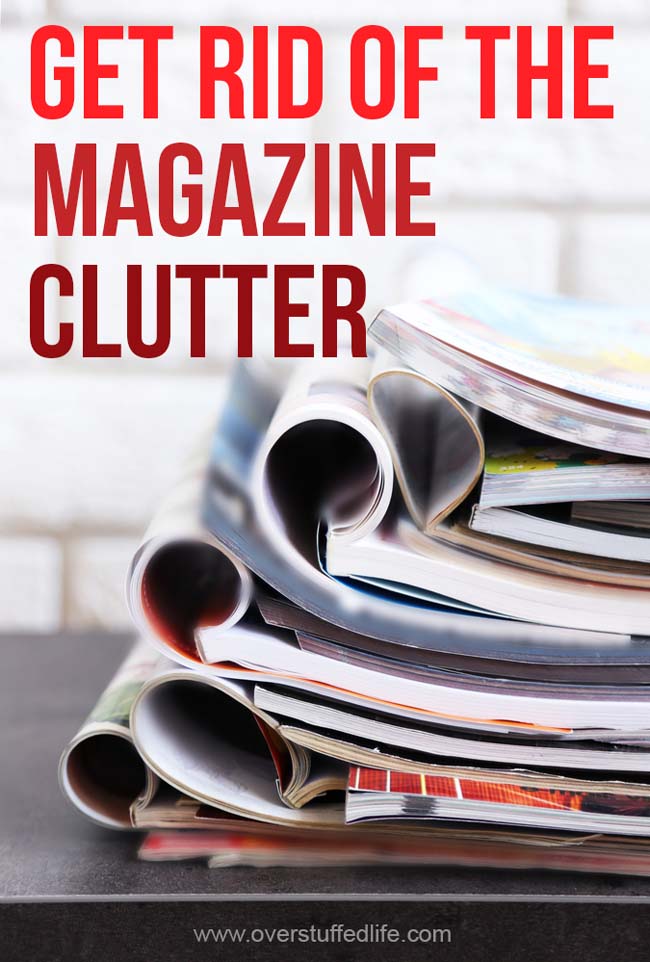 Today is Day 15 of the 30 Day Decluttering Challenge. Today we are addressing a big source of clutter in many homes: magazine subscriptions.
I used to love getting magazine subscriptions for free or really cheap—I knew all the ways to do it. I love getting lots of magazines because they are the perfect easy reading material. You don't have to get invested in a storyline and stay up all night to find out what happens like you do in a book.
Magazines are really great for inspiration and ideas.
But they are also really bad for clutter.
My problem wasn't that I didn't get around to reading them. My problem was that I wanted to keep them to try out recipes and crafts and remember other tidbits of good information found in them.
But when more are coming in every month, that isn't helpful at all!
I don't even subscribe to as many magazines as I once did. Right now I get:
Real Simple
Better Homes & Gardens
Family Fun
Opera News
The Ensign
The New Era
The Friend
Taste of Home
Parents
Okay. Never mind. That is a lot! And they are all supposed to live in this basket in my living room: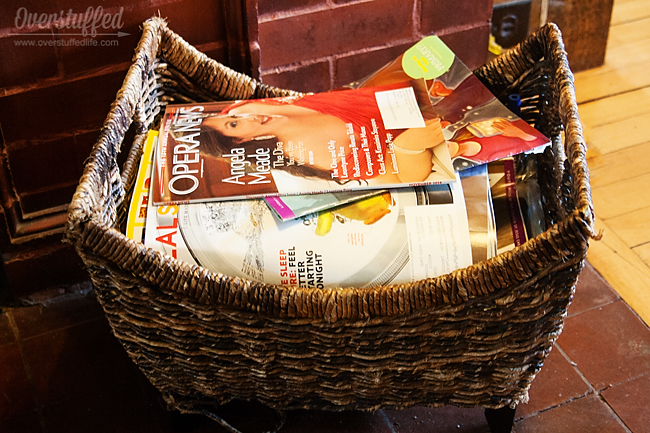 As you can see, it's full, but not overflowing. You might not even think it looks too bad.
But looks are deceiving, and what you do not know is that I hosted book club a few weeks ago, and so I moved a large stack of magazines into my office.
And that scary pile is here: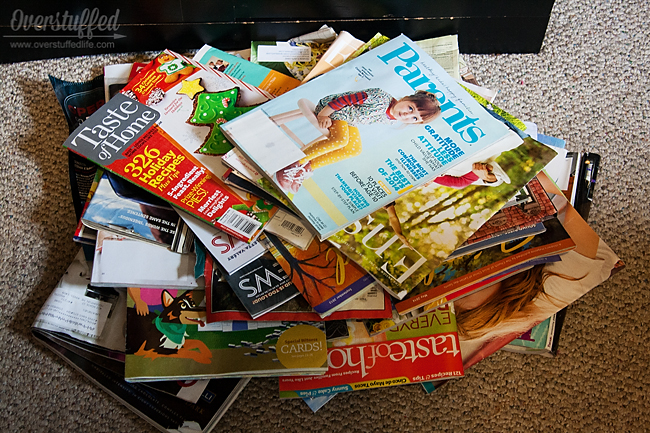 I also have a random pile of magazines in a cabinet in my office: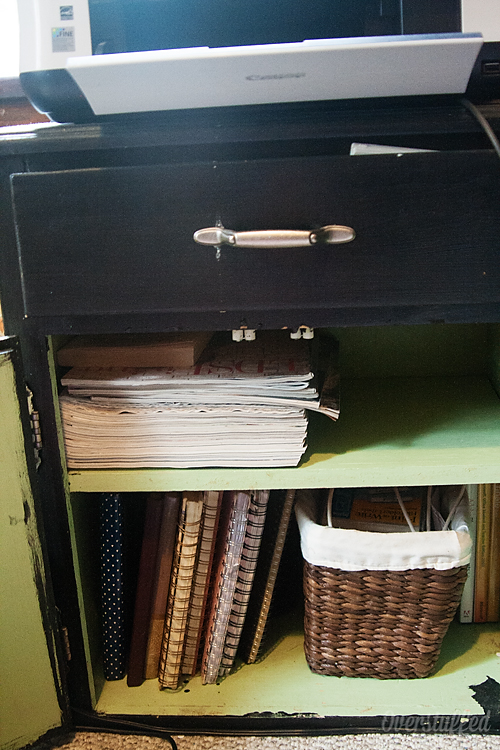 And the obligatory basket of reading material in the bathroom: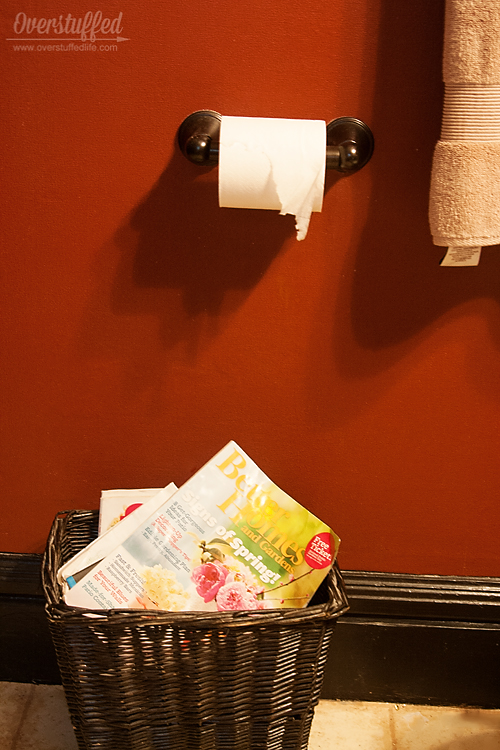 Frankly, I'm sick of reading that BHG issue about spring. There are a couple other magazines in there that I've read 200 times, as well.
I've been really sick the last couple of days, and the idea of doing a big decluttering project yesterday was not appealing to me at all. But I thought of the big magazine pile in the office, and I gathered up all of them and took them to bed with me.
I ripped out any recipe or craft I wanted to try, any great advice about parenting or finances, and anything else that inspired me somehow.
When the girls got home from school they started to help me and we had a lot of fun together. We even made some plans on what recipes and crafts we would try out soon.
In my office (which is becoming more and more decluttered, but is still a work in progress), I found a binder that wasn't being used and some tab dividers with pockets. With the help of my handy dandy label maker that I love so much, I labeled the tabs and sorted through the magazine pages I had torn out.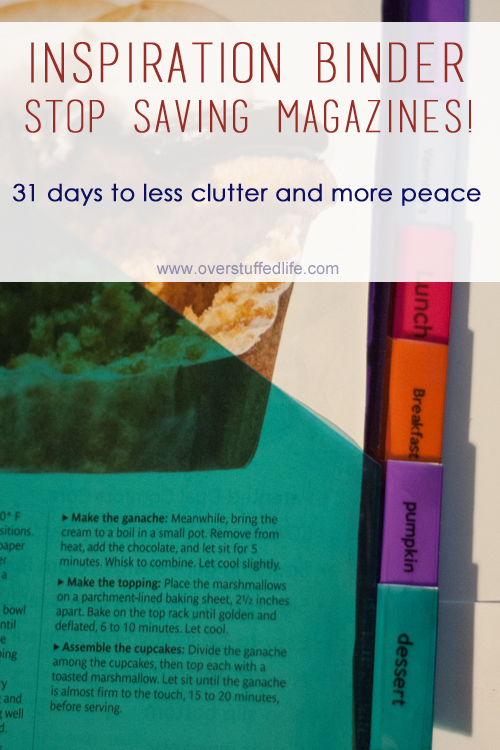 I had 16 tabs total, so I had to limit my categories (though I can buy more dividers later if I really think I need them). The categories I went with are:
Dinner
Dessert
Pumpkin
Breakfast
Lunch
Valentine's Day
Summer
Halloween
Thanksgiving
Christmas
Winter
School
Reading
Clutter (I found lots of great articles and kept every one…is this contributing to my problem?)
Decor
Misc.
On the categories that were broader, I made labels to stick right on the pocket divider to remind me of the types of articles in that category. Obviously my miscellaneous folder needed several, but so did my school tab: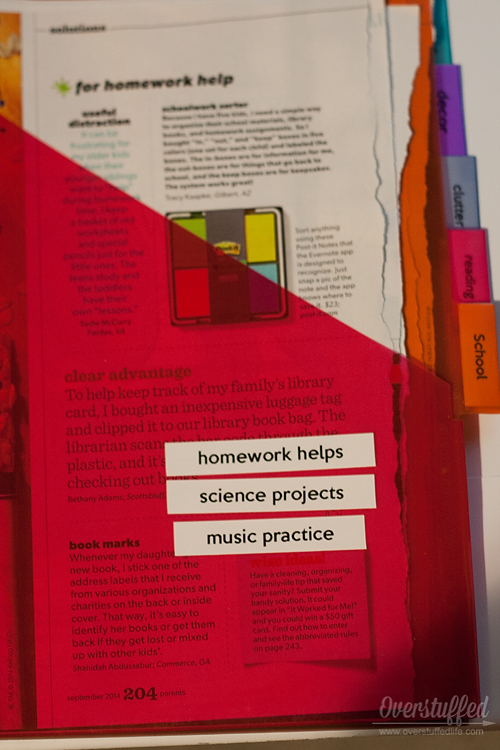 I still have a small pile of magazines to finish going through, but it is a relief to have put the majority into the recycling bin. From now on, I vow to rip out articles I like during my first reading of the magazine and file them away immediately so that I can recycle the rest of the magazine.
Other things I will do to reduce magazine clutter? Let a few of those subscriptions lapse, for starters. I am also going to make a separate folder for articles out of Opera News so that I can have it handy at work.
Today's assignment:
Find all of your magazine hotspots.
Gather the magazines.
Tear out articles you want to keep.
Make an inspiration binder (you can use an accordion file or something similar, too).
Recycle all of the magazines!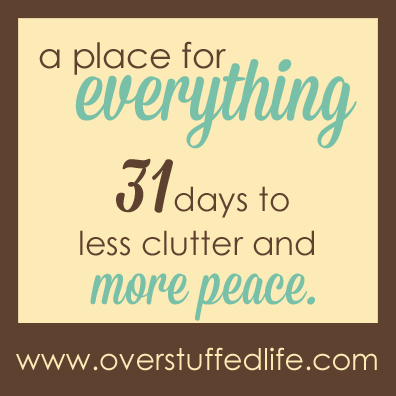 Find all of the posts in this 31 Day Challenge here: A Place for Everything: 31 Days to Less Clutter and More Peace.
Want to start the 30-day declutter challenge?
Fill out the form at the very end of this post and you will receive an email each day with a new decluttering assignment.
This post may contain affiliate links, for more information, please see my disclosure.
Are you ready to declutter your life?
Join the 31 day challenge to get rid of clutter and make room for peace.