Book Review: Saving Sammy
I'm excited to have another opportunity to review a book for TLC Book Tours. This time the book I am reviewing is Saving Sammy: Curing the Boy Who Caught OCD by Beth Maloney.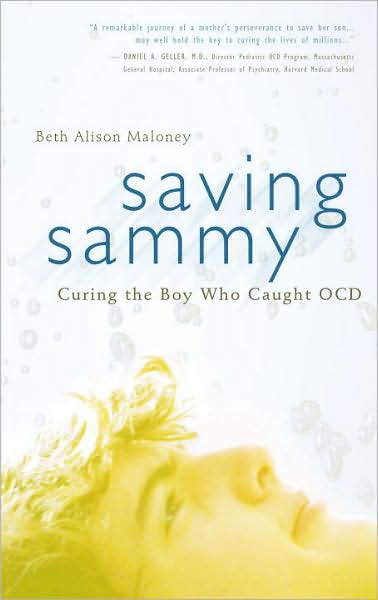 Honestly, I kind of ignored the book for a while after TLC sent it to me, simply because I thought it would be fairly heavy subject matter (being a true story about an ailing child and all) and I wasn't really in the mood for that kind of a read at the moment.
Imagine my surprise when I finally did pick up the book to start reading and found that I could not put it down. Beth Maloney is a seriously talented writer and the book read more like a novel than the play-by-play of how you can also help your child in such a horrible situation that I assumed it would be. Her story is riveting, and she brought me right in. I found myself feeling her anguish as a mother as she watched her son deal with the horrible compulsions brought on by OCD. I found myself feeling relief when they finally started to get promising information, disappointment when hopeful cures did not work, and absolute joy when Sammy finally began to get better.
Not only does this book serve to educate about how Strep (PANDAS) can be a very real cause for Obsessive Compulsive Disorder, but I came away wanting to be a better advocate for my children. Beth's experience taught me that I should never take a doctor's answers at face value. Especially if I knew in my heart that more could be done. A parent's job is to exhaust every avenue until you know that your child has received the absolute best care possible.
Obviously, I haven't had a situation that is quite as dire as what Beth Maloney faced with Sammy, but I can think of a few times where I have had to be a little forceful with doctors. There is the time that my oldest daughter had pneumonia, only the pediatrician swore that it was just a virus or something and did nothing. I took her into that office two days in a row, paid a lot of money in co-pays, only to be told it wasn't anything to worry about. Finally, I took her into the ER, where she was properly diagnosed with pneumonia by the doctor there. It was a hard decision for me, because I don't like to overreact about things, but I am so happy I refused to take my pediatrician's word for it, and got my daughter the care she needed.
Then there was the time that my middle daughter had 6 ear infections back-to-back as a baby. They would go away for a few days while she was on antibiotics, but return as soon as we finished the series. We tried several different types of antibiotic with the same poor result. The pediatrician I had then (different one from the pneumonia incident) didn't think she needed tubes and just wanted to keep trying antibiotics. The poor baby (13 months old) had such a horrible yeast rash by this time that I was ready to never give her another antibiotic again. I had to push hard to get a referral to an ENT, where she was immediately slated to get tubes put in and hasn't had an ear infection since.
But those experiences are nothing compared to what Beth Maloney did for her child. When her doctors wouldn't look beyond face value, or listen to the research she had uncovered, she fired them. She combed the country and was willing to travel far distances in order to get Sammy the help that he so badly needed. After several frustrating experiences with medical and mental health professionals, she finally found a savior in Dr. Catherine Nicolaides, who had treated several children with OCD successfully with antibiotics.
Yes. Antibiotics.
Because apparently, there are a number of children who develop OCD due to Strep. Most of the medical field that Beth dealt with seemed to discount this research, or ignore it entirely, to her great frustration. But after finding Dr. Nicolaides, she found hope, and eventually a cure, for Sammy.
And she continues to be an advocate. Not only did she write this book to educate others, but she has helped many people get to the bottom of their own children's problems as well. She helped a friend whose son had been diagnosed with autism find out that his autistic tendencies were actually due to Lyme disease. There is research out there that supports this, and yet nobody asked those questions at first.
Be an advocate for your children. Ask the tough questions. Do your research. That's what I learned from this book. It really isn't about OCD at all. It's about being a real parent.
This post contains affiliate links.