Dark Before Dawn by Monica McGurk: A Book Review
I have been voraciously reading Dark Before Dawn by Monica McGurk this week so that I could write this post by today—the official release date of the book. It's the third and final installment of the Archangel Prophecies series and I have been anxiously awaiting its release so I can finally read about what happens! (I hate waiting for series installments!)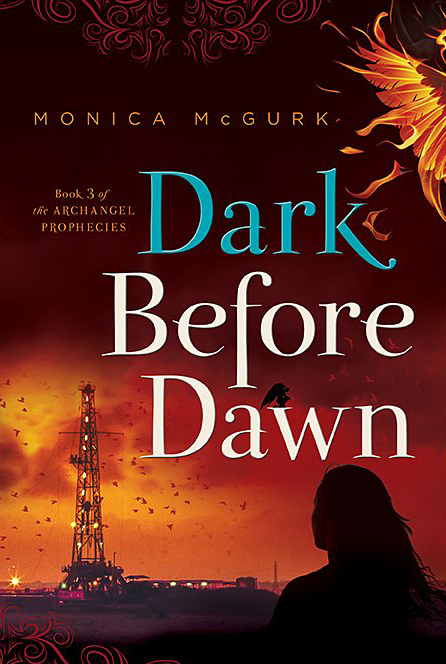 Read my reviews of the first two books in the series here:
As a child I was fascinated by the scene in Sleeping Beauty where the three fairies give their gifts to baby Aurora and then Maleficent barges in to bestow her own birthday "gift" on the princess. I loved how McGurk rewrote that scene in the opening pages of Dark Before Dawn. Instead of Princess Aurora, we have Aurora—Hope's new baby sister.
We are then put into the future several years. Hope is now a lawyer and has matured quite a bit from the girl of the previous two books. The saga continues and the result is a book I'm pretty sure you won't be able to put down.
Hope continues to be a strong female character that drives the storyline forward. She is still flawed and still made decisions that frustrated me, but I was happy to see that she was still the Hope I had fallen in love with, despite more maturity.
This installment deals with the problem of Domestic Minor Sex Trafficking (DMST) much more pointedly than even the first book did. It was eye-opening and quite difficult to read about sometimes, but I am so impressed with the author's commitment to this cause and to doing what she can to raise awareness and end this horrible practice. While this is a YA series, I would recommend that you read it alongside your teenage daughters and discuss these very real issues with them.
Though the issues of DMST are very real, the book takes place in the realm of fantasy. McGurk is so skilled at weaving that stark reality with a well-conceived fantasy world.
I wasn't sure how I wanted the story to end. I was pleased with the way the story wrapped up, even though it didn't go quite the way I thought it would. It was an enjoyable and educational read, one that would stand on its own for most readers—you would be able to follow the story and understand the characters just fine without reading the first two books.
Though I highly recommend that you do read the first two books!
Links to purchase all 3 books in the Archangel Prophecies Trilogy:
If you love YA fantasy, I'm confident these books will earn a spot on your bookshelves!
Enjoy!
P.S. If you want to learn more about how you can help stop human sex trafficking, I recommend that you follow Monica McGurk's Facebook page. I have been following her now for a couple of years and have already learned so much.
This post may contain affiliate links, for more information, please see my disclosure.