Dark Hope by Monica McGurk is the first book in a new trilogy entitled The Archangel Prophecies. It is a young adult novel with a fantastic twist. Instead of the typical vampires, this book has angels.
I really enjoyed it. I felt that Hope is a strong female character–one that I wouldn't mind my own teenager reading about. Sure, she doesn't always make the best decisions, but she does have some incredibly tough decisions to make. I was especially impressed with the way McGurk was able to weave the very real life issue of human trafficking into a story that is based more in fantasy than in real life.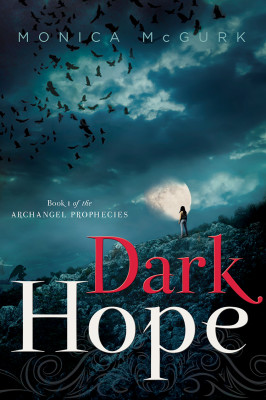 The book takes the main characters, Hope and Michael, from Atlanta to Las Vegas to Utah on a wild adventure in which they take on both human traffickers and fallen angels. I especially loved the parts where they were in Snow Canyon, Utah. I used to live near there and drove through the canyon every Saturday morning to go teach at Tuacahn. I loved being able to envision exactly what the landscape looked like as they searched for The Librarian.
Of course, I've been to Vegas many times, too, but I had a harder time envisioning that one because I am not a high roller, nor am I a human trafficker. The information I learned about this issue that happens in our country made me very sad. I am pleased that the author is donating a portion of all the book's proceeds to help with the cause of human trafficking. Everyone should buy a copy for that reason alone.
But also because it is really good. I wanted Bria, my resident teenage reader and fantasy lover, to read it before this review was due, but she's been working through a really long series this summer and she hasn't gotten to it yet. It's in her pile, though, because she read the summary and thought it sounded like something she would really like. And I think she will really like it.
As for me, I liked it enough that I am already anxiously awaiting Book Two, because there's a lot of resolution that needs resolving, and I would like to know what happens! It's the one thing I hate about book series–waiting for the next one to be released!
You can learn more about the book by visiting the author, Monica McGurk, on social media:
I was selected for this opportunity as a member of Clever Girls Collective and the content and opinions expressed here are all my own.
This post may contain affiliate links, for more information, please see my disclosure.