How to Declutter and Organize Toys
How to organize toys in your playroom—a few ideas for decluttering, organizing, and making a perfect playroom for your kids!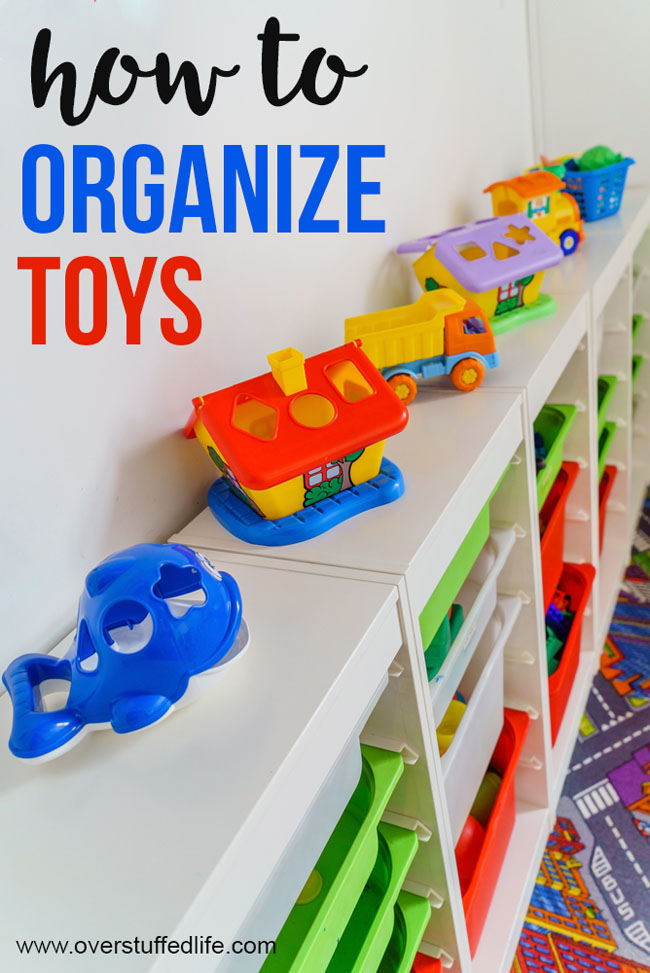 Welcome to Day 6 of our 30 Day Decluttering Challenge!

For the next few days, I'm going to show you a few ways I've applied the principles we've already discussed in my own home. Yesterday you saw the closet, and today I am going to show you what I recently did in the playroom. There are affiliate links in this post for your convenience.
Are you ready to declutter your life?
Join the 31 day challenge to get rid of clutter and make room for peace.
There are three things to know about toys:
They multiply when you're not looking. Seriously, I don't know where half of the toys in my house came from! All I know is that I am not the one who purchased them!
They break. A lot of the toys manufactured these days are not built to last. So they don't.
Children stop playing with them eventually. One day, your kids will grow out of whatever their favorite toy is right now.
All of those things together mean that toys are usually a huge source of clutter in our homes. So huge, that it can be incredibly overwhelming to deal with it all.
I know this from personal experience, because I am more likely to just shut the playroom door than I am to actually deal with it all.
*******
Looking to organize your entire home? Check out The Organized Home, an online course taught by my most organized friend. She'll take you through your house room by room and help you simplify the organization process.
*******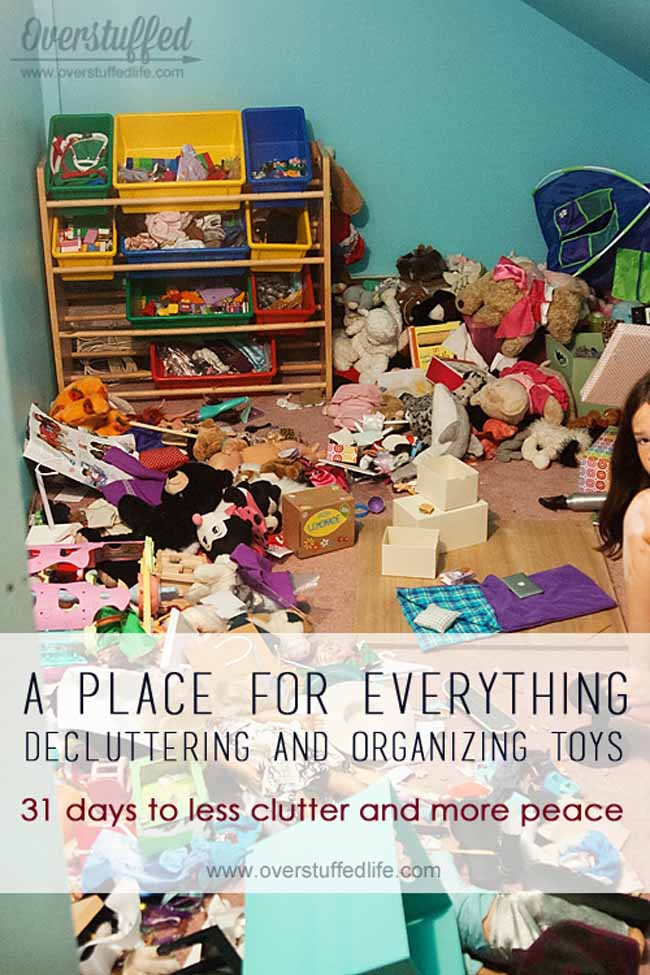 3 Rules for Keeping Toys Organized
Throw away toys that are broken.
Donate toys that are unused or not played with.
Rinse and repeat every couple of months.
We have a room on the second floor of our house that is a little odd. It's quite large, but it has a lot of the roof eaves in it, so those of us that are taller than 5 foot have some trouble navigating the back half of it. When we first moved here, my girls were ages 9, 6, and 3, so I turned it into a playroom.
This is what it looked like in its first iteration: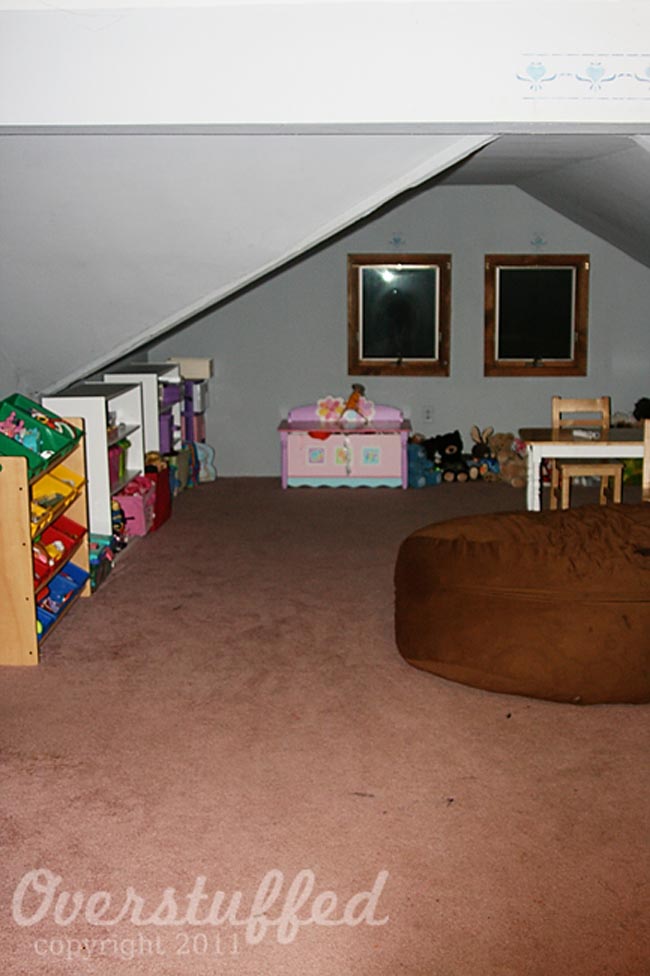 It was also before we painted and re-carpeted in there (if you'd like to see photos of what it looks like redone, click HERE), so when that happened, it gave me a good opportunity to really go through and get rid of broken and unloved toys.
I was impressed with my children for being willing to let go of so many that go around. I took a gigantic load to the Goodwill and was then able to turn the huge playroom into a family/TV room. That room also has two very large closets, only one of which I was using for storage purposes. I moved the toys into the other closet, and that became our new playroom.
Here are a few photos of what that looked like (I have since painted the little playroom blue, but alas, the pink carpet remains):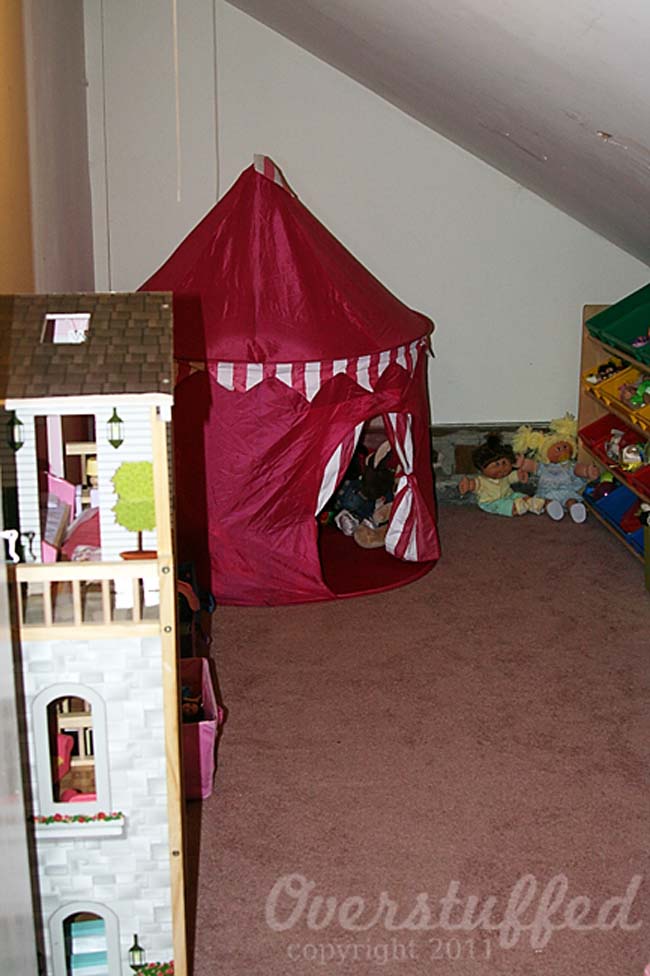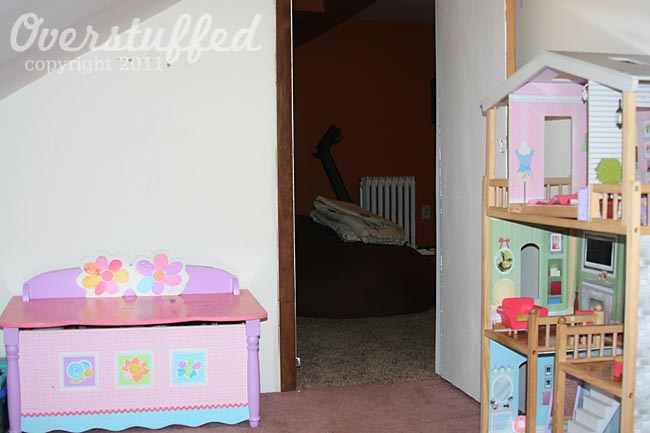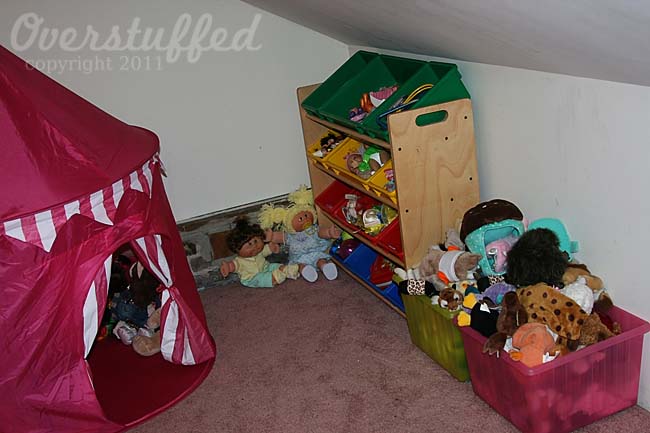 The girls still bring toys out into the main room to play with while watching TV, but just having the smaller space and fewer toys made clean-up so much easier and faster!
This set up has worked perfectly for the last three years or so. We still do a big toy purge every fall, and it gets easier and easier for my girls to give up toys. And this past summer they even let me get rid of the Barbie dollhouse.
We ended up giving it to the 4-year-old daughter of a friend of mine, and the girls had a blast taking it to her and setting up all of the furniture with her. It was helpful for them to see that someone else could love and play with it as much as they once had.
The reason I was hoping we could do away with the dollhouse was because, since the above photos were taken, American Girl Dolls have taken over our house. They are the favorite toy right now. My teenager, was into them for a short while before she grew out of them, but my middle daughter (age 11), and youngest daughter (age 8) are still going strong.
My middle daughter especially has been DYING to use that room to make an American Girl doll world. We certainly had enough furniture to justify doing that, so we moved it all in there. Unfortunately, I never sat down to help them sort through it all and it just became an absolute mess. I would ask them to try to get it organized, but it was just way too overwhelming for them, even though they tried hard, bless their hearts!
But this is what she had to contend with—I snapped this photo in August when my daughter was trying to get things organized up there by herself.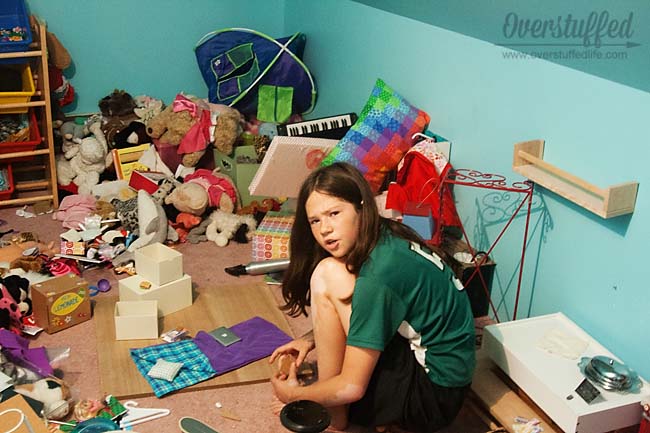 I'm just keeping it real, people. This is what our playroom really looked like. It happened because the American Girl stuff had been largely kept in their bedrooms (and cluttered them up!) and when we moved it into the playroom, it wasn't in any sort of an organized manner.
The girls would go to play with their dolls and move the things they wanted (and could actually find) into the main room to play. When they were finished, they would be tossed back into the playroom and the door shut. This only made the problem get larger and larger and larger.
If that mess overwhelms you and me, imagine what it does to a child! I knew that there was no way she could do it without my help. And so I finally helped her.
We went through every toy in that room and got rid of anything broken or unloved, plus quite a bit of trash in the form of cardboard intended for a crafty project or other papers and things that accumulate anywhere children play.
We sorted through the pile on the floor and made piles: American Girl clothing, other American Girl accessories, Barbie stuff, stuffed animals, etc.
We then decided what would be the best place for those things.
Our first order of business was all the American Girl clothes.
I have used over-the-door shoe organizers for organizing various things with great success, so that is what I first thought of. Unfortunately, the door in the playroom is small, and it is too short for the organizer to hang on, so I hung it on hooks on the wall instead.
I gathered up all of the American Girl clothes, and with the girls' help, sorted them so that everything from each outfit was together. While watching TV, I then put them each into a shoe pocket. We had more clothes than would fit in the organizer (big surprise there!), so we put the rest into the American Girl Keepsake box that we already had. The AG keepsake boxes have since been retired, but you could buy something similar: Kavi's Backstage Trunk (2023 Girl of the Year)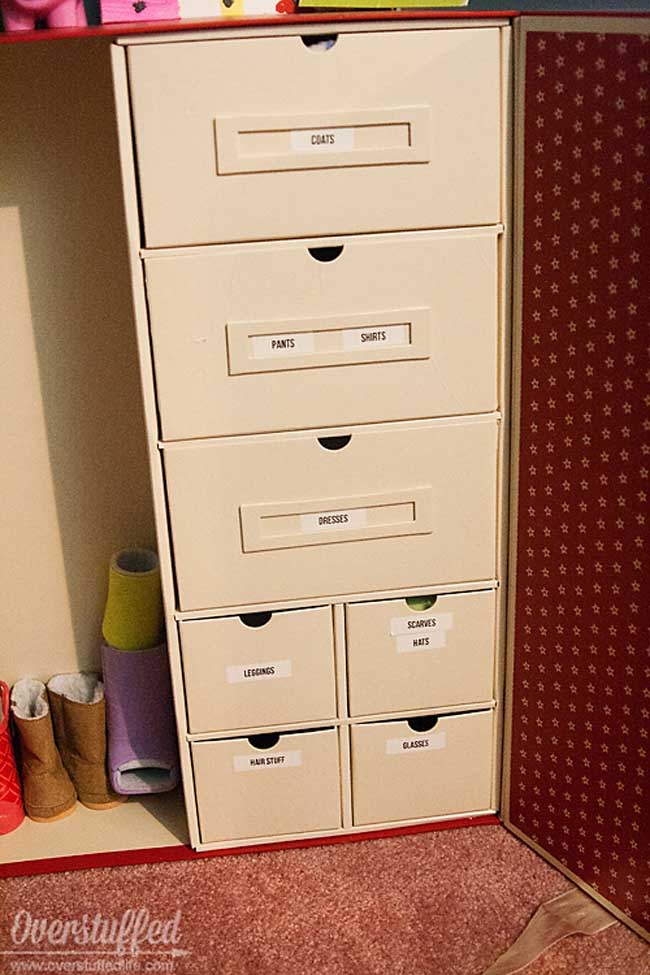 Notice that everything is labeled. It may seem silly and anal to do so much labeling, but trust me. It is worth it! My children respond excellently to labeling, and things stay organized so much longer! And even if they get super messy again, it's much easier to get it put back together when everything has a place and those places are labeled. I love my label maker to death, by the way—you can buy one here: Dymo Plug 'n' Play Label Maker.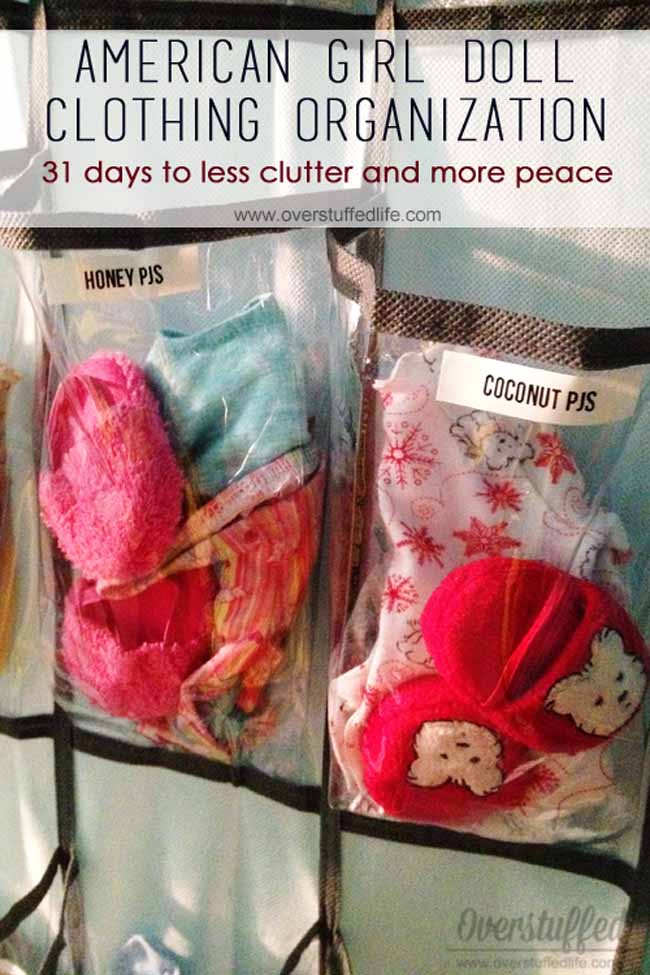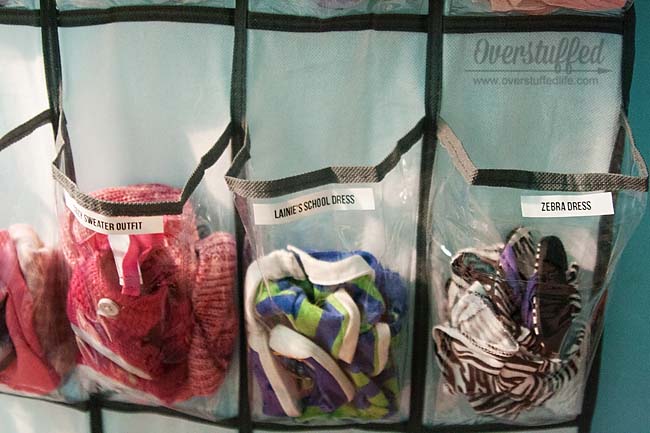 Once we had dealt with the clothing, we dealt with the non-American Girl toys. We ended up putting the Barbie/Monster High stuff into an under-the-bed bin that will live in my youngest daughter's room. She is the only one who plays with it, and all of the little pieces are too hard to organize (though I have tried so many times!) so it is just easier to dump them all in the same bin.
The rest of the toys were sorted into the toy bins that we have had since my oldest daughter was two years old! I love them—they can be purchased here: Toy Bin Organizer. We mostly only have Lego and Build-a-Bear stuff left, but there are a few bins that are just for miscellaneous toys they weren't ready to get rid of.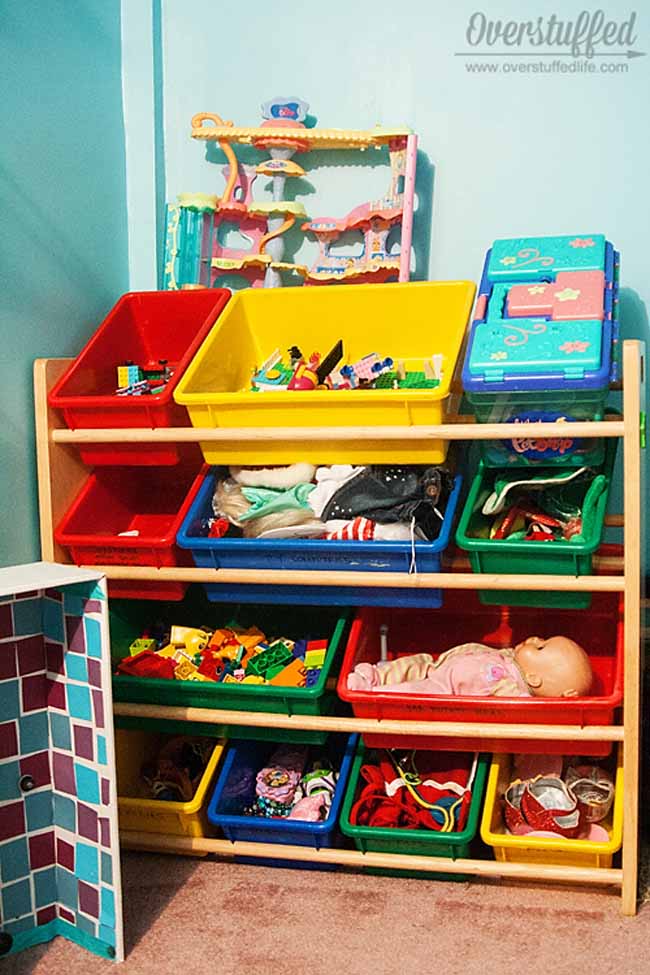 Once all of that was off the floor, we had a lot of fun arranging the doll furniture and making the playroom into a home for our five dolls.
We still labeled a lot of things.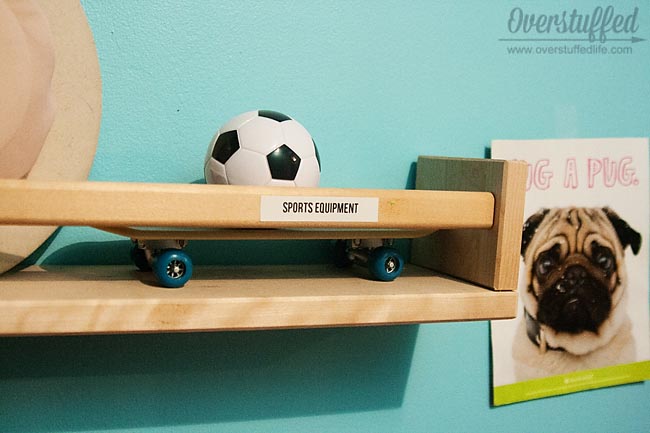 And now this is what our little playroom looks like: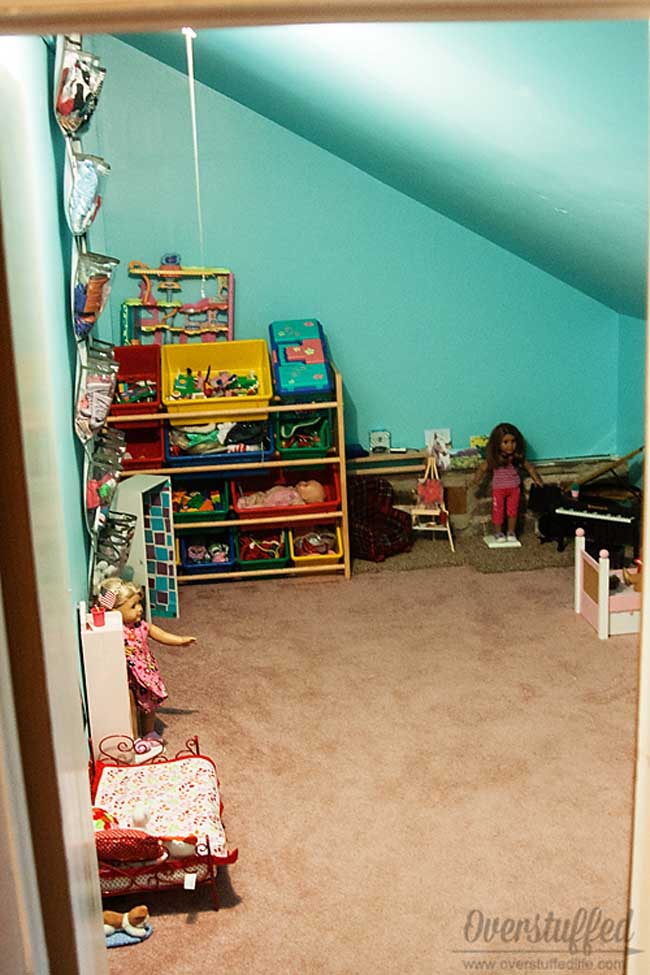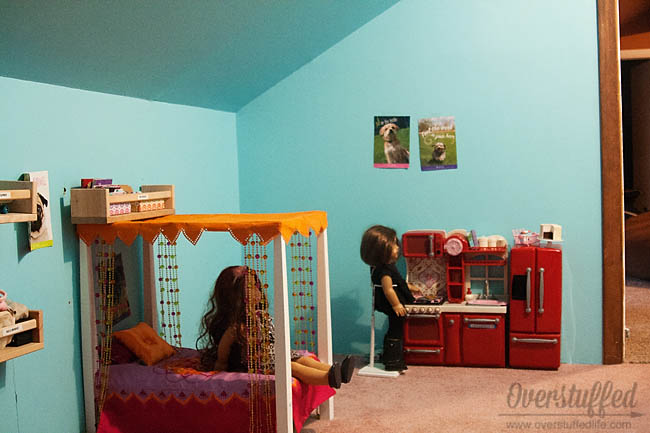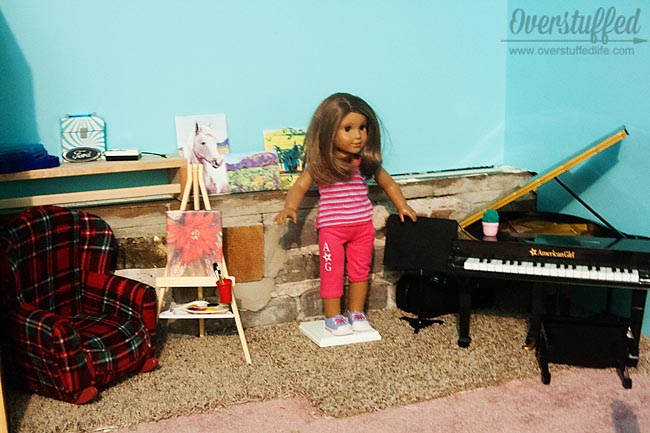 The thing that makes me happiest about this is not so much that it is clean and organized (though that thrills me, for sure!). It is that my children are in there actually playing with the dolls, furniture, and accessories that we (and grandparents) have spent so much money on.
Just look at how much fun they've been having!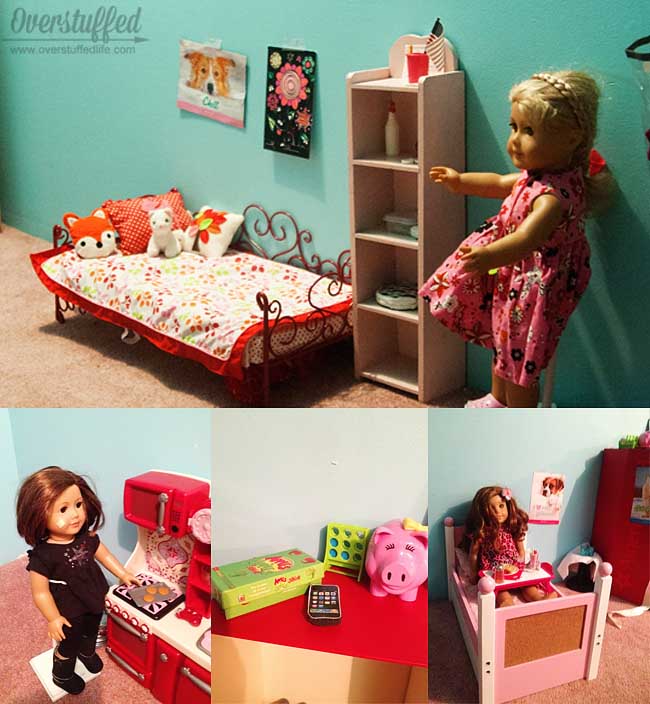 What are your best tips for decluttering and organizing toys?
Find all of the posts in this 31 Day Challenge here: A Place for Everything: 31 Days to Less Clutter and More Peace.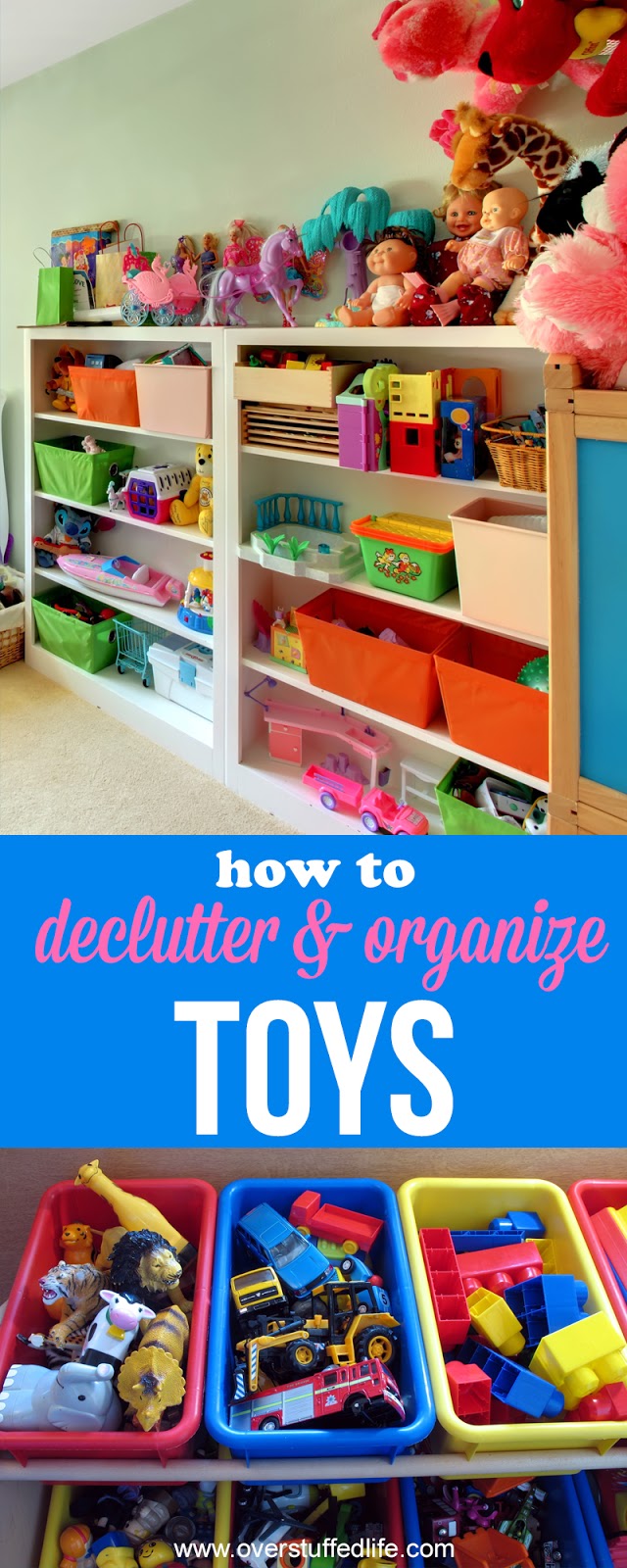 Want to start the 30-day declutter challenge?
Fill out the form at the very end of this post and you will receive an email each day with a new decluttering assignment.
This post may contain affiliate links, for more information, please see my disclosure.
Are you ready to declutter your life?
Join the 31 day challenge to get rid of clutter and make room for peace.