The Best Pens for Writing in Planners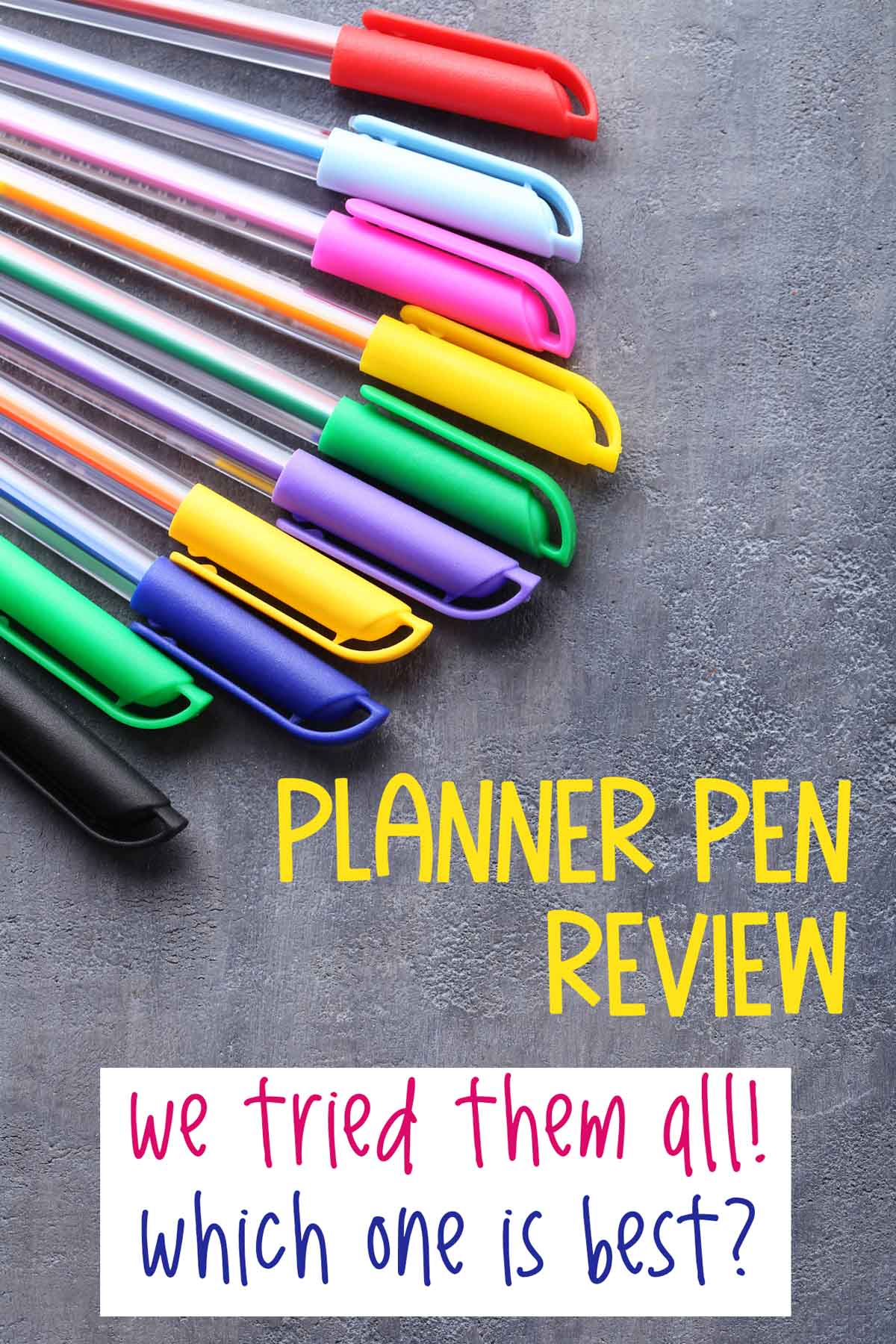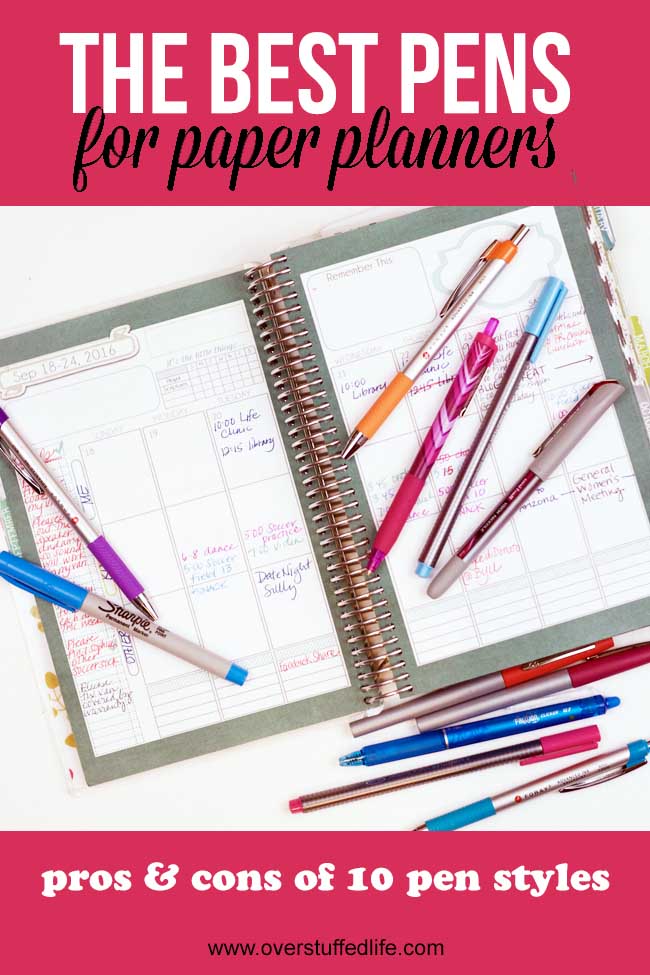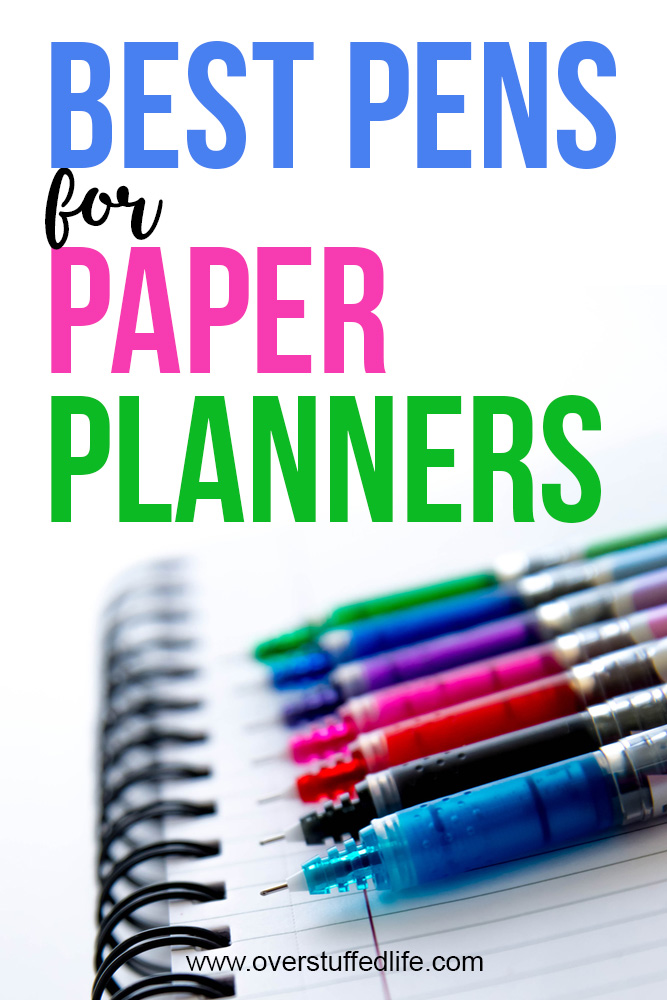 A list of the best pens for use with paper planners. An honest review of different pens to find the perfect pen for paper planners.
I love paper planners. And I love pens and markers. In fact, part of the reason why I love paper planners so much may just be because I love color coding them with pens and markers! I've done a big review of paper planners, but I thought it would be a good idea to do a review of the best pens to use with paper planners, too.
Mostly because that meant I got to play with pens!
All links posted are affiliate links. For more information see our privacy policy
**********************
If you're in a hurry:
✅ These are the most popular pens for paper planners with my readers, and I agree. They are the best planner pens, hands down.
They write incredibly smoothly, the color is bold and bright, they have zero bleed-through (even on thin paper), and they are inexpensive. They come in multiple colors and the best part of all is that they are erasable—a definite plus for a planner pen!
They have a ton of 5-star reviews and you can usually find a 7-pack of assorted colors for $10-$15 depending on sales and the current price. Read reviews, check current prices, and see color availability here.
***********************
Key elements to look for in pens for a paper planner:
1. Color—Pen sets should come in enough different colors so they can be used for color coding. You want the color to be bold, bright, and easy to read. I color code my planners, so being able to tell the difference between colors is also very important.
2. Ink flow—A smooth, consistent ink flow is best. Ink type will contribute to this, but the tip is more important.
3. Bleed-through/smearing—Nobody wants the ink to bleed through your planner pages or to smear everywhere!
4. Price—As much as we all love pens, you don't want to have to break the bank to buy good ones.
In this post, I will review ten different types of pens and their pros and cons. Some of these are pens I already have and use, and the rest are popular pens that I purchased to see how they stood up to my favorite planner pens.
There are a lot of really great pens out there, so this is by no means an exhaustive list! I saved my very favorite for last (make sure to scroll all the way down there!), but there are several pens on this list that I really like and would recommend for planning. Other than saving the best for last, these aren't in any particular order.
This post uses affiliate links for your convenience.
The Best Pens for Paper Planners
These German pens are very popular in the planning community so I was excited to try them out.
(Pictured with the Tools4Wisdom Goal-setting planner, which I am currently LOVING.)
Pros:
The Staedtler Triplus Fineliners come in a nice carrying case. I didn't know that I would love that as much as I do, but I really love it!
Dry safe. The company claims that these pens can be left uncapped for days without drying up. I chose not to try it out and left the pen caps firmly on.
Vibrant colors. I purchased the 10-pack of pens, and the colors are just as brilliant as advertised. If you are a serious color-coder, you can also purchase them in 20-pack, 36-pack, or even 42-pack varieties.
Smooth writing. These are a felt tip pen, and the writing is quite smooth.
No smearing.
Cons:
The darker colors bleed very slightly through the back of the page.
Price:
This retractable pen has been my go-to planner pen for some time.
Pros:
Vivid colors. I like the bolder colors, but some packs only have more pastel colors, which I don't love quite as much.
Smooth writing. For a ballpoint pen, they write like a dream.
Super cheap. I used to be able to get an 8-pack for just $3.00, but I can't find that deal anymore. Still you can get a 24-pack fairly inexpensively.
Cons:
Not a huge variety of colors. Even the larger count pen packs have several repeats of colors.
No carrying case. Yes. This is now a con, and I never knew it before.
Price:
Around $13 for a pack of 24 assorted colors.
Before I found the Ink Joy retractable pens, I used these.
Pros:
They write exactly like their retractable siblings and come in all of the same colors.
Cons:
They have lids that don't tend to stay on very well. As you can see from the photo above, I have only managed to retain one lid out of the six pens I was able to find.
No case.
Price:
They are more expensive than the retractables as well. You can usually get a pack of 8 medium tip pens in assorted colors for less than $10.00.
These Papermate Flairs are another very popular pen amongst the planning community.
(Pictured with an Erin Condren Planner—a popular paper daily planner that I have used in the past and quite liked.)
Pros:
Felt tip, but doesn't bleed through at all to the next page.
No smearing.
Quick-drying ink.
Nice, vivid colors.
They have a carrying case!
Comes in different tip sizes. I prefer a very fine tip pen, so the one I tried out is the ultra-fine tip. You can also purchase them in medium-tip.
Cons:
Price:
Median priced for a pack of 8 colors.
I purchased an assorted package of these pens and used them for planning a few years ago.
Pros:
Cons:
Spotty writing. The ink just doesn't flow smoothly.
The colors are not very vivid, and some of them don't even show up well on paper.
Though they are inexpensive, the Ink Joy ballpoint is even more inexpensive and writes much better.
No case.
Price:
5. MagnaTank Gel Pens
I used these rollerball pens exclusively for planning for about a year.
Pros:
They hold a lot of ink, and therefore last forever. There is a reason they are called the MagnaTank.
Gel ink. I do like gel ink slightly better than ballpoint, even though I tend to use the ballpoints due to their cheaper price.
Cons:
The roller balls got stuck all. the. time. It drove me crazy (how did I use these for a whole year?)!
Cheap construction. The pen would unscrew constantly.
Inconsistent ink flow.
No case.
Price:
Spendier. I could not locate the multi-colored pack online, and as of March 2019 I can no longer find them online at all.
If you do love a rollerball style pen, these are made by the same company.
I ordered these colored pens last week after seeing them recommended online.
Pros:
Extra fine tip. Perfect for writing extremely thin lines.
Waterproof and fade-proof.
Smooth ink flow. I really enjoy writing with these pens.
Cons:
The colors are duller and darker than I prefer for planning. Some of the colors are difficult to tell apart.
The ink smears before it is dry.
The darker colors bleed through the page a little.
No case.
Price:
Median price—around $15 for a pack of 8 assorted colors.
I was surprised to learn that the Sharpie Ultra Fine Point is a popular pen with the paper planner community.
Pros:
Love the ultra-fine tips!
Bright colors. You can get them in a variety of bold, vivid colors.
Inexpensive. A pack of 24 assorted colors (no repeats) is often less than $15
Cons:
These Sharpie pens have terrible bleed-through. Your planner needs to have thicker paper before you'd be able to use this pen for planning. Great for writing on card stock weight, though.
Stinky!
No case.
Price:
These ballpoint pens were another good pen that I saw recommended online.
Pros:
Super smooth writing. The pen just glides right along, just like a gel pen, even though it isn't.
Cool ergonomic grip.
Good colors. Not as vivid as some of the other pens, but they are still nice.
Cons:
No case.
A little spendier.
Bold point. For me, this is a con, but if you prefer the bolder point this is a great option.
Price:
Median priced for a package of 8 assorted colors.
These are my husband's very favorite pens and are also a favorite with the planner community.
Pros:
Gel ink for very smooth writing.
Smear-proof.
Refillable, if you would remember to refill them.
Nice rubber grip.
Cons:
The colors are too dull for my taste.
Small assortment of colors.
No case.
Price:
Everyone raves about these pens, and so I figured it was high time I actually try them out. I love them and they are my new favorite pen for planning, so I am glad I finally tried them!
(Pictured with my current planner, which is also my all-time favorite planner—The Mom on the Go Planner.)
Pros:
Gel ink.
Refillable.
Very smooth writing and ink flow.
Great vivid colors.
Comes in both fine tip and extra-fine tip.
They come in a carrying case!
Nice rubber grip.
No bleed-through.
ERASABLE. You guys, this is life changing. I thought they would be like the erasable pens of 20 years ago, which I never liked. But this erasable gel pen erases as good as a pencil would, and it erases easily—no elbow grease required.
Here's an example:
I wrote a goal to pay off a credit card in my Tools4Wisdom Planner. But—oops!—I wrote the wrong credit card. Instead of crossing it out, I erased it, and you can barely tell.
Isn't that amazing???
Cons:
The ink does smear a little before it's dry, but it dries quickly.
Only has 10 colors available (you can purchase the 10-pack here).
Slightly more expensive than I like, but the erasability makes it okay in my mind.
Price:
Median priced for a package of 7 assorted colors.
Conclusion:
The Pilot Frixion was definitely the best pen overall. It had everything I really want in a planner pen, plus it is erasable. I hereby crown it the best pen to use for paper planners.
Other pens I really liked and would be perfectly happy using are the PaperMate Flair pens, my trusty friend the PaperMate Ink Joy, the Foray Ballpoint, and the Staedtler Triplus Fineliners. Any of these pens would be an excellent choice for your new planner.
This post may contain affiliate links, for more information, please see my disclosure.