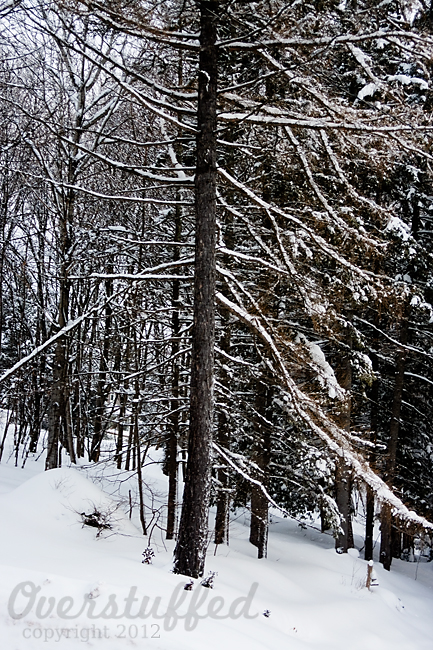 The world really is black and white in winter here. As proof, this picture is in color. The sky is usually white, the ground is white, and nearly everything else is black or grey. My red car almost seems out of place, like a colorized element in a black & white photograph.
The spring is pastel, green and pink and a little bit of purple. Hopeful colors. A hint of bolder color to come, even if there is still a little bit of snow on the ground. Because somewhere, underneath that snow, are flowers and grass just waiting to push up and begin to brighten the world.
The summer months are bright yellow. And blue–but the good kind of blue. It's the blue that you see as you lie on the grass in July and stare up at the sky to make sense of the clouds. The beautiful blue of the lake where you seek respite from the heat of the sun. The kind of blue that you wish would never end.
Autumn brings gold, and orange, and brown. Warm and affectionate colors that make you want to cozy up with your family and friends and eat big dinners together–laughing, talking, remembering. Making more memories. Dreaming that time could stand still. Living.
December is red and green and gold and silver. It is festive, despite the snow on the ground and the frostiness in the air. It is twinkling lights and merry children singing Rudolph the Red-nosed Reindeer and Silent Night. It is Christmas Cards and Christmas trees, Christmas dresses and Christmas gifts. It is the Greatest Gift. It is joy.
And then comes January. January is blue at first. But it isn't a summer blue. This blue is icy and cold. There is just enough color to get through the day, but the day is short and the dark comes more quickly than is welcome. Soon, January turns completely black. Time really does stand still, nothing gets done, and the thought of spring seems too much to hope for. Gloomy, black January stretches out before you–eternal snow, eternal cold, eternal dark.
That black of January is upon me. When it is still blue, I resolve that I will somehow power through it this time. I have my happy light, I have lists of things to do, I have the will. I can put one foot in front of the other and survive this month. I did well this year, but I hit a wall this last weekend. A wall that not even an iron will could break through. I couldn't put one foot in front of the other anymore, and I spent the entirety of my Saturday sprawled out on a bean bag, wrapped in a blanket watching Downton Abbey. All 9 available episodes. I let the kitchen go to pots and pans, all dirty. I didn't make my bed. I ignored my email inbox. I didn't care what kind of messes the girls made. I didn't do much to plan Primary on Sunday. I didn't practice. I didn't care if the girls practiced. I didn't move. And I'm still recovering.
Don't worry about me, though. I am beginning to see past the black and blue, and not far off is the pink of February. And that little bit of pink means focusing on the ones I love, which always brings me out of any funk.
Even the January one.