Book Review: Dear Mrs. Kennedy
I am not much of a history buff. I have decided that this is due to the incredibly boring manner in which the history books I studied in school were written. I might also lay blame on less-than-stellar history teachers, too. Suffice it to say, I usually don't enjoy reading history books, but every once in a while, one comes along that makes history come alive and draws me right in.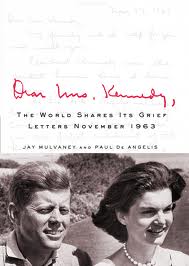 Dear Mrs. Kennedy by Jay Mulvaney and Paul De Angelis was one of those books for me. It is not just a collection of letters written to Jacqueline Kennedy upon the death of her husband, though that is what the book centers around. It is a time capsule of feelings, frozen in its pages and ready to be felt again by the reader. I was bawling by the end of the first chapter as I realized what it must have been like for The First Lady and how amazingly she dealt with the entire ordeal. The letters evoked all sorts of emotion in me, and most of them made me cry.
If you ask anyone who was old enough to remember the Kennedy Assassination, they will most certainly remember exactly where they were and what they were doing when they heard the news. Some of the letters even addressed this aspect of the tragedy, and one in particular really painted a poignant picture.
A letter from a Mrs. Charles Casteen from Hyattsville, MD dated November 27, 1963 read:
Dearest folks:
This has been a long, sad weekend. The silent crowds are gone, the muffled drums are stilled, and the wheels of government begin to grind again…
I think everyone, as long as he lives, will have indelibly stamped upon his memory the exact time and place he happened to be when the news came. I happened to be, of all places, in the supermarket. The loudspeaker was blaring the word that the president had been shot as I walked in the door. Everyone was standing as if frozen to the spot, disbelief and horror on their faces. After a few minutes, I had the presence of mind to get a basket and move along the aisles…As the bulletins came in, people gathered in little knots–strangers, trying to get comfort from each other. Finally, there was a long pause, and the announcer began–"Ladies and gentleman," and here his voice broke, "The President is dead." There was a gasp, then dead silence. I remember seeing a boy unpacking boxes of cereal, put his head down on an unopened box and weep quietly, his shoulders shaking. Another man, grey-haired and well-dressed, standing at teh end of the aisle, his head in his hands, his elbows resting on a stack of Pepsi cartons standing there–unmoved. Ten minutes later he was still standing there. No one talked…the horror was too great. Al of a sudden I had the urge to get out of there–it seemed incongruous, almost disrespectful, to be there amid the brightness and color, the gay displays….At the checkout counter, the clerk worked mechanically, only his stricken pale face betraying his feelings.
At home, we sat, stunned and transfixed in front of the television…I think we were waiting for somebody to step in and say it wasn't true, that we were just dreaming. But they never did…
Much love,
Barbara
Perhaps that letter was particularly touching to me because it was eerily reminiscent of my own experience and feelings on 9-11, which is, of course, the only thing in my life that I can relate to the death of JFK. No matter how you look at it, his assassination rocked the country (and the world) and is something that people will always remember, as well they should.
This is an amazing book, and even if you don't always love history, I think you'll really enjoy it.
Thank you to TLC Book Tours for the opportunity to review this book.
This post contains affiliate links.