Do-it-yourself Cheetah Mug–Easy Craft for Kids
This post is brought to you by Frusion Go Wild! and BlogHer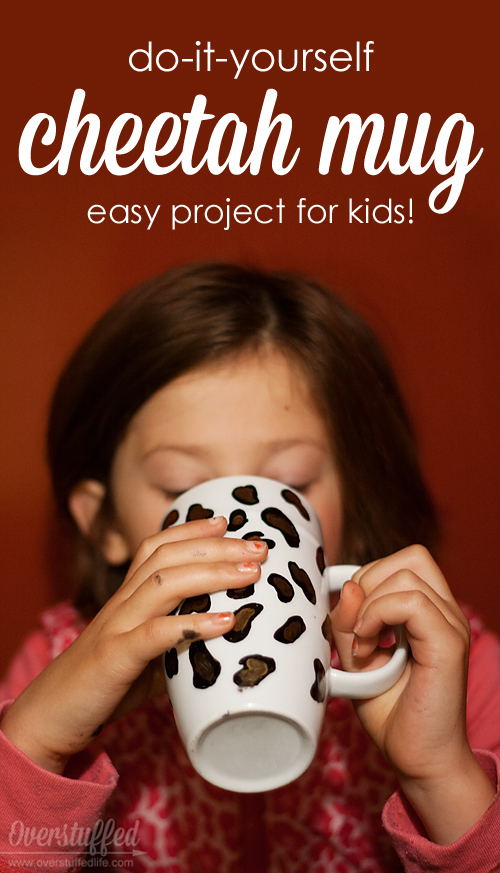 Sophia, my 8-year-old daughter, is obsessed with all things cheetah. 95% of her wardrobe features cheetah print, her lunchbox and backpack are cheetah print, she recently checked a book out of the library all about cheetahs, and I'm pretty sure that she wants to actually be a cheetah when she grows up.
So, naturally, when she complained about not having a big enough mug for hot chocolate last winter, I thought it would be fun for her to have a cheetah-print mug of her very own. The weather has considerably cooled down in the last few weeks, and the winter is not far away (let us all have a moment of silence for the passing of summer), so I figured we would make one together before the snows fly.
Here's how we did it:
DIY Cheetah Print Mug
1. Gather supplies.
All you need is a white mug (any size will do, but we got the biggest one we could find) and black and gold oil-based paint pens.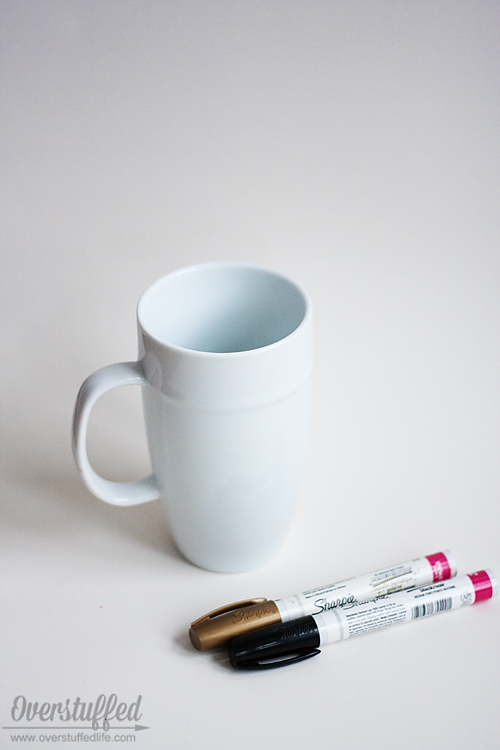 2. Get her started
I drew one cheetah spot on the mug to start her out. I explained that she could look at any of the clothing she was wearing to get ideas for shape, but they could be pretty random! She tried out a second one underneath mine, and I knew she was ready to go for it herself!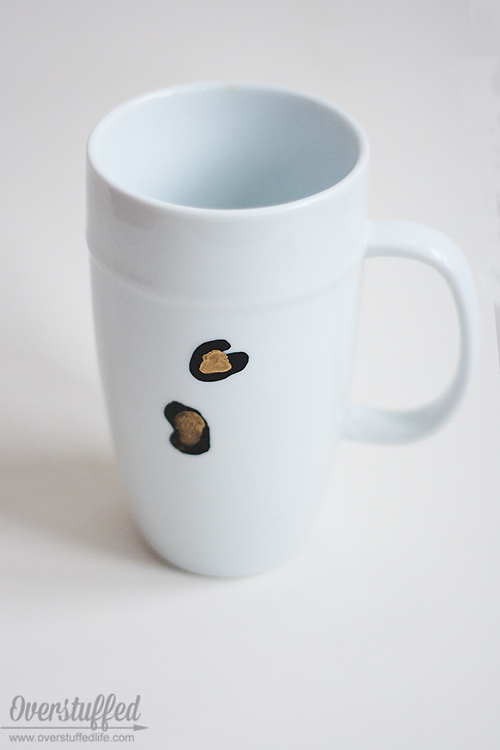 3. Start with black spots
Use the black paint pen for the base part of the spots.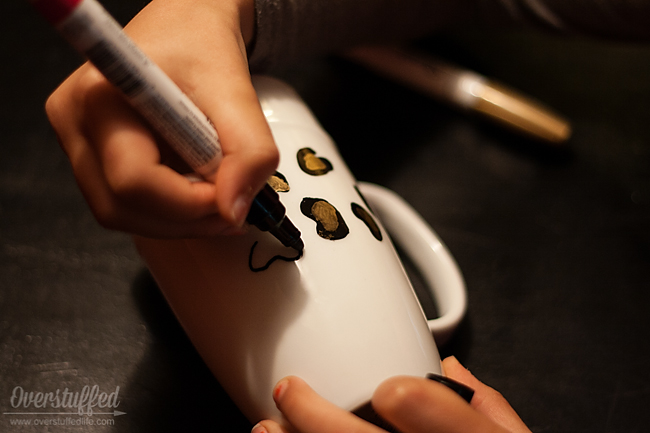 4. Add the gold
Once the black spots are dry (Sophia did 2-3 at a time, which worked fine), you can add the gold spots to the middle. If the black paint is not dry, the gold will smear and not look as nice, so be patient!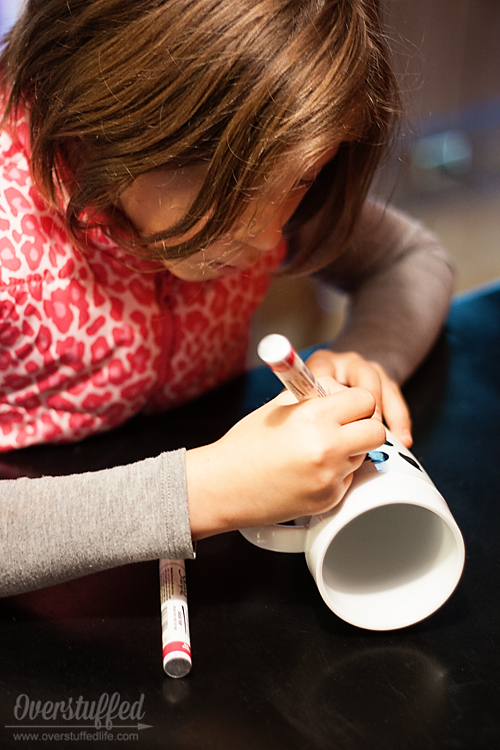 5. Fire the mug
In order to set the spots, you'll want to "fire" the mug in the oven. Place the mug on a cookie sheet and put it into a cool oven. Heat the oven to 350 degrees, and set your timer for 30 minutes. Once the timer goes off, turn the oven off, but leave the mug inside until the oven has cooled completely. It is important that the mug heat up and cool down inside the oven to prevent breaking. I would recommend still handwashing the mug to keep the paint on longer, but the firing process will certainly help!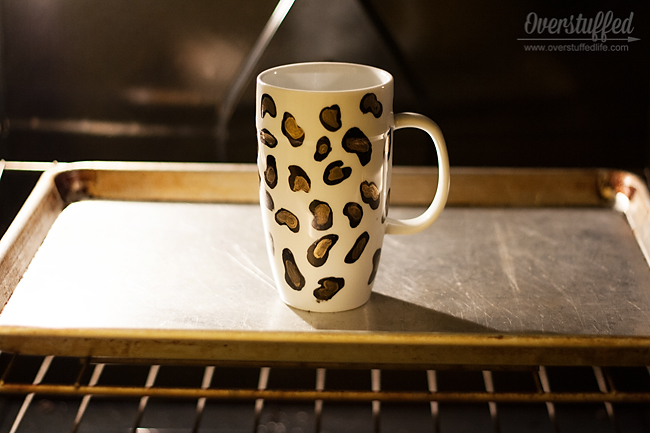 6. Enjoy your mug!
Once it's finished, have fun using it. Sophia is loving hers. Didn't she do a great job with it?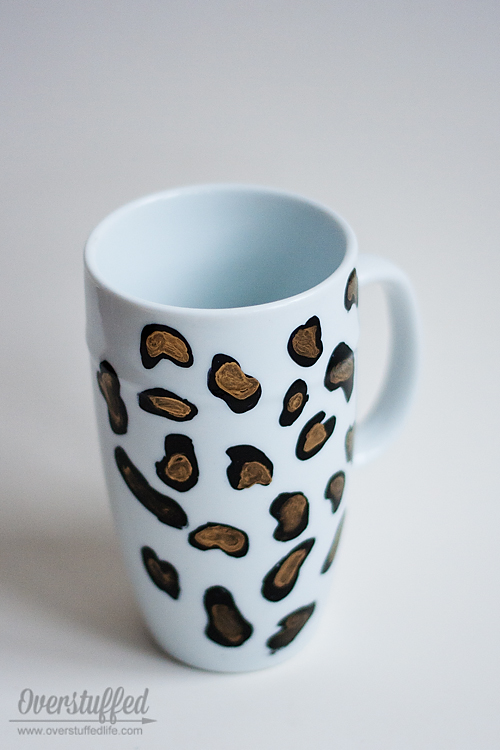 Now that school has started, life has been crazy busy and overstuffed, as per usual, but we managed to fit in our mug-making after school between big sister's cross-country meet, Sophia's violin lesson, and homework. It was surprisingly easy for her 8-year-old self to do without much guidance or direction from me, so she sat at the kitchen table and worked on it while I worked on a few other things.
Not only is fitting in fun craft-making projects difficult in our busy lives, sometimes it's hard to fit in eating! I want to make sure that my children get a healthy breakfast and after school snack, and mornings and afternoons are both completely insane. While I try hard to have healthy snacks ready after school, sometimes I just need to grab something easy to give them while we jump in the car to head to music lessons or another soccer game–especially on the days I work, since I get home a mere 10 minutes before the bus comes.
We recently got to try out some Frusion Go Wild! yogurt smoothies and they are perfect for busy afternoons! Since Sophia has celiac, the most important part of any snack for us is that it is gluten-free, and these Go Wild! smoothies are definitely that. But they are also free of artificial colors, flavors, or sweeteners and contain no high fructose corn syrup (which is something I'm working hard to eradicate from our home). They have a resealable cap, which I love because we are often driving off to the next appointment while the snacks are being eaten, so there is less chance of them spilling it all over my car. Of course, they actually have to put the cap back on, and I am not going to tell you that my children are perfect at that, since that would be lying.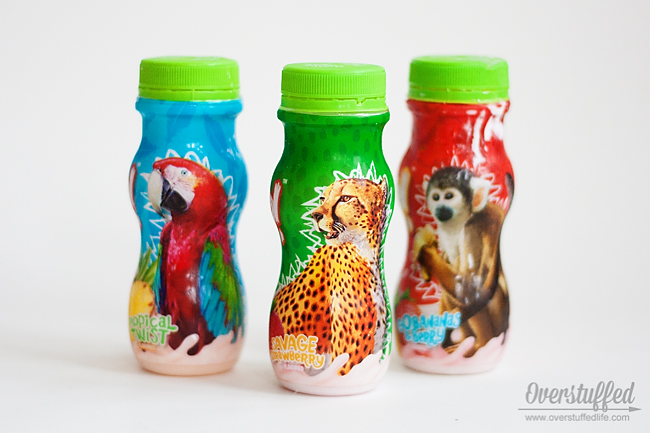 Frusion Go Wild! smoothies come in three flavors: Tropical Twist, Savage Strawberry, and Go Bananas and Berry. Can anyone take a guess which one Sophia likes best? That's right, my cheetah girl immediately wanted the Savage Strawberry and the cheetah on the bottle! Yum!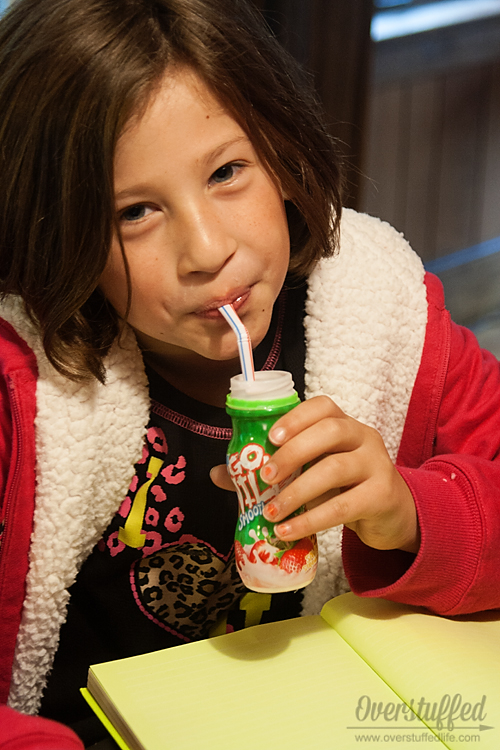 Drinking her cheetah-flavored Frusion Go Wild! smoothie while working on some homework.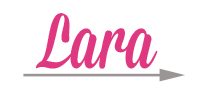 This post may contain affiliate links, for more information, please see my disclosure.