Easy DIY Library Book Bag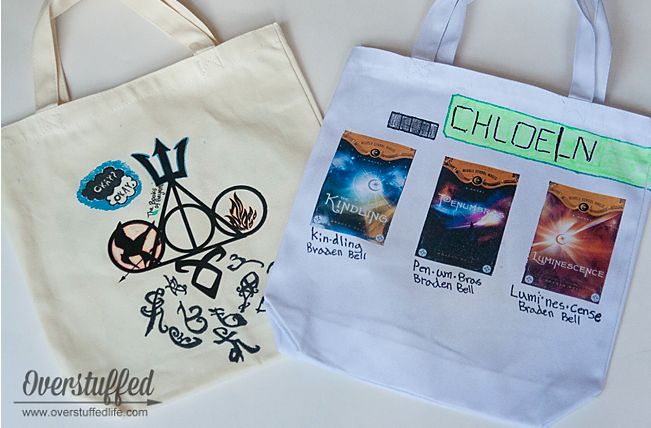 This post is part of an ongoing Summer Reading for Kids series. Click HERE to find ideas for reading activities, reading lists, and reading incentives…and keep checking back for more!

Four summers ago, we made some fun, personalized tote-bags to take to the library. I was looking at them the other day and realized that they've been very well-used, plus the girls would probably be embarrassed to be seen with them now because of the designs they had chosen back then. Bria,then 9, chose Tinkerbell and Jasmine. Chloe, then 7, chose Littlest Pet Shops, and Sophia, age 3, had chosen My Little Pony.

It was time to make new, updated, library bags. They're very easy and inexpensive to make, so we decided to get it going last night, even though it was a school night.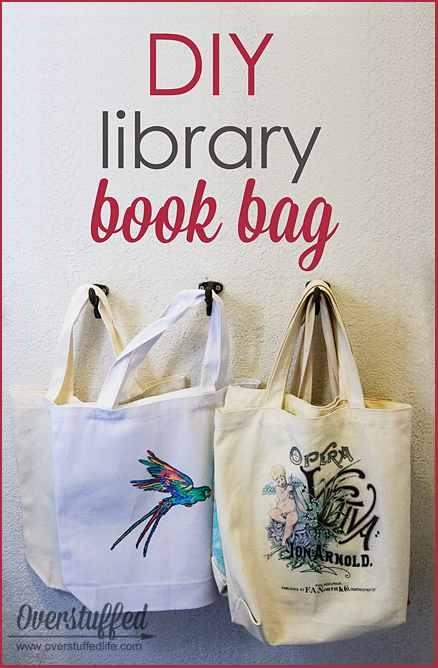 First, we gathered our supplies. You'll need some T-Shirt transfer paper, an iron, a pillowcase, plain canvas tote-bags (easily found at any craft store—we got ours in the craft aisle at WalMart), fabric markers or paint, a computer printer, and lots of creativity and fun.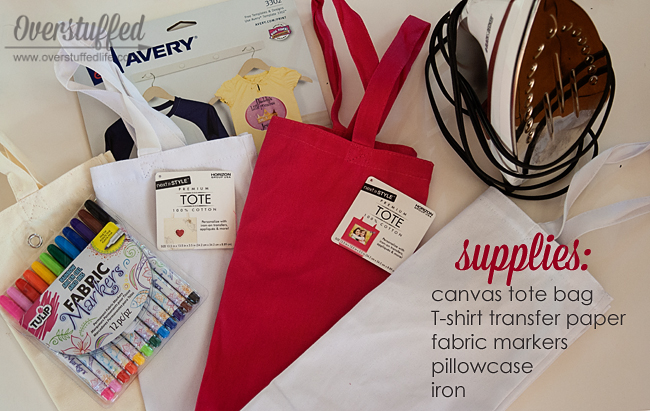 The girls then thought about what they would like to put on their bags. Since these are bags intended for books, the two older girls decided to incorporate their favorite books. Sophia decided to decorate hers with Pokemon characters, which are her latest obsession. That sort of counts, right? I'm sure there are tons of books about Pokemon.

Bria had found online a piece of jewelry that had the symbols of all her favorite YA book series: The Hunger Games, Percy Jackson, Harry Potter, The Mortal Instruments, and Divergent. We looked and looked for an image online that was high enough quality to print, but couldn't find one. So, I ended up putting one together in Photoshop. (If you have a teen daughter who loves all of these books, too, go ahead and download my file HERE.)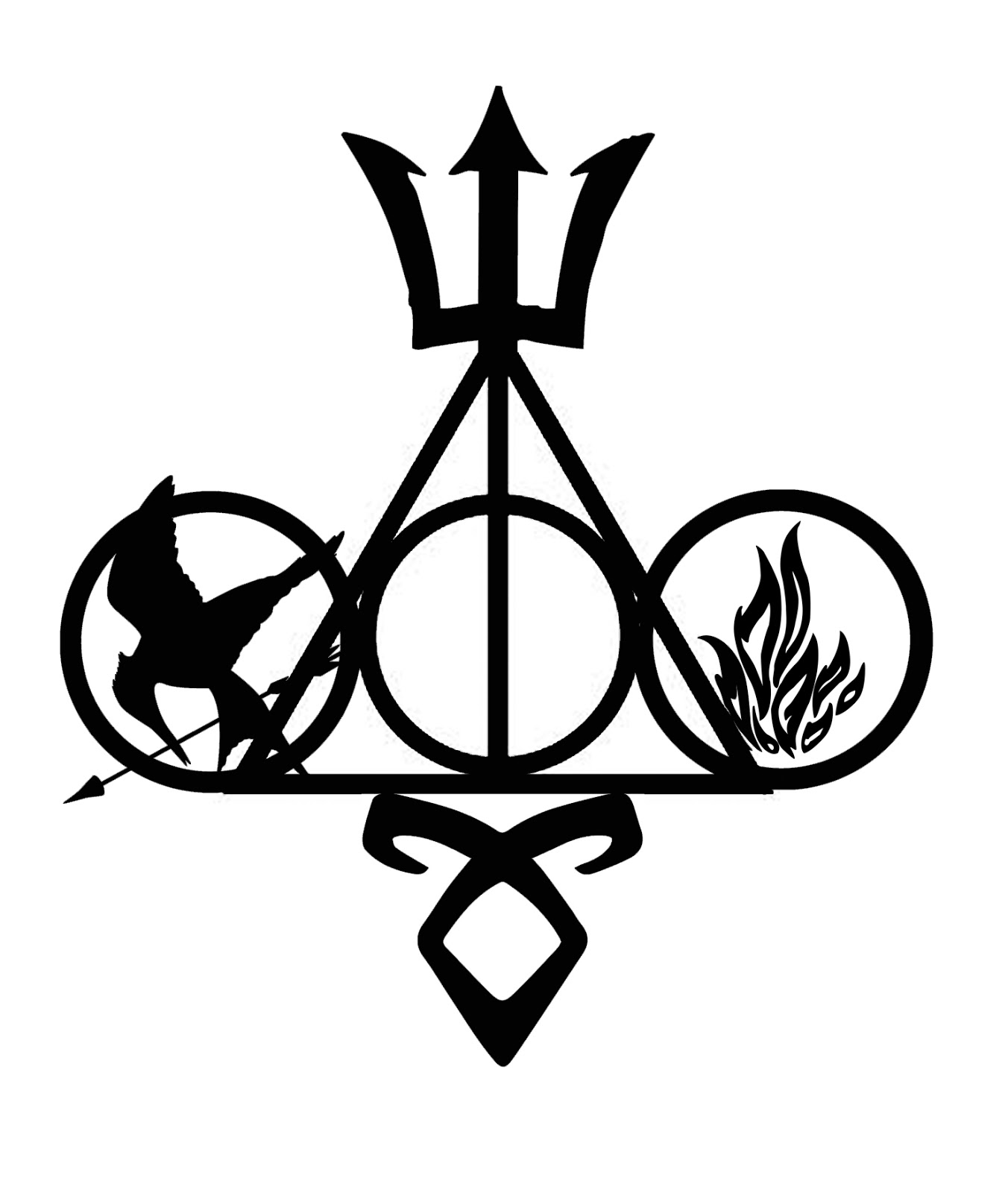 For Sophia we googled free Pokemon coloring pages. You could also print things out full color, like we did for Chloe's favorite trilogy (The Kindling by Braden Bell), but we liked the coloring pages so that Sophia could color them in with fabric markers once they were on the bag. Chloe also did a coloring page of a parrot on the back, which has to do with The Kindling.

Once you have your images found, you'll want to print them out onto the T-shirt transfer paper. Make sure that you use the mirror image/reverse/T-shirt transfer option in your printer. If you can't find that option—every printer is so different!—you can also easily reverse the image in photo-editing software. If you just have a picture, it may not matter one way or another, but if you have letters or symbols in your image, don't forget this step.

After you have printed the images out, have the kids cut around the edges. They should keep a bit of space from the lines (which Sophia didn't do) and use rounded edges as much as possible. Both of these things will make it easier to iron it on and to guarantee it stays put.

Now it's time to iron. Just place the bag on top of a pillowcase (not a towel like we started with…it's too soft), put the transfer paper where you'd like it to be, face down, and iron away. Be sure to follow exact directions for the type of transfer paper you used, and make sure your iron is hot enough.

Once the bag has cooled down, you can peel off the transfer and start decorating with fabric markers.

Here are (two of) our finished projects. (I can't find Sophia's, I think she may have taken it with her to school today because she loves it so much!)

Bria added The Fault in Our Stars and The Books of Bayern with the markers. She has a lot of favorite books. She used more rune symbols from The Mortal Instruments, and on the back she wrote her name and High School mascot. And you can see the parrot on the back of Chloe's book bag, along with the book bag I made for myself 4 years ago at the top of this post.

These are easy, inexpensive, and super fun to make. The best part is that the kids really love taking them to the library and filling them with books every week in the summer!
This post is linked at:
This Simple Home – Weekend Wind Down
Pam's Party & Practical Tips – Dare to Share
Living Well, Spending Less – Thrifty Thursday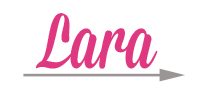 For the latest posts from Overstuffed, subscribe by email or follow me on Facebook
This post may contain affiliate links, for more information, please see my disclosure.