Easy Pilgrim Hat Place Cards for Thanksgiving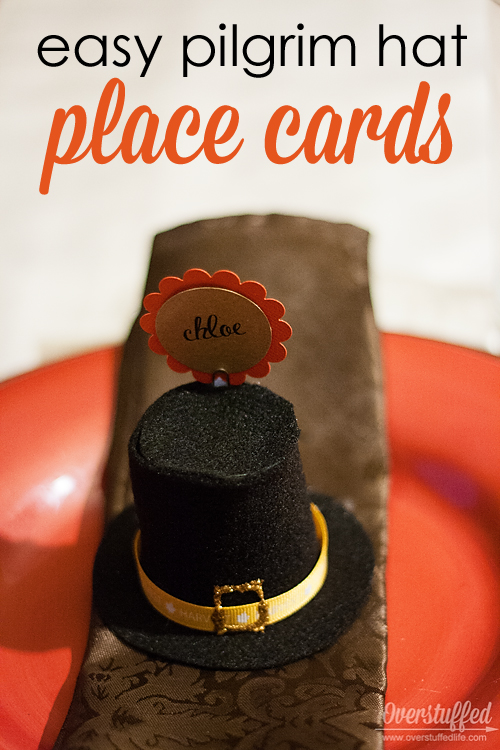 While I loved my Thanksgiving place cards from last year, we are having a lot more people over this year, so I wanted to do something different. I've seen a few different ideas floating around for Pilgrim hat place cards, and I really loved them, but most of them seemed way too involved, and would require me to actually go buy a bunch of things.
So, I thought about how I could make some cute Pilgrim hats without having to purchase a ton of supplies, and without spending a ton of money on any supplies I would need to buy.
And I came up with these. They're both easy and affordable–even if you don't have any of the supplies on hand, they still won't cost much at all.
Here's how I did it…
Supplies:
Small 3oz Dixie cups (you could easily use larger paper cups, it will just require more of the other supplies since the final product will obviously be bigger)
Black felt (I purchased about 8 of the 8×10 sheets for 23 cents each)
Narrow grosgrain ribbon (you could also use wide, especially if you're using larger cups)
Gold glitter glue
Glue gun/glue sticks
Small paperclips
Cardstock in two different colors
Paper punches (I used a 1 3/8″ circle punch and a 1 1/2″ scalloped circle punch)
First, cut a circle the size of the bottom of the Dixie cup. I used chalk to trace around the cup onto the felt and then cut it out with my fabric scissors. Then cut a strip that is the width of the cup, and then cut a larger circle for the brim of the hat.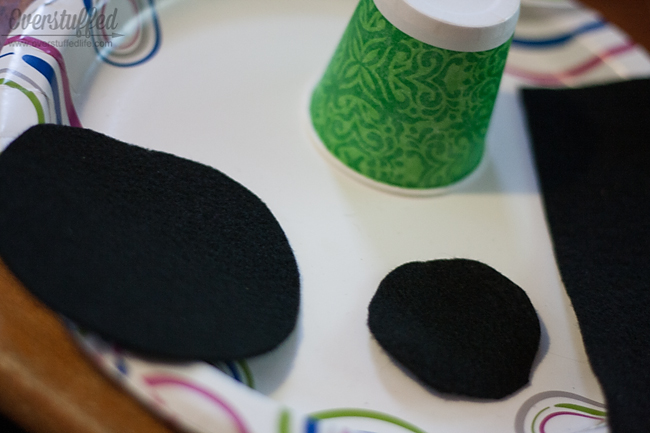 Glue the smaller circle to the top of the hat. You do have to work a little quickly with the glue gun–if it cools down too much (and it does quickly), then it will not stick to the felt.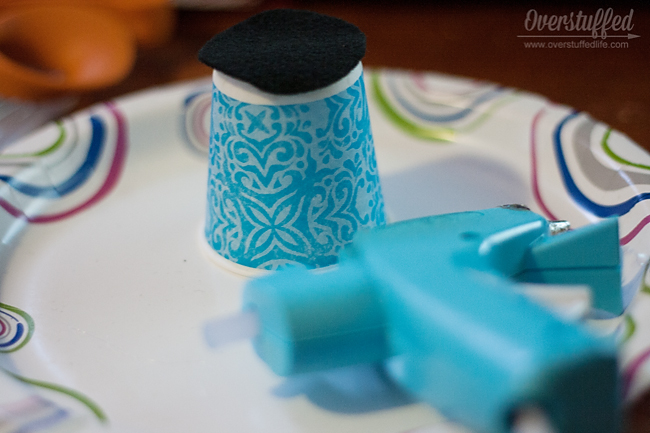 Then, glue the strip of felt around the paper cup. Do it gradually, a strip of glue at a time. Because of the shape of the cup, it will not go on perfectly, but you can pull the felt tight and get it to fit well. After making sixteen of these, I got to be pretty quick at getting it on looking nice.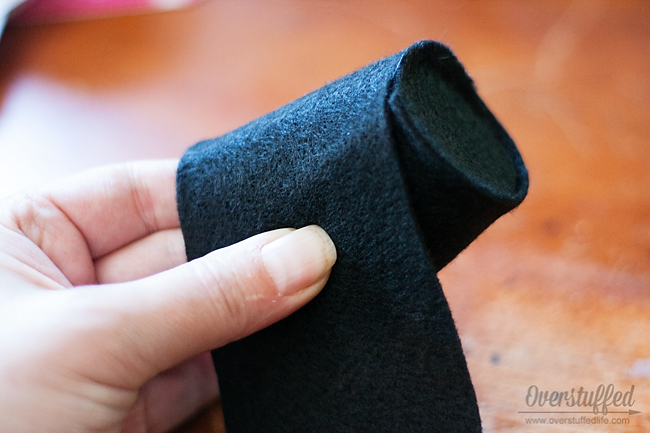 My strips were always a bit too long, so I just trimmed it once I had it glued around nicely.
Next, glue the paperclip in (I didn't start out this way, so some of my pictures don't reflect that, but it is definitely easier to get it in before you do the brim).
I tried to leave an open spot at the top of the seam so I could stick the paperclip there.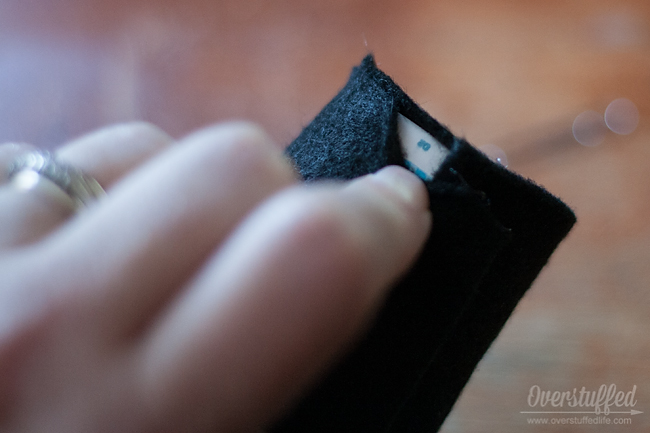 The glue on the paperclip took care of gluing that part of the felt down.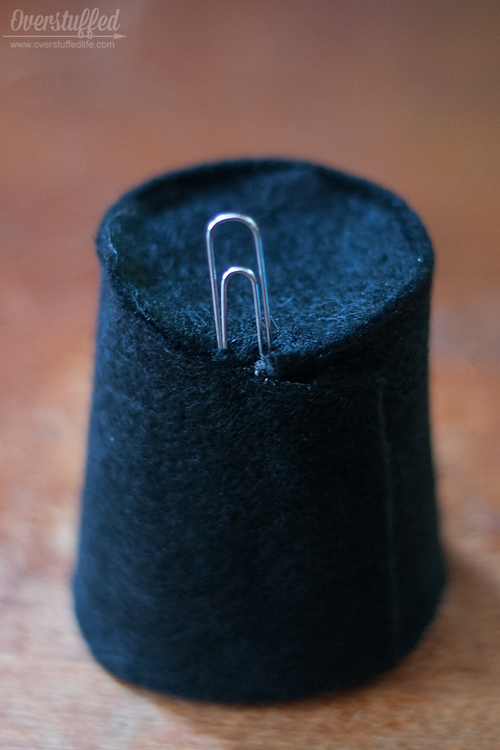 Here is how NOT to glue on your paperclip. This was the first hat I made, and we'll just say that it won't be used on Thanksgiving. I messed up on more than just the paperclip. It is also a good example of how not to take a photo, so excuse the blurriness.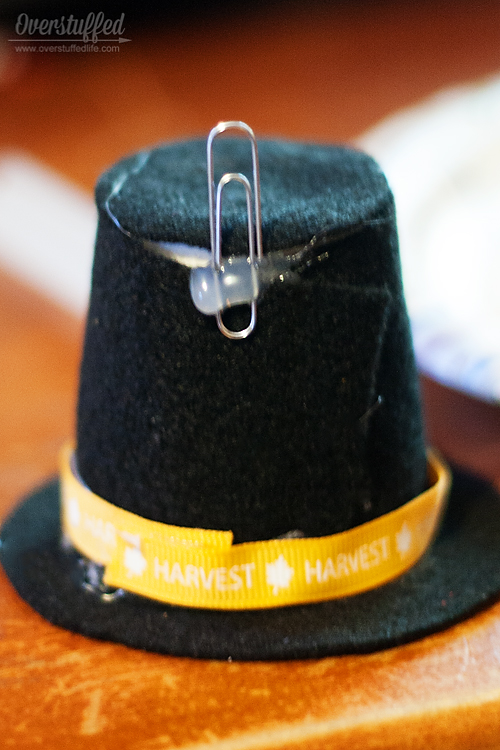 Definitely hide the paperclip under that felt!
Once your paperclip is in, put hot glue all around the lip of the paper cup and quickly stick it to the larger felt circle. I found I had to go really quickly on this step or the glue would be too dry.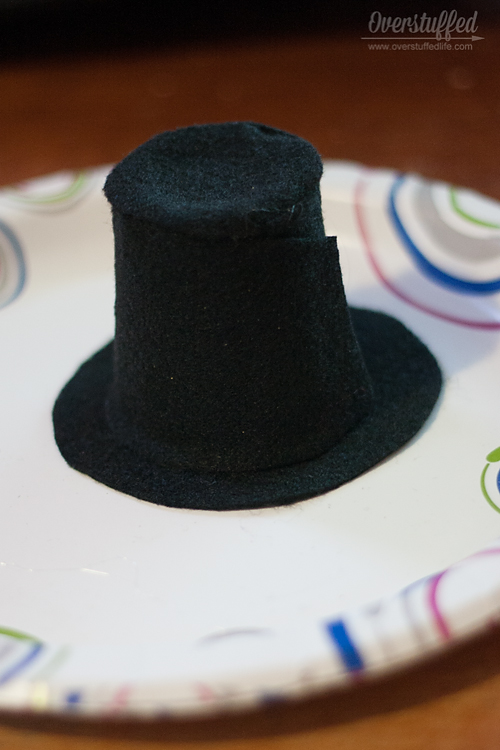 Next, I put the ribbon around the hat. I only glued it in the back by the seam of the felt.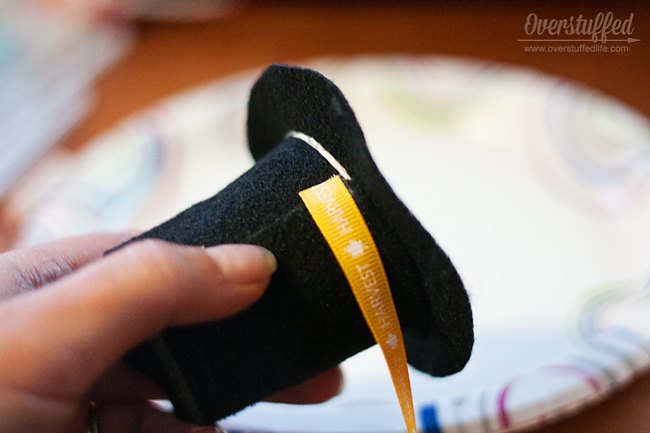 Put down one dot of glue, then stick the ribbon down. Wrap it around the hat, cut it to the proper size, then put another dot of glue down to secure it.
Finally, use the glitter glue to make a buckle. Just be careful not to smear it–it takes a while to dry!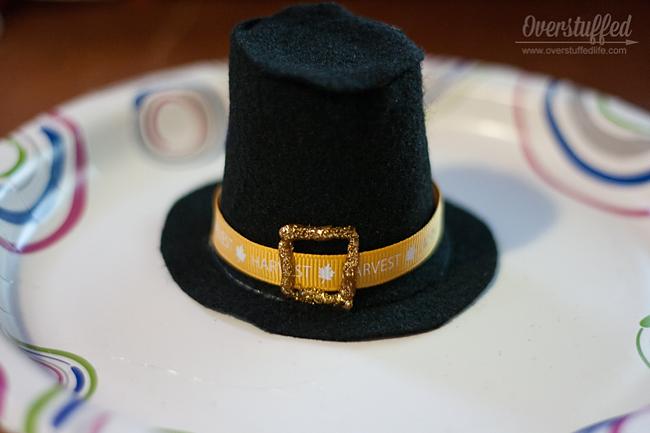 I let the hats all dry overnight–that glitter glue dries at a glacial pace.
I worked on the actual name part of the place cards while they were drying. I just printed out the names on kraft paper at an inch long, then punched them out with my circle punch. I then glued them to the scalloped circle punches, punched out of orange cardstock.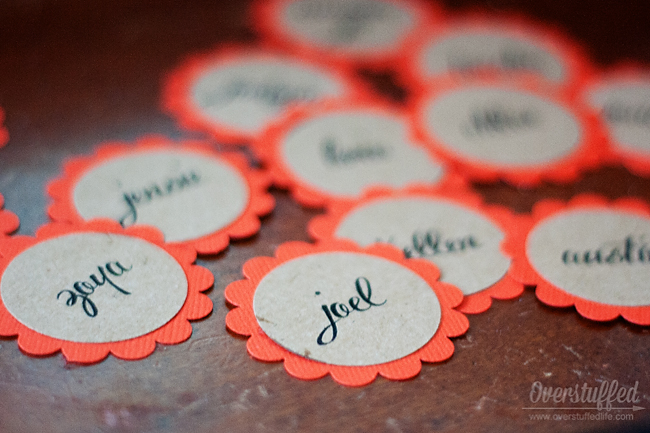 Once everything was dry, I (carefully) put the names into the paperclips. The one thing about making these out of paper cups is that they are a little flimsy. But they're also pretty hardy with the felt, and even if you do bend the paper cup, you can't tell at all.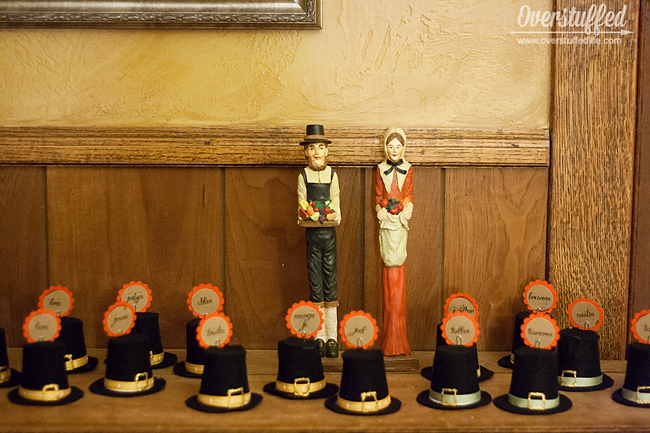 Don't they look great on the table?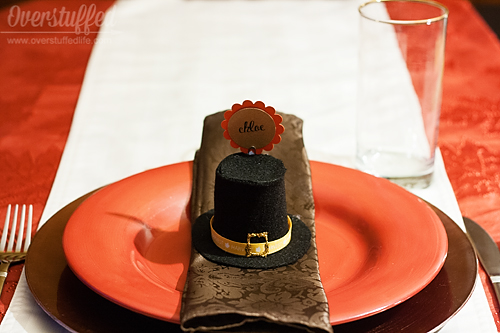 I'm finally starting to get into the spirit of Thanksgiving! Tomorrow is a big prep day, and I'm looking forward to baking and setting the table and getting the house ready for Thursday.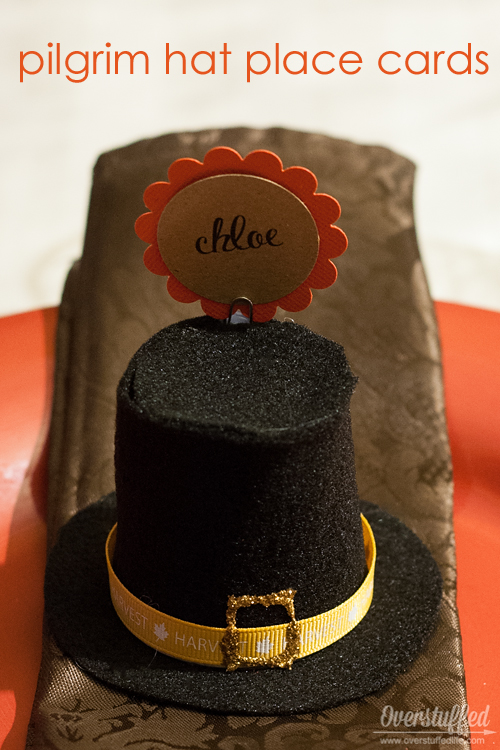 What are you doing to prepare for Thanksgiving?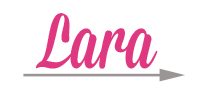 This post may contain affiliate links, for more information, please see my disclosure.