The problem with living in a very old house is that the list of improvement projects is never ending. Well, this front door project has been on my list forEVER!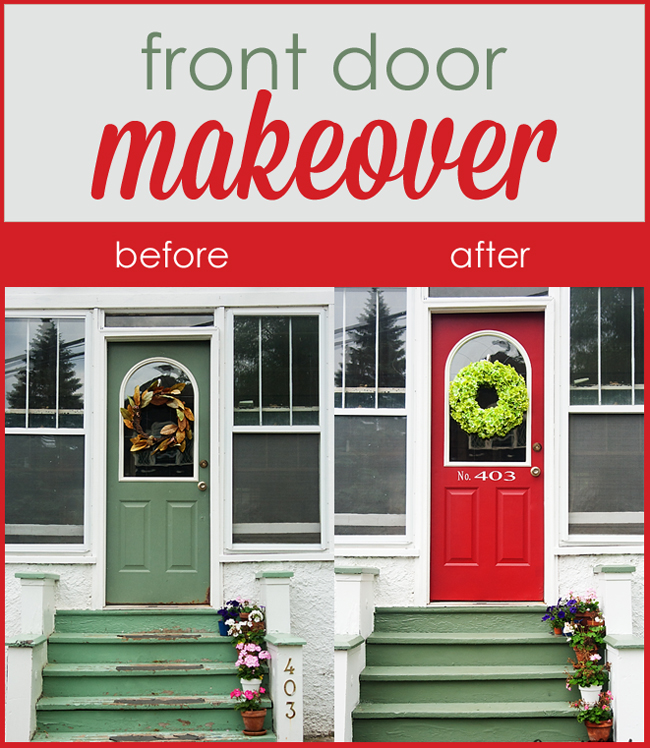 We've now lived in our house for five years. It was built circa 1908, so it's already seen many a tough winter, and we did not realize just how hard the winters could be on a front porch—especially when it's made of painted wood!
We repainted the steps a couple years ago using the paint color that was labeled "front porch, front door, shutters" by the previous owners. We didn't use the actual paint they had left in the basement, but went and had more formulated with the same recipe. Well, it wasn't the right color, so I'm not sure what happened there! We have lived with the steps being a slightly different green than the front door and the shutters for a couple years. Meanwhile, the porch steps have looked worse and worse as the interminable winters and ridiculous amounts of snow did their damage. It was time.
This time, I went down to Sherwin-Williams and picked up every single green paint chip they had. And we found what was pretty much a perfect match in SW 2860 Sage.
So here is what we started with. Not only are my steps looking raggedy, but the front door itself is rusting at the bottom due to all the snow, and my poor wreath is pretty bedraggled. Also, I was not a fan of the house numbers. They're super ugly, and in the winter when there was three feet of snow, nobody could see them anyway.
While we were at Sherwin-Williams trying to match the green, I mentioned to The Maestro that I really just wanted a red front door, and he said "why not?" So, I also found a red that I really liked that went well with the Sage green color. I chose SW 7588 Showstopper. Also, I really liked the name of the color, and hoped that's exactly what my new front door would be.
Because the front door was a red color, priming is absolutely necessary. The paint guru at Sherwin-Williams told me I should prime in a grey and helped me pick out all of the proper tools for painting a metal door. We first cleaned it really well with TSP, then lightly sanded the door with a coarse grit sandpaper. My husband did some more vigorous sanding where the bottom was rusting with the electric sander. Finally, we primed it grey with a small roller, let it dry and began painting. It took about three coats and a bit of touch up, but the final result made me pretty darn happy!
Together with the newly painted steps, I was even happier. Now the steps don't match the door, but they do match the shutters on the rest of the house. And I am really loving the pop of red!
The next step was to replace my bedraggled old wreath. While I have good intentions of changing my wreath with each month/holiday, I don't usually bother to do it until the fall holidays and Christmas, which are my favorites to decorate for. Consequently, I wanted a wreath that will look nice for spring/summer/early fall because it would most likely be on the front door that long!
I went down to Michael's and couldn't find anything I liked. I looked online and couldn't come up with anything I really loved, either. Finally, we were in Walmart and I headed down the craft aisle. I saw some green silk hydrangeas and liked how they looked. So, I just bought a foam wreath form and a ton of the hydrangeas. I went home, cut up the stems, and stuck them into the foam. I am in love with the result. It's just what I was hoping for—simple, elegant, and perfect for a year-round decoration.
The last step was to deal with the house number. We took it off when we repainted and I threw it right into the garbage. Finally, I had the idea to put the number right on the front door itself with vinyl. I don't have a Silhouette, but I have friends who do, and one of them was lovely enough to cut the numbers for me.
The final result truly is showstopping. I've gotten so many compliments on it, and I no longer feel like my front porch area shows its age quite as much. It's still 106 years old, but I think it just got some of its youth back. I can't wait to take the girls' first day of school photos in front of it!
This post may contain affiliate links, for more information, please see my disclosure.