How to Decorate Your Christmas Tree: Part 4
Part 4 of a 5-part series about how to decorate your Christmas tree
How to Decorate Your Christmas Tree: Part 1 (Getting started, choosing a theme, adding lights and floral accents)
How to Decorate Your Christmas Tree: Part 2 (Putting up large and specialty ornaments)
How to Decorate Your Christmas Tree: Part 3 (Putting up the ball ornaments)
How to decorate your Christmas tree
How to put ribbon on your tree
How you deal with the ribbon/garland can seriously make or break the tree. And I know I'm a tree snob, but I'm totally serious.
The most common mistakes with the ribbon/garland are 1) putting it on before anything else, and 2) just wrapping it around the tree.
We've already discussed the order of things thus far, and obviously ribbon is almost last, so let's discuss how we get it on the tree.
This is my ribbon. The larger, gold roll is un-wired craft ribbon I bought at Costco several years ago. The whole thing easily does my entire tree (all rolled up it maybe has an 8″ diameter?). The other five rolls of ribbon are wired craft ribbon that I bought in 1999! They're all still in amazingly great shape, which is good, because I love the pattern.
I use both types of ribbon differently, so let's start with the gold ribbon.
Use the curl of the ribbon to your benefit
See how it kind of curls if you let it unroll by itself? You want to capitalize on this curliness!
Start at the top of your tree, secure one end of the ribbon somewhere in the branches (I like to do this in the back of the tree where it can't be seen) and let it naturally unroll as you wind it around the tree. Resist the urge to pull it tight and "wrap" the tree, and just let it kind of cascade down. Tuck it into the branches every now and then so it is secure.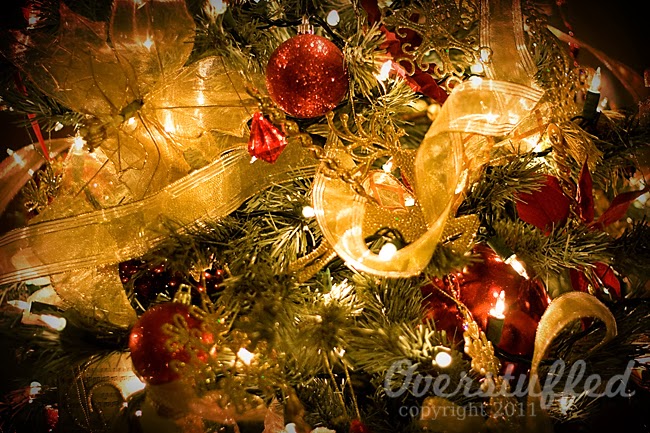 I am thinking I should have shot a video, because that wasn't so easy to explain. Here's another picture:
Just keep going around the tree, letting the ribbon fall where it may, and gently tucking it in here and there. I admit to pulling it tight in the back if I feel like I am going to run out of ribbon before I get to the entire bottom of the tree.
If you use beads or another type of garland which won't curl by itself like the ribbon does, just kind of drape them generously. I used to use gold beads and I had a lot of fun dripping them all over the tree randomly. Random is always the key.
Cascade some ribbon from the top instead of wrapping it around
After I do the gold ribbon, I do my patterned ribbon. It's wired, so it's a little bit different to work with, but I still use its own curl from being rolled up in the box for a year.
For this ribbon, I secure a piece at the very tippy top of the tree (where the topper will eventually hide it) and cascade it straight down, tucking it in every so often. Like so:
I continue doing this with all five ribbons until my tree kind of starts to remind me of a wedding cake. It doesn't matter how messy the top gets with all the ribbon ends because the topper will hide it. But only you know what your topper is capable of hiding, so do your ribbon accordingly. Mine is an angel with a full skirt that can hide quite a bit of ribbon.
Here is what our tree is looking like now:
(I added the birds after all the ribbon was put on—they are some of the ornaments saved for very, very last.)
Only one more part to go…just a few finishing touches, and then you can sit back with some hot cocoa and enjoy your masterpiece.
Click here for Part 5: Finishing Touches