How to Decorate Your Home with Canvas Prints
This post is sponsored by CanvasDiscount.com. Enter coupon code OVERSTUFFED25 at check out for 25% off a purchase of $50 or more (excludes mixpix)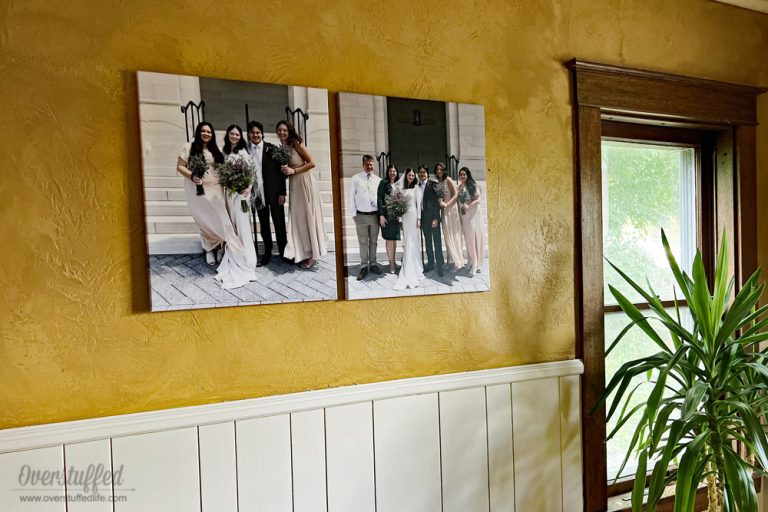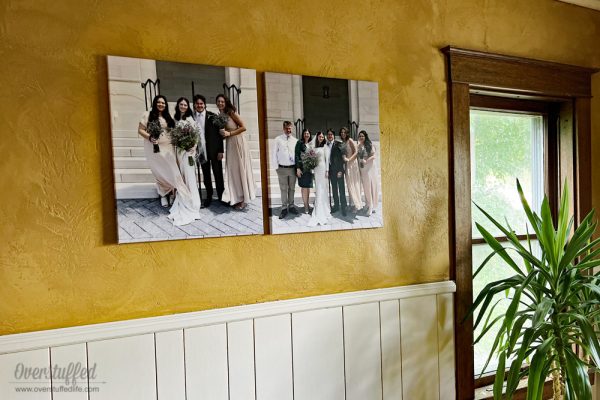 Decorating your home with photo art is a great way to add a unique and personalized touch to your living space. Canvas prints are a fantastic way to showcase cherished memories, special moments, and artistic flair. Whether you're looking to create a gallery wall or a standout focal point, photo canvases, framed photos, and other photo art can provide endless creative possibilities. Let's talk about the best ways to decorate your home with photo canvases, how to arrange them, tips for designing a stunning wall display, how to highlight different types of family photos, and more!
Personalize Your Wall Space with Photo Canvases
Photo canvases are more than just decorations; they tell stories and evoke emotions. Start by selecting the images that hold sentimental value to you and your family. These can include vacation snapshots, family portraits, candid moments, or even nature scenes that resonate with you. By curating a collection of meaningful photos, you set the tone for a personalized and welcoming atmosphere in your home.
I love to use family photos as my main home décor, especially as I am less than a year away from becoming an empty nester. Seeing my children and our favorite memories on the wall always makes me smile. It's hard for me to watch my kids grow up, but it's also so much fun to see them become adults and do really cool things with their lives!
I recently ordered two large canvases of my daughter's wedding to display in our dining room. We haven't had a really good family photo in several years, so I was very excited to get canvas photo prints from her wedding day. I chose to get two 16×20 prints and display them side by side and they make me so happy!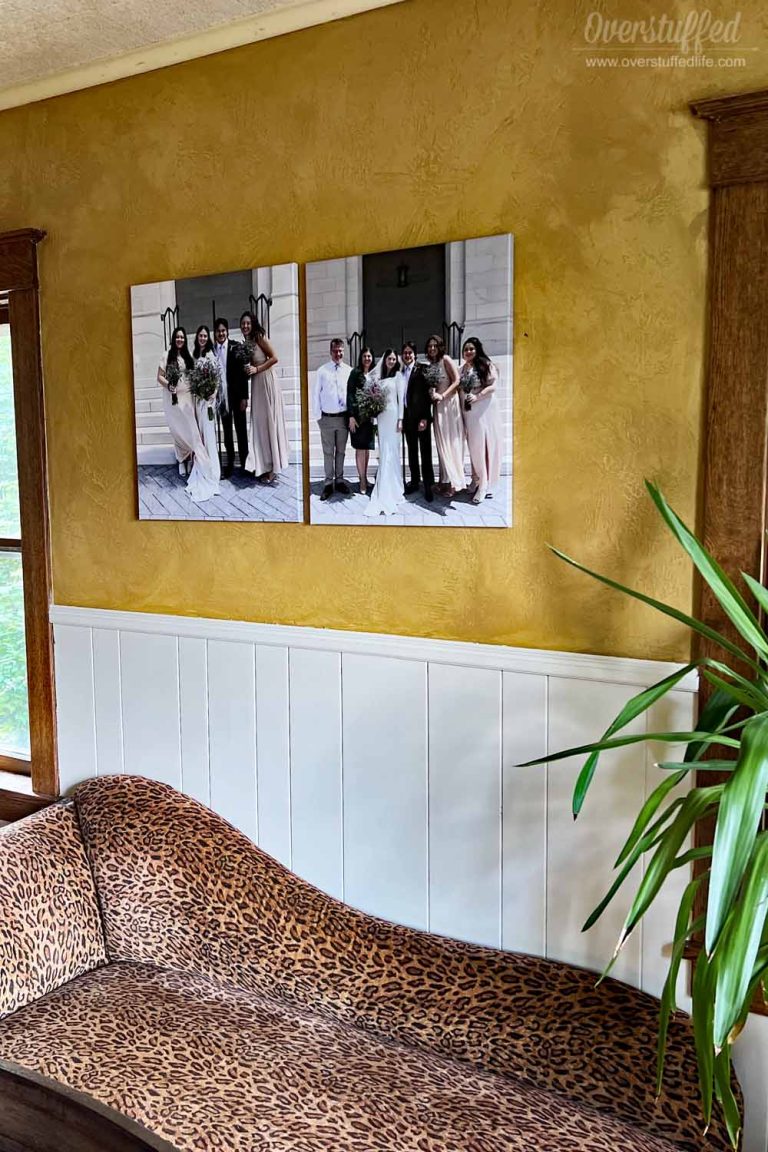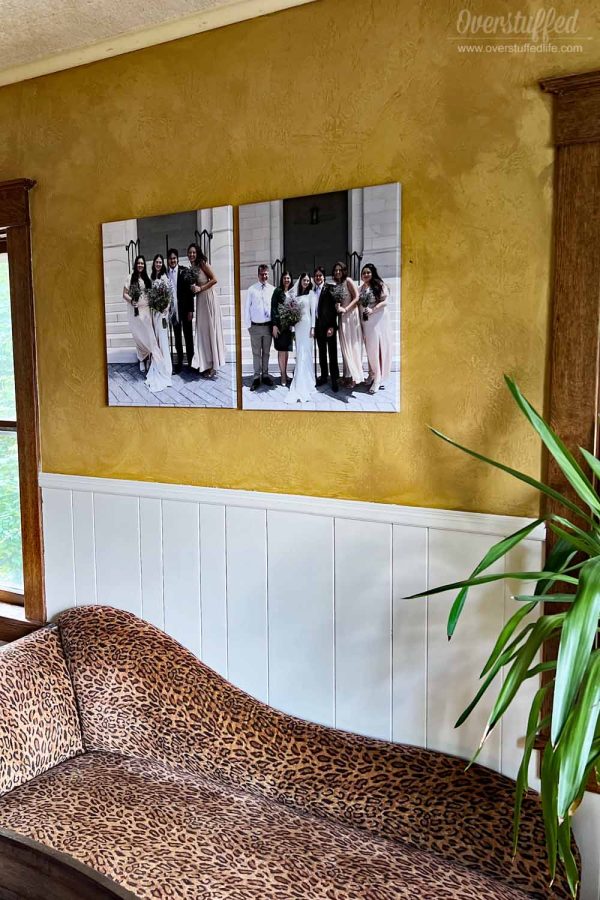 The products at Canvas Discount come at a very affordable price and they are often running promotional discounts as well. I am very pleased with the quality of the prints I ordered, and will use them again to order several more canvases for a staircase display I am planning.
Canvas Discount was kind enough to offer my readers 25% off on all products except mixpix when you spend $50.

Enter code OVERSTUFFED25 at checkout.

This exclusive coupon is on top of any other discounts the site is currently running.
Use Photo Canvases to Highlight Different Types of Family Photos
Generational Evolution:
Use canvas prints to showcase the growth and evolution of your family by displaying generational photos. Start with older photos of your parents and grandparents and progress to more recent ones that include your children and grandchildren.
Candid Everyday Moments:
Capture the beauty in ordinary moments by displaying candid shots of your family enjoying life together. This type of photo is my favorite, and a beautiful way to display canvas prints in your home.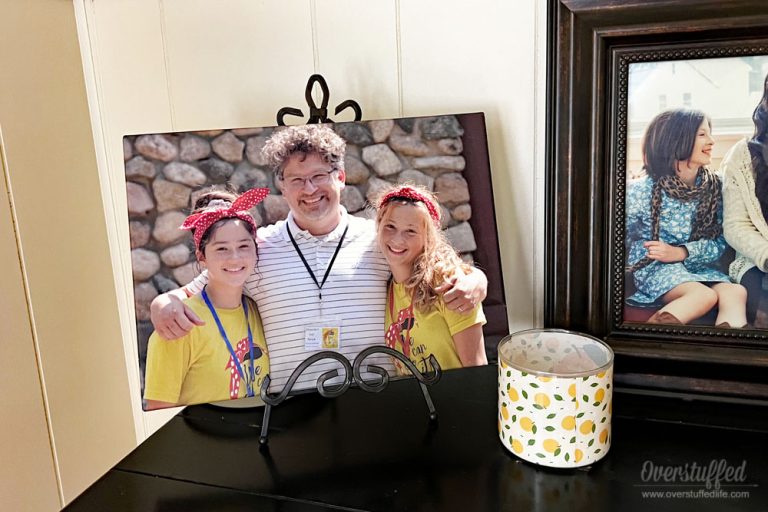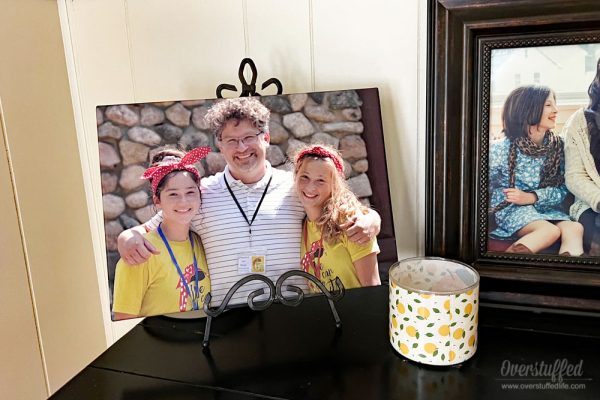 Special Milestones:
Use photo canvases in your home to display important life milestones such as weddings, graduations, and birthdays.
Pet Portraits:
Pets are cherished family members too. Include canvas prints of your furry friends to create a heartwarming display that reflects the whole family.
Vacation Memories:
Keep the spirit of adventure alive by decorating with canvases featuring your travel escapades. Transport yourself back to those special places and times.
Creative Ways to Decorate with Photo Canvases
Themed Displays:
Print single canvases of your photos around a common theme, such as travel, nature, or family milestones. A series of photos from a vacation or a wall displaying just graduation photos will create a more cohesive look that reflects what you love. This type of display can feature canvases of different sizes for more visual interest.
Collage Canvases:
Design a single canvas with a collage of related images. Photo collages are a fun way to showcase an event or a series of moments, like a child's growth over the years, your favorite wedding photos, or all of the characters you met on your family trip to Disney. All of the best canvas printing services have custom collage options and make it super easy to upload your personal photos and design a photo collage canvas that will look great on your living room walls.
​See the collage canvas options at CanvasDiscount.com
Split Canvases:
You can divide a single image across multiple canvases for a super cool modern look. This works especially well with landscape photos or panoramic shots.
Typography and Quotes:
Combine your favorite photos with a favorite quote or your favorite words. Using typography on your canvases can add an inspirational and personal touch to your decor. For instance, our family chooses a new family theme to inspire us each year. We remember that theme by using a framed display—next year I will have to try out a canvas instead!
Black and White Elegance:
If you're worried about how photo colors will affect your current home decor, you can convert your photos to black and white. A black and white photo display will give you a timeless and sophisticated look that complements all sorts of interior styles and color pallettes.
How to Arrange Photo Canvases on a Blank Wall
Symmetrical Layouts:
Create a sense of balance by arranging photo canvases in a symmetrical grid pattern. This works well for a clean and organized look, and is my personal favorite as it best reflects my personal style.
Asymmetrical Layouts:
For a more dynamic and eclectic display, you can arrange your photo canvases in an asymmetrical manner. Use various sizes and orientations for an eye-catching effect and a very unique style.
Diagonal Lines:
Arrange your canvases diagonally along a wall to add movement and visual interest. This arrangement is especially effective for longer hallways or narrow spaces.
Staircase Display:
You can decorate your staircase wall by placing canvases diagonally along the staircase's ascending line. This follows the natural flow and draws attention to the vertical space. I really would like to do this, as my staircase currently just features a boring empty wall.
Centerpiece Focus:
Choose one big canvas print as the centerpiece and arrange others around it. This draws attention to a particular photo while still showcasing a variety of images. You can also use a large canvas print as the solo art on a wall. I have used a large canvas of a family photo that was taken in 2014 as a focal point in several areas of my home. It has been above the living room couch, above the dining room couch, above the fireplace, and currently lives in our sunroom.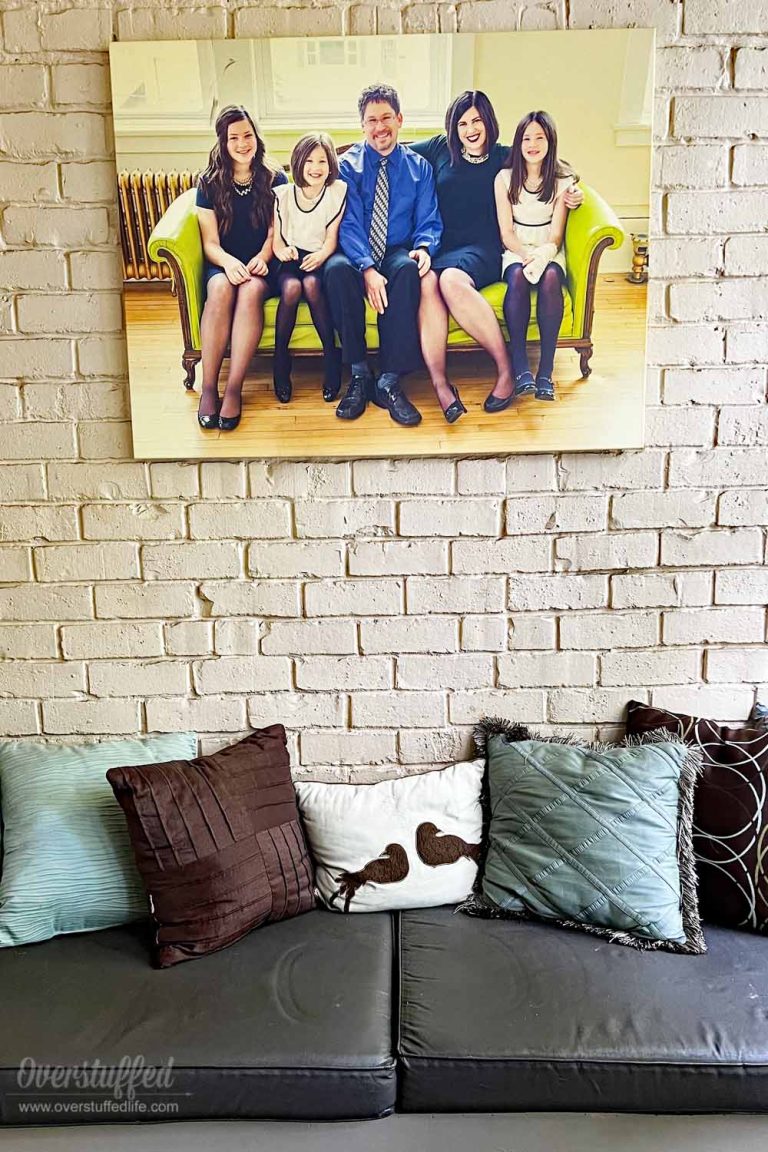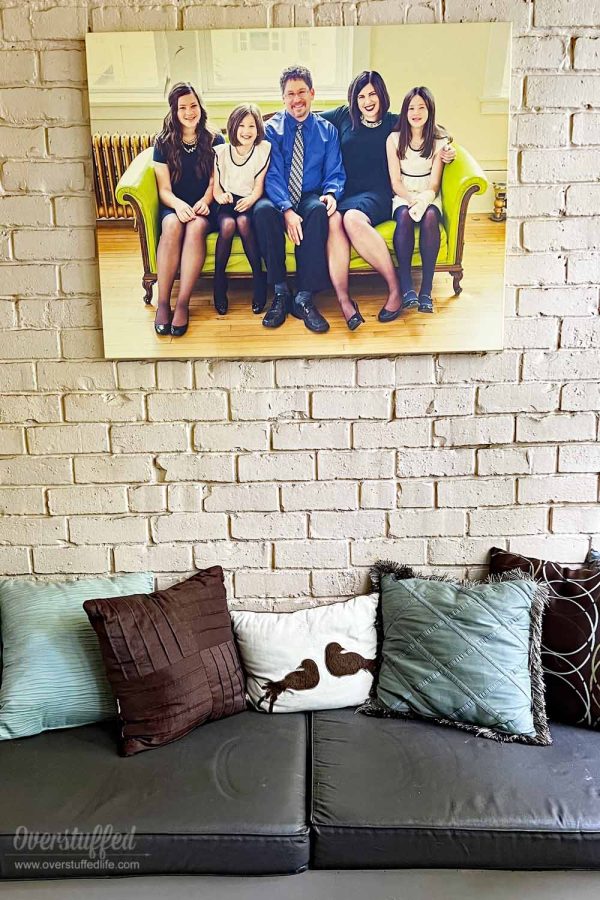 Choose a Focal Point:
Select a wall that naturally captures attention, such as the one facing the entryway or the wall behind your sofa. That said, canvases can be put anywhere you want because they are quite versatile! They don't even have to be displayed on a wall—I have one that is currently on an easel.
Mix and Match Sizes:
Combine a variety of sizes to create visual depth and dimension. Larger canvases can serve as anchors, while smaller ones fill in the gaps.
Mockup Before Hanging:
Arrange paper cutouts of your canvases on the wall using painter's tape. This helps you visualize the layout before making any permanent decisions. Just make sure your paper is cut exactly to size in order to see the full vision.
Maintain Consistency:
Despite variations in size and orientation, stay consistent in terms of color schemes or themes to maintain a harmonious look. Black-and-white is a great way to do this.
Add Supplementary Decor:
Integrate wall clocks, floating shelves, or decorative letters among the canvases to diversify the composition.
Don't forget to purchase your canvas photo prints at CanvasDiscount.com! Enter code OVERSTUFFED25 for 25% off a purchase of $50 (excluding mixpix).
Decorating your home with canvas prints is an artful way to infuse your living space with memories, emotions, and individuality. From themed displays to captivating gallery walls, the options are limited only by your creativity. By thoughtfully arranging and showcasing different types of family photos, you not only embellish your home but also curate a visual narrative that tells the story of your life. Embrace the power of photo canvases to transform your house into a personalized haven that truly reflects who you are.