How to Make Santa Bags for Oddly Shaped Gifts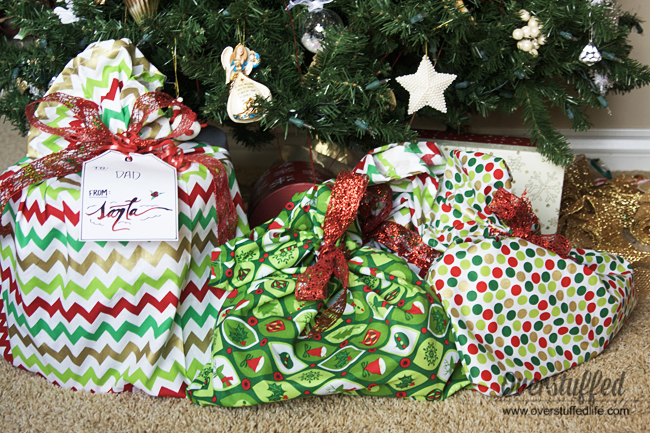 There's nothing quite so annoying as trying to figure out how on earth to wrap an oddly shaped item. Trying to wrap a round gift, or a football, or a big and bulky handbag, or something that comes in oddly shaped packaging is frustrating! If you try to do it with paper, it rips easily. Gift bags can be a great solution, but they make it very easy for little snoopers to discover what is in them, so I like to stay away from them at Christmas. You can always find a box that will fit—and sometimes I am lucky enough to do that—but often they have to be really big boxes and they end up taking an entire roll of paper to wrap and all of the space under the Christmas tree.
When I found the perfect gift for The Maestro this year, I knew I was going to have to come up with a great way to wrap it because it is big and it's oddly shaped and I wasn't about to try wrapping paper.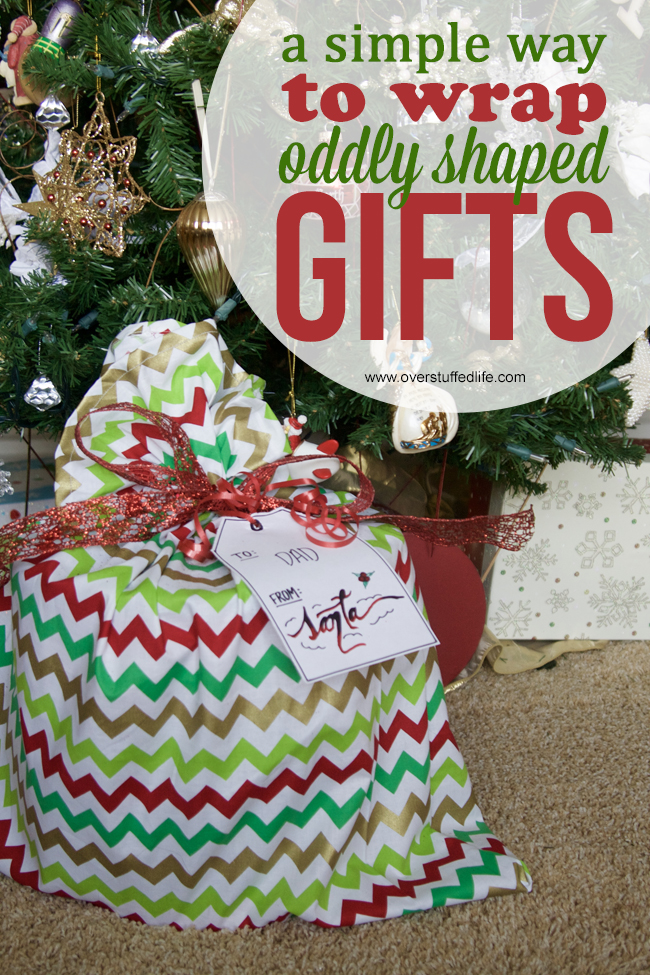 Make sure to check out our Ultimate Holiday Gift Guide—Find hundreds of gift ideas for EVERYONE on your list!
First, let me show you what I found for him! We just bought a new car a few months ago that is a good ten years newer than the car we had previously. It has been so much fun for me to watch him baby it, so when I saw this cool Armor All car care gift pack in the automotive center at Walmart, I knew he would love it.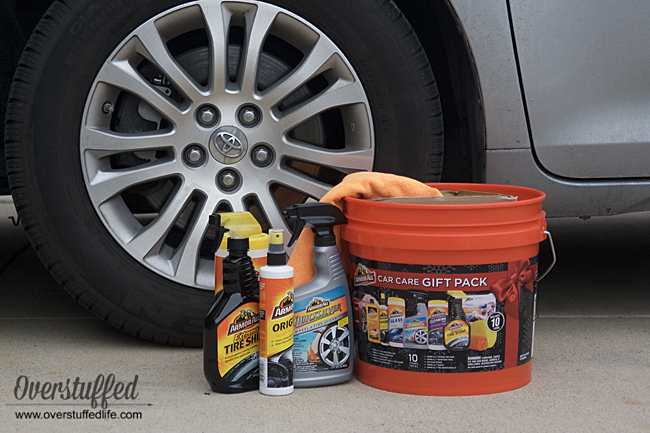 The bucket—which can be used to hold water during car washing—is filled with the following items (many of which I know The Maestro will be downright giddy about using):
16 fl oz of Ultra Shine Wash and Wax
Quicksilver wheel and tire cleaner
25ct glass wipes
25ct cleaning wipes
Microfiber towel and sponge
Original Protectant
Extreme Tire Shine
Pro Secrets Booklet which also contains up to $13 of coupons for Armor All products
Want to know how much all of that cost? Just $19.97 at Walmart! And, you can get a coupon for $3.00 off right now at coupons.com, while supplies last.
So I got this awesome gift for my husband, and when I brought it home I thought of a few ideas for wrapping it. The one I ultimately settled on was to make a Santa bag. They are so simple and easy to make, and the best thing about them is that they are reusable. You can keep them in your wrapping supplies to use any time you have an oddly shaped item to wrap like the Armor All car care gift pack.
Now, don't be afraid of the Santa bag if you are not much of a sewist. You really just need to know how to use scissors and sew in a straight line (and it doesn't even have to be that straight—nobody's looking at your workmanship when they are unwrapping an anticipated Christmas gift!).
How to Make a Santa Bag for Oddly Shaped Gifts
1. Lay out your fabric and place the item on top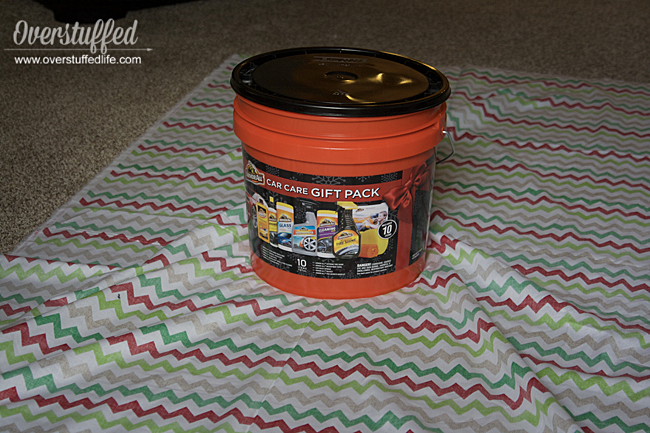 Eyeballing is good, but I like to place the item right onto the fabric and gather the fabric up and over it. This way I can see exactly where I need to make my cuts. The thing about oddly shaped and sized items is that you have to allow enough space in the bag for all angles. If you're only eyeballing height, you might have a bag that is too narrow to fit the entire item, so it's best to measure.
I ended up using approximately 36 inches x 20 inches for the Armor All car care gift pack. I also made a few bags for oddly-shaped stuffed animals, and they ended up being about 17 inches x 12 inches.
2. Cut the fabric to the right size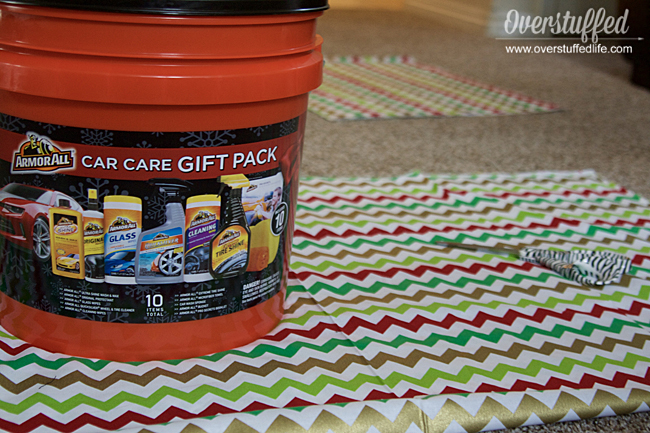 Again, there is no need to worry about straightness here. Use the pattern of your fabric to eyeball as straight a line as you can, but once things are all sewn up, it won't matter too much!
3. Fold the fabric in half, right sides together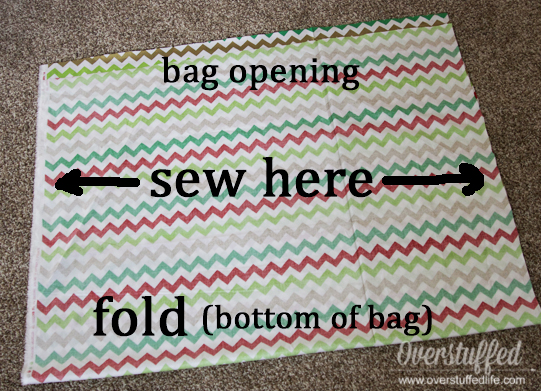 The fold will serve as the bottom of your bag. You will sew up the sides and leave the top open.
4. Sew up each side of the fabric
5. Hem the opening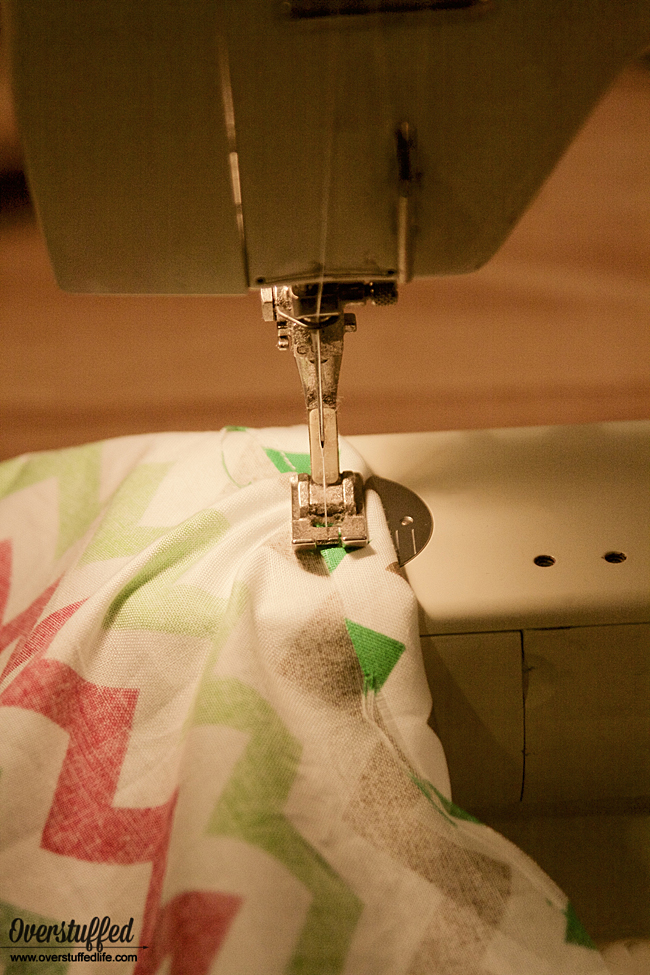 Pin a nice hem around the opening of your bag. If you want it to look nice and finished, do a double fold hem. Once you have it pinned, sew it up, and you are done with the sewing portion!
6. Place your item into the bag, and tie it with a ribbon
I realize that for enterprising Christmas snoops, these Santa bags could be just as easily broken into as your run-of-the-mill gift bags. However, if you get the right kind of ribbon and tie it tightly enough, you will deter all but the most determined. But you know those kind of Christmas snoops are unwrapping and rewrapping gifts anyway, right? They can't be deterred.
I used some glittery Christmas decorating ribbon to tie my bags up and I like how it helps the bow stay well-formed. I added a tag my daughter quickly made out of card stock and markers for me.
I love the end result! The bucket is hidden in the Santa bag, to be opened on Christmas morning, and the bag looks totally adorable under the tree along with the smaller Santa bags I made for the stuffed animals.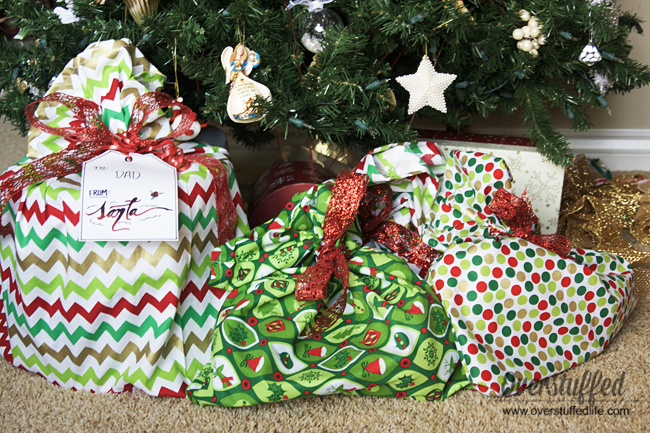 The Armor All Car Care Gift Pack will make the perfect gift for the car lover in your own life. Take advantage of the $3 off digital coupon offerfor the Armor All Car Care Gift Pack from Walmart, while supplies last.
And now you know just how to wrap it when you get it home!
"This post is part of a social shopper marketing insight campaign with Pollinate Media Group® & Armor All but all my opinions are my own. #pmedia #ArmorAllGiftPack https://my-disclosur.es/OBsstV"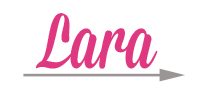 This post may contain affiliate links, for more information, please see my disclosure.