How to Vacation in Hawaii on a Budget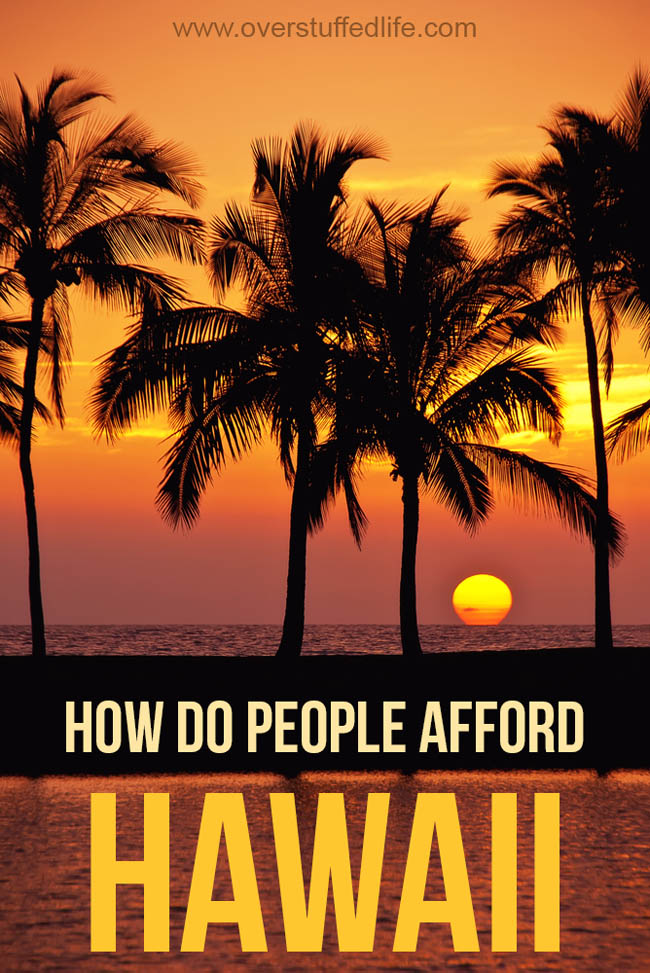 How do people afford to go to Hawaii? Learn how to save money on a Hawaiian vacation with these easy tips!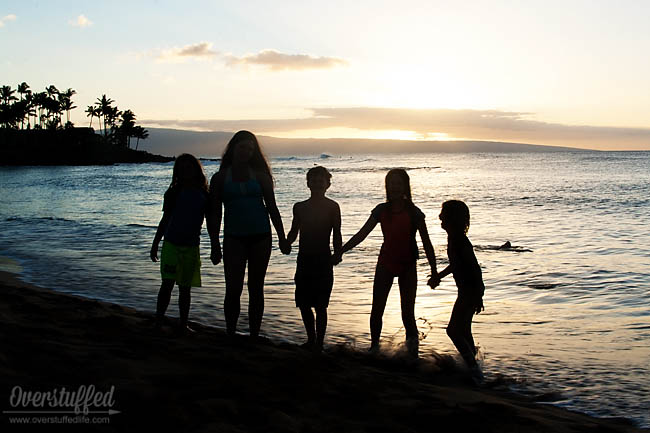 Our 2014 Christmas gift to the girls was a trip to Hawaii. Lately we have been trying to give experience gifts instead of stuff gifts, and so we didn't give them very much else. Even though we had most of the Christmas budget to devote to the trip, travel to Hawaii isn't exactly cheap. Still, vacationing in Hawaii on a budget with family can be done, and we were able to cut our costs in several different ways.
(This is also a sneaky way for me to post many of my vacation photos…so sit tight, learn how we did Hawaii on the cheap, and enjoy lots and lots of pictures of paradise!)
How to Vacation in Hawaii on a Budget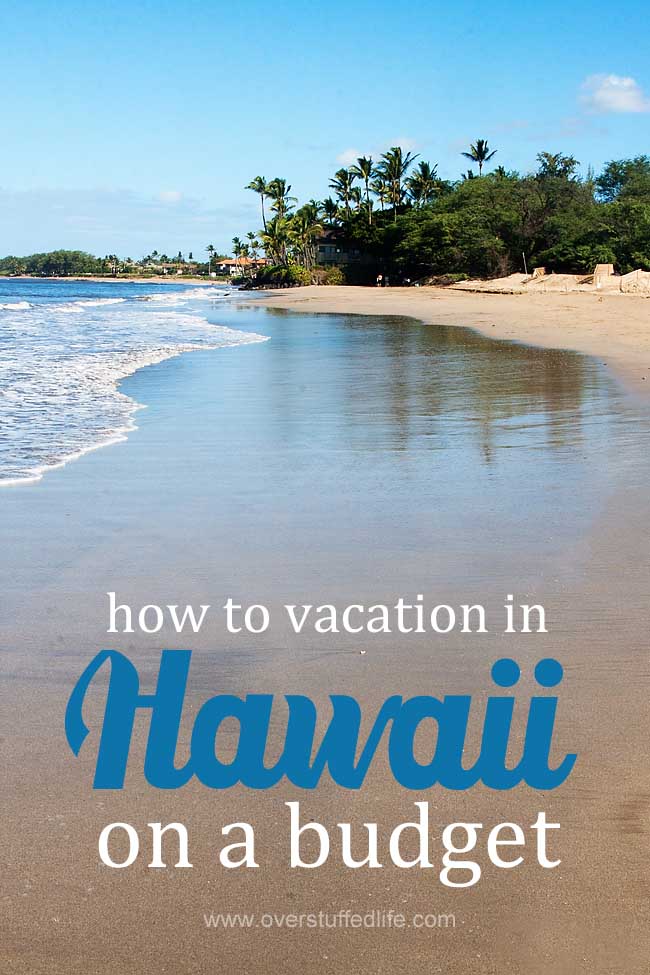 1. Travel with Airline Miles
We paid for much of our trip with airline miles. We have a couple airline credit cards that we try to use for everything when we are planning a vacation. The Maestro travels a bit for work here and there, but not a ton, so most of our mile earning comes from the credit cards.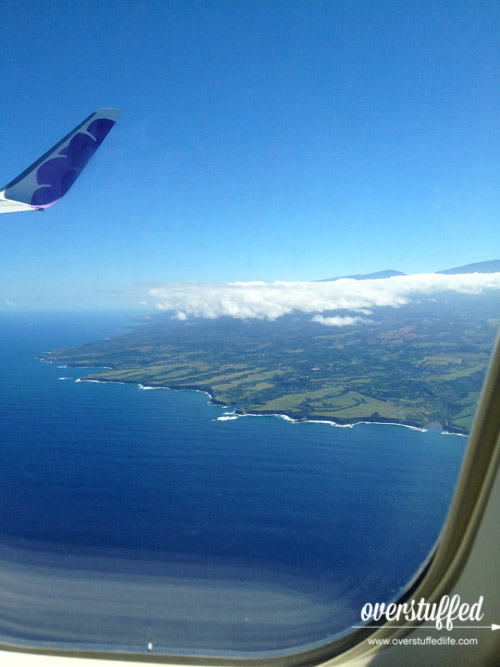 Because we had miles from a couple different airlines, we traveled to San Francisco on Southwest, from San Francisco to Hawaii and back again on Hawaiian Air, and from San Francisco back home on United. It's a little crazy to do it this way, but it saved us a ton of money.
Using the airline credit cards to earn miles is NOT a good deal or good for your budget unless you can commit to paying it off in full every month. We try to put everything we would normally buy on the credit card and then pay it off right away. Groceries, household supplies, entertainment, etc. Doing it this way really helps you rack up those miles.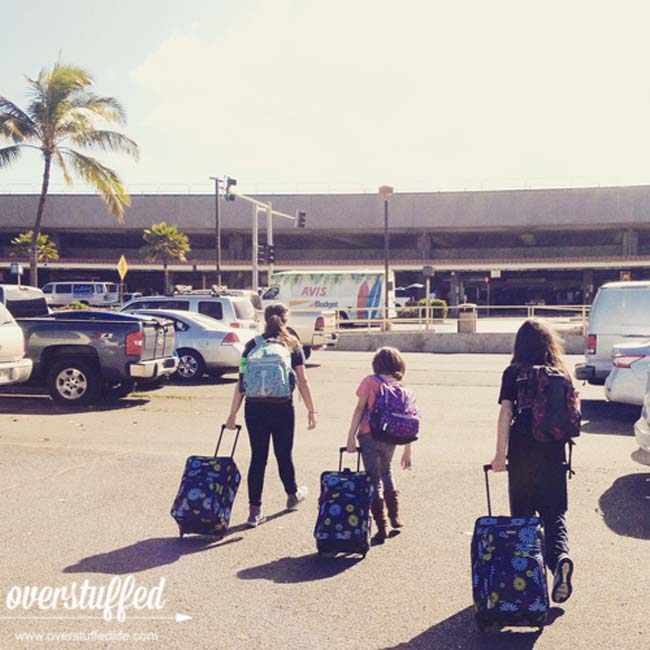 Again, if you don't have the discipline to pay it off immediately, it will be cheaper for you in the long run to just buy the plane tickets up front. Trust me on this.
2. Skip the hotel and rent a condo
My parents actually own a timeshare condo on Maui already, so this part was much easier for us. They came with us on our trip (along with my brother and his kids), and we all stayed in their condo together.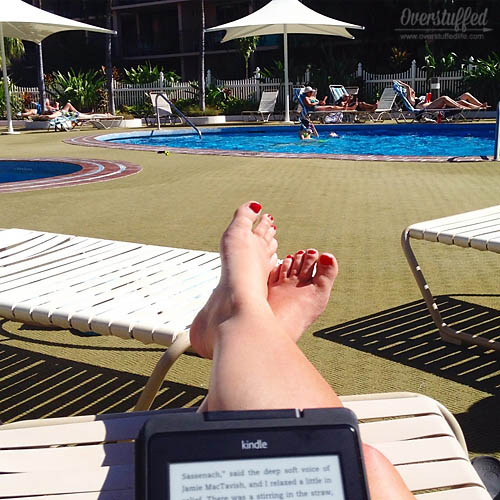 The hotel prices in Hawaii are pretty steep and are almost always the most expensive part of the trip. Many hotels charge "resort fees" on top of the regular fee and those fees can surprise you to the tune of $1000 or so upon checkout. While I am sure there are some good hotel deals to be found, renting a condo or buying up someone's timeshare week is generally the cheapest route to go.
Check sites like www.redweek.com to find people wanting to sell their timeshare weeks. My parents keep their timeshare because they do vacation in Hawaii regularly, but they don't use it every year and sell it instead. I just looked at the website and found several condos in Maui available for as little as $100 a night.
Renting a condo means you'll have access to a kitchen, a washer/dryer, a pool, a grill, beach towels, beach chairs, coolers, and more. Most of these things would either not be available or fall under the "resort fee" at a hotel.
You can also use credit card points to earn hotel points if you'd rather stay in a hotel. Our favorite credit card for earning hotel points is the Marriott Bonvoy Boundless Credit Card.
3. Make your own food
Renting a condo and having a kitchen is a very, very good thing for your budget! Now you can make your own food instead of being forced to eat out for every meal.
As soon as we landed and picked up our rental car, we headed to both Walmart and Costco to do our grocery shopping for the week. We had already carefully planned our menus beforehand (my parents, my brother, and our family each took turns making dinner) and we each purchased what we needed for the week. We did make another trip for extras a bit later in the week, but what we bought initially mostly lasted us just fine.
We prepared our own breakfasts every morning.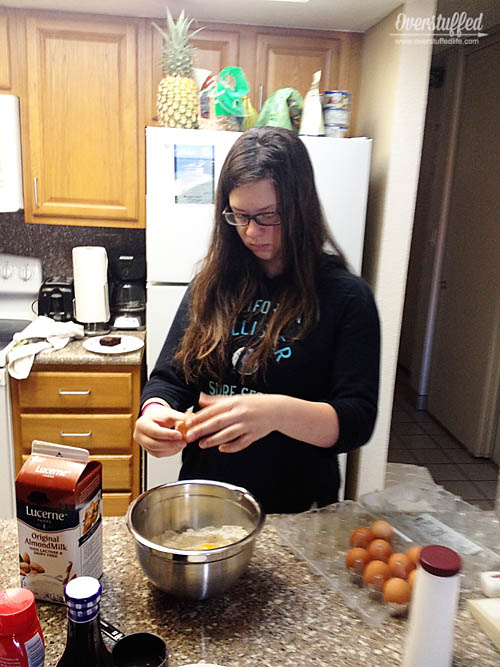 We took bagged lunches to the beach with us every day. Since there was a cooler available in our unit, this was easy to do.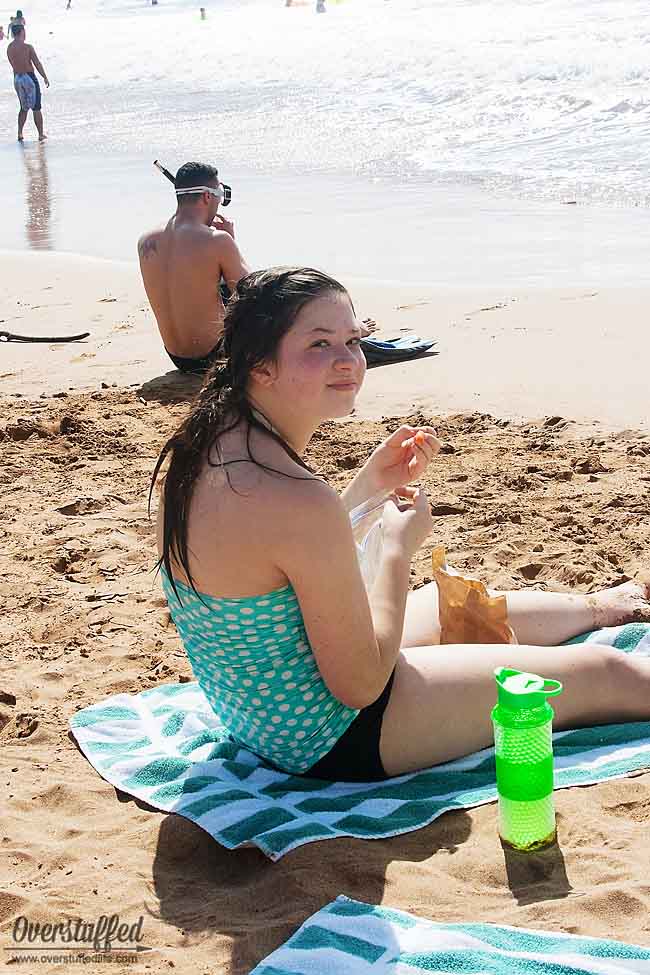 And we made dinner in the condo every day but one. We chose one day to eat out at a nice restaurant, but even that wasn't really necessary. We also could have eaten at one of the many local food places that give you a plate of rice and pork and chicken for a pretty low price.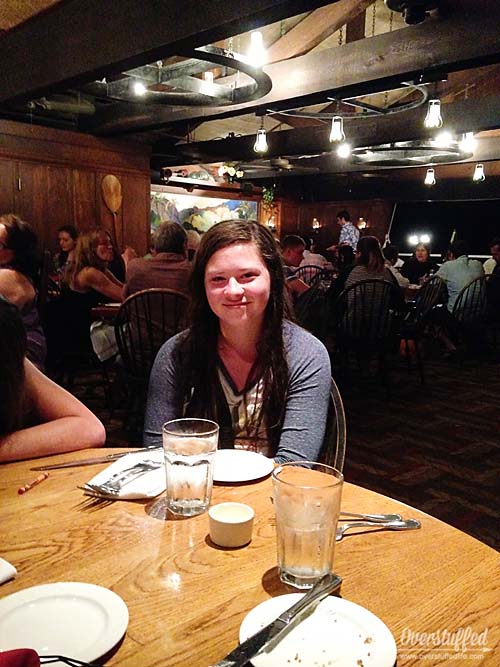 We chose to splurge a bit at Kimo's in Lahaina after a long day at the beach. It was good food, even though my oldest daughter wasn't very fond of her ahi tuna—I don't think she realized exactly what that meant!
4. Bring food with you
Part of keeping the food budget down for us involved bringing our own food. Gluten-free options already cost more on the mainland, and I knew I didn't want to pay Hawaii prices for the gluten-free stuff I would need for our family. We filled half of my daughter's suitcase and part of my suitcase with things like gluten-free granola bars, pancake mixes, and even laundry detergent (Tide pods are super easy to travel with) and disposable goods like lunchbags and ziploc baggies.
5. Spend most of your time at the beach
We've already done a Hawaii trip that involved a ton of touristy activities. We went to an aquarium, took a glass-bottomed boat tour, did a snorkel trip, attended an expensive luau, and more. It was lots of fun, but we learned that mostly we just wanted to hang out at the beach and have fun with the kids.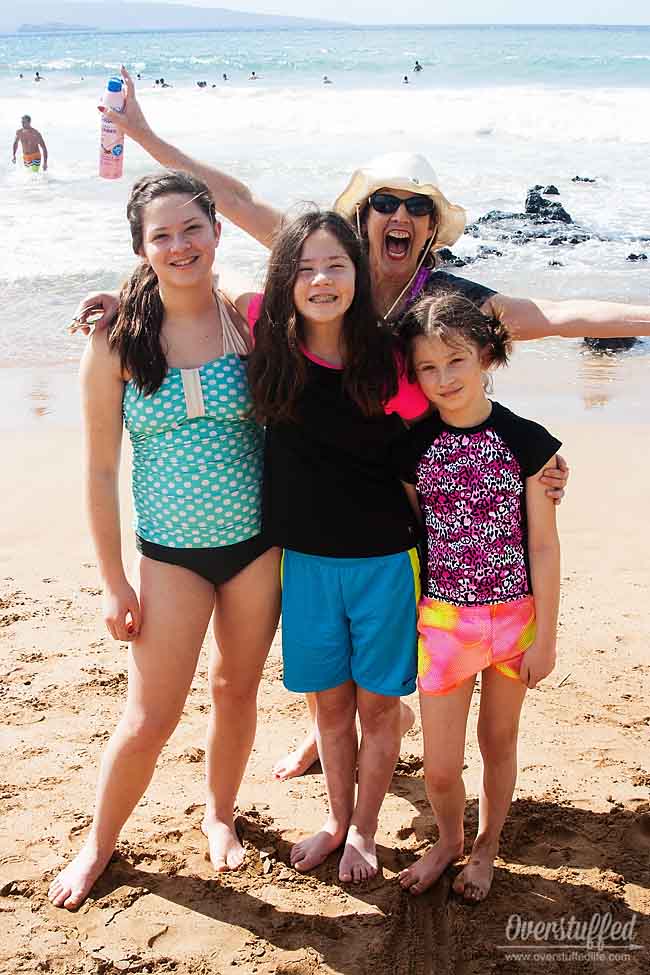 I'm pretty sure the kids were cool with it, too!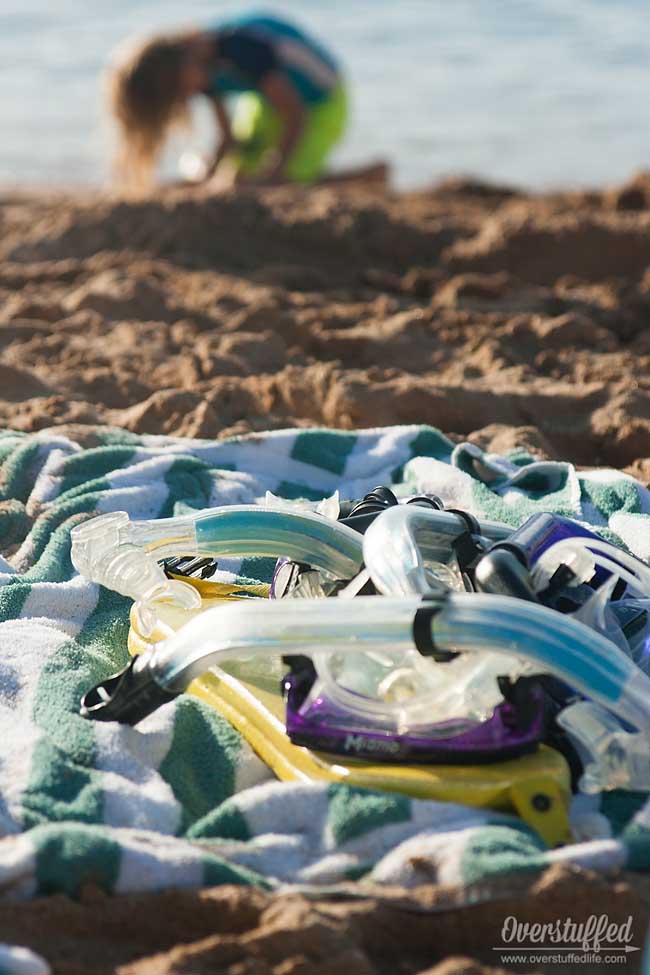 We rented a couple boogie boards and some snorkel gear from Snorkel Bob's and had a wonderful time heading to the beach for several hours each day.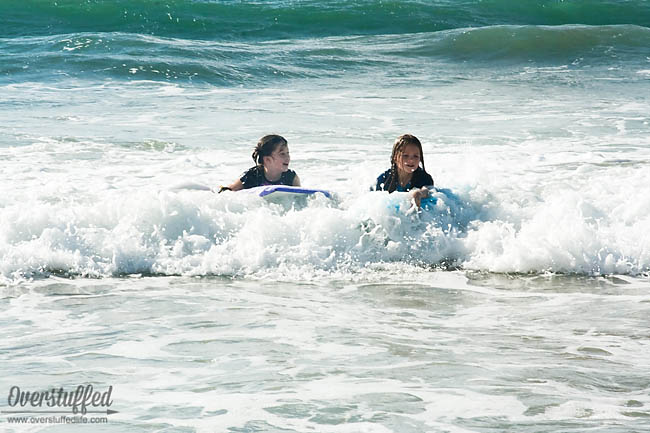 My youngest daughter especially had a blast on those boogie boards. She was a natural!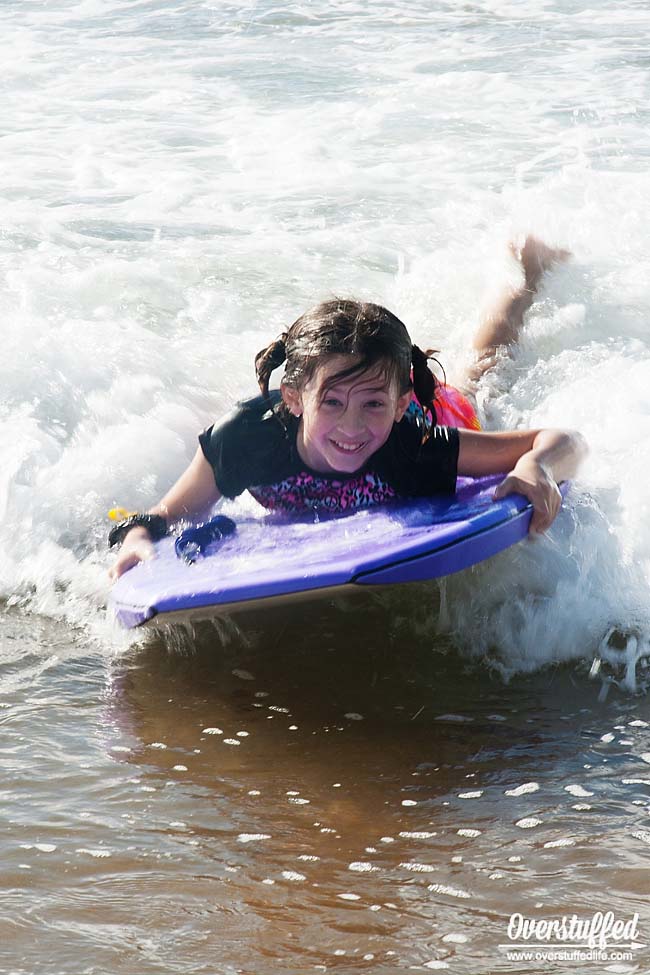 The kids also spent a lot of time playing in the sand. My favorite was the giant sea turtle they worked on for several hours one day. So many people walking by commented on how cool it was.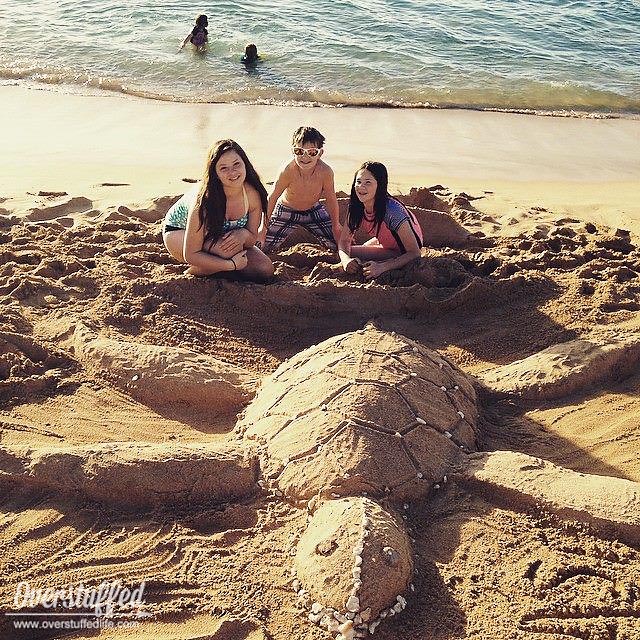 We stayed until the sun went down almost every day. There's nothing quite like sitting on the beach in Hawaii and watching the sun go down as the kids play in the water. So peaceful. So beautiful.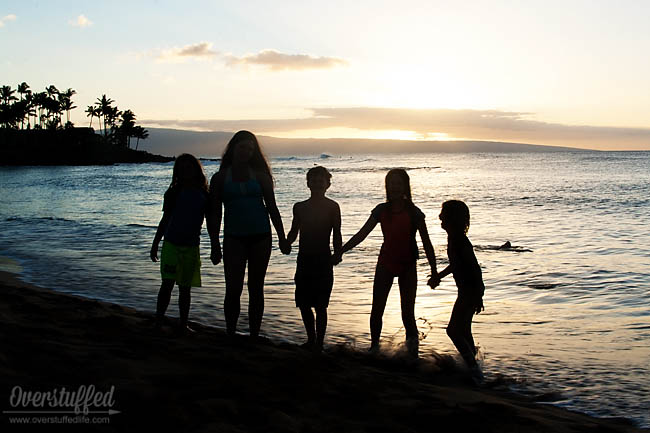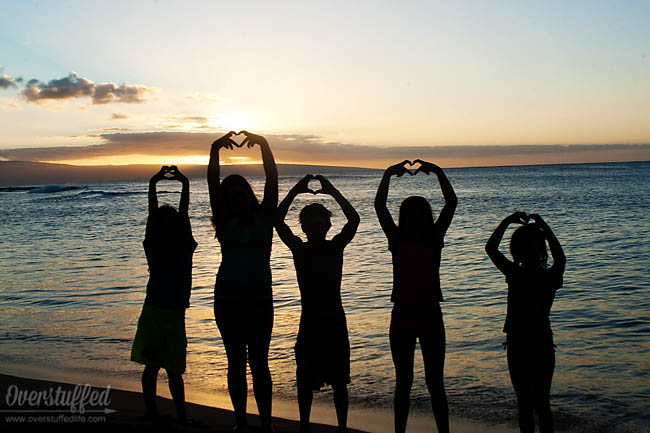 6. Find the deals
We decided to spend money on one big activity. We were able to find a great deal on a whale watch/snorkel trip combo and it was definitely worth every penny. Usually you will see coupon deals advertised everywhere. Just do your homework and compare prices, and you'll be able to find the best deals on the activities you do choose to do.
One place to find great vacation deals is Get Away Today. They offer travel packages to many destinations, but you can also choose "activities only" and it will come up with some good offers for Hawaii or wherever else you plan to go.
Bonus: I know this post is all about Hawaii, but if you are hoping to plan a Southern California vacation, book through Get Away Today and add the promocode "STUFFED10" to get an extra $10.00 off. They are the best place to book if you are planning on Disney, believe me!
As I mentioned above, the one big activity we decided on for this Hawaiian trip was a whale watch and snorkel combo boat excursion. We took a small boat out to Molokini island, and on the way out we were able to see a TON of whales. It was a once in a lifetime, absolutely amazing experience!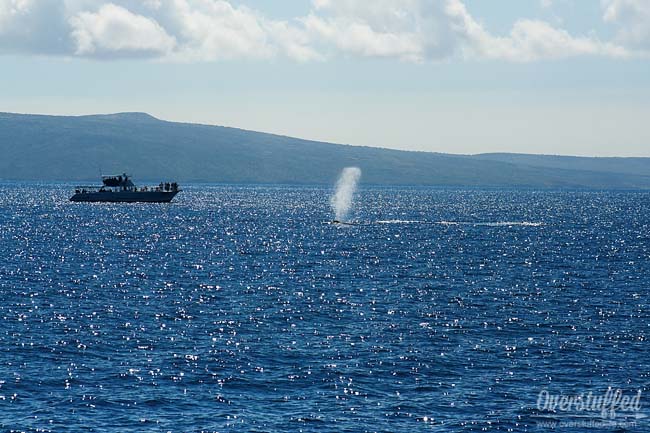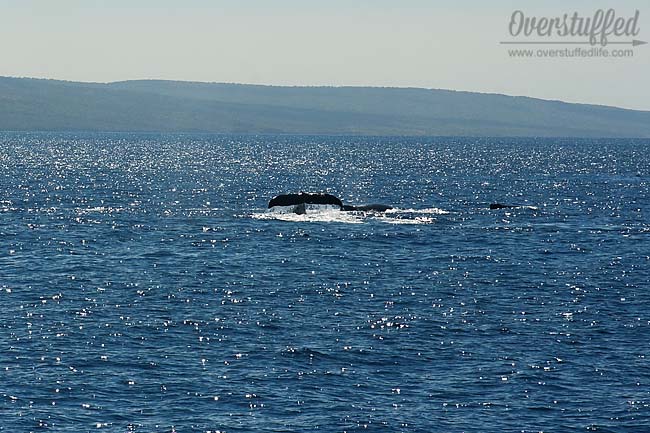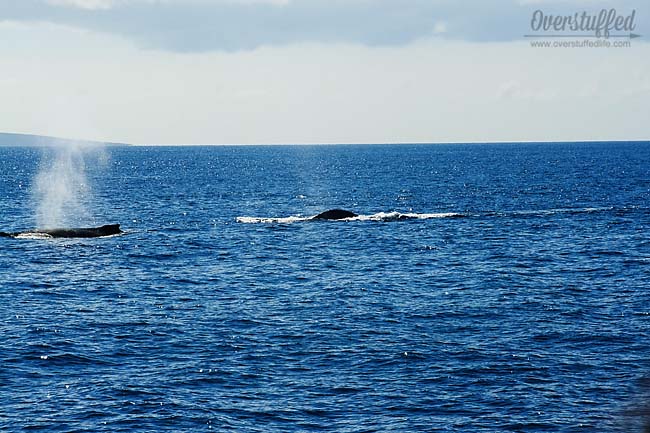 Then, once we were at Molokini, the boat anchored, and we jumped off to snorkel for an hour. My youngest was scared to death at first, even though she'd been snorkeling at the beach for a few days already. Seeing the very open ocean was too scary for her. But she finally got in and held my hand as we snorkeled and saw the amazing tropical fish under the surface.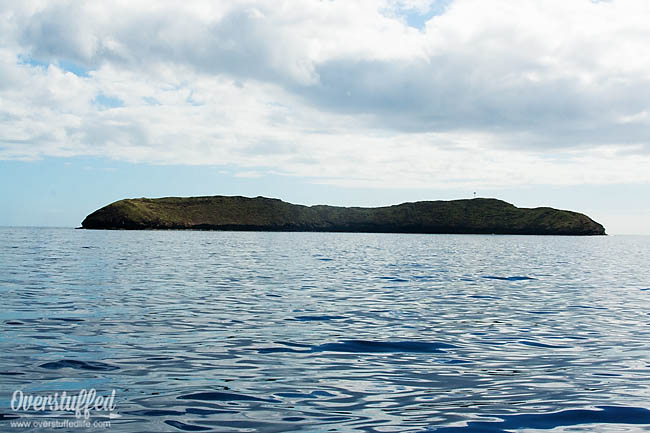 It was a blast for me to watch my kids experience snorkeling. My middle daughter would scream through her snorkel every time she saw something cool, which was about every five seconds. It made me so happy.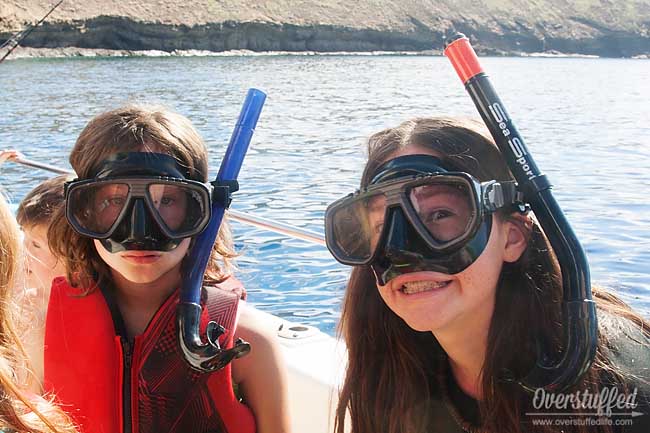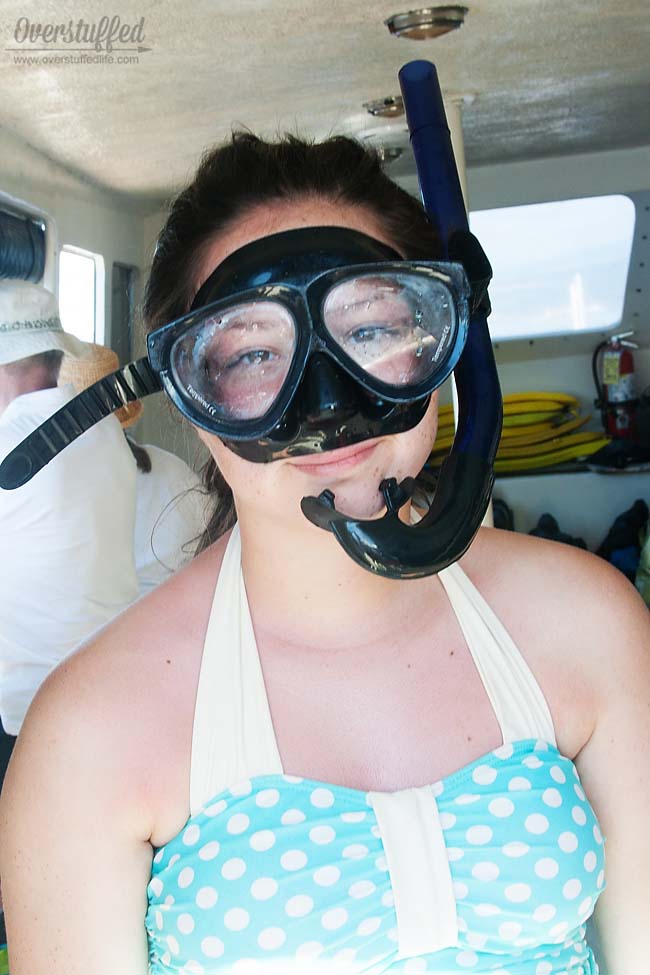 In my opinion, a snorkel trip is the thing to splurge on if you do anything. Whale watching, too, if it's in season.
On the trip back from Molokini, we saw still more whales, and they fed us lunch.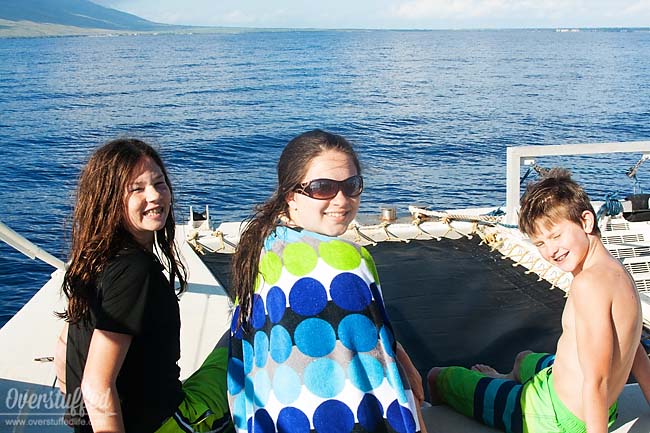 7. Limit your souvenir shopping
We did our souvenir shopping mostly at the ABC stores and at the flea markets. The girls brought their own money for souvenirs and I hardly bought anything. I did buy some muumuus for the girls and a baby gift for a friend.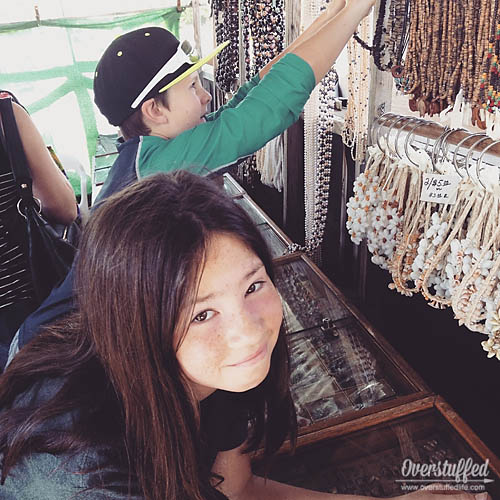 The girls mostly bought jewelry and a few other fun little things. We are trying to go for the experiences instead of the stuff, but a few souvenirs are good to remember the trip by, too.
8. Enjoy your time, because it eventually has to end
This may not be a budgeting tip, but it's the most important tip I have for any vacation. Savor the minutes you have away from real life in a wonderful place like Hawaii. Take lots of photos—they are the best souvenirs—and enjoy the time with your family. Don't stress too much about money or your vacation schedule, either. Hawaii is where you're supposed to Hang Loose and just go with the flow.
I hope you love your trip as much as we loved ours!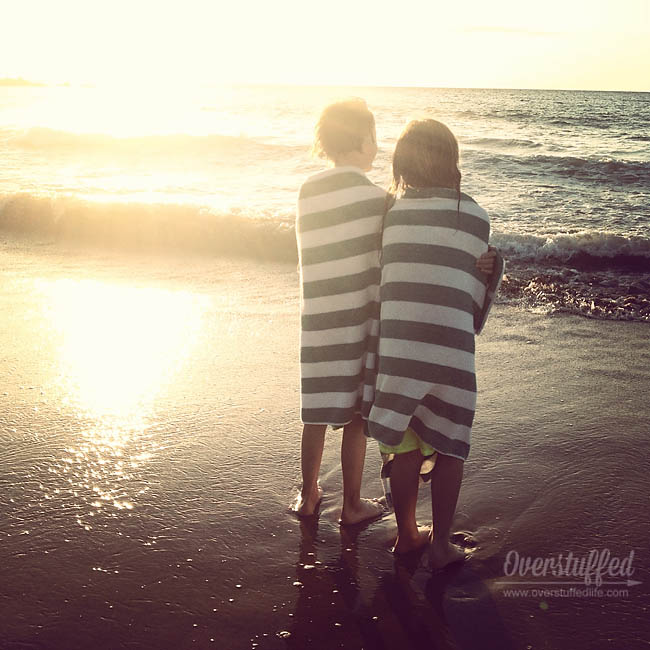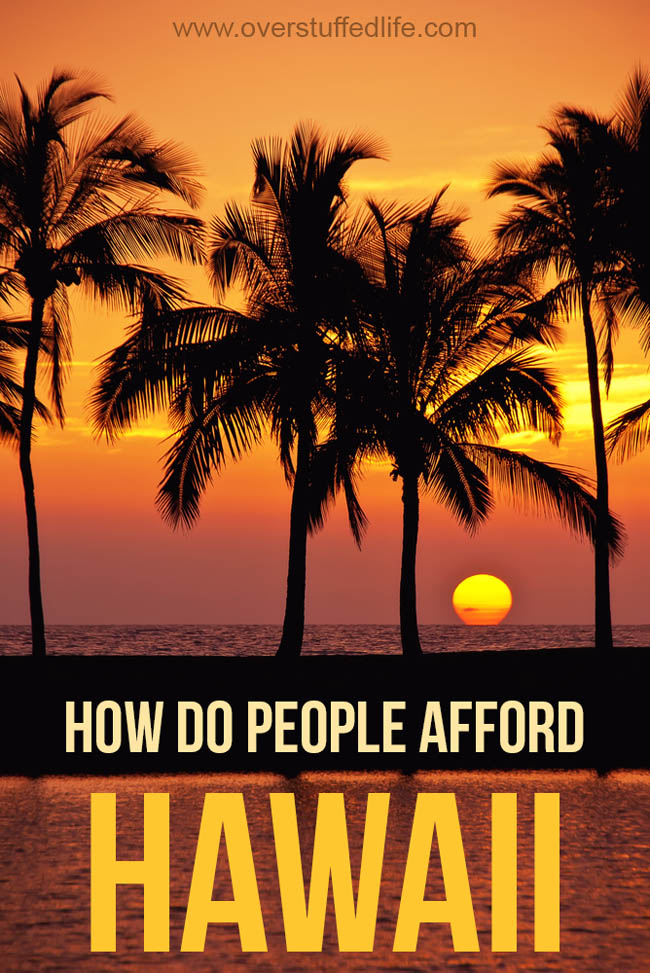 This post may contain affiliate links, for more information, please see my disclosure.