Budget Friendly Things to Do on Mackinac Island
Are you planning a vacation to Mackinac Island on a budget? Here are some great things to do on Mackinac Island that are FREE or cheap to help you save money and still enjoy all the island has to offer!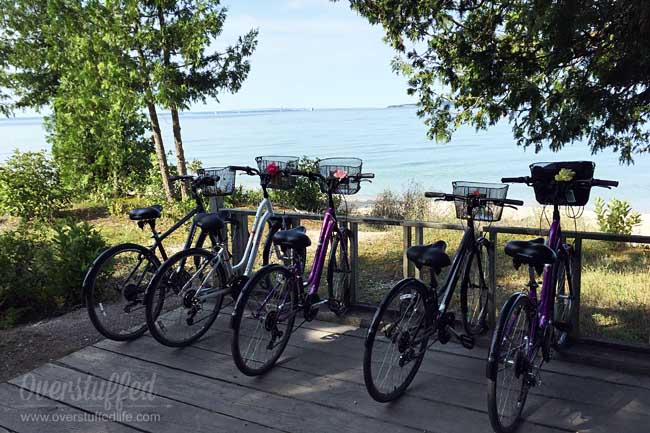 I love Mackinac Island so much. If I were wealthy, I'd seriously buy a summer home there and spend as much time there as I possibly could!
I'm not wealthy, but I do at least live in Michigan, so going to Mackinac Island once or twice a year isn't difficult. It only takes a few hours to drive there for me, so I don't have to worry about travel expenses too much.
However, once on the island, the money can add up quickly. There are lots of things to do, and while some of them are pretty spendy, there are plenty of things to do on the island that are really cheap or even totally free.
I have done all of the things I recommend in this post—all photos included were taken by me on the 6 trips I have taken to Mackinac Island. Did I mention it's one of my favorite places on earth?
Free or Cheap Things to Do on Mackinac Island
Stay in St. Ignace
One of the most expensive parts about your Mackinac Island trip will be the accommodations. There are a lot of really great hotels to stay in, but unless you're able to find a really great deal, they will be pricy.
One way we have gotten around that is to stay in St. Ignace. We are always able to find rooms there that are significantly cheaper than any that are on the island. Sometimes we just stay the first night in St. Ignace to save a little money, and sometimes we spend the entire trip in St. Ignace and take the ferry over to the island every day.
You will want to make sure you look at the cost of ferrying daily vs. the price of the hotel. It might still be worth it to stay on the island when you factor in the cost of the daily ferry. It just depends what room rates you're able to find.
Check mackinacisland.org to find all deals on island lodging.
Travel during the off-season
Just like anywhere else, if you go to Mackinac Island during their Peak Season, everything is more expensive. There are always some really great deals to be had on lodging if you go on the off-season, which for Mackinac Island is May, September, and October.
I have done a couple trips in May and while it is more likely to be cold and rainy, the island is still its beautiful self and I still had a great time.
Another bonus of traveling during the off-peak times is that it will be much less crowded, which is always nice.
Walk/hike the trails
Mackinac Island has over 140 miles of trails throughout the island. Most of them are in the Mackinac State Park, but many of them are close to the downtown areas and are easily accessible.
A couple years ago, my friend MaryFran (my Disney expert!) called me and said she was going to hike all 140+ miles on Mackinac Island and I could come and do it with her if I wanted.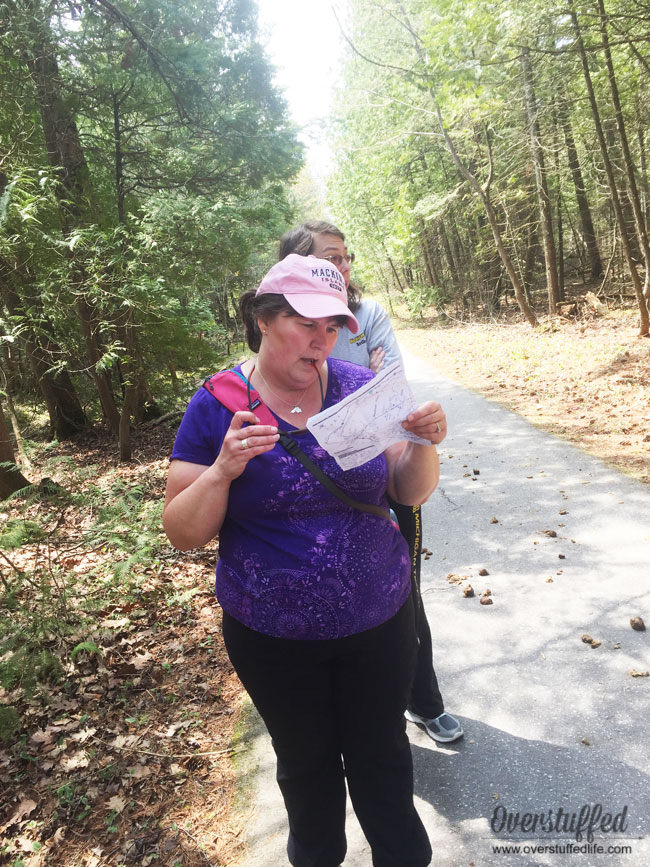 She started right away, and has a map of the island that she has highlighted and marked up to keep track of which trails she's done (see above photo).
I've gone on two trips with her and we knocked out maybe 20 miles between those two trips so there is a LOT more to see—which means a lot more reasons to go to one of my favorite places on earth!
If you love hiking and nature walks, there is no more beautiful place to do it than Mackinac Island—and it's completely free!
Make sure to pick up your own map from the tourism bureau downtown. You can also buy a trail guide for about $1.00 which is definitely worth purchasing.
***The next few items on the list are all great things to find while hiking/walking/biking the trails and roads of the island.***
Sugar Loaf
Sugar Loaf is a 75-foot-tall landlocked rock in the middle of Mackinac Island. It's a pretty cool formation and definitely worth seeing!
It is not a long walk from downtown at all.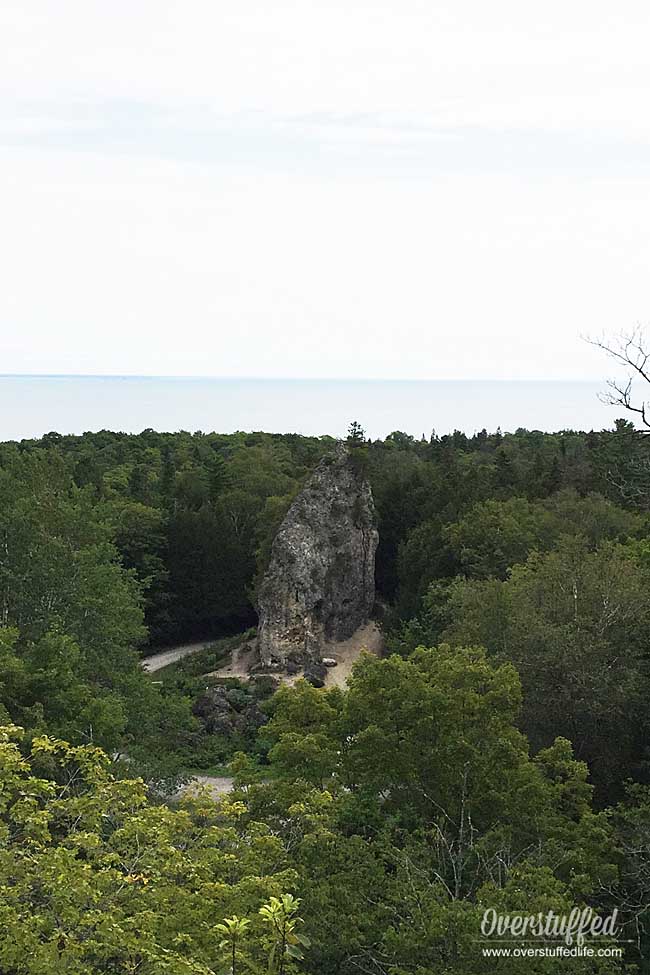 When we hiked to Sugar Loaf we hiked down from Fort Holmes so we were able to see it from above.
Then we hiked down to the rock and ate our picnic lunches there (packing food is another great way to save money on the island!). My girls and MaryFran's girls took some funny perspective photos at the rock, too.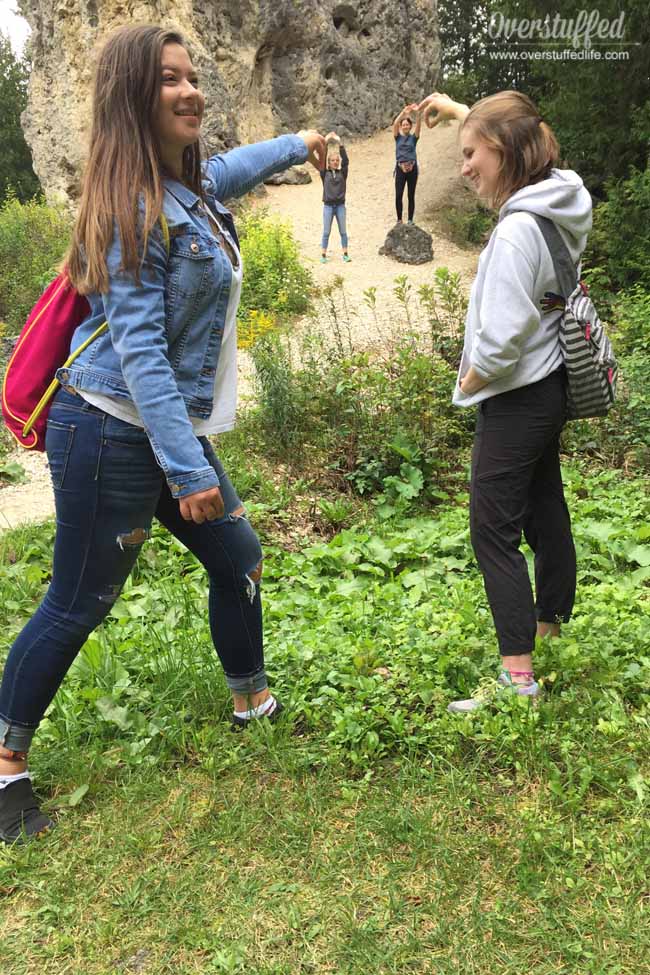 They clearly were having a great time hiking around the island, which made me really happy!
Anne's Tablet
Anne's Tablet is an art nouveau sculpture that was installed on Mackinac Island in 1916. It is a memorial to local author Constance Fenimore Woolson and her first novel, Anne.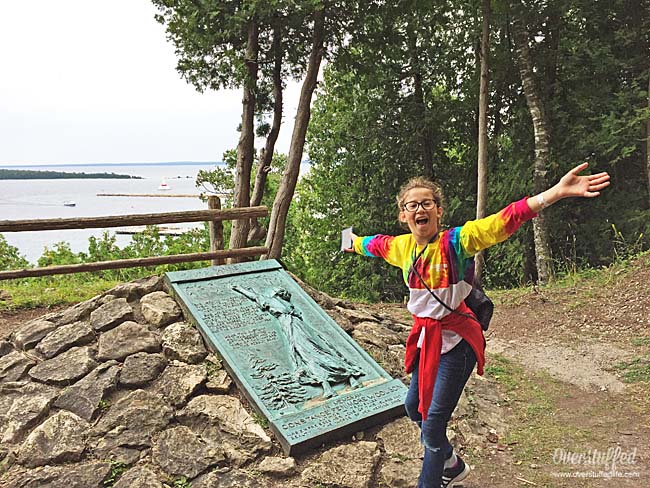 The tablet itself is pretty cool, but the view from the tablet is phenomenal. There are stone benches all around so you can enjoy the vista overlooking the marina and just sit in nature.
There is also a journal hidden in a tree and under some rocks near the tablet for people to write in. It's fun to look through the entries and we always enjoy writing in it ourselves.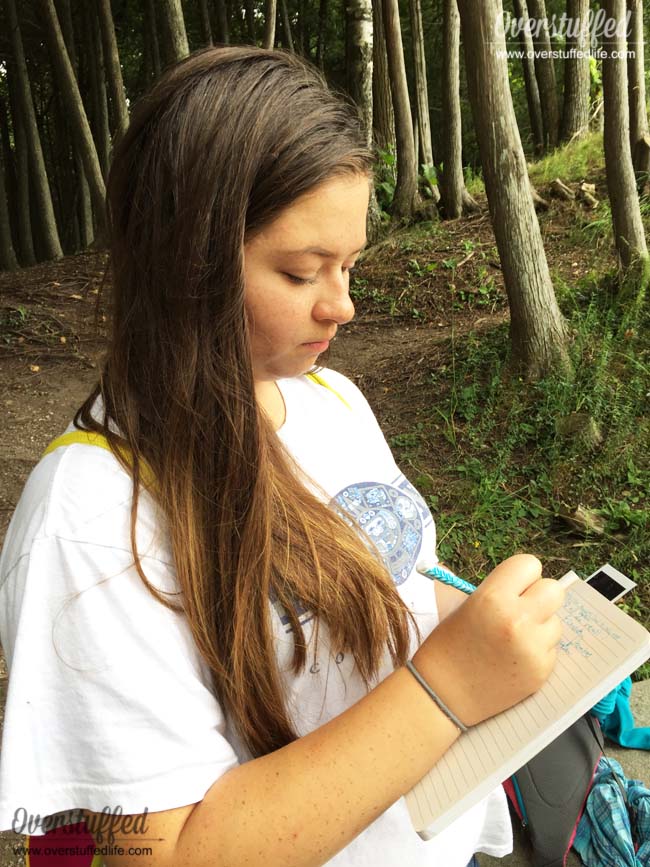 The last time we went, the journal was brand new because the older one had become full and I'm not sure where the older journals can be viewed, or if they can. But it's been a while and I'm sure even the newer one has lots of entries now!
Arch Rock
Arch rock is one of the island's most famous landmarks. It is a natural limestone arch that is 146 feet above the shore of Lake Huron.
You can get to Arch Rock several different ways—you can hike up to it from behind Mission Point Resort, you can bike or walk to it on M-185 (the highway that goes around the exterior of the island) and climb the stairs, or you could take a carriage tour which always stops at Arch Rock.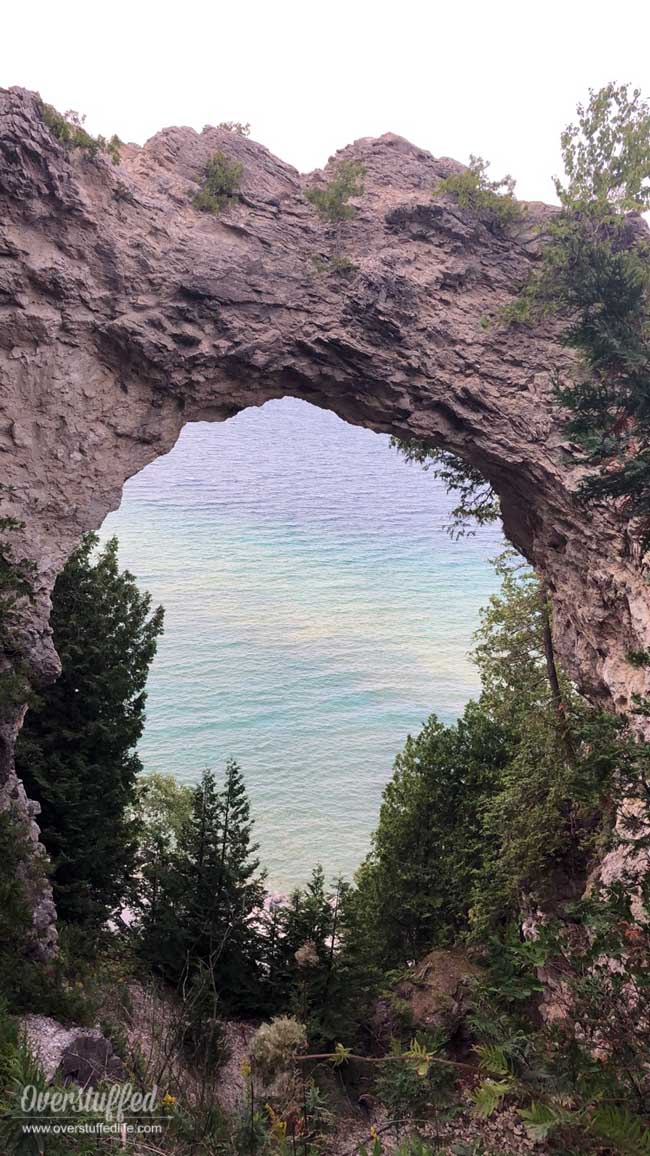 I've done it each way, and they are all a great way to see this site. The only truly free way to do it is to hike from behind Mission Point or to walk along the highway and climb up.
The view from the top is another magnificent view that isn't to be missed.
Once, we saw a marriage proposal written in rocks just below the Arch—it would have been pretty cool to see it right when it happened!
Skull Cave
Skull cave is a small cave that has interesting stories behind it. If you go on the carriage ride, your tour guide will tell you all about those stories, but you can just as easily look them up yourself.
It is a short walk from downtown.
Somewhere in Time Gazebo
If you are familiar with the movie Somewhere in Time starring Christopher Reeve and Jane Seymour, you know it was filmed on Mackinac Island. While the Grand Hotel is the biggest landmark from the film, there are a few others hidden around the island.
One of the favorites is the gazebo which is located on Anne's Tablet trail in the middle of the state park. It's kind of tucked away but if you know where to look, you will easily find it.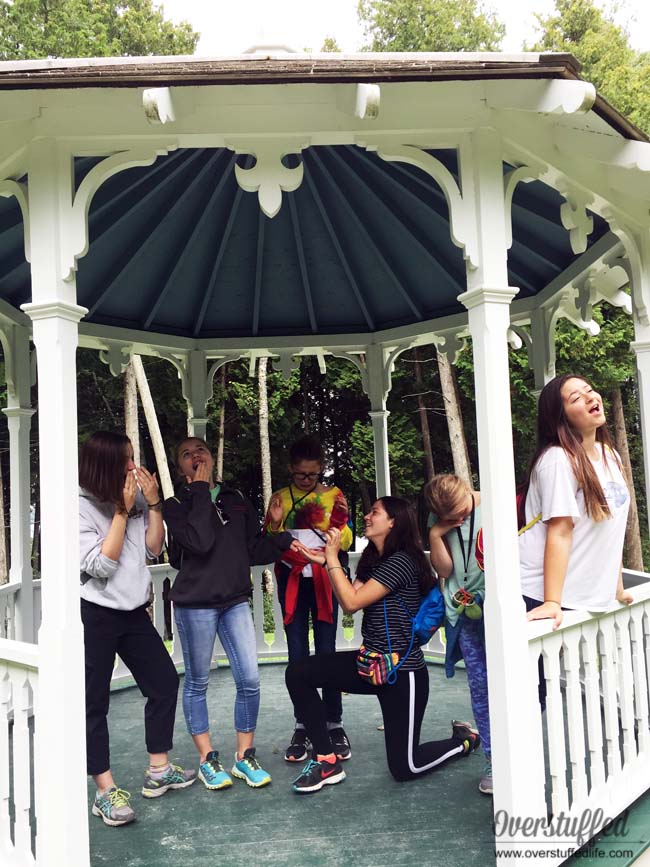 When we went with our daughters and their friends, they all had some fun doing romantic photoshoots in it. You can also book a wedding in it—pretty cool for Somewhere in Time fans!
British Landing
British Landing is a beach area about 2 miles from downtown on M-185. We have always biked to it, but you can also walk.
Historically, British Landing plays an important role in the War of 1812 and the surrender of Fort Mackinac. You can view some of the historical information there, plus a cannon!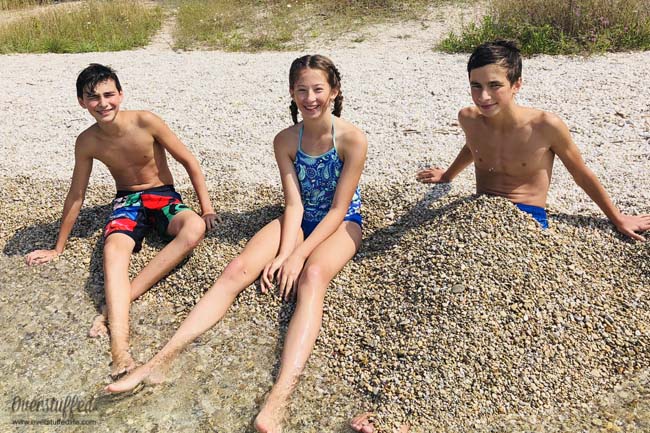 When we are at British Landing, we love to stop at the beach for a while and enjoy the view, and sometimes even swim if it is a nice day. There are public restrooms nearby where you can change into swimsuits if you decide you want to get in the water.
It's a rocky beach full of beautiful, smooth, white rocks so don't expect sand! The rocks have their own allure, though, and my children love throwing them into the lake.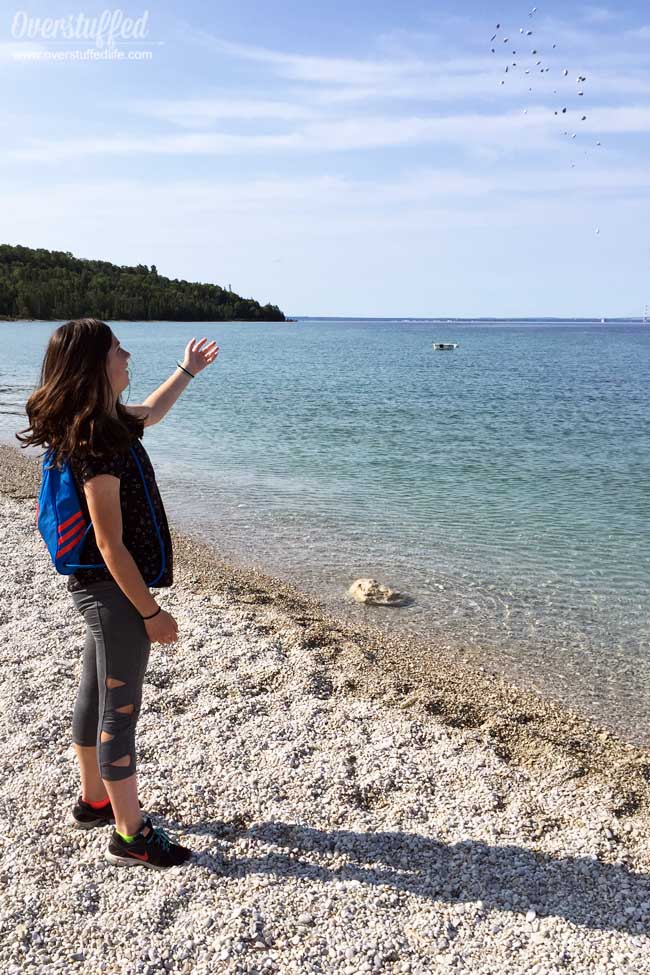 There is a lovely view of Mackinac Bridge from British Landing, too, and there are always lots of boats and ships to watch.
Fort Holmes
Fort Holmes (also known as Fort George) is a small fort made of earth and wood at the highest point of the island. It was built during the War of 1812 as a way to help defend Fort Mackinac.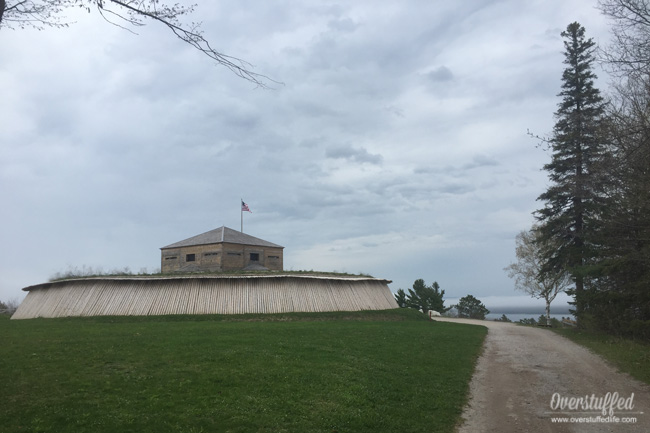 Fort Holmes was just recently restored by Mackinac Island State Park in 2015, and I hiked to it for the first time in 2017.
They have done a really nice job with the fort. There is no admission fee, and while there are also no live demonstrations, there are plenty of interpretive panels inside where you can learn all about the Fort and its role in the War of 1812.
Again, my girls and their friends always have a great time doing funny photos at historic sites.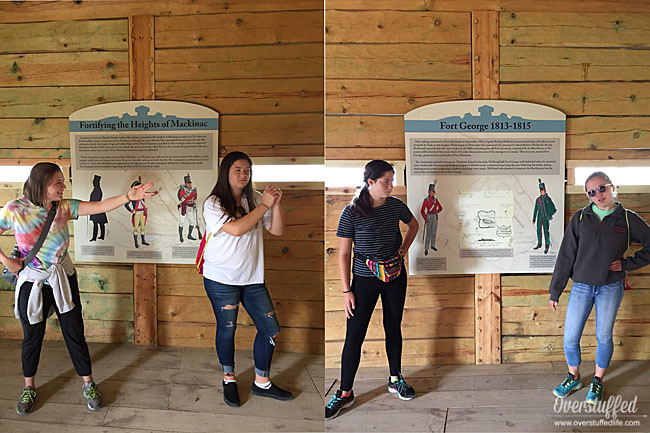 And since it is located at the highest point of the island, the view of the Straits of Mackinac is absolutely gorgeous! This is another point we have stopped to have a picnic lunch—there are picnic tables nearby—because the view is worth sitting and enjoying.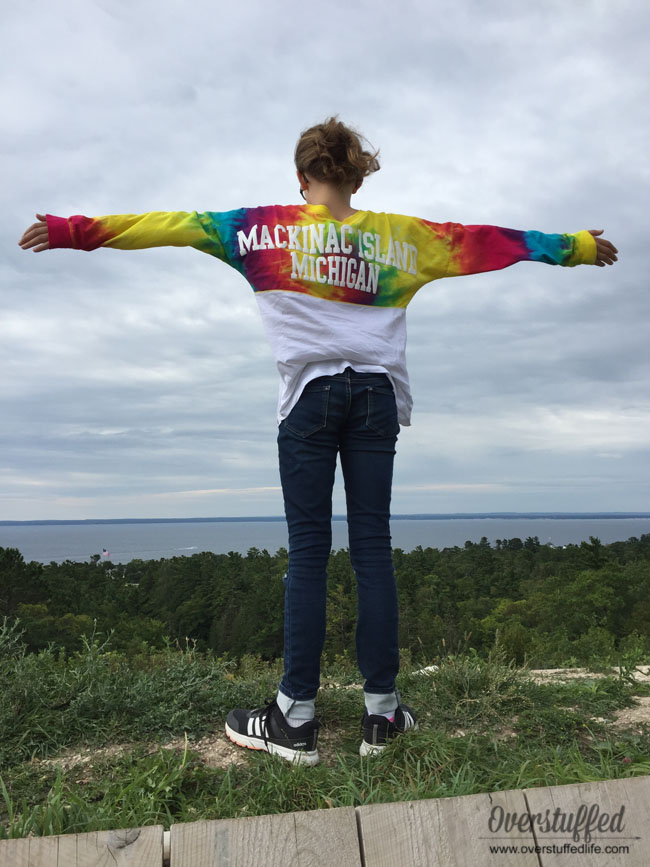 Surrey Hills Square Carriage Museum
This museum shows various types of carriages that were used on Mackinac Island through the years.
If you pay for the carriage tour of the island, you will stop here, but is free to the public if you prefer to walk up to it.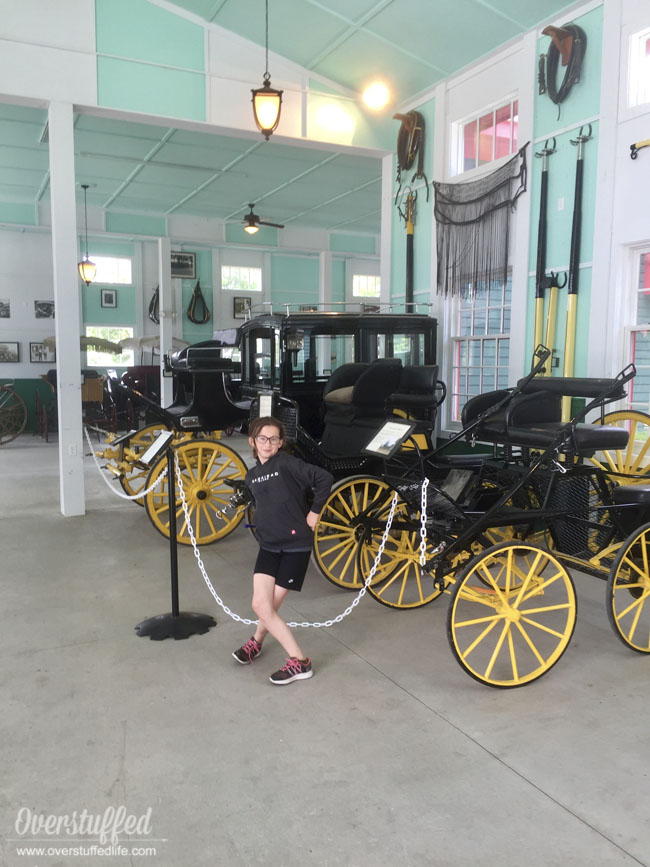 It isn't a very big museum, but I always find looking at the different carriages really interesting. There are also gift shops and a couple food venues (think hot dogs and candy mostly) available.
Letterboxing
Letterboxing is something our family really loves doing and there are quite a few letterboxes hidden on Mackinac Island. The below photo is of my oldest daughter finding a letterbox on our very first trip to Mackinac Island in 2010.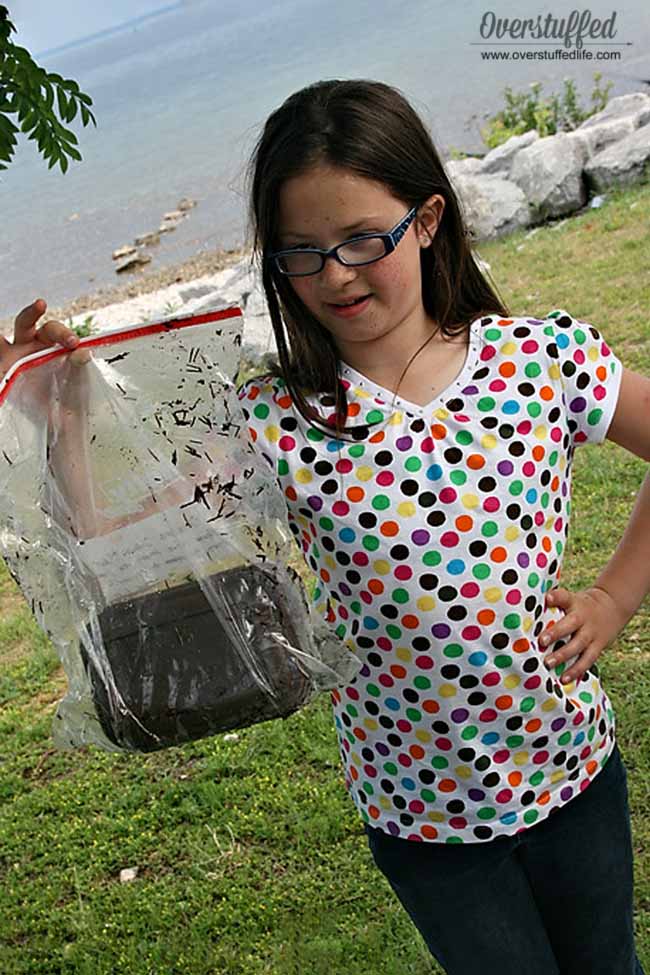 We have found all of the letterboxes on the island, except one. We've looked for it a few times but I think it must have been moved or taken. Looking for them has allowed us to hike or walk many of the trails on the island with purpose—my girls went through a period of really loving letterboxing so it was a great way to get us outdoors and seeing lots of new places!
Letterboxing is always free, you just need a few supplies initially. You can read all about how to get started with this fun family activity here: How to go letterboxing.
***The rest of the items on this list are not free, but can be done for cheap and are things I highly recommend doing while on Mackinac Island.***
Bike around the island
If I had to pick a favorite activity to do on Mackinac Island, I wouldn't even have to think about it. It's definitely biking around the island.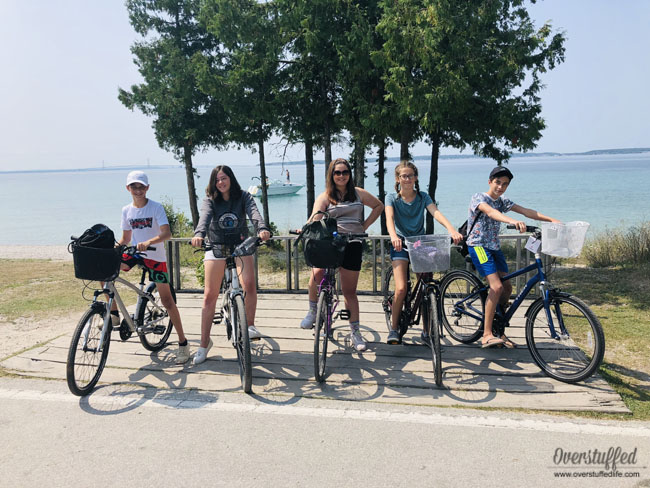 Sometimes you can get a free bike rental along with your hotel stay, which I have done a couple of times when staying at Mission Point Resort. But even if you can't find a deal like that, bike rentals on the island are reasonable.
We just rent our bikes for the time it takes us to ride the 8.2 miles around the island with a few stops at British Landing, Arch Rock, and a couple nature trails. It usually takes us about 2.5 hours to do and is approximately $100 for our family of 5.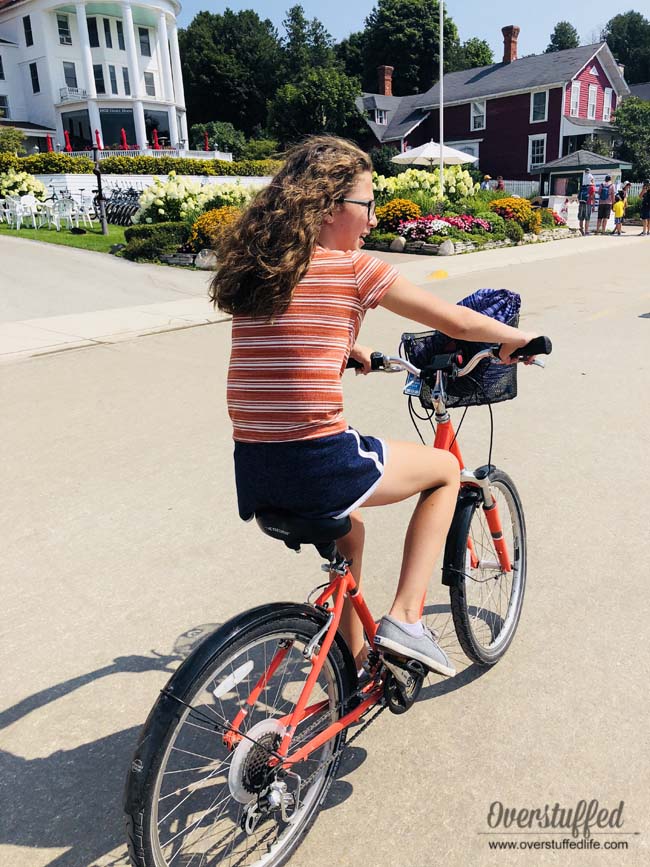 All of the shops have things like tagalong riders and bike trailers available for rent if you have young children who can't ride their own bicycle yet. I've even seen people put their dogs in the trailers! I also love how all the bike rentals have baskets so you have somewhere to put all your things while you're riding.
If you would like to bring your own bike across on the ferry, that will cost $8-$12 per bike, depending on the ferry company you use. This might work great if you already have a bike rack on your car—plus you would have your bike available to you the entire time you are on the island.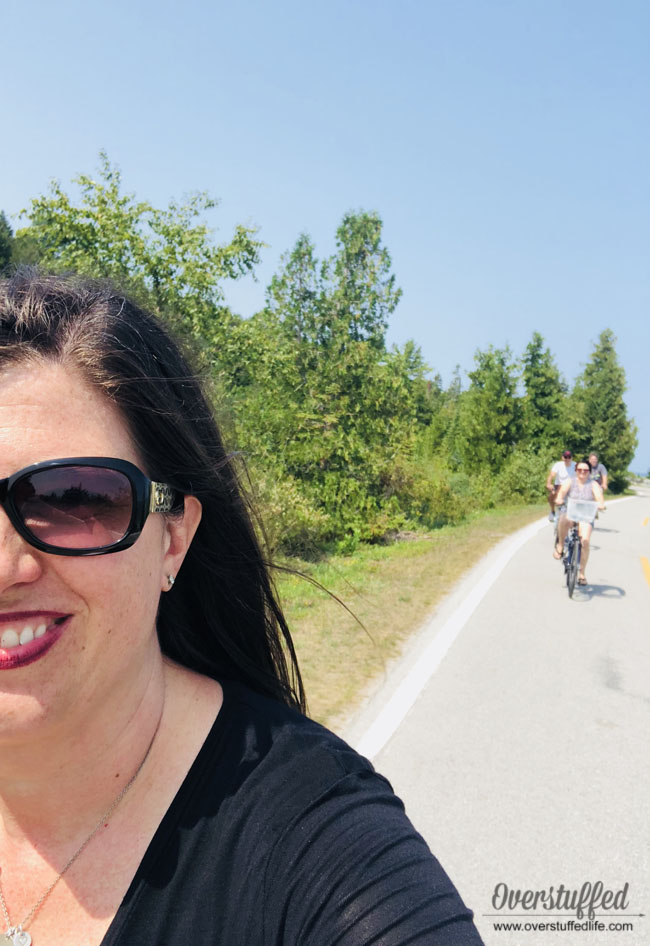 I admit I don't always wear a helmet while biking the island, but I sometimes remember to pack them with us. If you are a stickler about the bike helmets, make sure to bring your own so you don't have to rent.
You can sign up to receive special offers for bike rentals here: Mackinac Island bike rentals.
Butterfly House
There are two different butterfly houses on the island, but I have only gone to the original Butterfly House.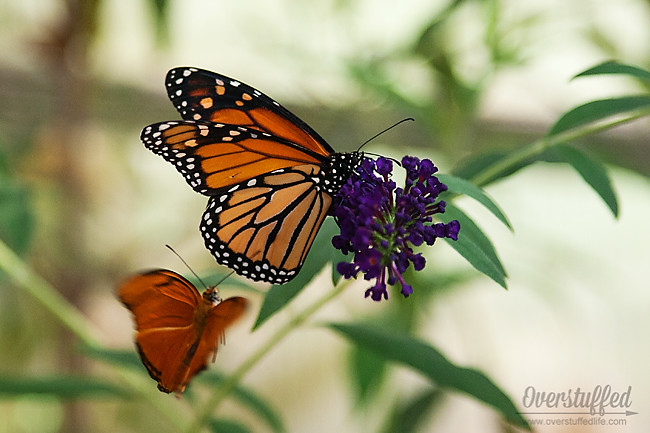 My girls love going—it's so fascinating to watch the butterflies and learn about the different varieties. They also have an area where you can see the cocoons and watch some new butterflies emerge.
The rates are $12 for 12 & up, $8 for 5-11, and free for 4 & under. That said, we always purchase a package with our ferry tickets that includes a visit to the Butterfly House at a discounted rate.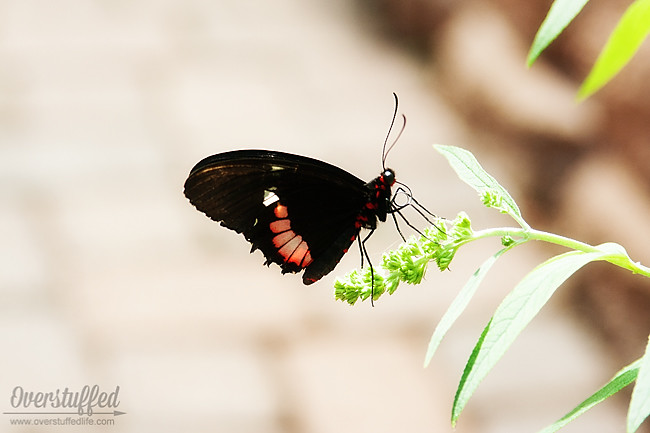 Read more about what I think of the Butterfly House here: Mackinac Island Original Butterfly House.
I actually have brought my dSLR to the island a few times and gotten good photos of the butterflies, but usually I don't bother.
The Grand Hotel
The Grand Hotel is definitely one of the gems of Mackinac Island. It's the first thing you notice when you come in on the ferry and it is truly beautiful.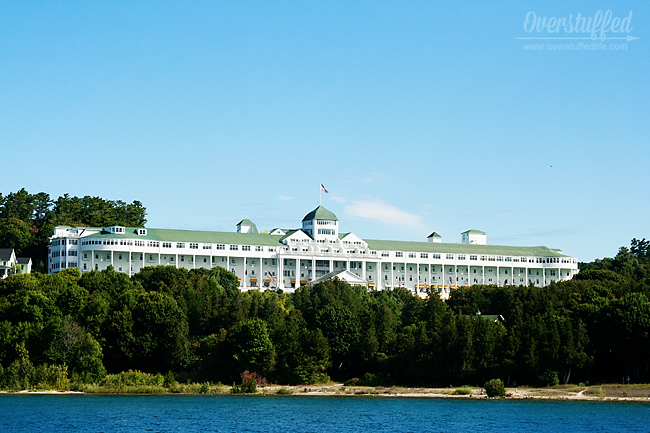 However, to stay in the Grand Hotel is a pretty penny! But you can still see it a number of different ways.
You can pay a $10 admission fee to see the hotel and enter the grounds. I have never actually felt the need to do this yet, but I am sure I will eventually.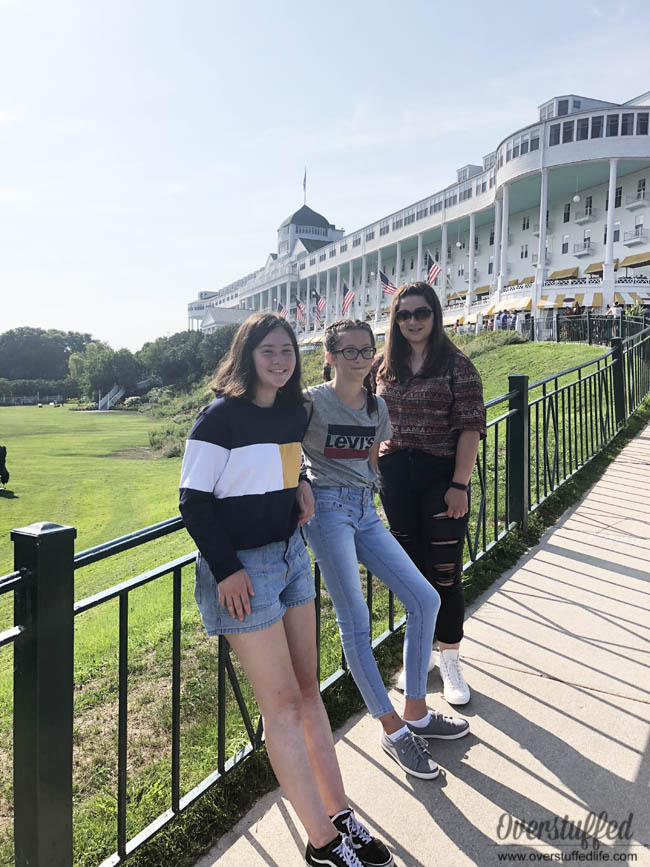 The hotel and part of the grounds is easily visible from the street, and that has been enough for us thus far.
Non hotel guests can enter the gift shops to buy a souvenir.
Non hotel guests can eat at the hotel. Be aware you must dress for dinner and the meals are spendy—per person rates are $30 for breakfast, $50 for lunch, and $85 for dinner. Again, I have not chosen to spend my money on this, but the option is there.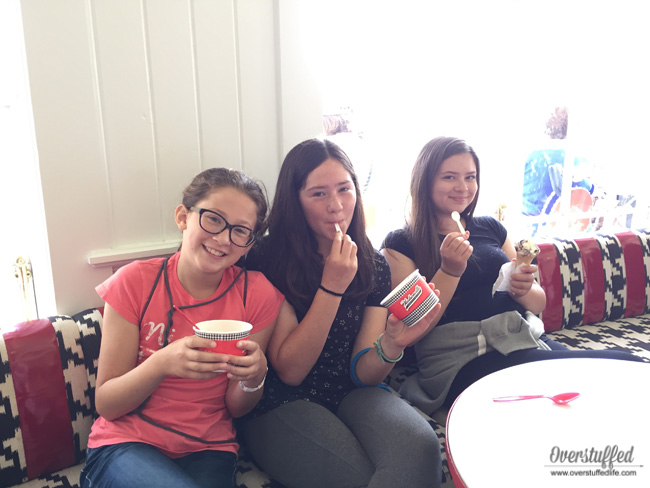 The way we usually choose to visit the Grand Hotel is via Sadie's Ice Cream parlor. It is open to the public, part of the hotel, and it's really good ice cream to boot! The ice cream is much cheaper than dinner at the Grand, but slightly higher than a run-of-the-mill ice cream shop.
Fort Mackinac
If you are a history buff you really won't want to miss Fort Mackinac.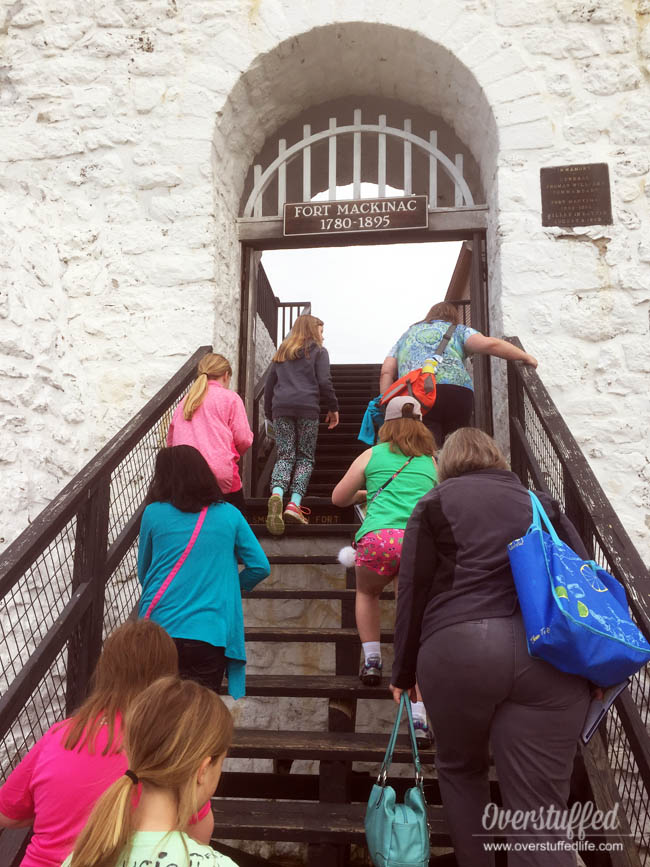 They have wonderful educational displays and reenactments, including the firing of the cannon. I learned a ton about fur trading and the War of 1812 from visiting it and the other historical sites downtown that are included in the entrance fee.
The rates are $13.50 for 12 & up, $7.50 for 5-11, and free for 4 & under.
Just like the Butterfly House, you can usually find a package with your ferry ticket that includes Fort Mackinac tickets. Many hotel packages also offer tickets to the fort at a discount.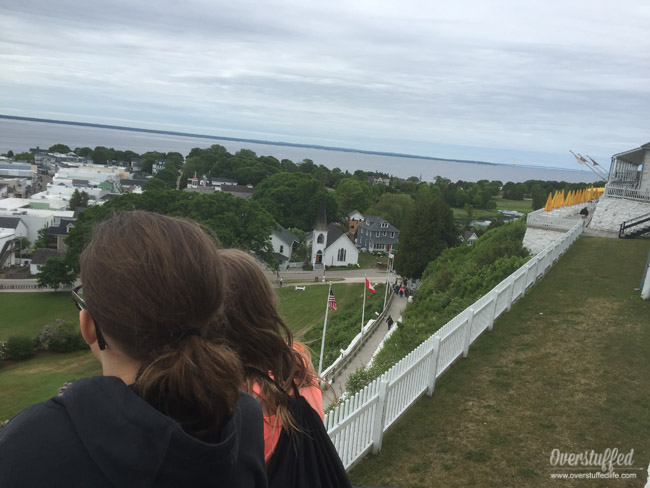 *******
If you are hoping to visit Mackinac Island, don't let money stop you. There is so much to do on the island that fits into a low budget vacation. If you do everything that I have listed here, you will be kept busy for several days and will spend very little money!
Food is an entirely different issue, so I will be addressing that in a separate post soon.
Happy travels!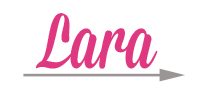 This post may contain affiliate links, for more information, please see my disclosure.