The Original Butterfly House on Mackinac Island
The Original Butterfly House is a fun family activity that you won't want to miss while vacationing on Mackinac Island!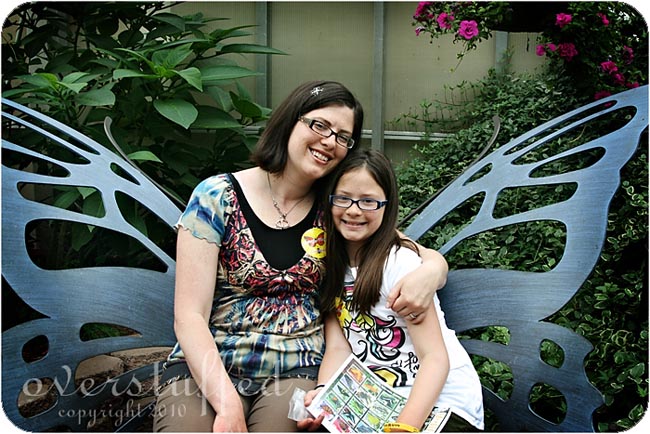 My first visit to Mackinac Island was in 2010 with my eldest daughter's girl scout troop. I fell in love immediately and couldn't wait to get back!
One of our favorite things we did on Mackinac Island was go to the Butterfly House.
It was so much fun to see all the butterflies so up close and personal. They landed on a lot of us, too, including me. My daughter was a little disappointed that she never had a butterfly land on her, but she still thought the Butterfly House was probably her very favorite part of the trip.
I have since been back to the butterfly house 3 or 4 more times (it's hard to keep track!), and I love it every time I go. Here's an idea of what you will experience if you head to the Butterfly House on your Mackinac Island vacation.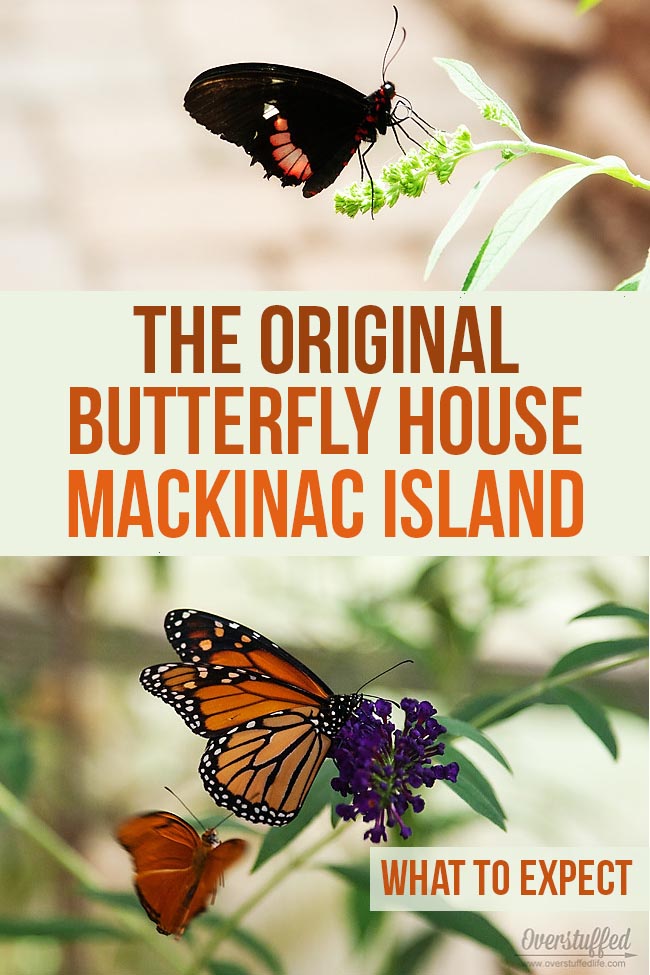 What to expect at the Original Butterfly House on Mackinac Island
Cost to enter the Original Butterfly House and Insect World
The entrance cost is reasonable, but can add up if you have a large family with older kids.
As of 2023, the Butterfly House rates are:
12 & over: $14.00
5-11: $9.00
4 & under: Free
There are also group rates available. Check the website to find those: Original Butterfly House
We often get our Butterfly House tickets in combination with our ferry tickets or hotel package. Make sure you look for those options when you are booking.
Your Butterfly House ticket is good for unlimited visits the entire time you are on the island. If it ends up being something your family really loves, this is a great deal!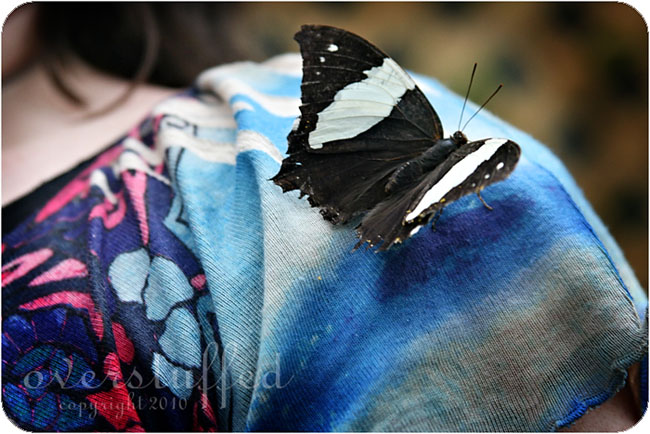 Butterfly Identification Chart
Every guest receives a butterfly identification chart to take into the butterfly room—you can turn it in at the end or keep it as a souvenir.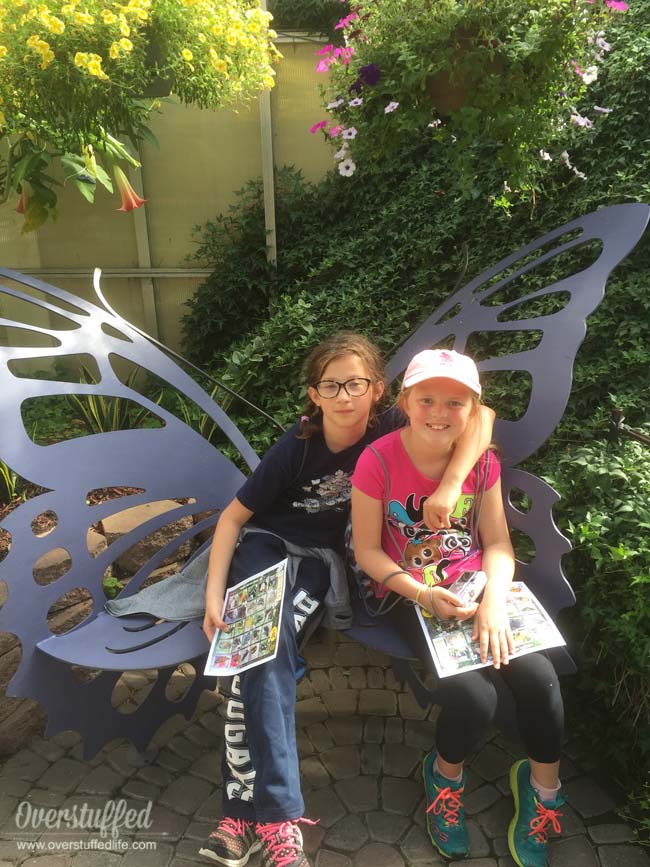 I've gone with two girl scout groups and with my own children, and this chart is a big hit for the kids. They really love being able to figure out the names of the butterflies they are seeing.
There are many types of butterflies flying all around you in the butterfly garden. There are usually around 800 total butterflies in the garden at any given time.
Here are some of the butterflies you might see at the Butterfly House—identified with the help of the chart:
Pollen covered butterfly
I must have forgotten to write down the actual name, but one of the distinguishing features of this type of butterfly is that it is always covered in pollen.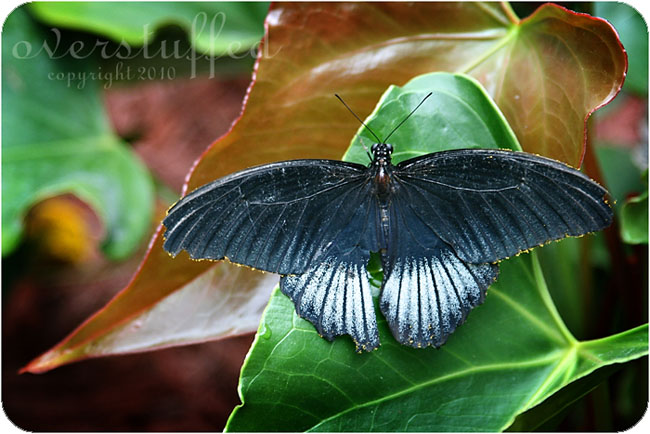 Monarch butterfly
This butterfly is pretty familiar to most of us already. There are some beautiful monarch specimens at the Butterfly House.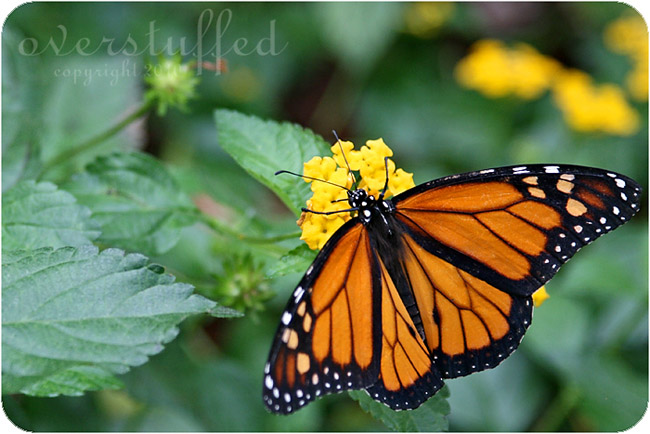 Golden Helicon butterfly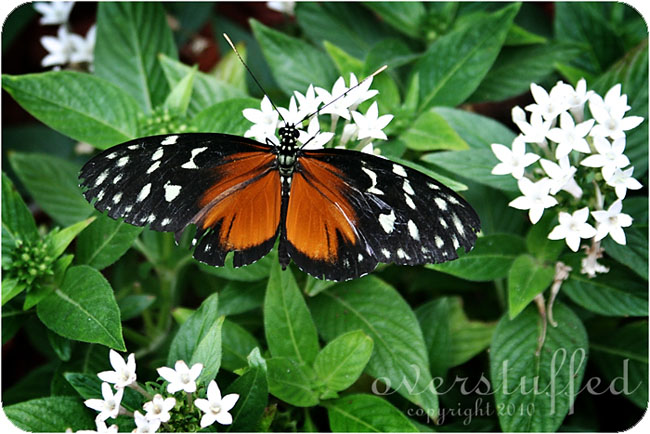 Red Doris butterfly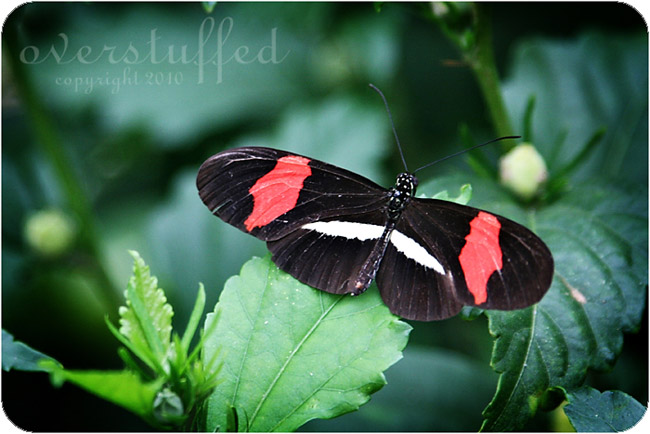 Giant Owl butterfly (blue morpho)
This is my favorite butterfly at the Butterfly House. They fly super fast, and when their wings are open, you see the bright blue inner part of the wings. When they land, their wings are almost always closed and they look like the eyes of an owl in order to scare off predators.
They are so fast, the blue is hard to catch on camera!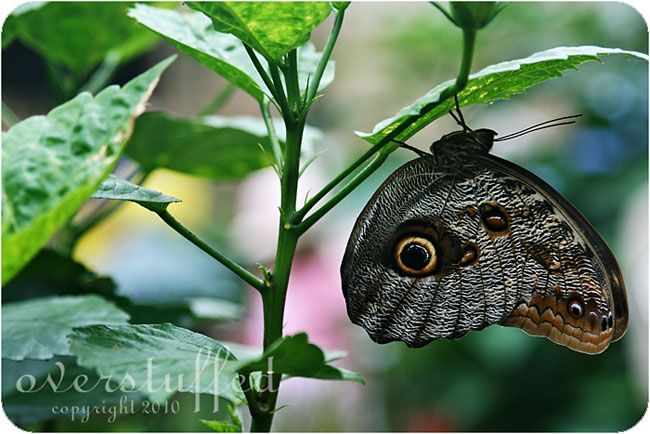 Butterfly birthing chamber
When you first enter the Butterfly House, you will go through a room that has a tank full of butterfly pupae. You will be able to watch butterflies emerge if you wait long enough, as there are new ones emerging every day.
Insect World
After you go through the butterfly garden you will enter a room full of interesting insect specimens. My kids particularly enjoy the beehive. It's fun to look for the queen bee and to watch their behavior.
There are also other animals present like frogs, lizards, snakes, and turtles.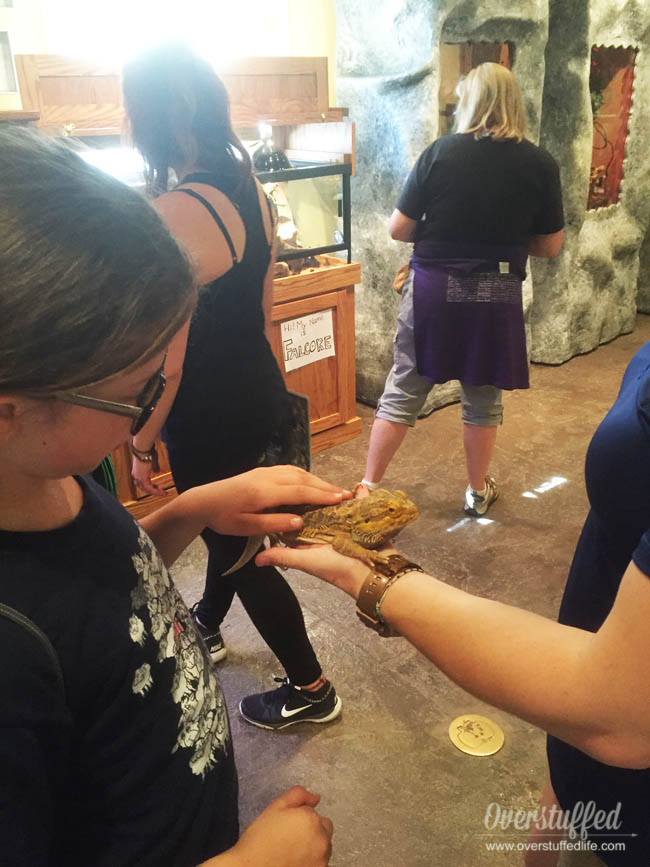 There is usually an employee around to help explain all of the different insects and animals you will see. If you are lucky, they might even take one of the lizards out of the tank and let you pet it!
Gift shop
Of course there is a gift shop. I like the Butterfly House gift shop because it has a lot of educational products. But like most gift shops, it can be on the spendy side.
We don't generally buy souvenirs for our kids—they are given a bit of money that they can spend with their own discretion. I know we have had a few things here and there from the Butterfly House—their souvenirs are definitely popular with my kids!
*****
You and your families will love the Butterfly House when you visit Mackinac Island. Be sure you budget enough time and money to add it to your vacation plans.
It can get quite crowded during peak season—we did not even go the last time we were on the island because they can only let a certain number of people in at a time and there was quite a line waiting outside.
If you are visiting during a busy time on the island, I suggest you do the Butterfly House first thing in the morning in order to avoid big crowds and long waits.
It's worth it.