Mackinac Island Girls' Trip: Everything You Need to Know

Looking for a great place for your girls getaway? Try a trip to historic Mackinac Island!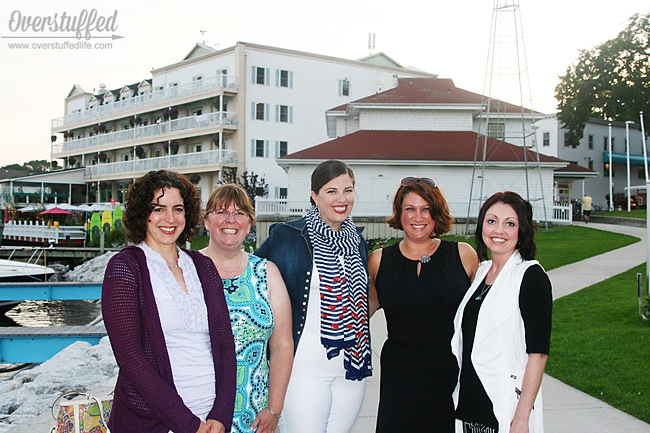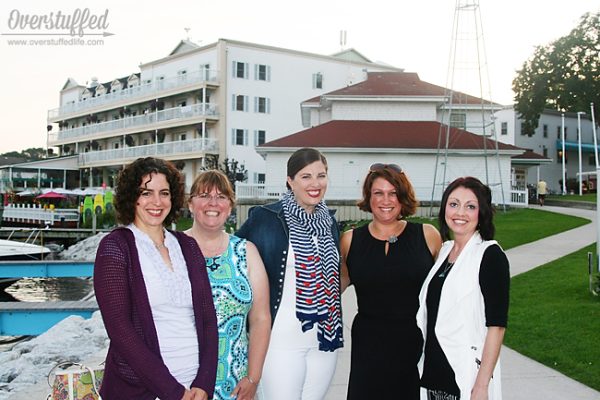 My first girls' trip to Mackinac Island was a surprise gift from my husband and friends for my 40th birthday. And I didn't suspect a single thing! He knew how much I loved Mackinac when I went with my oldest daughter for a trip with the girl scouts and so when it was on MaryFran's list of places to go, he jumped on it. MaryFran is my amazing friend who ought to be a travel agent and planned this whole trip (and is also the Disney expert here on this site).
Four of my friends came to get me in the minivan on a Sunday afternoon and we drove the five hours to St. Ignace where we stayed the night in a motel room there. The next morning, we hopped on a ferry and landed on Mackinac Island around 11:00 am. It was a grey and rainy day. So rainy that I ended up buying an umbrella first thing! But the rain didn't deter my friends and me from having a great time together, falling in love with the island, and planning more girls' trips there as soon as we could.
Related: 6 Must Do Activities For Your Girls' Getaway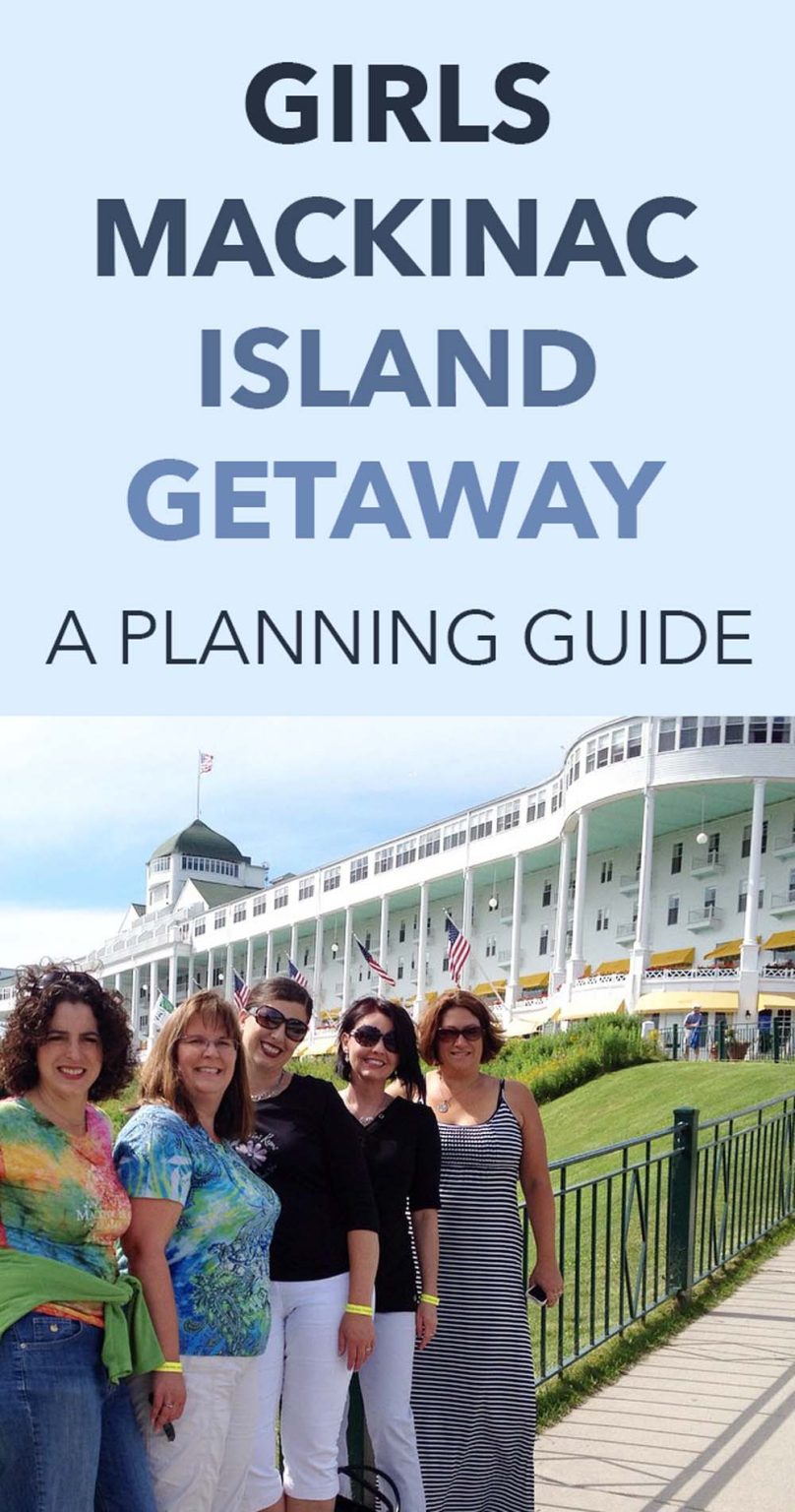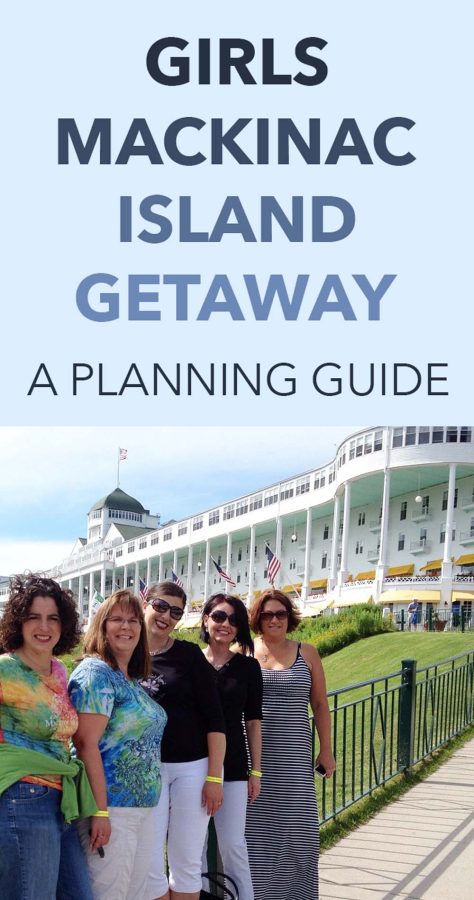 How to have the perfect girls' trip to Mackinac Island
When to go:
Summer is the best time of year to visit Mackinac, but it can be very touristy. Our first trip was in mid-August due to the timing of my birthday, but our subsequent trips have been in May or September when it's a little calmer. Michigan weather is unpredictable even in the summer, but we have generally been pretty lucky to have nice weather (aside from that first downpour!).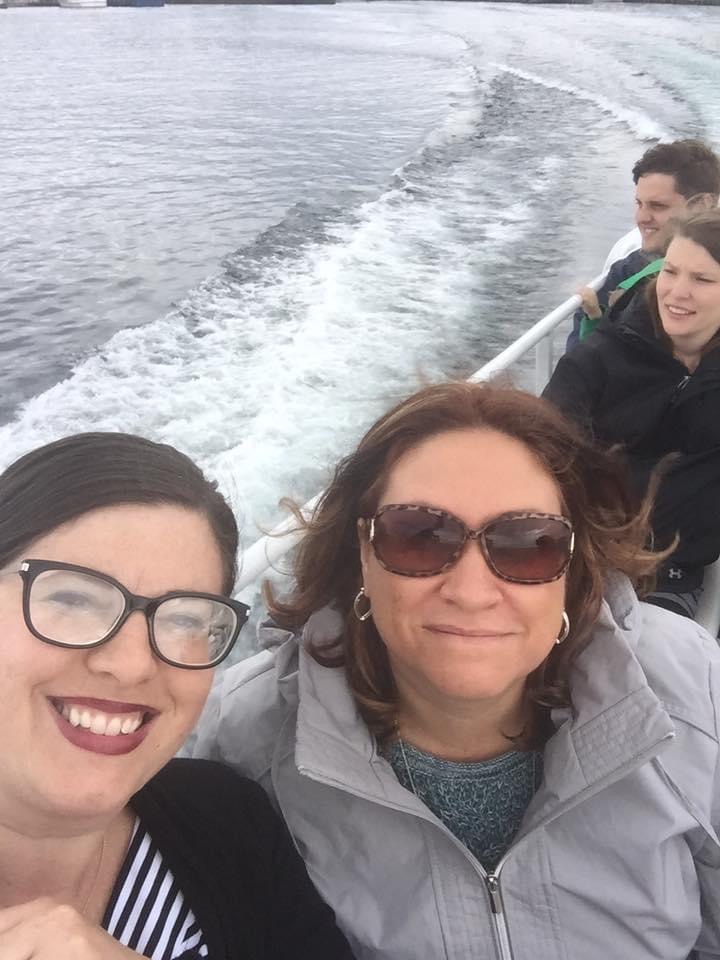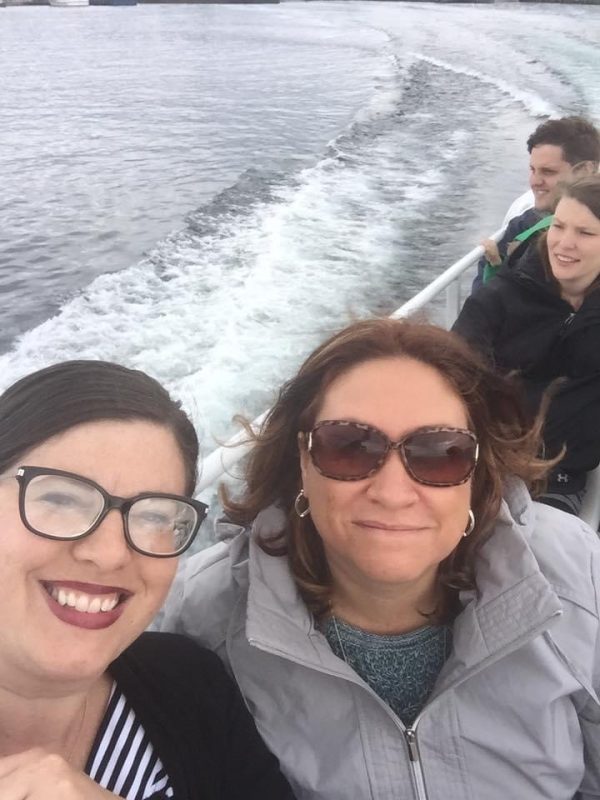 How to get there:
No matter how you get to Michigan, you will end up driving at least a few hours to get to either Mackinaw City or St. Ignace. From there, a ferry is pretty much the only way to get to the island.
I live in Michigan's Upper Peninsula, and the drive from my city is a little less than 5 hours. A drive from Detroit would be about 4 hours.
There are no big cities that are super close to the island to fly into. If you fly, I recommend either flying into Saginaw (Northern Michigan) or Marquette (Upper Peninsula). The drive to the island from either airport is around 2 hours and 30 minutes.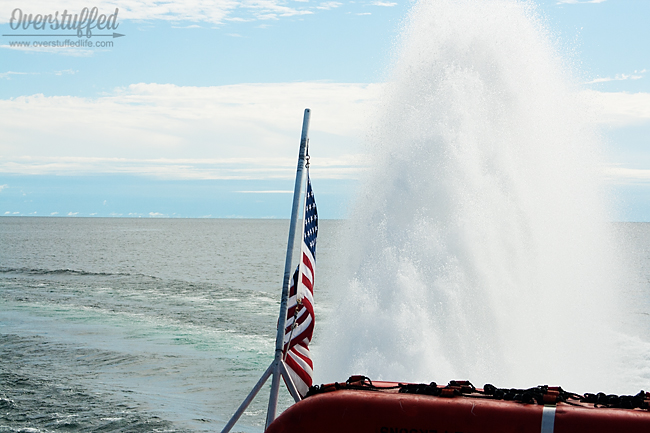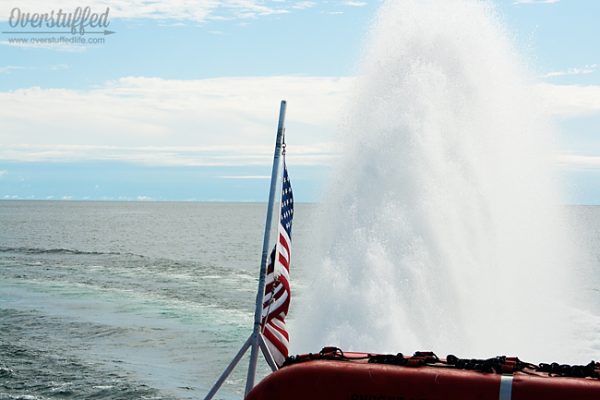 Once you have arrived at the Mackinac Bridge, you can catch a ferry to the island from either side. Mackinaw City is on the lower peninsula side, and St. Ignace is on the UP side. The two main ferry companies are Shepler's Ferry and Star Line Ferry Company. Both ferries offer free parking options for day trips to the island, but you will have to pay to park your car overnight. You can also pay extra to bring your own bike to the island if you don't want to rent one—remember, there are no cars or motorcycles allowed on the island!
The ferries will take you through the Straits of Mackinac, which is where Lake Michigan and Lake Huron meet. If you check your ferry schedule, you can make sure you get on a ferry that will take you under the Mackinac Bridge, which is a site to behold in itself. It is a five-mile-long suspension bridge over the straits, connecting Michigan's upper and lower peninsulas.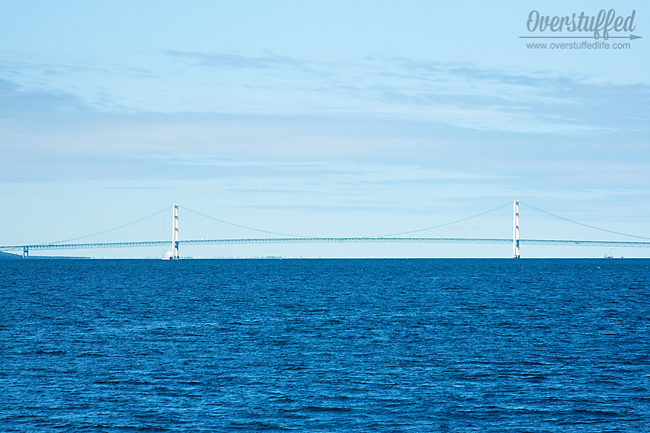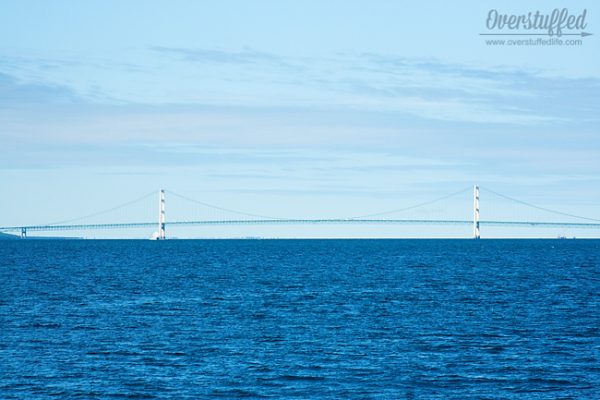 Where to stay:
Accommodations on the Island can be pricy. Sharing a room with your girlfriends will significantly lower the cost and allow you to stay in some of the nicer hotels without busting your budget.
My friends and I always stay in St. Ignace for the first night since we spend most of the day driving. That way we can get on the ferry in the morning and not waste one of our island days. Besides, it is much easier to find affordable rooms in Mackinaw City and St. Ignace. Both are small towns that have some fun shops and restaurants.
If you can't find affordable rooms on the island, it's also an option to take a daily day trip to the island on the ferry and sleep on the mainland. You'll want to compare the cost of a daily ferry with the additional room cost and see if it's worth it, though.
Mission Point Resort is our favorite place to stay on the island for girls trips. You can get a pretty large suite that will sleep 6 of you, plus I really like all of the amenities that the resort has. They have a pool, a spa, and a salon which are all practically necessities for girls' weekend getaways plus they offer several great packages to make planning your trip as easy as possible. These packages include dining credit at the three resort restaurants for each guest—we always enjoy a delicious breakfast at the Round Island Kitchen. The resort packages also offer things like bicycle rental and tickets to some of our favorite island attractions.
Murray Hotel is the only other hotel I have stayed at on the island. I have stayed there twice with girl scout members on troop trips. While it doesn't have as many amenities as the resort does, it is a cute hotel with historic architecture and decor. It also offers a nice daily breakfast buffet and its own fudge shop.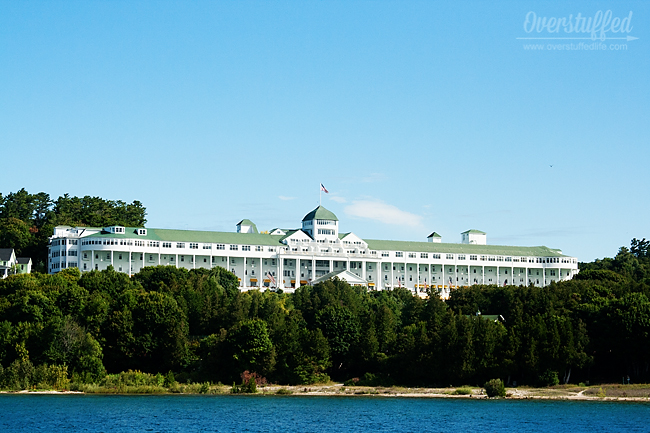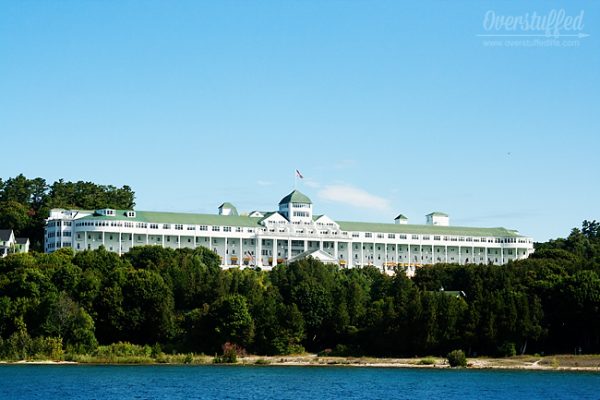 The Grand Hotel. One can't write about hotels on the island without talking about this historic hotel! I have not yet stayed in it, but plan to someday! It is perfect for girls' trips, because room reservations are quite spendy, and sharing with friends can offset the cost. The Grand does offer some packages and special rates. If you are willing to go outside of the busy season, you will be able to find more inexpensive rooms at the hotel.
What to do:
The hotel is definitely the main attraction on the island with its amazing front porch and beautiful grounds. You can take a tour of the hotel and grounds for a small fee, and you can also eat dinner there. If you want to experience the hotel without paying extra, go to Sadie's Ice Cream Parlor and order yourselves a Mackinac Island fudge ice cream cone!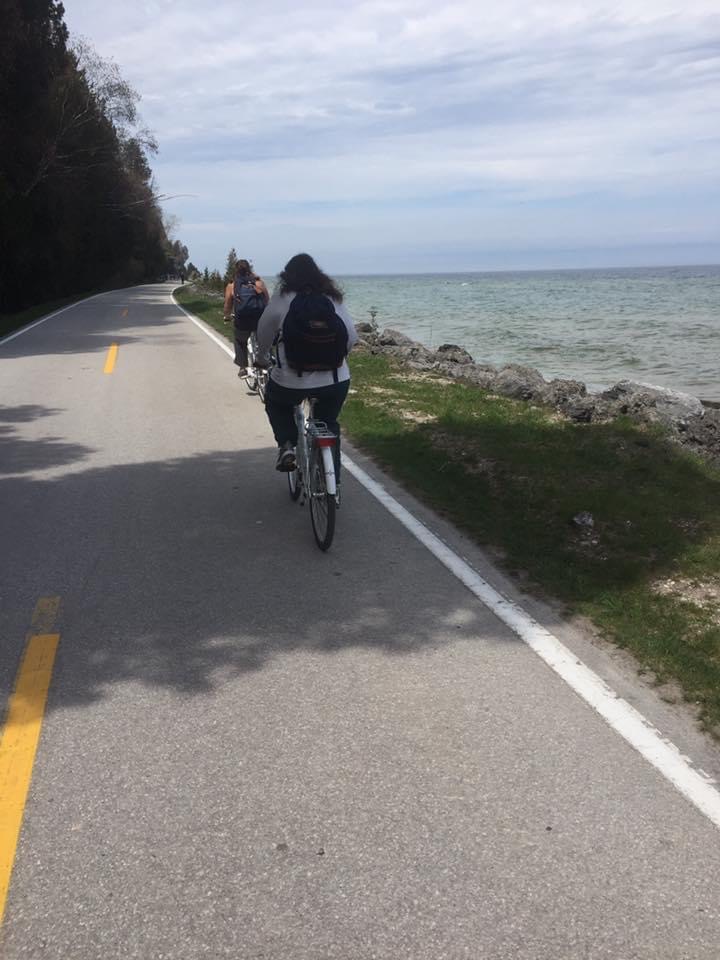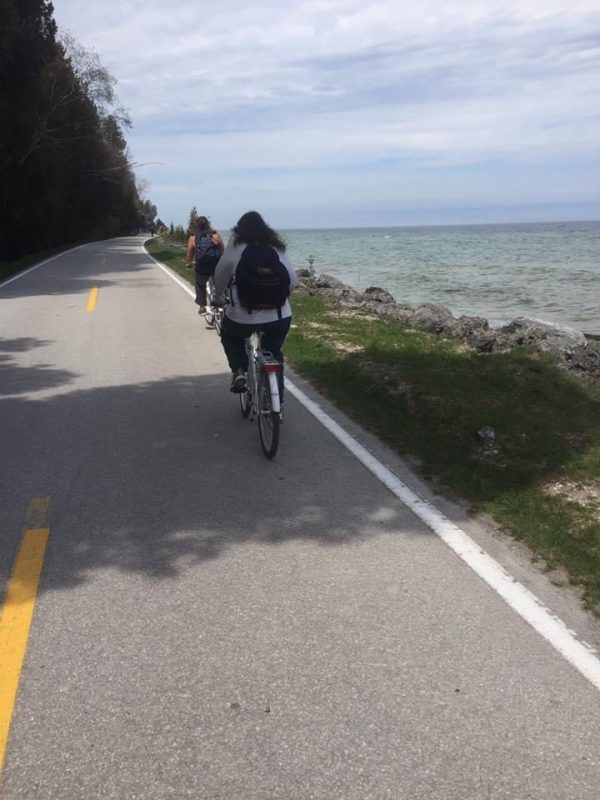 Bike around the island.
The 8.2-mile bike ride around the island's perimeter is definitely my favorite Mackinac Island activity. The views of the lake are so beautiful, and there are several fun places to stop and visit along the way. You can rent a bike at one of the bike shops downtown, or you can bring your own on the ferry. For girls' trips, we have always had a package at Mission Point Resort which included a bike rental.
During your bike ride, make sure you stop at Arch Rock and climb the steps to the top. The view is spectacular!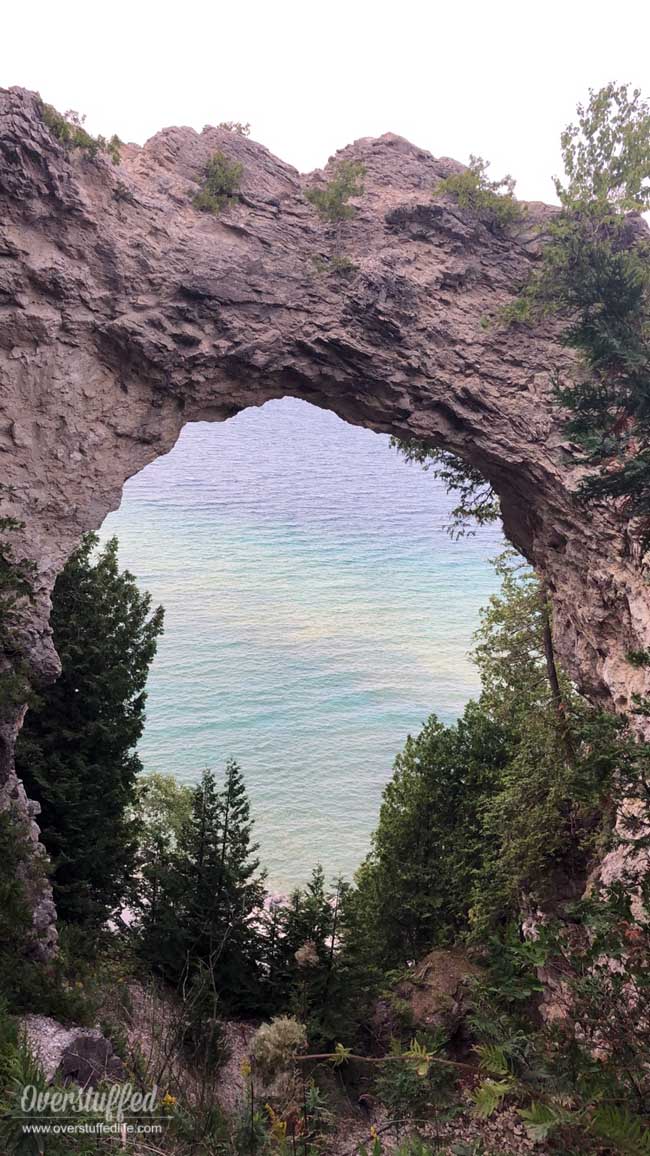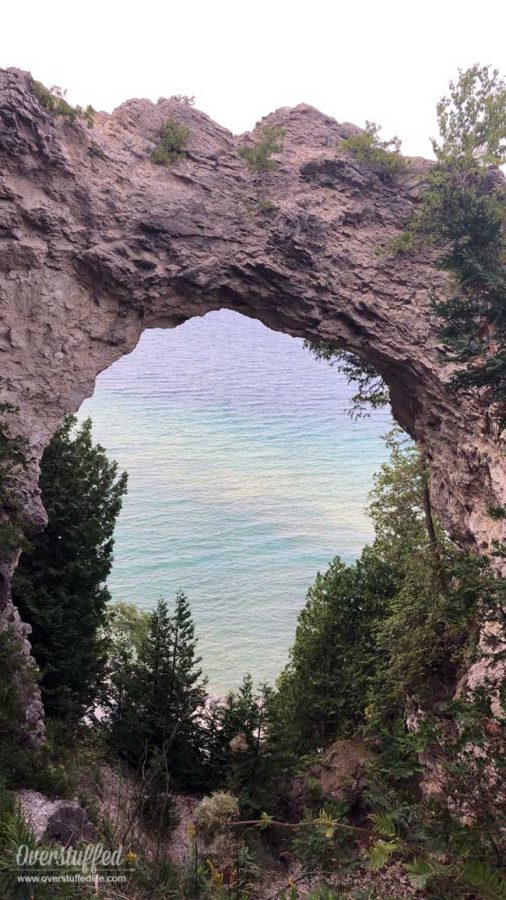 Tickets to the butterfly house are often included in ferry and hotel packages, so we usually go. I do love seeing the butterflies and it's fun to try to get good photos of them. Also, it is very warm inside with the butterflies so it's a great stop on a colder day.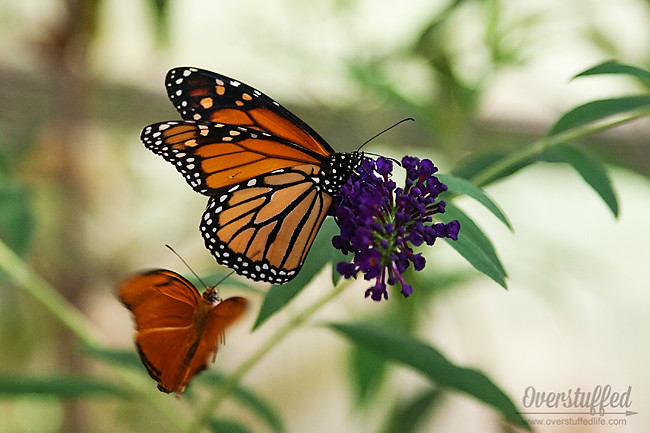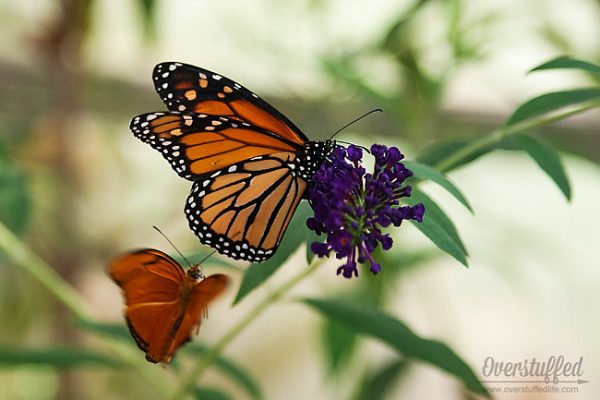 See my post about visiting the Butterfly House here: The Original Butterfly House on Mackinac Island
Shop on Main Street.
A trip with the girls isn't complete without shopping! There are several adorable shops and boutiques in Mackinac's downtown area—don't forget to take some of the side streets to find hidden treasures! One of my favorite shops is Little Luxuries of Mackinac Island. I always try to get something cute for my house or some new thank-you cards there.
Buy some Mackinac Island fudge.
While you're shopping downtown, you'll begin to understand why the island is known for its fudge shops! I couldn't even begin to pick a favorite shop, but any fudge flavor that includes caramel is what I will be buying. Make sure you buy enough to bring home to your family!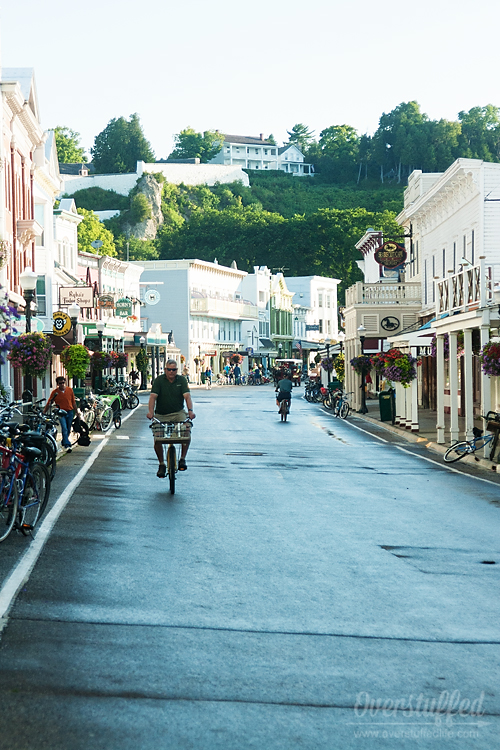 Walk the Mackinac Island State Park trails.
Grab a map at the visitor's center when you arrive on the island and plan out some beautiful nature walks on the island's 140+ miles of trails. You'll get some exercise, healing time in nature, and best of all—lots of great conversation with your best girlfriends. Also, this activity is totally free. Must see landmarks on the trails include Sugar Loaf, Anne's Tablet, and Fort Holmes.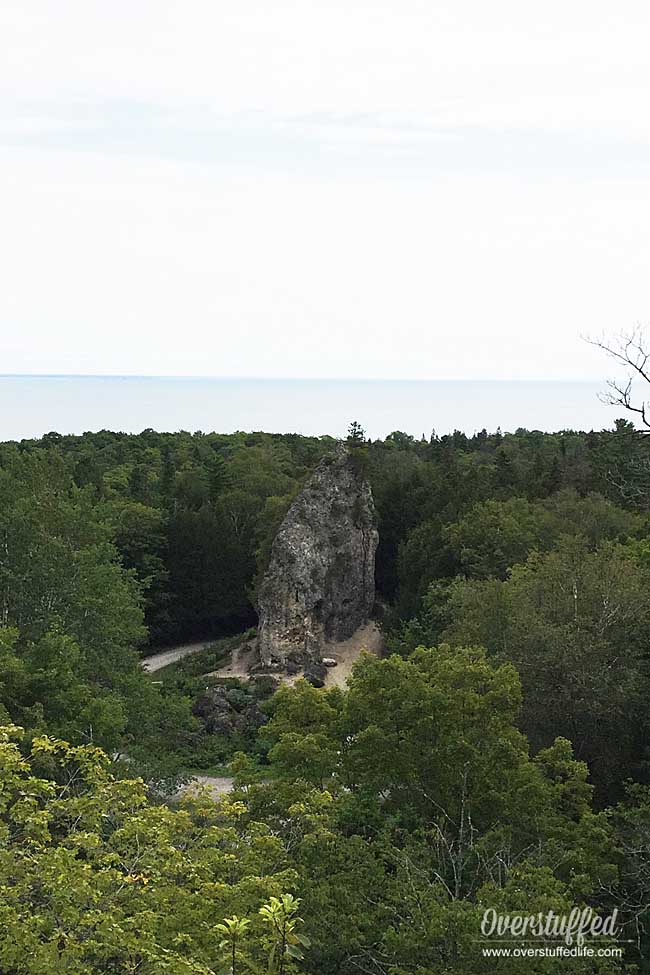 Take a horse-drawn carriage ride.
There are several ways you can do this on the island. The most popular way is to take one of the Mackinac Island Carriage Tours which gives you a basic tour of the island and stops at all the important sites. You can do the public tours (often part of packages) or you can take a private tour. Another way to take a carriage ride is to call a taxi to take you to dinner, which is what we did. I think we had more fun in the taxi than on the carriage tour because it was just time to be together without listening to Mackinac Island history that we have heard many times before.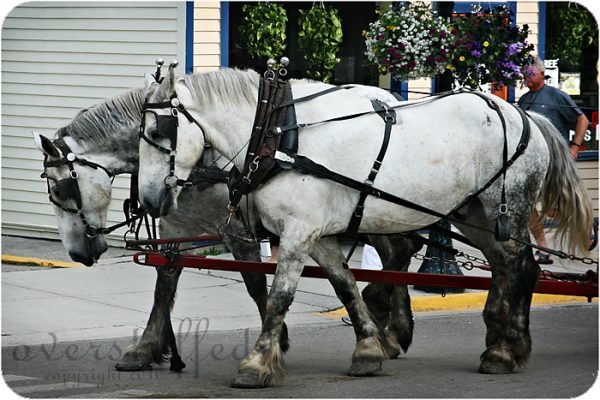 Visit the Mackinac Art Museum.
On one of our girls' trips, we had tickets to the art museum as part of our resort package. We enjoyed seeing local art and learning more about the history of the island.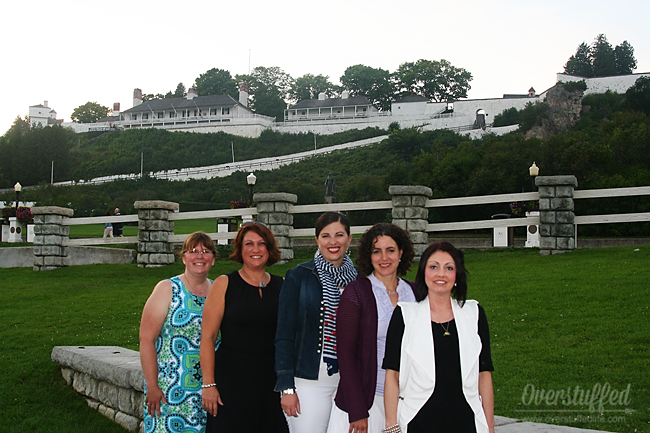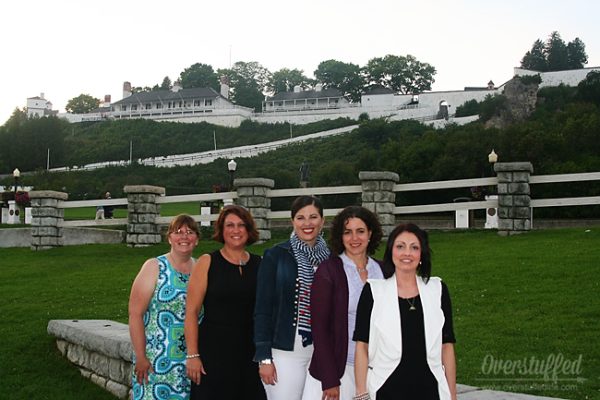 If you and your girlfriends are history buffs, you will really enjoy Fort Mackinac. Tickets to the historical site are usually included in resort and ferry packages, but my friends and I don't usually use them. We have all been to the fort multiple times with our families or the girl scouts, so we prefer to spend our time doing other activities when we are on a girls getaway.
Play Glow in the Dark Mini Golf.
Mission Point Resort has an 18-hole putting golf course. We discovered glow-in-the-dark mini golf one night and had an absolute blast with it! It's a lot of fun to do something a little crazy together and it's probably one of my favorite girls' trip memories ever.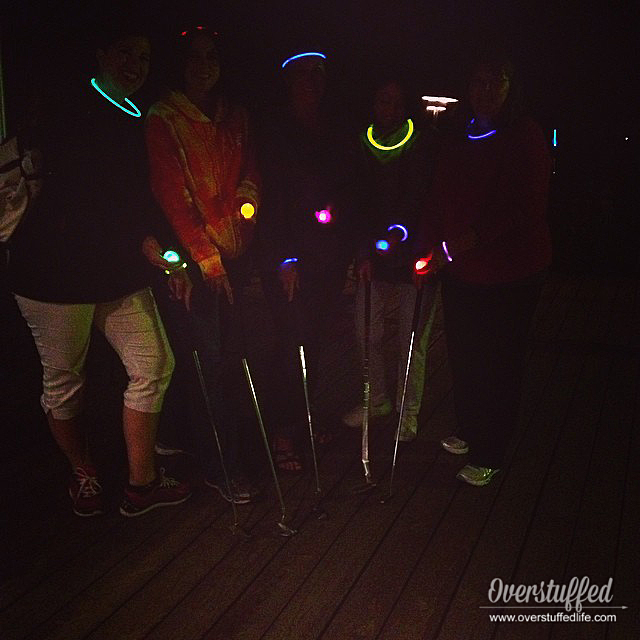 Where to eat:
There is so much delicious food to be had on Mackinac Island that you can't really go wrong. Here are a few of our tried and true restaurants:
Goodfellow's Bar and Grill is right on the water. We love eating out on the deck and the food is excellent.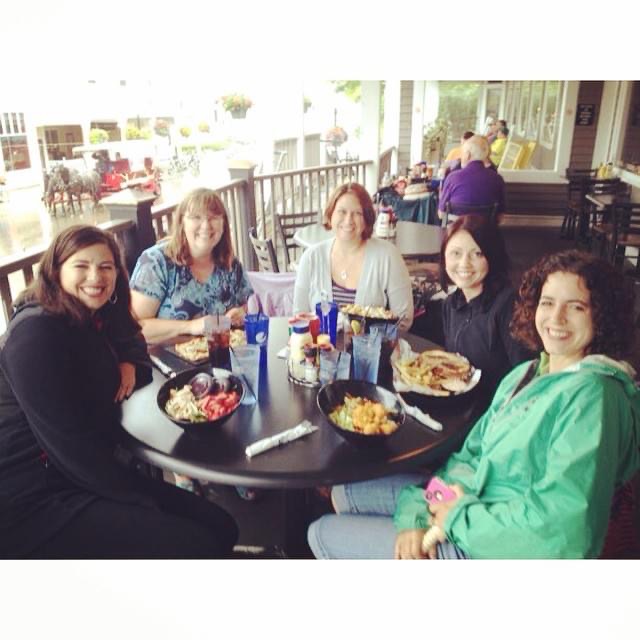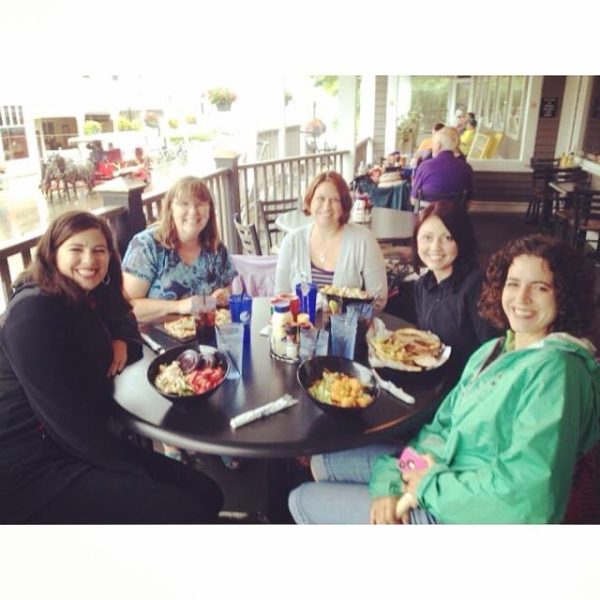 The Pink Pony is our favorite restaurant on the island. It has something for everyone, the atmosphere is fun, and it's a short walk from most hotels.
The Inn at Stonecliffe is a fancier restaurant. We made special reservations, dressed up, and took the horse-drawn taxi out to the restaurant (it is on the other side of the island from downtown).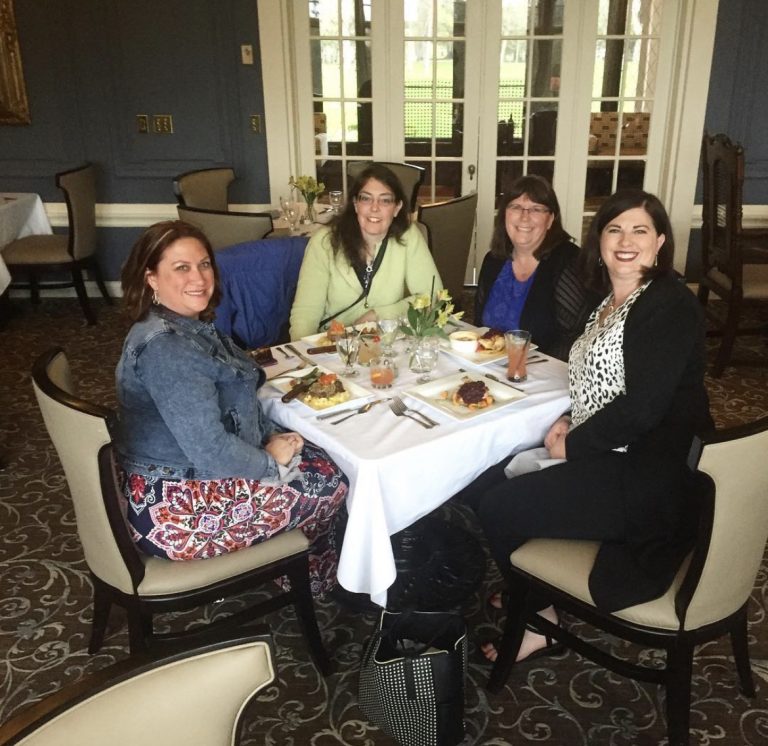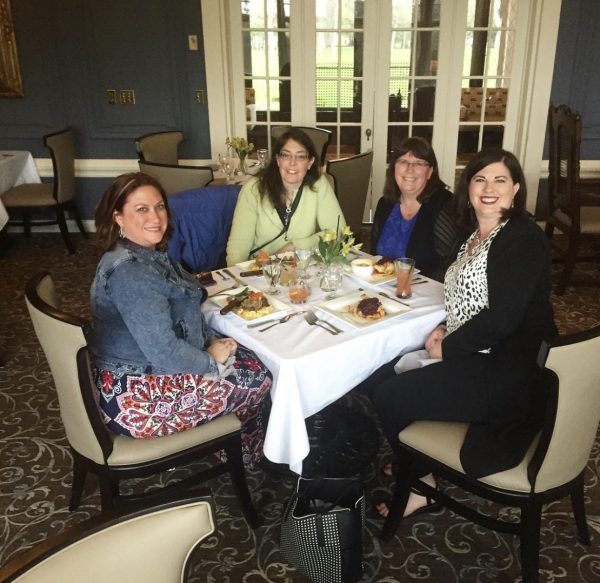 You can also do afternoon tea at the Grand Hotel tea room. We have not done it yet, but it's on our list!
Hopefully, you'll think of Mackinac Island on your next trip with your girlfriends. It can be expensive but one of the best things about girls' weekend getaways is that you can do all the same family activities you would have done for a lot less money! It's still nice to save even more money, though, so check out my post on free and cheap things to do on Mackinac Island!
Have a great trip!
---