I Love Candy Corn. A Lot. {free printable}
Free printable for Halloween "I love you more than candy corn."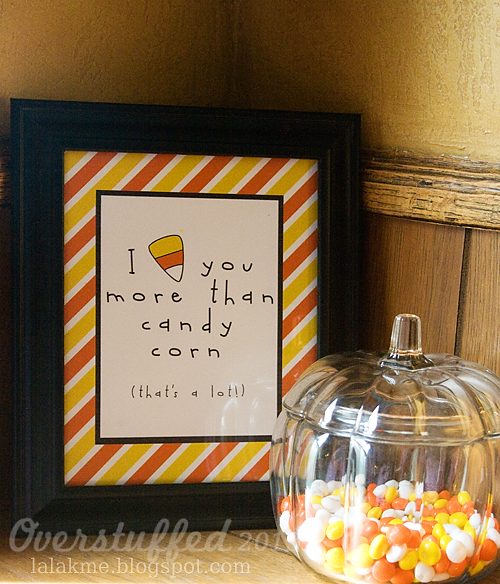 So I'm on a diet. Which means I need to be RESISTING candy corn. Which is really hard because it is my favorite candy on earth. And now we have candy corn flavored M&Ms to resist, as well. Fortunately, they are not quite as good as the real deal.
I was doing pretty well until I actually bought several bags of it. It was just to decorate with, honest! And I made my children swear they wouldn't eat any (after all, our family theme this year is trying to focus on eating more healthy). My husband hates candy corn (what is wrong with him?), so he wasn't much of a threat.
I stood strong for a while. But I have sneaked a few. And the children certainly have.
But I have only had to replace a couple bags. I'll have to report back after Halloween to see how we really did, since that is 20 more days of willpower.
Ummm…I think it's fairly obvious that there has been snitching of the candy corn going on. I hate the chocolate ones, so that open jar? WAS NOT ME!!!
Also, I was super bored of my Halloween decorations this year. I always try to get a few new ones on clearance after the season, but apparently I didn't do that last year. So I did a little shopping at slightly higher prices, but mostly I tried to make a few things with stuff I already had. Because new decorations are awesome, but new decorations that are FREE to me? Even better.
One of the things I did was find some cute Halloween printables online, print them out onto photo paper, and frame them with existing random frames I have taking up space in my office. I really wanted one that said "I love you more than candy corn" but couldn't find one.
So I made my own! And I'm sharing it with you, but only if you really love candy corn.
I have lots more Halloween decorations to show you—I do love decorating for the fall holidays! Starting with this awesome tulle wreath I made for my front door on the cheap.
To download:
Enter your email address into the form below and the printable will be sent directly to your mailbox. Enjoy!
Get this Halloween printable now!
Enter your email address and receive the I Love You More Than Candy Corn printable right to your email inbox.