How to Make a Tulle Halloween Wreath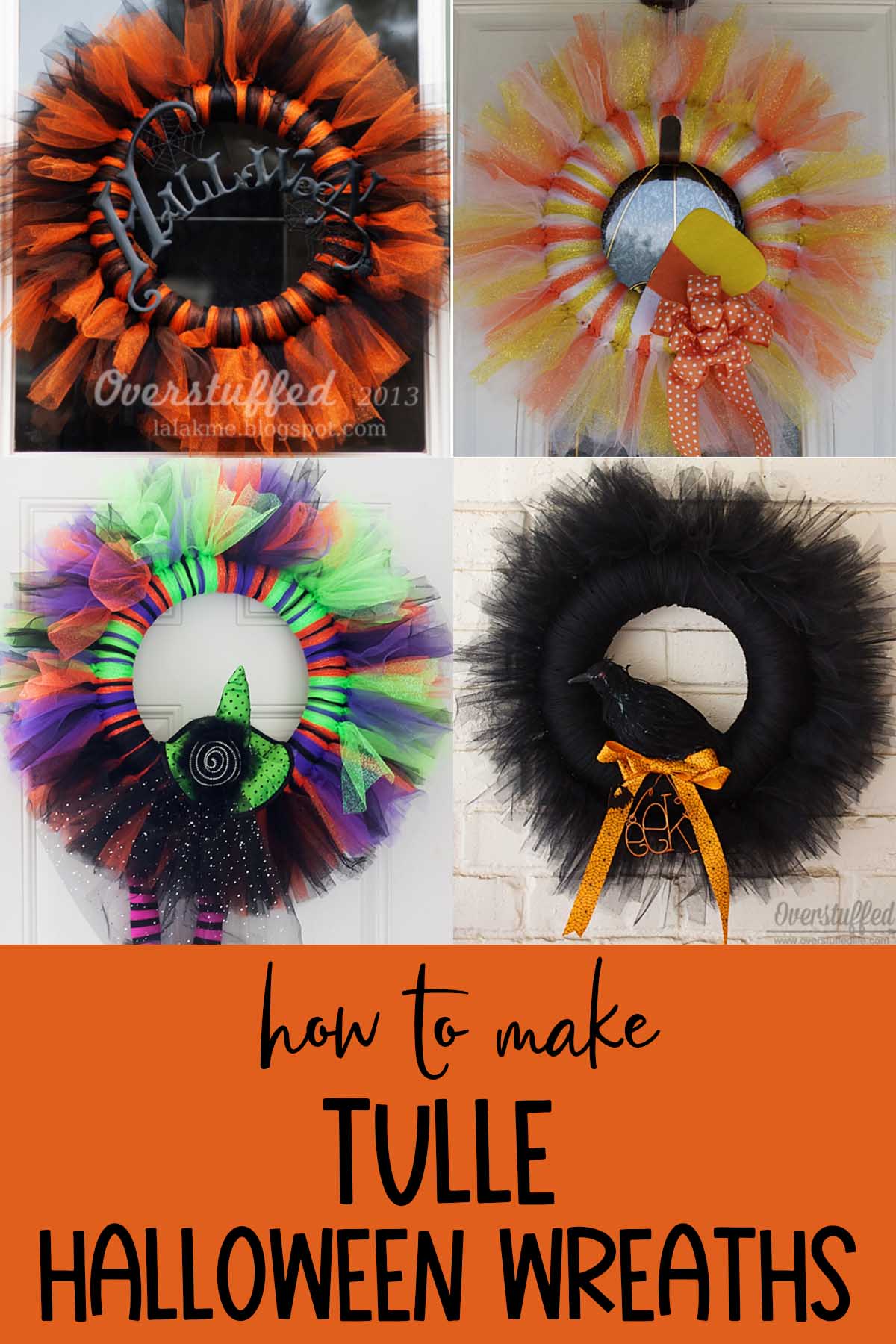 I love Halloween. And I love decorating for Halloween almost more than I love the holiday itself! I especially love to have a fun Halloween wreath on the front door, but I haven't had a good one in a while.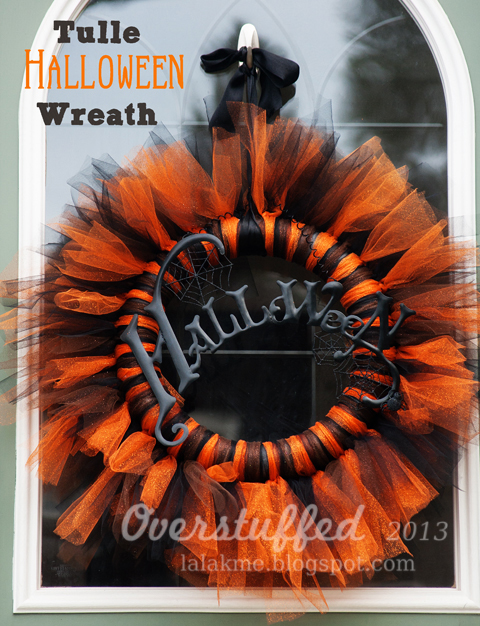 I have become so bored of my Halloween decorations this year. I even left a few of them in the bins because I have no desire to look at them! I especially didn't like anything that I had for the front door. In years past, I have used a straw wreath on the door, and I didn't want to put it up again this year. It was fall-ish, but I wanted something Halloween-ish this time.
So I decided to make my own wreath. The decision magically came to me while I was at WalMart perusing the Halloween aisle because I saw spools of orange and black tulle. And it was even SPARKLY! Who can resist sparkly orange tulle? Certainly not me.
When I first made tutus for my girls I had NO idea that tulle came in spools. It is infinitely easier than trying to cut strips of tulle off the bolt. Trust me.
I picked up three spools—sparkly orange, sparkly brown, and not sparkly black. Then I headed over the the crafty section to pick up a styrofoam wreath form. For just a few dollars, I was going to have an awesome new Halloween wreath.
Materials needed:
(affiliate links)
Metal Halloween sign or other decoration
This sign is really similar to the one I used. (The best thing is probably to raid your own decorations and see what you have that will work, that's what I did.)
Directions:
The tulle wreath was super easy to make—if you've ever made a tutu where you tie the tulle onto the elastic, this is just like that. I've also used this technique to make valances on the windows in my daughter's room.
All it took was an hour or so of sitting down with a good TV show to first cut the tulle into similar size strips and then to tie the tulle around the wreath form. Some people prefer to loop the tulle instead of tie it, but I have found that tying it in double knots is the only way to go for wreaths. The pattern I used was one black, one brown, one black, two orange. I have enough black leftover (since it was non-sparkly, it was double the size of the other spools) that I am thinking of making an all black wreath for above my fireplace. But that involves going to buy another wreath form, and I haven't had a chance for that.
When it was finished, I could have trimmed it down so all the strips were a bit more even, but I kind of like the look of the uneven tulle, so I kept it like that. I added a black ribbon for hanging purposes, and tied the metal Halloween sign on it with the same ribbon. I have had that sign for a good 8 years or so, and I am never sure where to hang it, so this was a good compromise.
And I'm super pleased with the end result!
This post may contain affiliate links, for more information, please see my disclosure.