Why I Quit My Job to Stay Home With My Teenagers
To work or stay home? Many moms grapple a bit with the decision to either stay home or go back to work after having a baby, but I didn't. I knew from the get go that I would be staying at home when I had my first. It wasn't until I had my third daughter 6 years later that I had to finally face the idea of going back to work. She was only about a month old when I started teaching voice lessons at the local university for just a few hours a week.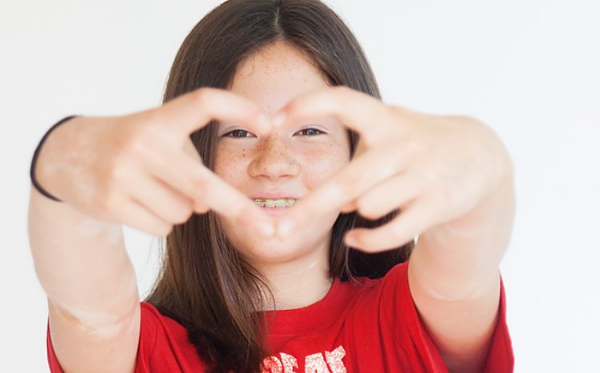 By the time my youngest was in Kindergarten, I had expanded my teaching to around 20 hours a week. I've made every effort to design my schedule so that I was home from work before the school bus dropped the girls off. We really did have a pretty good system going on. But then my second daughter became a teenager and I started realizing that it wasn't as easy being a working mom with older kids as I thought it would be.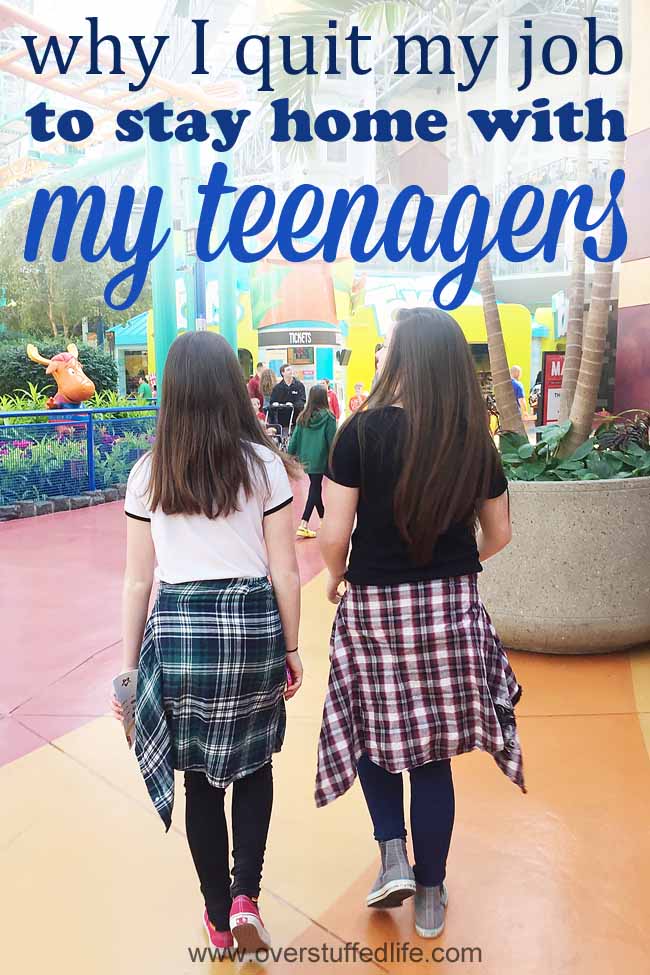 It surprised me a bit that I felt I needed to look at this question again. Who quits their job to stay at home with their teenagers, anyway? In fact, many moms choose this time to finally go back to work simply because their children are more self-sufficient, child care costs are no longer a factor, and the extra money is probably needed more than ever with all the expenses that come with teen kids.
But more and more last year I was feeling that I needed to quit. I was completely stressed out by working and trying to also parent and keep my house clean, no matter how helpful my husband was. I found that I was giving my best energy to my students and often had no more to give when I got home in the afternoons. My children were getting a tired, grumpy, overwhelmed mom right when they need love and patience and guidance.
I couldn't do it anymore, so I decided to quit.
Now that my kids have been in school for nearly a month and I haven't been working, it's clarified my decision even further. Nearly every day I get little confirmations that help me to see exactly why this was a necessary move for me and my children.
Here are some of my recent realizations:
1. My teenagers are under a great deal of stress
I read a statistic a while ago that said the average high school student today has the same level of anxiety as the average psychiatric patient in the early 1950's. Another study shows that teen stress is actually higher than adult stress. This blew me away, and I started paying more attention to the stress and anxiety levels of my teenage daughters. I learned quite a bit by really watching them and thinking about all the things they are asked to do on a daily basis. 7 hours of school, several more hours of homework and studying, extra-curricular activities, household chores, a mom nagging them to do all of the above, and maintaining a social life on top of everything else.
Being a teenager is not easy.
A sign at a boy's school telling parents they were not allowed to bring forgotten items to their children recently went viral online. The premise was that if parents do this for their kids, they will never learn how to problem solve. While I do agree that we can't hold the hands of our kids and make everything easy for them, I have come to believe that helping them is necessary. It's about balance.
My oldest daughter called me last year to beg me to bring her cross-country shoes to the school. The bus was about to leave to a meet that was two hours away and she was completely beside herself that her shoes weren't in her bag. I actually had to leave work, run home to get her spikes, and then rush to the school where I barely caught her before the bus left. I was late to teach my next lesson, but I did not want my daughter to fail in that way. Not when I knew she was up until late studying for a test and that she had never forgotten her cross country spikes before. Not when I knew the tremendous pressure she was under to do all that was asked of her. I could help to alleviate some of the major stress and anxiety she was experiencing by simply helping her out.
(And while it's not what this post is really about, the fact that she called me for help WAS solving the problem.)
Now that I am not working, I will be available for these types of emergencies whenever I am needed, and that makes me happy. And it isn't just about taking them their forgotten items—it's about being more emotionally available to help them deal with their stress, it's about having more time to do housework so that I am not putting too large a burden on them, it's about being home with them when they are sick, it's about helping them manage their priorities.
2. My relationship with my teenagers has improved
I don't think I ever really had a terrible relationship with my girls, but when I was working I did not have the energy for a relationship with them. Plus, my tween is incredibly strong-willed, and I had a much shorter temper with her after a long day of work than I do now.
Now I can be the calm one while my daughters are having their emotional breakdowns (which come often for teenage girls, I assure you). I can be more aware when they are having friendship troubles like my middle daughter did her first year in middle school.
Even though I made every effort to be home when my children were home, now I actually feel present. It's amazing the difference it's made already. Do they still roll their eyes at me? Daily. Do they ever refuse to answer my questions with more than one word? Often! But they also open up more and they want to be around me.
3. I am a better example to my children
While I know there are working moms out there who somehow are able to do it all, I was not one of them—and I didn't even work full time! I feel that now I am a better role model to them in many ways. I am less stressed, I keep the house cleaner, I can help them with their homework, my temper doesn't flare as often. You get the idea.
And because I am doing better at those things, they are too.
4. Our lives are much calmer
Part of it is the later schedule of the new schools we are attending this semester, but I'm enjoying the calmer mornings of not working. Instead of trying to get ready for work myself, I am able to be available to the kids. I am more available to help with homework checks, feed them breakfast, help them study for quizzes and tests, etc.
After school, when the girls are at their busiest, I am feeling more rested and calm and taking them to their activities all over town doesn't feel nearly as frenetic as it did when I was working. If we don't have somewhere to be, I have more energy to help them with homework and practicing at home.
5. My teenagers need me now more than they did when they were smaller
When I was in the throes of raising babies and toddlers, I'm not sure I would have ever believed that they could possibly need me more as teens than they did when they were little. But the truth is, they do. Teenagers are straddling a difficult time of life—they are really still kids, but they are given so much responsibility and are thrust into many adult situations. They need guidance and communication. They need to know that their mother is available for them at any moment to help them work through all the big things.
I only have two more school years with my eldest before she is off to college and away from my daily influence. She's already a month into one of those years, and the time moves so quickly! I want to be certain that I am giving her my best during these critical years. I want to know that I gave everything I could in helping her to be prepared for adulthood.
It all really comes down to the fact that I am spending all of my energy on my children, my family, and my home. When I was working, a huge part of that energy was spent on my job and I had little left. It's amazing how much that shift in focus has improved my life and my relationship with my girls.
My energy is now focused exactly where it should be during this time of life—on my children.
This post may contain affiliate links, for more information, please see my disclosure.