Luminescence by Braden Bell: A Book Review
Luminescence by Braden Bell is the third and final installment to his Middle School Magic Series. (I have reviewed The Kindling and Penumbras, the first two books in the series, HERE and HERE.)
In my last review I said that I was so excited to read the final installment of this series that I would even be willing to dress up as Dr. Timberi and stand outside a bookstore at midnight if it meant I could get it faster. So I was super excited to finally have this book in my hands, and I was not disappointed.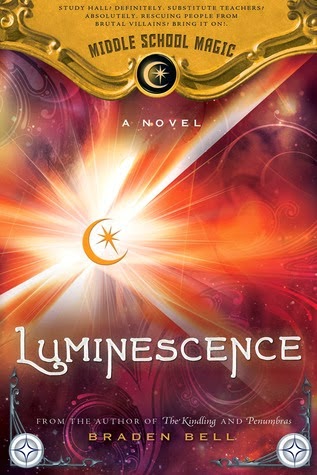 The last book ended on a sad note—but a sad note that had hope in it. When my daughter finished the second book, I went upstairs around midnight to find her sitting on a chair bawling her eyes out. It melted my heart and gave us a nice opportunity to discuss the book and all of its wonderful themes.
Luminescence continues with the themes of light and darkness that have played a large role in the past books, but this time those themes broaden as the kids have to make some very difficult decisions. The result is a beautiful story of love, sacrifice, and redemption that maybe even made me bawl my own eyes out. (And it was probably in the middle of the night, too, since that is when all good reading takes place.)
I truly love this series, and think it is one that all kids should read. My middle daughter and I have had some really lovely discussions about life and choices due to these books, and I think I'll start reading them out loud to my youngest soon.
If you have children who like to read the fantasy genre, they will love this series.
My daughter and I had some fun this week taking the sigil test on the author's website (update: no longer available). If you've read the books, you know about the light sigils that the magi are able to make, and that each one is unique to the magus who makes it. It turns out that my sigil is a swan, and my daughter was super excited to learn that hers is a parrot (because she is fun, social, and highly intelligent)(which is completely correct). You can also read the first few chapters of Luminescence on Braden's website, but if you do, you'll be hooked and need to go buy the book. Fair warning.